PRESIDENTIAL PROCLAMATION ADDRESSES MASSIVE ILLEGAL 'MIGRANT' CARAVAN
A dire national security threat.
November 13, 2018
The United States is about to be inundated with thousands of foreign nationals heading up through Latin America to the U.S./Mexico border. The media, nearly unanimously, have described them all as "migrants" purportedly fleeing poverty and violence in their home countries in Central America. The President, however, has stated that among them are criminals and individuals from other than Latin America.
President Trump is determined to discourage as many of these individuals from entering the United States illegally as a matter of national security.
As I have noted in previous articles about this "Caravan of Migrants," talk show hosts and others have blatantly accused the President of being a liar who does not care about poor migrants. Of course, they are blithely ignoring that the President has access to intelligence that is not made available to anyone else.
They have also failed to make any effort to do a bit of research, to determine if perhaps there is evidence that is available in the public domain that would support Trump's assertions.
My article "Trump Connects The Dots On Dangers Of Illegal Immigration" contains compelling evidence about the potential for Iranian involvement in large-scale human trafficking and hence the potential that they and other adversaries of the United States would be eager to inundate the United States with huge numbers of aliens that would overwhelm the already beleaguered immigration system.
That article and others that I have written recently included evidence that has been furnished by expert witnesses at Congressional hearings and in various reports prepared by experts that Iran has been steadily increasing its influence in Latin America through its client Hezbollah, to partner with Latin American drug trafficking cartels and human traffickers - often one and the same - to send huge quantities of narcotics to the United States along with illegal aliens in order to generate huge amounts of ill-gotten funds and to embed sleeper agents here.
The June 8, 2017 DOJ report "Two Men Arrested for Terrorist Activities on Behalf of Hizballah's Islamic Jihad Organization" focused on the arrest and prosecution of two naturalized U.S. citizen "sleeper agents" who had been born in Lebanon. One of the two alleged terrorists was additionally charged with committing naturalization fraud; he purportedly used his ill-gotten U.S. citizenship to apply for a U.S. passport that facilitated his international travel in support of Hezbollah. Both had been conducting preparatory surveillance of military and law enforcement facilities and airports in Michigan and New York.
The President has decided to act proactively to head off what could well be a national security / public safety catastrophe in the making.
On November 8, 2018 the Justice Department issued a press release, jointly announcing with the Department of Homeland Security, that President Trump had issued a proclamation under which the administration would not process asylum applications filed by illegal aliens who had entered the United States without inspection after November 10, 2018, the date that the proclamation went into effect. It would not apply to unaccompanied alien minors nor would it prevent aliens from making an application for Withholding of Removal or protection under the Convention Against Torture.
Withholding of Removal is similar to asylum but imposes a higher burden of proof upon that alien who files for that protection from deportation (removal) and imposes additional restrictions.
The proclamation will expire either 90 days after taking effect or when a safe-country agreement is entered into with Mexico, whichever occurs earlier. Finally, within 90 days of the proclamation taking effect, the Attorney General, the Secretary of State, and the Secretary of Homeland Security are required to provide the President with their recommendations as to whether or not to extend the proclamation.
President Trump's proclamation is a direct response to the massive numbers of foreign nationals heading to the U.S./Mexican border. Consider the title of the proclamation: Presidential Proclamation Addressing Mass Migration Through the Southern Border of the United States.
In recent years massive numbers of illegal aliens have come to exploit the asylum policies of the United States to circumvent the lawful entry process by which aliens enter the United States. They have found in America's long history and tradition of kindness a weakness that can be easily exploited.
In point of fact, 80% of these applications have reportedly been denied. Furthermore, the administration will continue to accept and process asylum applications that aliens who attempt entry into ports of entry file. The obvious goal of the proclamation is to discourage enormous numbers of aliens who are members of the massive "caravan of migrants" from running our borders, evading the inspections/vetting process at ports of entry and then using fatuous asylum claims as "plan B" for aspiring illegal aliens if apprehended by the Border Patrol. On the other hand, when not stopped by the Border Patrol, these illegal aliens who evaded the inspections process simply head to towns and cities across the United States and hide in plain sight.
The 9/11 Commission describes that effort made by terrorists to "hide in plain sight" as the embedding process that incidentally is made far easier by "sanctuary policies" implemented by mayors and governors of Sanctuary Cities and Sanctuary States, who have utter disdain for America's borders and immigration laws and refuse to cooperate with ICE (Immigration and Customs Enforcement) even when the aliens in question are convicted felons. Incredibly, they have released aliens who were convicted of committing violent crimes rather than turn them over to ICE for deportation from the United States, all too frequently with tragic but preventable results.
According to that press release, 23 year-old illegal alien Luis Rodrigo Perez, a citizen of Mexico, was being held on domestic violence charges in the Middlesex County Jail in New Jersey when ICE issued a detainer that the jail did not honor, releasing Perez into the community without notifying ICE.
After his release from the jail in February of 2018, Perez eventually made his way to Missouri where he has now been charged in a triple murder that recently occurred in Springfield, Missouri.
Business Insider's article "Trump's new move to limit asylum challenged in court" noted that the intention of the proclamation was to funnel all of these aliens through ports of entry so that they can be vetted, but the resources at many of the ports are inadequate to handle the workload and aliens are often told to come back days later.
However, all aliens who do show up at ports of entry will, even under the proclamation, be able to file applications for asylum. The obvious goal of the proclamation is to enable DHS to vet every alien and create a record of the entry or attempted entry of each alien.
The only aliens who would potentially be adversely impacted by the proclamation are those who enter without inspection.
Incidentally, as I noted in another of my recent articles, "ACLU Attacks Border Wall And Kate's Law," the purpose for the wall on the U.S./Mexican border would not be to stop legitimate commerce or movement of people into the United States but to make certain that all such traffic is also funneled through ports of entry.
For decades, even in the wake of the terror attacks of 9/11 and subsequent terror attacks, the immigration system has been chronically underfunded and understaffed so that the only way for the adjudications officers of USCIS (United States Citizenship and Immigration Services) to keep up with the avalanche of applications for various immigration benefits, that include granting political asylum and conferring lawful immigrant status and United States citizenship upon aliens, is to approve as many of those applications as possible.
This leads to rampant levels of fraud. As a consequence, terrorists such as the naturalized citizen Iranian sleeper agents I noted earlier, as well as the Tsarnaev brothers who carried out the deadly terror attack at the Boston Marathon and Faisal Shahzad, the "Times Square Bomber," are a few examples of many where terrorists were granted lawful status and even, in some instances, citizenship not long before they carried out or attempted to carry out deadly terror attacks in the United States.
9/11 and Terrorist Travel is an official report that was prepared by the federal agents and federal attorney who were assigned to the 9/11 Commission. Here is a quote from that report worth considering; it specifically addressed political asylum fraud:
Once terrorists had entered the United States, their next challenge was to find a way to remain here. Their primary method was immigration fraud. For example, Yousef and Ajaj concocted bogus political asylum stories when they arrived in the United States. Mahmoud Abouhalima, involved in both the World Trade Center and landmarks plots, received temporary residence under the Seasonal Agricultural Workers (SAW) program, after falsely claiming that he picked beans in Florida.
Through his proclamation and other initiatives, President Trump is following the dictum by which all sensible people live their lives, "Safety first." All rational Americans should be grateful for it.
"Hillary and her party supporters desperately need illegal immigrants: Hillary is bought and paid for."
Why Hillary and Her Wall Street Donors
Don't
Want Trump's Wall
When GOP presidential candidate Donald Trump first talked about building a "big, beautiful wall" at the southern border of the U.S. he was met with fierce resistance. Given the facts that the southern border is the main route used by drug smugglers and criminal illegal immigrants (all persons who cross the border illegal commit a Federal misdemeanor the first time, a felony the second time) there would not seem to be a good reason to resist lawful regulation of border entry. As usual, the answer may be in who gains from the absence of a Wall, and what they gain.
The best way to get the answer is to follow the money.
Right now the transfer of money from persons working in the U.S. to Mexico, called "personal remittances" are a major source of Mexican revenue. The growth of remittance revenue is a recent development. Mexico seized the assets of nearly all foreign oil companies operating in Mexico in 1938.
But as American sanctuary cities flouted Federal law and encouraged illegal immigration after 1980, those working in the U.S. started to wire transfer money back to their families in amounts that became so large that by the late 1990s remittances to Mexico were the second largest source of foreign revenues, second only to oil revenues.
According to the World Bank, in 2015 the world's top remittance corridor was from the United States to Mexico. As much as $25.2 billion dollars was sent back to Mexico from people working in the U.S. Remittances are a great source of revenue for Mexico and are more stable than all other flows such as oil.
BLOG: ADD THE $40 TO $60 BILLION THE NARCOMEX DRUG CARTELS HAUL BACK!
In 1979 the Police Chief of Los Angeles publicly stated that he would not enforce immigration law. Following this announcement, which was the effective beginning of Los Angeles as a sanctuary city, remittances to Mexico from the U.S. grew very rapidly from only $177 million in 1979 to $26.9 billion in 2007, following the growth of those sectors of the economy such as construction where illegal immigrants worked. After the 2007 economic peak there was a drop in 2009 to $22 billion. But in 2015 the amount of remittances climbed back to $26.2 billion, according to the World Bank. Ninety-eight percent of all remittances sent to Mexico come from the U.S.
It is no coincidence that the most rapid growth occurred from 2000 to 2008 when Vincente Fox was the president of Mexico.
This is why the most emotional and energetic resistance to the Wall came from Vincente Fox, who used abusive language toward Trump. His statement were cloaked in emotion and anger, a skillfully crafted disguise for the real reason for his concern: money.
One in every eleven persons born in Mexico has gone to the U.S. The National Review reported that in 2014 $1.87 billion was spent on incarcerating illegal immigrant criminals.
Since the political economy of Los Angeles depends so heavily on the Federal and state program money that supports illegal immigration, the Los Angeles Times still defends Special Order 40 as essential to, paradoxically, law and order. It's also essential to the economy of Los Angeles but somehow the Times doesn't mention that fact.
THE COUNTY OF LOS ANGELES HANDS INVADING ILLEGALS ONE BILLION IN WELFARE.
90% OF ALL MURDERS IN LOS ANGELES ARE BY MEXICANS.
THE TAX FREE UNDERGROUND ECONOMY IN L.A. COUNTY IS ESTIMATED TO BE IN EXCESS OF $2 BILLION.
One may ask why the Federal government chooses to spend so much money on the incarceration of criminal aliens by defying the Federal 1996 Immigration Act. But it's important to keep in mind the benefits the Federal government, particularly the Democrat Party, the party of government sector teacher unions, obtains from illegal immigration. After all, their four biggest campaign contributors, the Service Employees International Union, the National Education Association, American Federation of State, County and Municipal Employees and American Federation of Teachers are four of the top six contributors from 1989 to present. And they give over 99% of their contributors to Democrats. Today sixty five percent of public school students in Los Angeles County are Hispanic. In Chicago 46% are Hispanic.
Democrats, who have dominated almost all large metropolitan areas since FDR, are heavily dependent on illegal immigrants and their children.
Should Trump
build an effective wall, he would disrupt the flow
of illegal immigrants, public school students,
teacher union donations and block grant money to
all their most important bases of electoral and
demographic support. Trump's wall is the major
threat to what they see as their party's long term
goal of maintaining control of state governments
as well as the national government.
Multimillionaire Jorge Ramos of Univision has criticized Trump aggressively. While Univision may have no obvious direct financial interest in remittances, their TV network certainly stands to profit from increases in Hispanic viewership, increases that are totally dependent on the growth of the Hispanic populations in cities they serve.
THE COUNTY OF LOS ANGELES HANDS INVADING ILLEGALS ONE BILLION IN WELFARE.
90% OF ALL MURDERS IN LOS ANGELES ARE BY MEXICANS.
THE TAX FREE UNDERGROUND ECONOMY IN L.A. COUNTY IS ESTIMATED TO BE IN EXCESS OF $2 BILLION.
BLOG: CRIMINAL BANKSTERS WELLS FARGO and BANK of ILLEGALS (AMERICA) ARE MAJOR DONORS TO THE MEXICAN FASCIST PARTY of LA RAZA "The Race".
In short, everything that matters to Hillary and her Democrat Party is existentially threatened by Trump's wall. And as a personal matter, Hillary's multi-million dollar speech income from Wall Street contributors is also threatened: the banks make money from the wire transfers. Every time someone in the U.S. wires money to Mexico, the banks, currency exchanges, and other providers of wire transfer services make easy money. And the loss of low paying jobs to teenagers and seniors to illegal immigrants also contributes to the recession.
Hillary and her party
supporters desperately need illegal immigrants:
Hillary is bought and paid for.
We now know that the big Wall Street banks bought her and you are paying for it in many ways. Hillary will not reveal what she has said to big bank contributors, but it is not unlikely that she reassured them that she will allow an open border to exist on the Southern part of the U.S. Recent email leaks have confirmed that she believes in open borders.
And then there's the humanitarian issue. After all, the rationalization for allowing illegal immigration is that we need people to do "low paid jobs no one else will do." This is a racist, humiliating characterization of Hispanics from Mexico and other Central American countries. America's most shameful chapter in its history was its promotion of the institution of slavery, the importation of blacks from Africa to do "low paid jobs no one else will
generation of low paid workers. Vincente Fox never discusses this abuse, or the rape trees human smugglers construct as monuments to their criminal rape of young Hispanic women illegally crossing the border from the South.
Those following the money trail would say this follows the pattern perfectly: that Hillary allows illegal immigrants to be exploited by cartels and rapists in order for the banks she protects to collect their remittance transfer money. Somehow these humanitarian topics are avoided. We know that Wall Street investment banks gave tens of millions to support Barack Obama and Hillary Clinton.
These same
banks make easy profits from of illegal immigrant
bank transfer fees as well as high interest rate
home loans and car loans targeted to Hispanics.
Hillary's lack of humanitarian concern is accompanied by a silence toward the issue of money.
Working Class Americans Secure Massive Wage Hikes from Trump's Tight Labor Market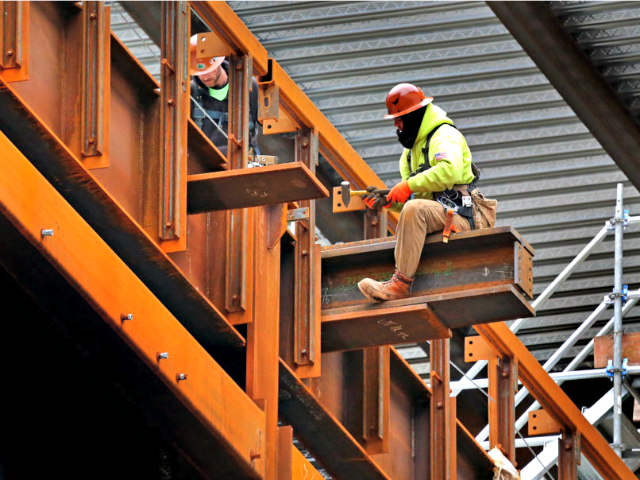 America's working class is benefitting the most when President Trump tightens the country's labor market through illegal and legal immigration controls, new data reveals.
Bureau of Labor Statistics data outlined by American Enterprise Insitute (AEI) scholar Michael Strain reveals the extent to which working-class Americans are benefitting in the Trump economy.
For example, the bottom ten percent of American workers were delivered 4.5 percent wage growth in their usual weekly earnings in 2017, which is more than double the wage growth that the country's top ten percent of American workers saw.
In 2018, working-class Americans are continuing to see more wage growth than the top ten percent of workers in the American labor market.
Likewise, Americans without a high school degree have seen their wage growth jump nearly 6.5 percent in 2018 thus far, the largest hike among all educational demographic groups.
The Trump administration has sought to increase wages for America's working and middle class by reducing the inflow of more than 1.5 million mostly low-skilled foreign workers who are admitted to the country every year.
This importation of low-skilled illegal and legal foreign workers has left the country's bottom line of workers with stagnant wages since the 1970s and forces them to competewith foreign workers for blue-collar jobs.
Last year, the Trump administration successfully increased the number of deportations of illegal aliens living across the U.S. — oftentimes holders of blue-collar jobs that could otherwise go to working-class Americans — by nearly 40 percent.
More specifically, Trump has doubled worksite immigration enforcement, deterring businesses and employers from hiring cheaper illegal aliens over Americans. Between October 2017 and May 2018, the Immigration and Customs Enforcement (ICE) agency opened 3,510 worksite immigration investigations, initiated 2,282 immigration audits, and made 594 criminal and 610 administrative worksite-related arrests.
As Breitbart News's John Carney has noted, reducing legal immigration to the U.S. — by signing the RAISE Act into law — would greatly hike wages for America's working and middle class. Carney's economic analysis found that if legal immigration levels were cut to about 600,000 admissions a year, growth domestic product (GDP) would be about $61,500 per person.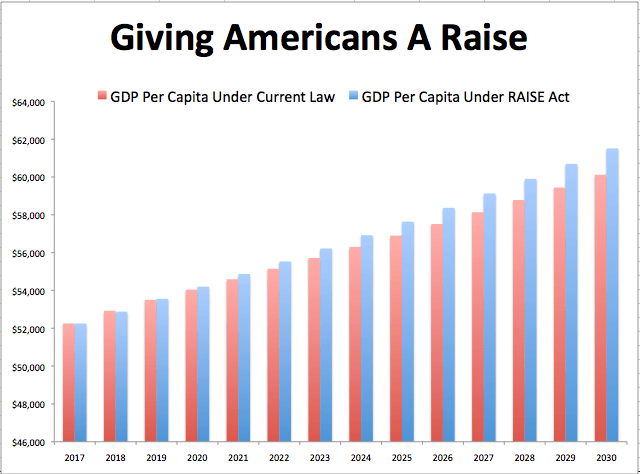 Most recently, the tight labor market helped reintegrate retirees back into the workforce. Breitbart News has also reported extensively on how the tight labor market in Trump's "hire American" economy has brought new job opportunities for Americans with disabilities, helped lower the demographic group's unemployment rate, and drove multinational corporation Amazon to raise hourly wages for their workers to $15 an hour.
The tight labor market has also secured higher wages for overtime workers and high-paying, coveted white-collar jobs for American teenagers. Breitbart News reported that the construction industry has had to recruit women to take jobs at higher wages rather than hiring illegal aliens. A Chick-Fil-A in California has even raised wages to $18 an hour to retain workers.
John Binder is a reporter for Breitbart News. Follow him on Twitter at @JxhnBinder.
WATCH: Mexican Police Escort 400 from Migrant Caravan to U.S. Border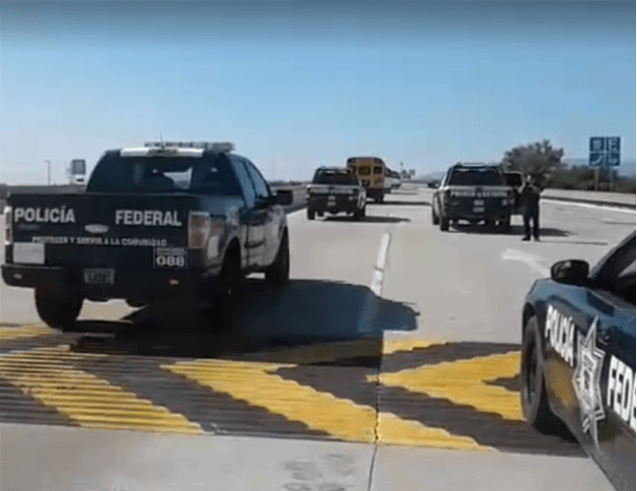 A caravan of nearly 400 migrants in eight buses arrived in the northern border state of Sonora, escorted by state and federal police on Monday.
A video posted by online depicts part of the caravan passing through a toll booth.
State and Federal police are providing security for the group as it heads to the U.S. border. The caravan stopped on the outskirts of Ciudad Obregon for a period of no more than 10 minutes to receive food and water. The caravan later stopped at a gas station, where they were met by personnel from Civil Protection and other agencies, according to local media.
Mexican authorities say doctors and specialists will be installed at various points on the road. Medical personnel are reportedly providing care for those who have become ill and also require vaccinations.
The caravan is expected to stop in the state capital of Hermosillo before continuing to Tijuana, which is currently experiencing a raging cartel war with record-breaking homicide figures.
Breitbart News reported extensively on the cartel violence taking place in Tijuana, with a total of 2,152 homicides in 2018. Some in the caravan are choosing to head to Tijuana to avoid areas such as Tamaulipas and Coahuila. The cartels controlling Tamaulipas and Coahuila areas tend to direct their violence against the migrant community via extortion schemes.
MEXICO VOWS A NEW INVASION HAS BEGUN, FINANCED BY U.S.
WE SAT AND WATCHED WHILE THEY DESTROYED OUR COUNTRY!
We are now in the process of destabilizing our own country. FROSTY WOOLDRIGE
Welfare for Refugees Cost Americans $123 Billion in 10 Years ….
YOUR TAX DOLLARS AT WORK!
Democrats are throwing blacks under the bus by appealing for the Hispanic vote by calling for open borders.