Political correctness is lethal, and the killing fields of Chicago provide ample evidence to those willing to look at it with clear eyes. The Associated Press manages to provide some surprisingly frank details on the real nature of the outbreak o...
The reality of Chicago's murder rate
Political correctness is lethal, and the killing fields of Chicago provide ample evidence to those willing to look at it with clear eyes.
The Associated Press manages to provide some surprisingly frank details on the real nature of the outbreak of murder in Chicago, a phenomenon that has become a worldwide emblem of the violence depravity of American society, in the eyes of America-haters. In a piece titled "Why is Chicago a murder capital? Clues from a bloody month," Don Babwin lays out clearly specific subculture that is responsible for the murders:
To those outside Chicago, the rising murder toll might suggest a city wracked by widespread violence, but August portrays a much narrower picture of constant tit-for-tat attacks among gang members, with bystanders sometimes caught in the crossfire.
Babwin lets the subculture reveal itself through interviews.
Fourteen-year-old Malik Causey loved the way gangs took what they wanted from people on the street, the way members fought for each other, the way they could turn drugs into cash and cash into $400 jeans.

His mother tried to stop him. She yanked him out of houses where he didn't belong. She cooked up a story about Malik punching her so the police would lock him up to keep him safe for a while.

Then on Aug. 21, Monique Causey woke to discover that her son had sneaked out of the house. Before she could find him, someone ended his life with a bullet to the back of his head a few blocks away.

"I went to him and cried and told him he wouldn't make it," Causey said. "But this fighting, jumping on people ... this is all fun for them. This is what they like to do, you know, so how can you stop them?"
Monique Causey and a picture of Malik.
This is utterly horrifying and heartbreaking. A mother is powerless to save her son from the allure of a street culture that proved irresistible. The drug trade offers quick money, and the macho aggressiveness necessary to defend drug-dealing turf leads to the tit-for-tat of murder.
"People are arguing on Facebook over the color of some girl's hair, real simple things ... and they carry guns and when they finally catch each other, that's how it be," said Derrick House, 51, a former gang member and ex-convict who now works trying to prevent violence. "When they see the person they looking for, they don't care who else is out there, old people and kids, they just start shooting."
This subculture's membership is well known to police:
… more than 70 percent of those shot to death appeared on the Chicago police's "Strategic Subject List," which includes 1,400 people considered likely targets of violence based on gang involvement or criminal record.
The real question then becomes how to destroy this subculture. The Constitution rules out simple but drastic measures, and left-wing legal groups are anxious to push theories like disparate impact to prevent reasonable approaches surviving litigation. Cops can convict some of the murderers, but incarceration is hardly a scary deterrent when murder is so common a fate.
The real leverage point for change would be the broader culture. These kids have their minds filled with glamorous imagery and music glorifying gangsta life. But getting the producers of this material to stop is fruitless. Instead, we need to start mocking the gangsters as dummies, too stupid to realize they are throwing everything away. Stop treating them as victims, and let the rest of humanity scorn their subculture as uncool. Of course, it is taboo for whites to scorn anything associated with any blacks. But is this taboo worth preserving when it is killing thousands of young African-American males?
The one thing adolescents can't stand is shaming as uncool. It is time to let the natural human revulsion at this barbarity be expressed instead of repressed by political correctness.
Or you can just call me a racist and move along.
September 1, 2016
Black Violence: Ignoring the Elephant in the Room
The most dangerous places in America are the places where liberals reign supreme – large U.S. cities. The city of Chicago is infamously a significant part of this violence. Tellingly, 80 percent of the shootings in Chicago are classified as gang-related. And what is one of the most common traits among American gang members? Broken families – especially those involving fatherless homes.
Yet, in a foolish tweet that followed the tragic death of Nykea Aldridge (Dwyane Wade's cousin) in Chicago – another victim of senseless gang violence – where Donald Trump brazenly (and in all likelihood wrongly) declared that "African-Americans will VOTE TRUMP," Trump failed to make note of the breakdown of the family.
If Mr. Trump wants to endear himself to black Americans who have long suffered under the policies of Democrats, he should regularly and loudly point out how complicit is the party of liberalism in the destruction of the black family and how this destruction has led to the violence killing literally thousands of black Americans annually.
Likewise, after the death of his cousin, Dwyane Wade decided to have a "conversation" about the violence that plagues Chicago and other urban areas in America. Several of Wade's cohorts from the elite world of professional athletics participated in the discussion, and ESPN hosted. There were many mentions of "gun violence" but not one mention of the breakdown of the family. There was also the mention of "mentoring." I wonder how many of the athletes featured in this discussion actually "mentor" their own children – you know, by having faithful marriages to the mothers of their children.
And how many of these athletes are practicing what they preach by not fathering children out of wedlock? Surely such "men of conversation" are aware that children born out of wedlock are much more likely to embark on a life of thuggery and violence. Until the real problems that result in gangs and violence are addressed, these "conversations" are an embarrassing waste of time.
Speaking of athletes who waste their time, any athlete who expends any amount of time and energy perpetuating the lie that is the narrative of the Black Lives Matter movement may as well lose himself on the interstate while driving to his stadium. Yes, Colin Kaepernick, that means you. If Mr. Kaepernick wants to sit in protest – even against the nation that has afforded him so much – fine, but at least find a worthy cause.
After being questioned about his decision to sit while the national anthem was being played prior to the start of the most recent San Francisco 49ers pre-season football game, Kaepernick stated, "I am not going to stand up to show pride in a flag for a country that oppresses black people and people of color. To me, this is bigger than football and it would be selfish on my part to look the other way. There are bodies in the street and people getting paid leave and getting away with murder."
I think it's fair to conclude that Mr. Kaepernick has completely swallowed the lies of Black Lives Matter. As has been frequently documented recently, the vast majority of the "bodies in the street" to which Mr. Kaepernick refers are the result of young black American males killing other young black American males. And again we come back to the breakdown of the family.
When are these athletes going to stand up for marriage and the family? Where's the chorus of those who will join with the likes of the NFL's Ben Watson and speak eternal truth to a nation desperate for it? And if one wants to protest a flag, why not protest the rainbow flag of the homosexual agenda? (Do you think those in the media, or the NFL, who support Kaepernick's right to protest the U.S. national anthem would be so accommodating if he stood against the homosexual agenda?) Where were the player protests when the NFL threatened the state of Georgia (a threat to which the governor of Georgia cowardly succumbed) when a tame religious liberty bill was being considered? Woe to those who stand up (or sit down) for lies but are silent when the truth is under assault!
Furthermore, the United States of America has been one of the greatest instruments for good the world has ever known – a fact about which Mr. Kaepernick demonstrates stunning ignorance.
With our military might, we have been an unequaled force for freedom and liberty around the world. We have liberated millions and defended millions more. For every human being enslaved in America, hundreds of millions more have been freed due to the brave and selfless efforts of Americans.
America is the most generous nation the world has ever known. Americans account for nearly half of all the charitable giving in the world. The vast majority of these contributions are private, not government, funds. Whether wars or hurricanes, floods or famines, earthquakes or tsunamis, with our abundant human, natural, and technological resources, time and again, Americans have come to the aid of their neighbors around the world.
In addition, according to Mark Tooley, "America accepts more immigrants, about a million legally every year, than any other nation and, by some measures, than all other nations combined. America permanently resettles more refugees than any other nation." Most importantly, the U.S. sends out more Christian missionaries than any other nation, nearly tripling the second-place nation, Brazil.
In other words, Mr. Kaepernick, the United States of America, the nation in which you (and countless others like you) became rich and famous, has given you little reason to protest – much less reason than any other nation in the history of the world.
Trevor Grant Thomas: At the Intersection of Politics, Science, Faith, and Reason.
www.trevorgrantthomas.com
Trevor is the author of the brand new book
The Miracle and Magnificence of America
.
tthomas@trevorgrantthomas.com
According to

ABC 7

, the gang members involved in the


burglary ring allegedly "[struck] homes four to five times in a


week" and "are suspected of some 5,000 burglaries" in total.
Gang members suspected of 5,000 burglaries arrested in Torrance-led police raids
An army of law enforcement officers led by Torrance police arrested 13 reputed South Los Angeles gang members Friday in a massive pre-dawn operation to break up an organized ring believed responsible for some 5,000 residential burglaries in five Southern California counties.
The operation, dubbed "Operation Money Bags," culminated nearly four years of investigation to not just arrest and prosecute suspected burglars but to tie their crimes to their gangs, using gang-related sentencing laws that could add years to their prison terms, Torrance police Sgt. Paul Kranke said.
"We were looking for ways to solve our residential burglary problem," Kranke said. "This is our long-term plan we came up with."
More than 400 officers from 18 police agencies joined the Torrance police force to raid 28 locations, primarily in South Los Angeles. The locations targeted members of the East Coast Crips gang, tying them to residential burglaries committed in Torrance and other South Bay cities as well as communities across Los Angeles, Ventura, Orange, Riverside and San Bernardino counties.
Search warrants were served without any problems, Kranke said. Two other suspects were arrested earlier in the week.
"We have 13 arrests today," Kranke said. "We recovered seven firearms and various amounts of narcotics and U.S. currency."
The raids were carried out with no problems or use of force, Kranke said.
Others suspects were arrested as the investigation proceeded over the years, including some on other charges, police said. A few suspects are still being sought.
Investigators said the operation was part of what they hope is a long-term solution to a sharp increase in residential burglaries that police officers say began when prison overcrowding relief efforts resulted in shorter sentences for offenders committing nonviolent crimes. The so-called "realignment" has allowed burglars to return to the streets to commit more offenses, said undercover police officers involved in Friday morning's operation.
"They are going to be sentenced and assigned to state prison as opposed to being in a revolving door," one of the officers said.
Additional crimes attributed to the East Coast Crips occurred in Alameda County in the Bay Area, along with locations in Washington and Colorado, police said. Some crimes were committed simply because gang members had traveled to those locations, police said.
The gang members also are believed to be partly to blame for a recent high-profile increase in residential burglaries on the Palos Verdes Peninsula causing angst among residents and demands for a crackdown, investigators said.
In addition to the raids Friday, state corrections officers performed searches in the cells of 50 inmates in prisons across the state. The inmates are suspected of helping to direct the burglaries using illegally held cellphones behind bars or benefiting financially from cash proceeds delivered to them from the crimes, police said.
When Torrance police began noticing the increase in burglaries in 2012, patrol officers studied the numbers and locations, and adjusted shifts to try to tackle the problem. Following some arrests, Torrance police administrators assigned the department's gang unit to join its burglary investigations team when they found that many of the thieves they were arresting were East Coast Crips gang members. East Coast Crips is a primarily black gang made up of various factions located in neighborhoods east of the 110 Freeway in South Los Angeles.
According to investigators, gang leaders had figured out that developing an organized burglary plan could be extremely lucrative. Each day, burglars had a goal of finding $5,000 and a gun, sometimes heading out to commit crimes four or five times a week. Each gang member targeted Friday was suspected of involvement in 125 to 150 crimes.
Police have tied more than 50 gang members to the crimes.
Gang leaders planned the burglaries in meticulous fashion, picking out neighborhoods to target, dressing professionally and using high-end rental cars in an attempt to not draw attention to themselves. "White pages" apps on their phones were used to call phone numbers along streets to see if anyone was home.
Asians were targeted by the burglary crews. Gang members would check for Asian names on targeted streets and look for shoes left on porches, a sign that an Asian family might live there. Gang members, police said, believed Asians kept money in their homes and "had the best gold."
Following many crimes, police said, gang members kept their profit and stolen property for themselves to live a luxurious lifestyle. Others fenced stolen goods. Stolen guns ended up on the street and were used in other crimes, police said.
But gang members didn't stop there. Those involved in the burglaries began flaunting their riches on social media, posting photographs of themselves holding thousands of dollars in cash on Facebook, Instagram and other sites. Sometimes they even recorded themselves committing crimes and put it online to boast, police said.
Detectives paid attention. The posts became tools for gang members to promote their gangs and recruit new members, and detectives and prosecutors decided to use their boastful posts against them, investigators said.
Gang detectives began scouring websites with a new idea. Instead of prosecuting a gang member for a burglary or two, crimes that might get them limited time behind bars, detectives worked to connect burglars to the ring, using their social media boasts to show their crimes were specifically benefiting their gang. So-called "gang enhancement" charges often are tied to murder cases, where prosecutors allege murders were committed for the gang's benefit.
The District Attorney's Office signed on to add the gang enhancement to burglary cases.
"Hopefully, it will reduce burglaries," Kranke said.
Gang Members Told to Steal $5000 and a Gun Per Day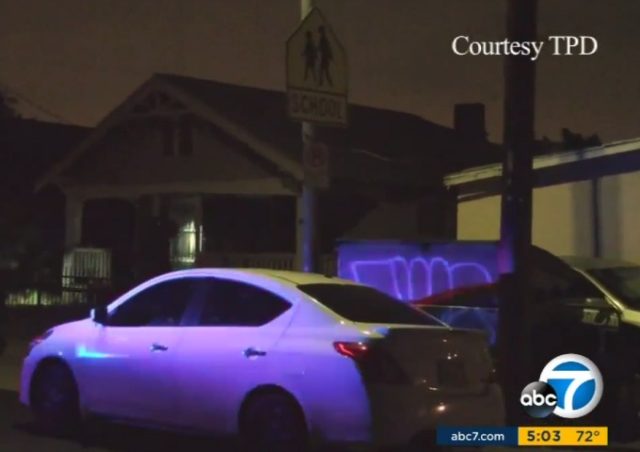 Southern California gang members were given orders to break into homes daily and return to their leaders with "at least $5,000 and a weapon every single day," according to law enforcement.
The daily burglary quota was discovered after officials made
15 arrests in "a gang-related burglary ring that they say hit
thousands of SoCal homes." The homes were in "upscale
neighborhoods in Los Angeles, Ventura, Orange, Riverside
and San Bernardino Counties."
According to ABC 7, the gang members involved in the burglary ring allegedly "[struck] homes four to five times in a week" and "are suspected of some 5,000 burglaries" in total. It
took eighteen different police departments and "400" individual law enforcement personnel "three and half years…to track the burglary suspects back to the ringleaders."
Many of the suspects have been in and out of jail multiple times. "Law enforcement officials blame the short sentences on a new state law designed to reduce prison overcrowding" but believe longer sentences will result from the latest arrests because of the compounding nature of gang-related charges.
AWR Hawkins is the Second Amendment columnist for Breitbart News and political analyst for Armed American Radio. Follow him on Twitter: @AWRHawkins. Reach him directly at awrhawkins@breitbart.com
.
STAGGERING BLACK VIOLENCE IN AMERICA WHERE JOBS STILL GO TO ILLEGALS
AMERICA: LAND OF FREE COP MURDERS
Of the 25 people shot to death by the police in the past week, beginning with
Tyre King, at least half were white, according to the grisly tally kept by killed by police.net.
Of the 702 people shot to death by police this year, according to a database maintained by the Washington Post, 163 were black men, about 23 percent of the total. Whites made up roughly half the victims, while Hispanics, Native Americans, Asians, black women and people of mixed race made up the balance.
AMERICA'S YOUTH STARVE
FOR EIGHT YEARS BARACK OBAMA AND HIS HAREM OF CORRUPT DEM POLS
HAS SABOTAGED OUR BORDERS TO EASE TENS OF MILLIONS OF ILLEGALS
INTO OUR JOBS, WELFARE OFFICES AND VOTING BOOTHS.
What is left for Legals is only the tax bills for La Raza's looting!
The new reports
show that in addition to "traditional" coping strategies of skipping meals and
eating cheap food, these teens and pre-teens are increasingly forced into shoplifting, stealing,
selling drugs, joining a gang, or selling their bodies for money in a struggle to eat properly.