SWAMP KEEPER TRUMP'S BULLSHIT:
"The denial was very, very strong," President Trump told reporters, adding that "maybe these could have been rogue killers. Who knows?"
MULTIPLE SUSPECTS IN ALLEGED MURDER OF JAMAL KHASHOGGI HAVE LINKS TO SAUDI CROWN PRINCE
Multiple suspects Turkish investigators identified as being present at the Saudi consulate in Istanbul on the day journalist Jamal Khashoggi went missing reportedly have direct or close ties to Crown Prince Mohammed bin Salman.
If the men identified by Turkish authorities were in fact involved in The Washington Post columnist's alleged murder, it would rule out
President Donald Trump's suggestion
that "rogue killers" were responsible.
One of the suspects is a close companion of the crown prince,
The New York Times
reports, and has been seen traveling with him around the world on various trips, including to Paris and Houston.
Three of the other suspects in the report are believed to be part of the crown prince's security detail, and a fifth is a forensic doctor who has held senior positions in the Saudi Interior Ministry.
Secretary of State Mike Pompeo traveled to Riyadh Tuesday to meet with the crown prince and other top Saudi officials to discuss the disappearance of Khashoggi, who had been living in self-imposed exile in the United States for the past year.
The crown prince and his father, King Salman, have denied any involvement in Khashoggi's reported death, although
reports have been circling
that the Saudis plan to claim the journalist died in an interrogation gone wrong.
CNN claims
, based on two unnamed sources, that the operation was carried out without clearance from Saudi officials, and the interrogation was supposed to end in Khashoggi's abduction from Turkey.
If the Turkish reports prove to be true, the Saudis' claim of a botched interrogation would not appear to match up with the Turkish time frame.
The New York Times reported that it has independently confirmed that at least nine of the 15 suspects worked for Saudi security services, the military or in other government capacities.
One of the identified suspects is Maher Abdulaziz Mutreb, who was a diplomat assigned to the Saudi Embassy in London in 2007, the Times report states.
The Times identified another suspect as Abdulaziz Mohammed al-Hawsawi, who travels with the crown prince as part of his security team, while another, Thaar Ghaleb al-Harbi was reportedly promoted last year to the rank of lieutenant in the Saudi royal guard.
A final identified suspect reportedly traveled without a passport, but claimed the same name as another member of the royal guard, Muhammed Saad Alzahrani.
Content created by The Daily Caller News Foundation is available without charge to any eligible news publisher that can provide a large audience. For licensing opportunities of our original content, please contact licensing@dailycallernewsfoundation.org.
US INTELLIGENCE SHOWS SAUDI CROWN PRINCE ORDERED OPERATION TO CAPTURE MISSING JOURNALIST
U.S. intelligence intercepts of communication between Saudi officials revealed that Saudi Crown
Prince Mohammed bin Salman ordered an operation to capture and extradite Jamal Khashoggi to Saudi Arabia.
Details of the plan, as revealed by intelligence intercepts, match reports from Turkish officials about a team of Saudi agents reportedly arriving in Turkey, killing Khashoggi, disposing of his body, and leaving.
Questions abound as to whether U.S. intelligence agencies should have warned Khashoggi given the intelligence they had.
U.S. intelligence indicates that the Saudi crown prince ordered an operation to capture Washington Post columnist
Jamal Khashoggi
and bring him in for interrogation.
The revelation that
Mohammed bin Salman
ordered the operation that resulted in Khashoggi disappearance after he entered the Saudi consulate in Istanbul on Oct. 2 came from U.S. intercepts of communication between Saudi officials. The intercepted discussion of the plan involved two Saudi teams totaling 15 men arriving and departing from Turkey at different times,
matching reports
from Turkish officials that 15 Saudi agents arrived in Turkey on charter flights, assassinated Khashoggi, disposed of his body and departed.
(RELATED: Some In Media Blame Trump For Saudi Journalist's Disappearance)
A former U.S. intelligence official who
spoke with WaPo
on the condition of anonymity said that the details of the plan discussed by Saudi officials bear the hallmarks of a "rendition," or an operation to illegally extradite someone from one country and transport them to another in order to interrogate them. Turkish officials believe that something went wrong with the operation and that Arab agents killed Khashoggi inside the consulate. An anonymous Turkish official
also asserted
that the Saudi agents dismembered Khashoggi's body with a bone saw and disposed of the pieces.
The Saudi government has denied any involvement in Khashoggi disappearance and claims that he left the consulate unharmed through the rear entrance, though they have provided no evidence to back up their claim. The Saudis have also
refused to answer
U.S. officials' questions concerning Khashoggi's disappearance, straining the relationship between Riyadh and the Trump administration.
Surveillance footage shows Khashoggi entering the consulate, but Turkish officials say there is no footage of him leaving. The journalist has yet to be found.
Khashoggi often criticized the Saudi government, including Mohammed bin Salman, and believed that it was not safe for him to return to Saudi Arabia. Close friends of the journalist reported that several senior Saudi officials contacted Khashoggi over the last four months with promises of protection and offers for him to return to the country. Khashoggi believed none of their offers.
"He said: 'Are you kidding? I don't trust them one bit,'" Khaled Saffuri, an Arab American political activist, recounted Khashoggi saying after speaking with Saud al-Qahtani, an adviser to the royal court.
A friend also reported that a Saudi businessman who is close to the royal family seemed "keen" to visit with Khashoggi any time he came to DC and told the journalist that he would work with Saudi authorities to allowK hashoggi's safe return to the country.
Given the U.S. intelligence intercepts describing the Saudi plan to detain Khashoggi, some have questioned whether U.S. intelligence agencies were negligent in their "duty to warn" the journalist of the plot, as they are obligated to do in any case when it is known that a person, U.S. citizen or otherwise, may be kidnapped, injured, or killed.
"Duty to warn applies if harm is intended toward an individual," a former senior intelligence official told WaPo.
"Capturing him, which could have been interpreted as arresting him, would not have triggered a duty-to-warn obligation. If something in the reported intercept indicated that violence was planned, then, yes, he should have been warned," the former official added.
Deputy State Department spokesman Robert Palladino denied that the U.S. had any prior knowledge of the threat of harm to Khashoggi.
"Though I cannot comment on intelligence matters, I can say definitively the United States had no advance knowledge of [Khashoggi's] disappearance," he told reporters Wednesday.
Though the intelligence had been disseminated to those who work on U.S. foreign policy toward Saudi Arabia, those with access to it were reportedly unclear as to whether Saudi officials had discussed or planned to harm Khashoggi in their operation to extradite him.
Content created by The Daily Caller News Foundation is available without charge to any eligible news publisher that can provide a large audience. For licensing opportunities of our original content, please contact licensing@dailycallernewsfoundation.org.
Lindsey Graham: 'Toxic' Saudi Crown Prince Mohammed bin Salman 'Has Got to Go'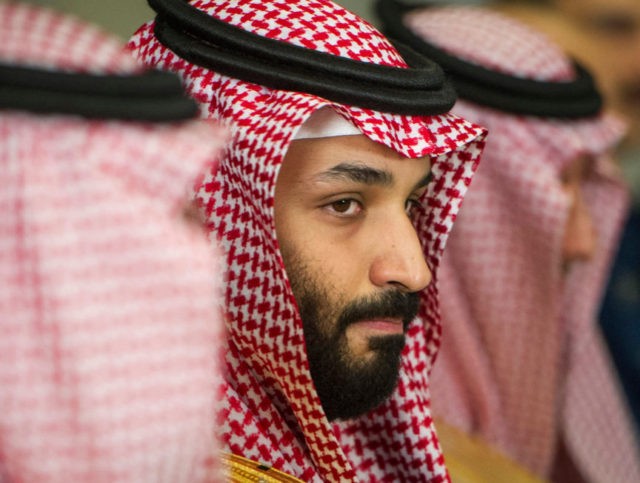 Sen. Lindsey Graham (R-SC) on Tuesday morning told Fox & Friends that Saudi Arabia's crown prince Mohammed bin Salman "has got to go" in the wake of the alleged orchestrated killing of Washington Post contributor Jamal Khashoggi in Turkey.
A partial transcript is as follows:
BRIAN KILMEADE: Saudi Arabia, the Secretary of State is heading over there now to try to get some answers about what happened in the Saudi embassy inside Turkey. You know what happened. Who is to blame?

LINDSEY GRAHAM: I know this. Nothing happens in Saudi Arabia without MBS knowing it

KILMEADE: Whose MBS?

GRAHAM: He's the 33-year-old Crown Prince, who jumped over other people, he's the son of the existing King and I think he's on a bad track. I can never do business with Saudi Arabia again until we get this thing behind us.

KILMEADE: What does that mean?

GRAHAM: That means I'm not going back to Saudi Arabia as long as this guy's in charge.

KILMEADE: You're telling us the Crown Prince has to leave?

GRAHAM: It's up to them. I've been their biggest defender on the floor of the United States Senate. This guy is a wrecking ball. He had this guy murdered in a consulate in Turkey. I feel used and abused. I was on the floor everytime defending Saudi Arabia because they're a good ally. There's a difference between a country and an individual. To me, MBS as a figure is toxic and can never be a world leader on the world stage.
AINSLEY EARHARDT: What does the president do? Sanctions?

GRAHAM: It's up to the president. I know what I'm going to do. I'm going to sanction the hell out of Saudi Arabia. We deal with bad people all the time. This is in our face. I feel personally offended. They have nothing but contempt for us. Why would you put a guy like me and the president in a position like this after all the president has done? This guy's got to go.
Turkish President Recep Tayyip Erdoğan accused the government of Saudi Arabia on Tuesday of "painting over … toxic materials" at the Istanbul consulate where Washington Post columnist Jamal Khashoggi disappeared on October 2.
Erdoğan's public remarks, as reported by American wire sources and Turkish media, are some of the few on-the-record statements with details as to what ongoing investigations into Khashoggi's disappearance have discovered. The Saudi government has not responded to the accusation at press time.
The Turkish newspaper Yeni Safak, citing Reuters and the state-run Turkish Anadolu news agency, reported on Tuesday that Erdoğan confirmed Turkish investigators were "looking into many things such as toxic materials and those materials being removed by painting them over."
"My hope is that we can reach conclusions that will give us a reasonable opinion as soon as possible," the president reportedly stated, speaking at an event recognizing the appointment of new judges and prosecutors in Ankara. According to Anadolu, Erdoğan spent much of the event discussing the urgency of combatting rival Fethullah Gülen, an Islamic cleric living in Pennsylvania, and warning of further Turkish military action in Syria but took some time to address the Khashoggi case.
Turkish investigators were allowed into the Saudi consulate in Istanbul Monday, accompanied by Saudi officials, for the first time in the two weeks since Khashoggi disappeared. The Saudi government insists that Khashoggi, who went to the consulate seeking paperwork to get married and was reported missing by fiance Hatice Cengiz, went missing after leaving the consulate. Saudi officials have not revealed any surveillance footage showing Khashoggi leaving the consulate, however, and Turkish officials have stated they have no evidence showing him stepping out of the building.
As the consulate is technically considered sovereign Saudi territory, Turkish police need permission from Riyadh to enter.
Hours before the Turkish investigators entered the building, journalists observed a cleaning crew equipped with mops and other cleaning gear congregating outside the consulate and taking their products into the consulate with them.
Reuters cited unnamed Turkish sources saying that their search of the consulate on Monday did yield "soil samples" and other key evidence.
"The Turkish crime scene investigators carried out searches in the consulate and took the things deemed necessary," a "senior Turkish official" reportedly said.
Erdoğan's statement remains one of the few made on the record by a Turkish official. International media have published a variety of sensational statements attributed to unnamed Turkish officials, however, ranging from claims that Saudi officials dissolvedKhashoggi's body in acid to allegations they carried his body out piecemeal in small suitcases to the alleged existence of video showing Khashoggi's homicide in real time. Late Monday afternoon, CNN added to the uncorroborated reports a claim that Saudi Arabia was preparing to confess to having killed Khashoggi in an interrogation gone wrong, citing "sources."
Neither Turkish nor Saudi government officials have confirmed any of these reports.
Anadolu Agency reported on Tuesday that Turkish officials are planning to expand their investigation into the residency of the Saudi consul on Tuesday, accompanied by Saudi officials. The expansion of the investigation followed what is being reported as a cordial conversation between Erdoğan and Saudi King Salman bin Abdulaziz that resulted in the formation of a joint investigative team to find Khashoggi.
Khashoggi's family called for an independent international investigation on Tuesday, expressing distrust of the Saudi government and stating that they are "traumatized" by his disappearance.
"The strong moral and legal responsibility which our father instilled in us obliges us to call for the establishment of an independent and impartial international commission to inquire into the circumstances of his death," his family said in a statement.
King Salman
spoke
to U.S. President Donald Trump on Monday following his conversation withErdoğan, reportedly reiterating Saudi Arabia's innocence in the matter.
"The denial was very, very strong," President Trump told reporters, adding that "maybe these could have been rogue killers. Who knows?"
Secretary of State Mike Pompeo
landed
in Riyadh Tuesday and at press time has met with both King Salman and Crown Prince Mohammed Bin Salman to acquire intelligence directly from the Saudi sources.
"We are strong and old allies. We face our challenges together — the past, the day of, tomorrow," the crown prince told Pompeo in front of reporters at their meeting.
Trump backs Saudi Arabia, suggesting "rogue killers" murdered Khashoggi
By Peter Symonds
16 October 2018
Two weeks after the disappearance and apparent murder of Jamal Khashoggi inside a Saudi consulate in Turkey, multiple reports indicate Saudi authorities are about to admit to his death but claim it was the result of an interrogation gone wrong. The aim of this concocted tale is to shield the Saudi regime and above all its de facto ruler, Crown Prince Mohammed bin Salman (known as MBS), from direct blame.
The Saudi claims, if that is the story that is finally made public, are simply not credible. Khashoggi, a high-profile journalist and Saudi insider who was critical of MBS, has not been seen since he entered the Saudi consulate in Istanbul on October 2 to obtain divorce papers. Initially Saudi authorities claimed that he had left the consulate but provided not a shred of evidence.
Everything points to the torture and murder of the journalist by a 15-member team of Saudi agents who arrived in Turkey on diplomatic passports and entered the consulate shortly before Khashoggi's disappearance. Turkish sources told the media that the country's authorities have audio and video recordings indicating that the journalist was killed inside the consulate and have passed on the evidence to other countries, including Saudi Arabia and the United States.
There is next to no doubt that such a brazen murder would have been ordered from the very top of the Saudi regime. Plans to interrogate or render Khashoggi back to Saudi Arabia were reportedly approved by Prince Mohammed. The aim of the operation was to silence a critic who had become a thorn in the side of the Saudi king.
In advance, US President Trump yesterday backed the Saudi regime by suggesting that Khashoggi might have been the victim of "rogue killers." Having spoken to Saudi King Salman for 20 minutes on Monday, Trump told reporters: "It wasn't like there was a question in his mind. The denial was very strong. The king firmly denied any knowledge of it. He didn't really know… maybe these could have been rogue killers. Who knows?"
Trump also dispatched Secretary of State Mike Pompeo to Saudi Arabia for talks with the king and top Saudi officials. The purpose of the mission is clearly to ensure that nothing upsets the longstanding US relations with Saudi Arabia, which along with Israel, is the closest of allies in the Middle East.
These alliances are critical as the Trump administration prepares to ramp up its confrontation and potential conflict with Iran. The US is preparing to impose draconian new sanctions on Iran, including oil sales, and requires the assistance of Saudi Arabia, the world's largest producer, to manage oil supplies and prices.
Pompeo will also try to limit the damage to Saudi Arabia's "Davos in the Desert" investment conference scheduled for October 23–25. A number of companies, media organisations and other guests have already pulled out following Khashoggi's disappearance, but as of Monday, US Treasury Secretary Steven Mnuchin was planning to attend.
Trump's remarks have drawn ridicule from his political opponents and media critics. The New York Times, for example, cited the remarks of Democrat Senator Chris Murphy who tweeted: "Been hearing the ridiculous 'rogue killers' theory was where the Saudis would go with this. Absolutely extraordinary they were able to enlist the President of the United States as their PR agent to float it."
While Trump's suggestion is absurd, the hypocrisy of his critics in American ruling circles is staggering. For decades, successive US administrations, Democrat and Republican, have maintained the closest relations with Saudi Arabia, turning a blind eye to their repressive, anti-democratic regime at home and their criminal actions abroad.
Saudi authorities beheaded about 150 people in 2017 and executed another 48 in the first four months of this year. Last year, as he was seeking to consolidate his grip on power, Crown Prince Mohammed bin Salman launched the mass detention of leading figures within the Saudi royal family and ruling class. Khashoggi, who has close ties to rival sections of the Saudi elites, fled to escape the round-up.
While critics in the US congress are threatening to impose sanctions on Saudi Arabia over the Khashoggi affair, they have ignored the criminal war in Yemen being waged by Saudi Arabia, with American political support and military assistance. More than 16,000 people have been killed and many more are in desperate poverty facing disease and starvation.
The trenchant criticism of Trump over the Khashoggi killing is bound up with tactical differences in the US political and military establishment over his unilateral abrogation of the 2015 Iran nuclear agreement, which has alienated America's European allies, and his confrontational stance towards China. The unending allegations of "Russian interference" in the 2016 presidential elections are aimed at confronting Russia, rather than China first, as the US seeks to maintain its global dominance. Those who denounce Trump for absolving the Saudi regime without any evidence, have been in the forefront of unsubstantiated accusations of Russian meddling in American politics.
In the end, once the Khashoggi affair has dropped out of the headlines, there is little doubt that Washington will come together to reaffirm relations with Saudi Arabia. A comment yesterday by Financial Times analyst Gideon Rachman was critical of Trump's association with the Saudi crown prince, but concluded "do not expect radical shifts in US Middle East policy despite the Khashoggi scandal."
Rachman declared: "Without a good relationship with Saudi Arabia, US influence in the Middle East will slide even further… The US, which used to be the un­disputed kingpin in the region, currently has a much more limited set of relations than Russia. America has cut all channels to Iran, and its relations with Turkey are likely to remain fraught…
"If the US now carries through on the threat of 'severe' punishment for Saudi Arabia, it will also alienate the Gulf States, and could leave it without any close allies in the region—apart from Israel. For that reason, it is likely that the Trump administration will do its best to limit the diplomatic fallout from the Khashoggi affair—and that even Congress will tread carefully. Given the grim realities of realpolitik, it is hard to blame them for that."
The cynical response to the murder of the Saudi journalist is a further warning of the anti-democratic and repressive methods that will be used to silence opposition, not only by autocratic regimes in the Middle East, but by the so-called democracies of the world.
SAUDI ARABIA'S THREAT TO USE ITS 'OIL WEAPON' RINGS HOLLOW AMONG ENERGY EXPERTS
Energy experts don't expect Saudi Arabia to cut oil output in retaliation to U.S. sanctions.

"The Saudis will not cut their nose off to spite their face," said one expert.

Saudi production cuts would likely bolster U.S. energy dominance.
Saudi Arabia isn't likely to meddle with oil markets to fight back against potential U.S. sanctions over the death of journalist Jamal Khashoggi, according to energy experts.
The reason: Saudi Arabia's dreaded "oil weapon" would be completely useless.
"The Saudis will not cut their nose off to spite their face; they have learned a lot about oil's importance in the world and to their economy since the oil embargo in 1973," Dan Kish, a distinguished senior fellow at the Institute for Energy Research, told The Daily Caller News Foundation.
"The oil weapon does not work, which is why Saudi Arabia is unlikely to employ it in the dispute over the disappearance of Washington Post journalist Jamal Khashoggi," Reuters market analyst John Kemp
wrote
in a column published Tuesday.
U.S. oil exports have exploded in recent years, and any gaps left by Saudi production cuts could be filled by American suppliers. The U.S. would further cement itself as
the world's largest
oil and gas producer.
"The only people seriously talking about cutting off oil supplies to the US are the Green Left, who want us to leave it all in the ground," said Kish.
It would be a repeat of the failed Arab oil embargo of the 1970s, according to Kemp. The brief embargo only served to undermine the Saudi's customer base and didn't achieve its main goal of getting the U.S. to renounce Israel.
"While pump prices in the US would spike if Saudi Arabia were to cut oil supplies, the use of oil as a weapon would also hurt the Saudis themselves," former Obama energy adviser Jason Bordoff
told
the Financial Times.
Bordoff said oil output cuts would only "accelerate a transition toward alternatives likes electric vehicles, and undermine the reputation Saudi Arabia has built in the decades since 1973 as a reliable supplier."
Khashoggi, a Washington Post contributor, was last seen entering the Saudi Arabian consulate in Istanbul, Turkey, on Oct. 2, but has not been seen since.
Media reports say
the Saudis will say Khashoggi died during a botched interrogation.
However, that explanation isn't likely to sit well with some U.S. officials, including some Republican lawmakers.
"We'll sanction the hell out of Saudi Arabia," South Carolina Sen. Lindsey Graham said during
an appearance on "Fox & Friends"
Tuesday morning. The Republican added, "This guy has got to go."
President Donald Trump said, "Very, very powerful, very strong measures" could be taken against Saudi Arabia if its leaders were involved in Khashoggi's death. However, Trump also said he's not in favor of ending weapons deals with the kingdom.
Amid threats of sanctions, the Saudi-owned Al Arabiya
published an editorial
warning of "an economic disaster that would rock the entire world" if the U.S. tried to punish the country.
"Riyadh is the capital of oil and touching this would affect oil production before any other vital commodity," reads the editorial.
In a statement, the Saudi kingdom
warned
"if it receives any action, it will respond with greater action."
Secretary of State Mike Pompeo met with Saudi Crown Prince Mohammed bin Salman on Tuesday to discuss Khashoggi's disappearance. Pompeo reiterated Trump's concerns over the matter, and the two agreed "on the importance of a thorough, transparent and timely investigation,"
according to the State Department
.
Should U.S.-Saudi
Alliance Be Saved?
PALESTINIAN SHARIA JUDGE ADMITS: JIHAD AGAINST ISRAEL IS ALL ABOUT ISLAM
Not that the "foreign policy experts" will care.
October 15, 2018
The Supreme Sharia Judge of the Palestinian Authority, Mahmoud Al-Habbash, admitted it last Wednesday: the Palestinian war against Israel is a jihad that will never be solved by negotiations.
According to Palestinian Media Watch, Al-Habbash, a close advisor to Palestinian Authority President Mahmoud Abbas, declared: "Jerusalem is the arena of conflict between us and the colonialist project [Israel]… Jerusalem's [Al-Aqsa] Mosque apparently is the heading for the eruption of the conflict and The Battle of History between Islam and the enemies of Islam; between the Muslims and the enemies of Muslims; between the Islamic culture in all its splendor and human glory and the culture of Satan attempting to establish oppression and aggression at the expense of the culture of truth and goodness… This mosque is decreed to be the arena of the battle between good and evil. This mosque and this wonderful city – the city of history, religion, and culture, Jerusalem – are decreed to be the heading of the conflict… Jerusalem is the heading of this battle, this conflict, and this round, which I and many others see as the key, as the first step, as the spark of the battle of the 'final promise.'"
The fact that the jihad against Israel is indeed part of "the battle of history between Islam and the enemies of Islam" is abundantly illustrated in my book The History of Jihad From Muhammad to ISIS. In that book also, it is also abundantly clear that the "enemies of Islam" are those non-Muslims who refuse to accept the hegemony of Sharia and the second-class status that acceptance would entail for them. Those non-Muslims, according to the Qur'an (9:29), have to be warred against and subjugated.
Imagine sitting down at a negotiating table and facing Mahmoud Al-Habbash on the other side. Do you think he would accept a cessation of the building of "settlements," or the abandonment of this or that territory, as the price of peace? Do you think he would sign a peace accord with any Israeli negotiators that would involve calling upon Palestinians to lay down their arms, accept the existence of the Jewish state, and live in peace with Israelis?
In fact, he might sign such an accord, but only in accord with Muhammad's dictum "War is deceit," and only in line with the stipulations of Islamic law regarding treaty making with Infidels – rules that are based upon Muhammad's Treaty of Hudaybiyya with the pagan Quraysh tribe. The truce is to be for no longer than a period of ten years, and can only be undertaken at all when the Muslims are weak and need to gather their strength. Once the Muslims have the advantage again, the treaty can be broken any time.
One thing Mahmoud Al-Habbash or any other Palestinian would not do, however, would be to enter into any treaty with Israel that involved Palestinians coexisting peacefully with Israelis as equals on an indefinite basis, in a state in which Sharia is not established.
Al-Habbash made this abundantly clear in his remarks, but the professional diplomats of Washington and the capitals of Europe will take no notice. In reality, all of those who think that the Israeli/Palestinian conflict will be solved through negotiations should heed the words of Mahmoud Al-Habbash. But they won't. They will continue to think that if only the right combination of concessions is hit upon, the Palestinians will happily agree to live in peace with the Israelis, and that the only reason why all previous negotiated peace accords have failed is because the proper formula was not found.
Well, the proper formula for turning lead into gold has not yet been found either, but I won't be holding my breath. The failure to heed Mahmoud Al-Habbash and others like him has led Americans down numerous policy blind alleys, and there will be many more. One group that has proven to be particularly unconvinced by reality is diplomats – to say nothing of "foreign policy experts." And so we will continue merrily on, making the same mistakes again and again and again.
JAMAL KHASHOGGI: THE MEDIA FIGHTS FOR A MUSLIM BROTHERHOOD PAL OF OSAMA BIN LADEN
The terrorist truth behind the media lies.
October 15, 2018
Daniel Greenfield, a Shillman Journalism Fellow at the Freedom Center, is an investigative journalist and writer focusing on the radical left and Islamic terrorism.
In high school, Jamal Khashoggi had a good friend. His name was Osama bin Laden.
"We were hoping to establish an Islamic state anywhere," Khashoggi reminisced about their time together in the Muslim Brotherhood. "We believed that the first one would lead to another, and that would have a domino effect which could reverse the history of mankind."
The friendship endured with Jamal Khashoggi following Osama bin Laden to Afghanistan. Khashoggi creditedAdel Batterjee, listed at one time as one of "the world's foremost terrorist financiers" by the Treasury Department, with bringing him to Afghanistan to report on the fighting.
The media calls Khashoggi a journalist, but his writings from 80s Afghanistan read as Jihadist propaganda with titles like, "Arab Mujahadeen in Afghanistan II: Exemplifies the Unity of Islamic Ummah".
And when Osama bin Laden set up Al Qaeda, he called Khashoggi with the details.
After Afghanistan, Jamal Khashoggi went to work as a media adviser for former Saudi intel boss, Prince Turki bin Faisal, alleged to have links to Al Qaeda. Those allegations came from, among others, Zacarias Moussaoui, the alleged twentieth hijacker.
When the other 19 hijackers perpetrated the attacks of September 11, Khashoggi wrote that the Saudis would not "give in" to American "demands" for "unconditional condemnation" and "total cooperation".
"Saudis tend to link the ugliness of what happened in New York and Washington with what has happened and continues to happen in Palestine. It is time that the United States comes to understand the effect of its foreign policy and the consequences of that policy," he declared.
"A Muslim cannot be happy with the suffering of others. Even if this suffering is that of Americans who neglected the suffering of Palestinians for half a century."
That's the real Khashoggi, a cynical and manipulative apologist for Islamic terrorism, not the mythical martyred dissident whose disappearance the media has spent the worst part of a week raving about.
Jamal Khashoggi was not a moderate. Some describe him as the leader of the Saudi Muslim Brotherhood. The Islamist network admires Hitler and seeks to impose Islamic law around the world. Nor was he a supporter of freedom of the press. In one of his Al Jazeera appearances, he complained that the Saudi government was allowing some journalists to report positively on Israel.
His final project, DAWN or Democracy for the Arab World Now was meant to aid Islamists. According to Azzam Al-Tamimi, an old Muslim Brotherhood ally aiding Jamal, "The Muslim Brothers and Islamists were the biggest victims of the foiled Arab spring." Al-Tamimi has endorsed suicide bombings.
But unlike Osama bin Laden, Khashoggi did not use the Muslim Brotherhood as a gateway drug to the pure and uncut violence of Al Qaeda or ISIS. He was still betting on a political takeover.
As he recently put it, "Democracy and political Islam go together."
Khashoggi went on making the case for the Islamic state of the Muslim Brotherhood. He went on making that case even as the Saudis decided that the Brotherhood had become too dangerous.
Like his old friend, Jamal Khashoggi went into exile in a friendly Islamist country. Osama bin Laden found refuge in Pakistan and Khashoggi ended up in Turkey. The Khashoggi family had originated from Turkey. And Turkey was swiftly becoming the leading Sunni Islamist power in the region. Living in Turkey put Khashoggi at the intersection of the Turkish-Qatari backers of the Brotherhood and the Western media.
His disappearance has touched off fury and anger from the Islamist regime that harbored him. And it has also set off an unprecedented firestorm of rage and grief by the American media which adored him.
Media spin describes Khashoggi as a dissident. And he certainly was that. But so was Osama bin Laden.
What Khashoggi wasn't, was a moderate. No more so than the Muslim Brotherhood. He wasn't a proponent of human rights, but of Islamic rule. He could be found on Al Jazeera, Qatar's Jihadist propaganda network, bemoaning Saudi opposition to the Brotherhood and its friendliness to Israel.
"Crown Prince Mohammed bin Salman should get rid of his complex against the Muslim Brotherhood and stop treating them as the enemy or a threat to Saudi Arabia," he complained, and urged the Saudis to fight Israel instead.
Jamal Khashoggi's career of spouting Muslim Brotherhood propaganda for his new Turkish and Qatari masters came to an end in a curious way. Before Khashoggi allegedly entered the Saudi embassy, from which Turkey claims that he disappeared, he told his Turkish fiancé to call Yasin Aktay if he didn't return.
Yasin Aktay is the Turkish equivalent of Obama's Ben Rhodes, and served as the AKP Islamist ruling party's spokesman. Why call one of the regime's top propagandists instead of the police?
One obvious explanation is that Khashoggi's mysterious disappearance was a propaganda ploy.
It wouldn't be the first time that the Turkish regime executed a false flag operation. Or the first time that the media ate it up.
Before the summer coup of 2016, Turkey was said to have 50,000 political prisoners. Many of them were members of the country's oppressed Kurdish minority which is deprived of its most basic civil rights. These include even the use of their own language. Doing so can carry a prison sentence.
In that terrible summer, Recep Tayyip Erdoğan, Turkey's Islamic tyrant, finished securing his absolute hold on power with the coup as his Reichstag fire. The alleged coup became a blank check for the mass arrest and torture of countless thousands of political prisoners. Amnesty International estimated that 50,000 had been detained. The UN listed a figure as high as 180,000. They included 300 journalists.
Lawyers described clients being brought to them covered in blood.
Erdogan went after professors, judges, law enforcement, the military and the last remnants of a free press. A Human Rights Watch report documented electric shocks, beatings with truncheons and rubber hoses, and rape by Erdogan's Islamic thugs. Heads were banged against walls. Men were forced to kneel on burning hot asphalt. Medical reports showed skull fractures, damage to testicles and dehydration.
The media didn't show any of the hysterical outrage at these crimes that it has over the disappearance of Jamal Khashoggi. The media cares more about Khashoggi, a former media mouthpiece of the Saudi regime before it turned on his Muslim Brotherhood brothers, than about 300 Turkish reporters.
It's not hypocrisy, it's consistency.
Erdogan and Khashoggi are both militant Islamic activists. And their opponents, the victims of Erdogan's Reichstag fire and the new Saudi king, had fallen afoul of them for being insufficiently militantly Islamist.
The media will always take the side of Islamists over non-Islamists. That's why it bleeds for Khashoggi.
There was a reason why Jamal Khashoggi felt so comfortable in Turkey, while actual journalists in the country were terrified of being locked up, tortured and disappeared. If that was the fate that befell Khashoggi, it was a commonplace one in Turkey. And it may have been carried out by his own Turkish allies who decided that their Saudi subversive had more value as a false flag martyr than a house guest.
The media's disproportionate outrage over Khashoggi has nothing to do with human rights. If it did, the media would have been just as outraged at the arrests and torture of tens of thousands in Turkey.
It's not. And it won't be.
And the politicians shrilly urging that we punish the Saudis never thought about curtailing arms sales to Turkey. Many of the same politicians were unhappy when President Trump used economic pressure on Erdogan in an effort to free American hostages, like Pastor Andrew Brunson, being held by Turkey.
The struggle between Saudi Arabia and the UAE on the one hand, and Turkey, Qatar and Iran on the other, is the next stage of the Arab Spring. And, from Yemen to Turkey, the media has made no secret of being on the Islamist side. Its outrage over Khashoggi, like its claims of a human rights crisis over the Saudi bombings in Yemen, are not journalism, they're the political spin of the Islamist axis.
The media has reported every claim of victimhood by the Muslim Brotherhood and Qatar's Al Jazeera propaganda arm, while giving as little attention as possible to the victims of Muslim Brotherhood church bombings. Its coverage of Israel has been little more than terrorist propaganda since Osama was in diapers. Its coverage of the Khashoggi case is every bit as dishonest as its slanted attacks on the Saudi embargo of Qatar, as its propaganda about the wars in Yemen and Libya, and just as devoid of context.
The Khashoggi case demands context.
Before the media and the politicians who listen to it drag the United States into a conflict with Saudi Arabia over a Muslim Brotherhood activist based on the word of an enemy country still holding Americans hostage, we deserve the context.
And we deserve the truth.
The media wants the Saudis to answer questions about Jamal Khashoggi. But maybe the media should be forced to answer why the Washington Post was working with a Muslim Brotherhood propagandist?
The real mystery isn't Khashoggi's disappearance. It's why Republicans aren't asking those questions.
The media's relationship with Khashoggi is far more damning than anything the Saudis might have done to him. And the media should be held accountable for its relationship with Osama bin Laden's old friend.