Roy Moore Blasts Congress: Failed to 'Stand Up and Impeach' Janet Napolitano over DACA
During a rally alongside Breitbart News Chairman Steve Bannon and Brexit leader Nigel Farage, Alabama Senate candidate Judge Roy Moore blasted the United States Congress for inaction in stopping a temporary amnesty program for nearly 800,000 illegal aliens.
Moore slammed Congress – Republicans and Democrats alike – on the issue of the Deferred Action for Childhood Arrivals (DACA) program, which has given upwards of 800,000 illegal aliens work permits before President Trump's administration ultimately announced plans to phase out and end the temporary amnesty program.
"I can talk to you about DACA, Deferred Action on Childhood Arrivals," Moore said during the rally in Fairhope, Alabama. "What was that? What law was that? Why was it unlawful?"
"You see the DREAM Act didn't pass…" Moore said. "It didn't pass through Congress. So Janet Napolitano, director of the Homeland Security Department decides to issue a memo, a memo. And she issues a memo that 'We're not going to take action.' That is her job. That was her job. They're supposed to take action on this. But they didn't."
Moore went on to nail Congress for refusing to impeach then-Department of Homeland Security Director Janet Napolitano, who created DACA with the help of former President Obama, giving temporary amnesty to hundreds of thousands of illegal aliens.
"Now, you see, who's the blame for this," Moore asked. "The president? No, he didn't do it. He let it be done. Congress did not stand up and impeach her for trying to violate the law. Political, that goes back to checks and balances. And if we'd go back to understanding our Constitution, we wouldn't have the problem."
Moore, who is running against establishment-backed Sen. Luther Strange (R-AL) for Attorney General Jeff Sessions' former Senate seat, has adamantly opposed DACA and amnesty for illegal aliens, while supporting President Trump's 'America First' agenda, which includes building a border wall along the U.S.-Mexico border.
Unlike Moore, Strange has ducked the issue, writing only on his campaign website that "It is our duty to uphold and enforce immigration law," as Breitbart News
reported
.
In a recent debate with Strange, Moore announced his unequivocal support for Sen. Tom Cotton (R-AR) and Sen. David Perdue's (R-GA) RAISE Act legislation, which would cut legal immigration in half in order to raise wages for America's working and middle-class workers, as Breitbart News
reported
.
During the debate, Moore rebuked the idea that so-called 'DREAMers,' the term used by the open borders lobby and mainstream media to describe DACA recipients, even existed because the temporary amnesty program was enacted unlawfully by the Obama administration.
"Deferred Action on Childhood Arrivals – it's very simple," Moore said during the debate. "DREAMer? DREAMer development, relief, education of alien minors. There's no such thing as a DREAMer. You know why? It was never passed by Congress. And when it didn't pass by Congress, Obama himself, through his Homeland Security, decided to implement a program and violate the law. That's why we're here today. That's why we're having a problem today."
Moore, backed by the leaders of populist-nationalist movement that helped elect Trump, will compete for the Senate seat against Strange on Sept. 26.
John Binder is a contributor for Breitbart News. Follow him on Twitter at @JxhnBinder
Feds Confirm 40K Illegal Aliens Shielded by DACA Already Given Amnesty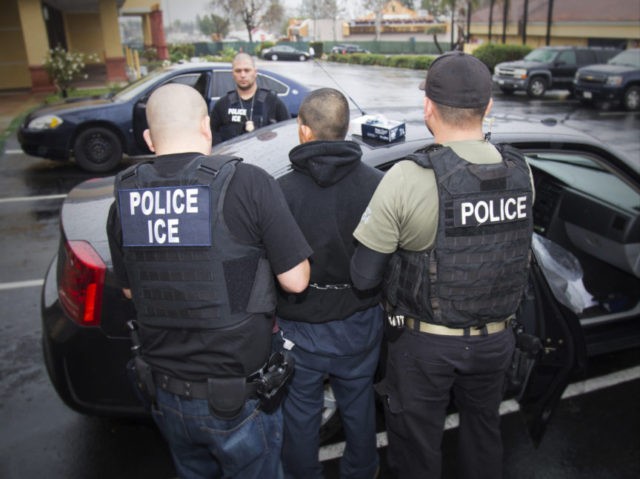 Roughly 40,000 illegal aliens who were previously shielded by a temporary amnesty program have obtained permanent amnesty by getting Green Cards through an immigration loophole, new federal data confirms.
Those illegal aliens were able to obtain Green Cards by using the immigration loophole known as 'advanced parole' where DACA recipients could leave the U.S., then re-enter the country and be considered 'legal immigrants,' thus able to apply for permanent residency and eventually citizenship.
All of the illegal aliens who have gained permanent residency via Green Cards are now eligible for U.S. citizenship, something pro-American immigration reformers warned about years ago.
Further data from Sen. Chuck Grassley's (R-IA) found the following:
45,447 DACA recipients have been approved for advance parole

59,778 DACA recipients have applied for Lawful Permanent Resident, known as a 'Green Card'

Of the DACA recipients with Green Cards, 2,181 have applied for U.S. citizenship

Of the DACA recipients with Green Cards, 1,056 have become U.S. citizens
Since the USCIS data has come to light, the Trump administration has ended advanced parole for DACA recipients, immediately cutting off the backdoor flow of amnesty for illegal aliens.
Latest data from USCIS shows that 618,342 illegal aliens from Mexico currently have DACA status. If they were amnestied into the U.S., it would give them the opportunity to bring adult parents and relatives to the U.S.
According to Princeton University researchers Stacie Carr and Marta Tienda, for every one new Mexican immigrant to the U.S., an additional 6.38 Mexican nationals come to the U.S. through family-chain migration.
If the remaining estimated 180,000 DACA recipients brought in three family members each after being amnestied, it would result in additional 540,000 immigrants. Should the remaining 180,000 DACA recipients bring four family members each to the U.S., it would result in more than 700,000 new immigrants.
But if the remaining roughly 180,000 DACA recipients were to bring the same number of family members as Mexican DACA recipients are expected to bring to the U.S., it would result in nearly 1.2 million more legal family-based immigrants coming to the country.
Although screening for DACA was previously touted as being sufficient in keeping criminals out, USCIS revealed that more than 2,100 recipients had their status revoked for being criminals or gang members.