Do You Understand that Democrats will Destroy America?
I earn my living investing other people's money in the stock market. I am terrified contemplating how I am going to save my clients' money, as well as my own, if a Democrat is elected president. The policies that the Democrats are advocating will destroy the American economy, not just the stock market, but the whole US economy. My first instinct will be to raise cash ahead of the stock market crash, but even that is only a temporary safe harbor.
The Green New Deal, renewed regulations, Medicare for All, free college, as well as the 70-90% tax rates proposed by Democrats, will tank the stock market and US economic growth, leading to higher unemployment and reduced wage gains. All these programs require higher taxes and not just the soak the rich fantasy of the 70-90% rates. Most of the Democratic candidates have pledged to roll back the 2017 Republican tax cuts that fueled the renewal of economic growth in the US.
Open borders will flood the US with poverty stricken immigrants and their competition for jobs will depress wages. The social welfare needs of the immigrants will skyrocket government expenditures. So while taxes receipts are falling due to slower economic growth rates, expenditures will be rising, leading to increased government debt and consequently higher interest rates.
If the Federal Reserve tries to keep interest rates low to prevent a deepening recession, then the increase in the money supply and the expanding deficit will eventually destroy the value of the dollar. So much for my safe harbor in cash.
Immigration: What do Open Borders Mean?
Milton Friedman pointed out over a decade ago, you cannot have open borders and a social welfare state… the supply of immigrants will become infinite.
Virtually all of the Democratic candidates have advocated for opening the borderto all who want to come. All the Democratic candidates on the second night of the debate supported free health benefits for illegal immigrants and several have advocated for free college for all. But even without these additional incentives, the level of living available in the US, even to the poorest Americans, far exceeds what many of the world's peoples can hope for in their own countries. No one starves in America. Our poor have cars, large screen TVs, air conditioning, video games for their kids and eat better than the average GI in World War II.
This is an invitation to all the world's poor to come to the US in unlimited numbers. All you need is to get to our southern border. The number of people living in poverty in Latin America in 2017 was 184 million.
But immigration will not be limited to the poverty stricken in our own hemisphere. There are 750 million people who live below the international poverty line of $1.90 a day. By that standard, those coming from Latin America are not the most desperate. People will find a way to come to the US from Africa, possibly trafficked by cartels and other criminal gangs, as are many coming from Latin America now. (Have you ever wondered how poverty stricken people manage to travel 1400 miles, often with children and obtain food and water for the trip, and then arrive at our southern border in non-ragged clothes?) Since May of this year, 1100 illegal immigrants from Africa were interdicted at the southern US border. More will be coming.
With open borders, the economy of the US will sink under the demands for social services to be provided for a population that will overwhelm citizens living here now. But those advocating open borders do not put America first. They are "citizens of the world" and feel it is unfair that Americans have a higher standard of living than others. They will ensure that we don't for much longer.
The race for the 2020 Democratic presidential nomination is quickly becoming a contest to determine which candidate wants to tax the rich the most. Democratic candidates have been attracted to Congresswoman Ocasio-Cortez's proposal to tax incomes over $10 million at a 70% rate. Not to be outdone, Ilhan Omar has proposed a 90% top rate.
But what are the benefits and costs of these proposals beyond the fun of calling to soak the rich? According to the Tax Foundation, a 70% tax on all income over $10 million would raise only $51.4 billion over ten years and lose revenue in the first two years of its enactment because people would forego capital gains. The federal budget is estimated to collect $3.645 trillion in taxes in fiscal 2019, so the increased tax revenue will be trivial in terms of changing the actual amount of taxes the US government will have to spend, but it will have strong disincentives on entrepreneurship. It is America's high rate of innovation and entrepreneurship that account for American economic success and wealth.
The cost of Medicare for All means that the availability of Medicare for those on it now will be sharply reduced. The current level of Medicare cannot be provided to vastly more people without bankrupting the country. But even if it could, services would have to be cut sharply because we do not have the doctors and hospital beds to service vast new numbers of eligible people. Some candidates like Bernie Sanders admit that you will not be able to keep your private health insurance even if you want to, and that your taxes will go up to pay for this new benefit; others like Joe Biden lie and say if you like your plan you can keep your plan and Sen. Kamala Harris denies that your taxes will rise. But Medicare for all will be another costly program that will increase the national debt.
To those who believe that climate change is the existential threat facing America (not Iran or China), destroying the US economy to save the planet is a fair trade. Doing away with fossil fuels now that the US has become the world's largest provider of oil and natural gas and has become energy independent is a sure way to cripple the US economy and to hand economic might to China and Russia who will not face the same restrictions. So not only will the Green New Deal destroy the US economy, but possibly also our freedom, as we decline economically and our adversaries, China and Russia, continue growing in economic strength without these restrictions.
Whatever you think of President Trump, you know by his record that he will put America first and that his policies have created a robust economy. Unless you want to see the US economy and your standard of life destroyed, there is no alternative to voting for President Trump.
Job Creators Network Member Warns: Democrats Are Quietly Trying to Pass a Massive Payroll Tax Increase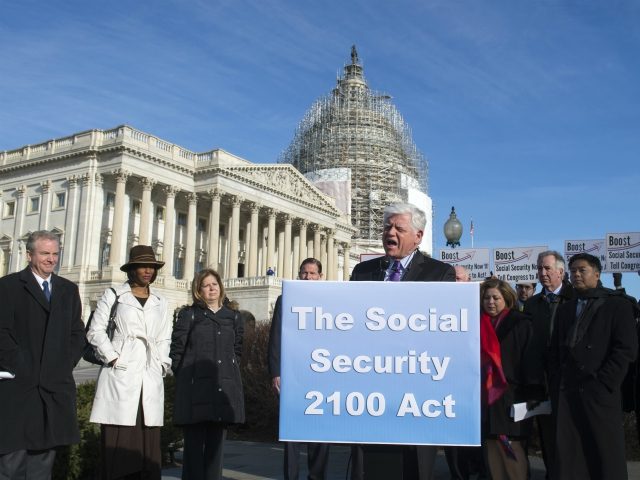 Job Creators Network member Kelly Brozyna, who's spent 25 years advocating on behalf of small business owners and their employees, testified at a hearing of the House Ways and Means Committee Thursday and warned that the Democrats' Social Security 2100 Act would dramatically increase the payroll tax and devastate job creation.
"This proposal would raise the payroll tax over several years by 2.4 percentage points to 14.8 percent of earned income," Ms. Brozyna
testified
. "On the surface, this seems like a small tax increase, but it would take a painful bite out of the incomes of entrepreneurs, workers, and small business owners…Small businesses are the backbone of the economy and our society. We need to support creative entrepreneurs and help them make their dreams come true, not burden them with tax increases that will only stunt entrepreneurial growth and creativity and reduce our living standards."
Writing in Real Clear Policy, Brozyna argues that the Democrat-backed tax hike puts unnecessary pressure on America's 90 million small business owners and "places a major hurdle between them and their dream."
"Established businesses will respond how they always do when faced with new taxes: They'll hold off on hiring, reduce hours, hire contractors instead of employees, and increase prices — or some combination of these," she writes. "Some businesses on extremely narrow profit margins will even have to cut staff or close altogether."
The Heritage Foundation notes that the Democrats' Social Security 2100 Act would "raise payroll taxes for all workers. An average worker with an annual salary of $50,000 would pay an extra $1,200 per year."
Read Brozyna's article
here
and read the Heritage Foundation's
report
about how the Social Security 2100 Act would impact your income.
90% OF THE JOBS IN SILICON VALLEY ARE HELD BY INDIAN AND CHINESE FOREIGNERS!
High-Skilled Immigrants Act Is a Sop to Big Tech
I
n a rare moment of bipartisanship last week, Democrats and Republicans joined hands to make a small, but fundamental change to our immigration system. Not to provide critically needed updates or wholesale reforms, but, rather, to toss a sop to the billionaires of Big Tech.
Thanks to
furious lobbying
from Microsoft, Amazon, Hewlett Packard, Equifax, Texas Instruments, Qualcomm, IBM, Cisco, the U.S. Chamber of Commerce, and Facebook's Mark Zuckerberg, and Eric Schmidt of Google's group FWD.us, among others, the House this week passed H.R. 1044, the Fairness for High-Skilled Immigrants Act of 2019.
The bill, which was supported by
140 Republicans and 224 Democrats
, removes the per-country cap for employment-based immigration visas. In other words, it makes it easier for the tech giants and billionaires of Silicon Valley to hire cheap foreign labor over highly skilled Americans.
Current law requires that no country receive more than 7 percent of the employment-based green cards issued each year. This ensures that employment-based visas are limited to a global pool of talent in a wide variety of occupational sectors—and prevents one or two countries from dominating the distribution.
The practical effect is that individuals from countries with high demand for U.S. green cards—primarily China and India—can end up waiting years for their turn.
The wait is exacerbated by the fact that chain migration (which allows legal permanent residents to sponsor immediate and extended family members) accounts for about half of each country's numerical limit being used each year. According to Department of Homeland Security
data
, in 2017 the family and employment-based country cap amounted to 25,620 slots from any single country.
H.R. 1044 seeks to address this by scrapping the caps for employment visas and raising the cap for family visas to 15 percent, without changing the total number of green cards available.
Tech companies may be celebrating that they can now more easily lay off American workers (though not before making sure they
train their cheaper, foreign replacements
), but there are other serious problems with this approach.
First among them is this is exactly the opposite of the goals President Trump touted during his campaign. "America First" requires a deference to domestic employment. The jobs in question are not the low-skilled labor jobs that Americans supposedly "will not do."
Rather, these are the highly skilled tech jobs that current students are being told they can obtain, if only they take advantage of government programs promoting degrees in science, technology, engineering, and math (STEM). Why is one area of the government funding domestic STEM degrees with the promise of tech jobs, while the other is making it easier to undermine those positions with foreign labor?
Second, this change to our immigration system is hardly taken up on behalf of the interests of all Americans. The bill is a sop to Big Tech. Consider that Silicon Valley and their associates are those waiting for the green cards from China and India—with India getting about 25 percent of all the professional employment green cards each year.
Under the provisions of this bill, India would get more than 90 percent of the professional employment green cards, for at least the next 10 years. In other words, green cards would be unavailable to individuals from all other parts of the world, in every other occupation, for at least a decade. This is hardly fair, nor is it reflective of the American approach of welcoming immigrants from everywhere—not just one or two countries.
Finally, this entire debate is reflective of the blissful ignorance Congress chooses to live in when it comes to immigration. The entire system—how we handle both legal and illegal immigration—is in dire need of reform. But rather than focus on these major issues, Congress is content to pass tiny, rifle shot approaches that make small tweaks while doing nothing to solve the bigger issue, and in truth, they only complicate it.
This is all the more frustrating considering that the Trump administration has proposed a substantive,
merit-based reform system
that, if adopted, would eliminate the need for a per country cap system altogether—and, as Jessica Vaughan at the Center for Immigration Studies
has put it
, "would not reward the exploitative employers who thrive on the existing system."
But all of this has not stopped the House of Representatives from stupidly patting themselves on the back for the bill's passage, despite how wildly out of touch it makes them look.
This is the swamp President Trump promised to drain—where Big Tech can shell out dump trucks of money to make the immigration system work for them, but where the American people have no one who seems interested in making it work for us.
Content created by the Center for American Greatness, Inc. is available without charge to any eligible news publisher that can provide a significant audience. For licensing opportunities for our original content, please contact licensing@centerforamericangreatness.com.
Photo Credit: Chip Somodevilla/Getty Images
India's government and companies are openly pushing for the U.S. Senate passage of a bipartisan "country caps" bill that would reward 100,000 Indian graduates per year with green cards if they take technology jobs in America.
"I must compliment the U.S. House of Representatives for adopting the Fairness for High Skilled Immigrants bill which removes country caps on the H1B visas," Indian ambassador Harsh Shringla told a D.C. meeting of lobbyists and advocates on Tuesday.
He continued: "I think this is an important initiative. We have worked with congressmen across the board, and we're happy this is a bipartisan initiative in Congress, and we're hopeful the Senate would follow course and also adopt the bill."
The meeting at the Wilson Center in D.C. was
arranged
by NASSCOM, an Indian trade association, which includes many companies that use the H-1B visa program to place Indian software programmers in U.S. jobs. NASSCOM's chairman, Keshav Murugesh, told the group at the Wilson Center:
The whole idea of these [executive] fly-ins, and NASSCOM coming in, and interacting with people on this side of the pond, is to make sure that we are continuously enabling the availability of skilled talent, and also working with the powers that be, and the government, to ensure that bad policy does not impact the great progress that we have made.
At least four lobbyists were
hired
by NASSCOM members to push the House's version of the green card outsourcing bill, which is also
supported
by the U.S. Chamber of Commerce.
Ambassador Shringla endorsed NASSCOM's lobbying for the green cards, saying:
So let me once again congratulate NASSCOM and its members for their efforts to engage, not only U.S. industry, but also U.S. society, of the advantages of this very important cooperation. Your efforts will aso be given greater value by the cooperation you have with the Wilson Center — it will provide you with the intellectual heft and backing of a major U.S. think tank.
Shringla also thanked two former GOP politicians — former Sen. Spencer Abraham and former Michigan Gov. John Engler — for "supporting the effort."
The push to remove "country caps" on green cards is part of a broader lobbying push to expand the U.S.-India Outsourcing Economy, estimated by Murugesh to include $78 billion of work each year. That total is
greater
than the economy of Maine or Delaware.
The outsourcing economy is built on the various visa programs that allow U.S. companies and Indian subcontractors to keep several hundred thousand Indian college graduates in U.S. jobs. These workers are not immigrants but are contract workers. At least one million non-immigrant, foreign graduates hold U.S. jobs, including at least 800,000 Indians.
The U.S.-based Indian workers in the H-1B, H4EAD, L-1, and OPT programs also help move large segments of the United States' information-technology infrastructure back into lower-wage workers throughout India.
This outsourcing economy has absorbed large slices of the U.S. software business as well as large segments of the technology infrastructure in the banking, health insurance, telecommunications, and retail sectors. For example, lower-wage Indian software workers helped write software for
Boeing's 737 Max
aircraft and President Barack Obama's
Obamacare
website. They have moved software jobs for Disney's office in Florida to India, and they run large offices in many companies, such as
Anthem
, Deloitte, and
AT&T
.
Many the outsourced jobs in 2017 are displayed here at
SAITJ.org
.
The program
reduces
wages for Americans and also
pulls
business investment away from heartland states and into a few coastal cities dominated by Democrats.
The country cap bill would dramatically increase the incentive for Indians to take lower-wage jobs in the United States by quadrupling the Indian share of the green cards awarded via companies. The bill would spike the Indians' share of green cards from roughly 23,000 in 2017 to perhaps 100,000 in 2023.
The current level of 23,000 green cards per year encourages at least 600,000 Indian workers to accept U.S. jobs with low wages and long hours. Many of those jobs are in Indian-run firms that lease Indian workers to other U.S.-based companies at low wages.
The huge export of white-collar jobs to Indians in the United States and to Indians in India has boosted stock values on Wall Street, partly by compressing salaries for American graduates.
The outsourcing sector has also
pushed
many young American graduates out of the sector, according to a 2013
report
:
For every two students that U.S. colleges graduate with STEM degrees, only one is hired into a STEM job.

In computer and information science and in engineering, U.S. colleges graduate 50 percent more students than are hired into those fields each year; of the computer science graduates not entering the IT [information technology] workforce, 32 percent say it is because IT jobs are unavailable, and 53 percent say they found better job opportunities outside of IT occupations. These responses suggest that the supply of graduates is substantially larger than the demand for them in industry.
Many U.S. software professionals have told Breitbart News that they are excluded from jobs whenever major U.S. companies hire Indian subcontractors to manage recruitment, partly because many Indian firms have incentives to fill the job with cheaper Indians instead of young American graduates. Some Indian-born CEOs in the lower tier of companies have been
arrested
by the Department of Justice on charges of breaking U.S. laws and cheating their Indian employees.
The binational, multi-lingual U.S. Indian Outsourcing Economy largely escapes normal U.S. regulation, such as employment rules to prevent discrimination against Americans, rules to protect medical privacy, and rules to ensure computer security.
The House version of the expansion bill — H.R.1044 — was pushed by California Democrat Rep. Zoe Lofgren and Colorado GOP Rep. Ken Buck. It passed by 365 to 65 on July 10, aided by the industry's argument that the dramatic changes in the bill are so unimportant that the bill is not worth a debate or any media coverage. Partly deceived by media silence, 140 GOP legislators
accepted
this business claim, and many were
surprised
by the public reaction to their pro-outsourcing vote.
The limited coverage of the lobbying campaign by the establishment media spotlights a group of Indian visa workers who claim to be waiting up to 150 years for green cards.
But the campaign is being led by U.S. investors and companies that rely on Indian workers to lower salaries nationwide, including in California, Utah, and Colorado.
The Senate version of the outsourcing expansion bill is co-sponsored by Utah GOP Sen. Mike Lee and California Democrat Sen. Kamala Harris. Lee's S.386 bill was blocked June 2017 by GOP Sen. Rand Paul as Lee tried to slip it through the Senate via "unanimous consent." Lee's bill is based by Sen. Lindsey Graham, chairman of the Senate's judiciary committee.
Many business groups — including Amazon and Facebook — are now trying to persuade Senate Majority Leader Mitch McConnell to push the S.386 bill through the Senate.
The Indian government strongly supports expanding the U.S.-India Outsourcing Economy and says it benefits both countries. "The movement of high-skilled individuals, personnel, Indian professionals in the U.S., through such programs as H-1B … has been a mutually beneficial partnership," Shringla told the Wilson Center.
India's economic strategy seeks to grow the economy by exporting many workers. In February 2019, the
Forsyth County New
s
reported
:
Ani Agnihotri, program chair of the USA-India Business Summit … said India has a massive and young population that could provide skilled, English-speaking workers ready to relocate "even at a seven-day notice" and said the majority of doctors in the United Kingdom and about 15 percent in America are of Indian descent.

"India has the youngest population in the world. About 25 percent of the population of India, which is 1.25 billion, is below the age of 25," he said. "We will be the provider of the workforce of the world in about 15 years, after 2035."
The outsourcing bill is very popular in India. An Indian news site
reported
the debate with this headline: "Immigration To US Likely To Become Easy As US Passes Bill Removing Cap On Issuing Green Cards: The present move, if it turns into law, will benefit thousands of highly-skilled Indian IT professionals who aspire to live and work permanently in the US."
Another Indian website
suggested
that Indian H-1B workers could push the bill by donating to American politicians: "An individual including a H-1B employee can contribute $5,600 per senator for primary and general count elections and senators to be sympathetic to the per country quota issue."
Indian software companies employ 170,000 people in the United States and pay $16.3 billion in U.S. wages, said Murugesh.
The conference featured a hired research group that claimed Indian companies pay high wages, despite much evidence that Indian workers in the United States work long hours at low wages.
NASSCOM President Debjani Ghosh applauded the paid study, saying:
We are really glad that the facts are finally coming out, the data is coming out. I am really hoping the right people take notice of the data, so we can get the right rhetoric, the right narration built for the IT services … we are really hoping the facts will start speaking instead of the false rhetoric.
However, the study ignored the majority of outsourcing jobs in the United States, including many H-1B, L-1 and OPT jobs at low-status, Indian-run firms that specialize in leasing their employees to other firms, including the major Indian outsourcing firms. Those subcontracted Indian employees often work indirectly for brand-name American firms, often at meager wages.
Shringla also tied growth in the outsourcing economy to other trade deals with U.S. companies. "India is consciously buying more American products," including oil and gas, aircraft and jet engines, as well a defense technology, he said.
"Our focus in these meetings and fly-ins, is to make sure we are able to present the right messages … and why we must all work together," said Murugesh.
Shortly after the event, Shringla and Murugesh met with the U.S. Secretary of Commerce and other officials:
White House officials want to
expand
trade with India — but are also facing pressure from a new wave of groups formed by American professionals who are seeking their salaries and careers being wrecked by U.S-India Outsourcing Economy
"Our message to Senators and staffers is first and foremost to block S.386," said Barbara Birch, a technology professional in New York who lobbied Senate offices July 23. "We're not investing in our kids, our people … [legislators should] create legislation that will protect U.S. professionals from being displaced by foreign labor because of American subsidies," such as the award of green cards to foreign workers who will take Americans' jobs, said Birch.
Birch told Breitbart News that she must hide her real name to avoid discrimination from Indian companies and managers: "It is absolutely appalling that we should be so afraid that we have to hide [our identity] to protect our jobs."