Molester of Little Girl Avoids Prison in New Jersey, Gets Deported and Illegally Re-Enters US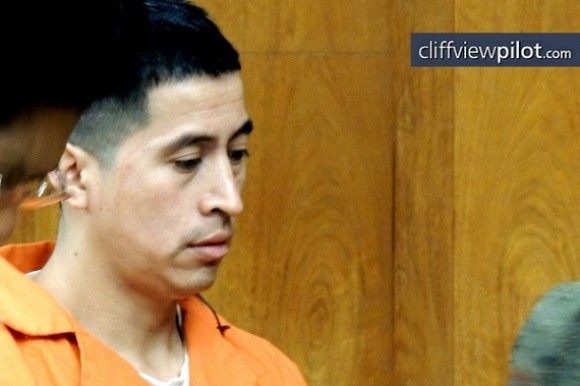 PHOTO: Mary K. Miraglia, CLIFFVIEW PILOT Courthouse Reporter
Records revealed the Guatemalan man was arrested in 2012 by the Fairview Police Department in Bergen, New Jersey, according to a U.S. Customs and Border Protection press release obtained by
Breitbart Texas
. He was charged with sexual assault of a child. He was later convicted and sentenced to five years in prison.
An internet search revealed the Guatemalan man to be Abraham Anibol Chumil, 34. Chumil was arrested in August, 2013 for sexually assaulting an 8-year-old girl in the home where he lived with the girl and her family,
according to
an article in
Cliffview Pilot
. In at least two incidents, the sexual assaults occurred in the presence of the child's 6-year-old sister. Chumil was arraigned on January 27, 2014 on charges of "first-degree attempted sexual penetration of a child less than 13; second degree criminal sexual assault of a child; impairing or debauching the morals of a child; and abusing or neglecting a child under 16," the article stated.
Breitbart Texas
spoke with the Bergen County Prosecutor's Office Special Victims Unit and notified them Chumil had returned to the United States after they had prosecuted him and he was deported. Investigators advised they would look into the case and determine if New Jersey will need to take any action in regards to his re-entry into the U.S.
Bergen County court records reveal Chumil was sentenced on November 14, 2014 to five years in prison by Judge Liliana DeAvila-Silebi.
Authorities said that Chumil was a "close acquaintance" of the family of the little girl who was molested.
Testimony
reported
by
Cliffview Pilot
revealed initially denied being aroused when he put the little girl on his lap while wearing his underwear. He also initially denied attempting to pull her pants down. The girl had told detectives that particularly upset her.
Facing a possible sentence of 30-40 years in prison, Chumil eventually accepted the plea agreement which dismissed all but the sexual assault charge.
Chumil told Judge DeAvila-Silebi that the girls came in the house to play while he was sitting on the sofa. He testified that he placed the older girl (8-years-old) on his lap so she could play a game on his cell phone. He then claimed she started to slide off his lap and that is when he put his arm around her and pulled her back up.
"Her legs were open so that her vagina was rubbing against your leg . . . you brought her back onto your lap, and you had an erection," Chumil's attorney Gayle Hargrove asked during his testimony. He responded that he she was correct.
"When you were making these motions and holding onto her, you felt sexual arousal, and your hands and body parts touched her buttocks and vagina," she continued in her examination of Chumil. He responded yes.
"Deportation is mandatory for this crime," Judge DeAvila-Silebi told him. "Do you plead guilty, even though you know you'll be deported?"
He responded that he did understand that condition.
Sometime after his sentencing in November, 2014, Chumil was deported. He returned to the United States less than four months later and was captured by Border Patrol agents in Rio Grande City, Texas. The Border Patrol said Chumil's case was forwarded to the Rio Grande Valley Sector Prosecutions Office.
Bob Price is a senior political news contributor for Breitbart Texas and a member of the original Breitbart Texas team. Follow
JUDICIAL WATCH: 165,000 MEX CRIMINALS ON THE LOSE.
IT'S ALL PART OF OBAMA'S CATCH, RELEASE, LOOT AND VOTE DEM PROGRAM!
OBAMA PROMISES MEXICO: Only 3 out of 100

invading looting Mexicans will ever be sent packing!
OBAMA KEEPS PROMISE TO MEXICO: jumping U.S. borders will never get easier!
THE OBAMA SABOTAGE of AMERICAN BORDERS and LAWS to build the dems' LA RAZA "THE RACE" PARTY BASE of looting illegals.
SUPER TOP – MEX GANGS CENTRAL VALLEY
THE LA RAZA MEX CRIME TIDAL WAVE SWEEPS MEXIFORNIA: RAPE, MURDER and CHILD MOLESTATION…. then they go out and vote for Hillary Clinton
"It was aimed at "ruthless" and "lethal" gang leaders associated with Nuestra Familia, which was started at Folsom State Prison in 1968 and continues to be run out of the state prison system, California Attorney General Kamala Harris said. Nuestra Familia controls most of the Nortenos street gangs in Central California and has ties to Mexican drug cartels, according to law enforcement officials."
THE REALITY OF OPEN BORDERS: The La Raza Crime Tidal Wave!
That total includes 476 illegal aliens (23%) who had re-entered the United States after previously being deported,
federal officials said Monday
at a joint press conference by ICE and the Department of Homeland Security.
Of the 2,059 criminals arrested, 1,013 -- almost half -- had been convicted of more than one crime; and 1,036 had been convicted of a felony, including voluntary manslaughter, child pornography, robbery and kidnapping.
Of the total 2,059 criminals arrested, 58 are known gang members or affiliates, and 89 are convicted sex offenders.
An additional 912 illegal aliens were arrested for multiple "significant misdemeanors," mostly repeated convictions for driving under the influence.
THE LA RAZA MEXICAN CRIME TIDAL WAVE half the prison population in CA and half the murders are by MEXICANS
40% of Federal Criminal Cases in 2013 Were in Districts on Mexican Border
Border Patrol Agents in the Rio Grande Valley Sector of the Texas/Mexico border captured a criminal illegal alien child molester who was attempting to cross back into the United States after being deported. The Guatemalan man was captured near Rio Grande City in Starr County. He was initially transported to the McAllen Border Patrol Station for processing where his prior criminal record was discovered.