"The Kochs and their network have opposed any reductions
to legal

immigration to raise American workers'
welfare-dependent legal immigration; and an

end to the
country's

birthright citizenship policy that rewards illegal
aliens' U.S.-born children with American citizenship." JOHN BINDER
DEMOCRAT PARTY CORRUPTION
Their banksters and billionaires demand wider open borders to keep wages depressed
"This is how they will destroy America from within. The leftist billionaires who orchestrate these plans are wealthy. Those tasked with representing us in Congress will never be exposed to the cost of the invasion of millions of migrants. They have nothing but contempt for those of us who must endure the consequences of our communities being intruded upon by gang members, drug dealers and human traffickers. These people have no intention of becoming Americans; like the Democrats who welcome them, they have contempt for us." PATRICIA McCARTHY
"American elites continue focusing on a global order while ignoring the decline of the United States. A broken America will be unable to meet any geopolitical threats abroad. Any national security strategy that does not begin with securing our own national security at home will be doomed to fail." DANIEL GREENFIELD
Knowing that the wall will become a reality if the President gets the cash brings out the cheap-labor-express, wealthy power brokers like the
Billionaires for Open Borders
: Michael Bloomberg; Rupert Murdoch; other distinguished members of the Forbes 500; and, as Lou Dobbs often
reminds
us, the "globalists, the Chamber of Commerce, the Business Roundtable,
Koch brothers
and Wall Street."
"Our entire crony capitalist system, Democrat and Republican alike, has become a kleptocracy approaching par with third-world hell-holes. This is the way a great country is raided by its elite." ---- Karen McQuillan THEAMERICAN THINKER.com
"American elites continue focusing on a global order while ignoring the decline of the United States. A broken America will be unable to meet any geopolitical threats abroad. Any national security strategy that does not begin with securing our own national security at home will be doomed to fail." DANIEL GREENFIELD
Knowing that the wall will become a reality if the President gets the cash brings out the cheap-labor-express, wealthy power brokers like the
Billionaires for Open Borders
: Michael Bloomberg; Rupert Murdoch; other distinguished members of the Forbes 500; and, as Lou Dobbs often
reminds
us, the "globalists, the Chamber of Commerce, the Business Roundtable,
Koch brothers
and Wall Street."
"Our entire crony capitalist system, Democrat and Republican alike, has become a kleptocracy approaching par with third-world hell-holes. This is the way a great country is raided by its elite." ---- Karen McQuillan THEAMERICAN THINKER.com
GEORGE S OROS AND THE CLINTON GLOBALIST AGENDA FOR BANKSTERS AND WIDEOPEN BORDERS
NEW YORK — Demand Justice, an organization founded by former members of Hillary Clinton's 2016 presidential campaign and associated with a "social welfare organization" financed by billionaire activist George S oros, is raising money for an eventual court fight against what the group describes as President Trump's proposed "racist, unnecessary wall."
"Obama would declare himself president for life with S oros really running the show, as he did for the entire Obama presidency."
"Hillary was always small potatoes, a placeholder as it were. Her health was always suspect. And do you think the plotters would have let a doofus like Tim Kaine take office in the event that Hillary became disabled?"
Billionaire Kochs Unite Plutocrats for Amnesty, Vow Not to Back Trump in 2020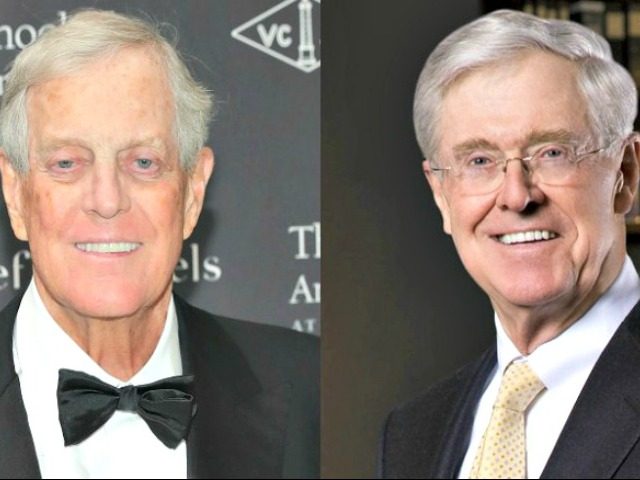 The pro-mass immigration Koch brothers' network of billionaire, donor class organizations is uniting plutocrats, corporations, and the open borders lobby to push an amnesty this year, all while vowing not to back President Trump in his 2020 re-election bid.
This week, the Koch network — which includes Americans for Prosperity, the Libre Initiative, and Freedom Partners — hosted more than 630 millionaire and billionaire donors who give hundreds of thousands to the network of organizations every year.
The Koch network at the elite winter gathering in California reiterated that they would provide no financial backing for Trump in the 2020 presidential election.
The Kochs and their libertarian donors have launched campaigns over the last two yearsopposing the president's pro-American immigration reform agenda that seeks to reduce all immigration to the U.S. as well as his economic nationalist platform that includes using tariffs to protect American jobs and U.S. industry.
Additionally, Koch spokespeople at the donors' conference said the network has its sights set on pushing amnesty for millions of illegal aliens this year.
This effort will be a unity pact between Silicon Valley tech executives — who profit from a never-ending flow of cheaper, foreign labor and more consumers to buy products — as well as the open borders, billionaire George Soros-funded ACLU and multinational corporations, according to National Review:
Brian Hooks, chairman of the Koch Seminar Network

, told assembled attendees of the Koch network's winter meeting on Monday that

the network's effort to unite a broad coalition to push Congress and the White House had already begun

. [Emphasis added]

"We just got the longest government shutdown in the history of our country, and this issue was at the core," Hooks said. "When you read the headlines saying this is impossible, it's understandable.

But we see an opportunity to bring the same approach that this network brought to criminal-justice reform, to unite a broad-based policy coalition with groups from the ACLU to people in Silicon Valley, to Fortune 500 companies

, to members of the religious community, and a whole lot of people in between.

This isn't wishful thinking; this is already underway

." [Emphasis added]
The Koch network's economic libertarian, anti-populist agenda of free trade, mass legal immigration, and entitlement reform has little-to-no support among the American electorate.
The economic libertarian agenda, once fronted by former House Speaker Paul Ryan,
failed to sway voters
in the 2018 midterm elections.
Koch donor Art Pope, who heads Variety Wholesalers, said that while he wants merit-based legal immigration, he supports expanding legal immigration levels beyond the more than 1.5 million that are admitted to the U.S. every year already.
Every year the U.S. admits more than 1.5 million immigrants, with the vast majority deriving from family-based chain migration, whereby newly naturalized citizens can bring an unlimited number of foreign relatives to the U.S. In 2016, the legal and illegal immigrant population reached a record high of 44.5 million. By 2023, the Center for Immigration Studies estimates that the legal and illegal immigrant population of the U.S. will make up nearly 15 percent of the entire U.S. population.
John Binder is a reporter for Breitbart News. Follow him on Twitter at @JxhnBinder.
WHO BUT THE RICH WANT AMNESTY and WIDER OPEN BORDERS?
Well, the Globalist Democrat Party, Mexico, the U.S. Chamber of Commerce and employers of illegals!
"Johnson tried to push the 213 "Gang of Eight" amnesty through the House during 2014. If it had passed, the amnesty would have shifted more wealth from ordinary Americans to investors, according to the Congressional Budget Office."
The cheap labor policy
widens
wealth gaps,
reduces
high tech investment,
increases
state and local tax burdens,
hurts
kids' schools and
college
education,
pushes
Americans away from high tech careers, and sidelines at least five million
marginalized
Americans and their families, including many who are now
struggling
with fentanyl addictions.
WHY THEY COME:
THE GLOBALIST LA RAZA SUPREMACIST DEMOCRAT PARTY'S VISION OF AMERICA: 49 MORE MEXIFORNIAS!
CALIFORNIA and the RISE OF THE LA RAZA MEXICAN FASCIST WELFARE STATE
"The public schools indoctrinate their young charges to hate this country and the rule of law. Illegal aliens continue overwhelming the state, draining California's already depleted public services while endangering our lives, the rule of law, and public safety for all citizens."
MEXICO'S INVASION, OCCUPTION and LOOTING OF AMERICA by INVITATION OF THE LA RAZA SUPREMACY DEMOCRAT PARTY
"Fox's Tucker Carlson noted Thursday that Obrador has previously proposed ranting AMNESTY TO MEXICAN DRUG CARTELS. "America is now Mexico's social safety net, and that's a very good deal for the Mexican ruling class," Carlson added."
*
"The man likely to be the next president of Mexico just called for mass migration to the US" RICK MORAN
*
"And soon, very soon — after the victory of our movement — we will defend all the migrants in the American continent and all the migrants in the world," Obrador said, adding that immigrants "must leave their towns and find a life in the United States." RICK MORAN
FACTS ON THE "REAL LATINO AMERICA" OF MEXICAN OCCUPIED LOS ANGELES:
(these are highly DATED stats on Mexico's second largest city)
This is another "fact" spun from the 2004 op-ed by Heather Mac Donald, whose article refers to a single Los Angeles gang and the conjecture of an unnamed federal prosecutor.
1.
"40% of all workers in L.A. County are working for cash and not paying taxes. . . . This is because they are predominantly illegal immigrants working without a green card." The Mexican tax-free economy in Los Angeles County is estimated to be in excess of $2 billion dollars a year.
2.
"95% of warrants for murder in Los Angeles are for illegal aliens . . . "
3.
"75% of people on the most wanted list in Los Angeles are illegal aliens."
4.
"Over 2/3 of all births in Los Angeles County are to illegal alien Mexicans on Medi-Cal, whose births were paid for by taxpayers." The County of Los Angeles hands Mexico's anchor baby breeders more than a BILLION DOLLARS a year in welfare.
5.
"Nearly 35% of all inmates in California detention centers are Mexican nationals here illegally." California has the largest and most expensive prison system in the country. Half the inmates are now Mexicans. Half the murders in California are by Mexican gangs.
6.
Over 300,000 illegal aliens in Los Angeles County are living in garages.
7. "The FBI reports half of all gang members in Los Angeles are most likely illegal aliens from south of the border."
8. "Nearly 60% of all occupants of HUD properties are illegal."
9. 21 radio stations in L. A. are Spanish speaking.
10. In L. A. County 5.1 million people speak English, 3.9 million speak Spanish.
THE NEW PRIVILEGED CLASS: Illegals (unregistered democrats)!
This is why you work From Jan - May paying taxes to the government ....with the rest of the calendar year is money for you and your family.
Take, for example, an illegal alien with a wife and five children. He takes a job for $5.00 or 6.00/hour. At that wage, with six dependents, he pays no income tax, yet at the end of the year, if he files an Income Tax Return, with his fake Social Security number, he gets an "earned income credit" of up to $3,200..... free.
He qualifies for Section 8 housing and subsidized rent.
He qualifies for food stamps.
He qualifies for free (no deductible, no co-pay) health care.
His children get free breakfasts and lunches at school.
He requires bilingual teachers and books.
He qualifies for relief from high energy bills.
If they are or become, aged, blind or disabled, they qualify for SSI.
Once qualified for SSI they can qualify for Medicare. All of this is at (our) taxpayer's expense.
He doesn't worry about car insurance, life insurance, or homeowners insurance.
Taxpayers provide Spanish language signs, bulletins and printed material.
He and his family receive the equivalent of $20.00 to $30.00/hour in benefits.
Working Americans are lucky to have $5.00 or $6.00/hour left after Paying their bills and his.
The American taxpayers also pay for increased crime, graffiti and trash clean-up.
Cheap labor? YEAH RIGHT! Wake up people!
MEXICO INVADES, OCCUPIES, PLUNDERS AND VOTED DEM FOR MORE!
There is also financial and political carnage perpetrated against our nation:
(FIGURES ARE HIGHLY DATED AND GOING UP EVERY WAVE OF INVASION)

1. $11 Billion to $22 Billion is spent on welfare to illegal immigrants each year by state governments (CALIFORNIA SPENDS $30 BILLION PER YEAR IN SOCIAL SERVICES TO ILLEGALS. LOS ANGELES COUNTY CHIPS IN A BILLION PER YEAR FOR THE LA RAZA ANCHOR BABY BREEDERS).
*
2. $22 Billion dollars a year is spent on food Assistance programs such as
food stamps, WIC, and free school lunches for illegal immigrants.
*
3. $2.5 Billion dollars a year is spent on Medicaid for illegal immigrants.
*
4. $12 Billion dollars a year is spent on Primary and secondary school
education for children here illegally and they cannot speak a word of
English!
*
5. $17 Billion dollars a year is spent for Education for the American-born
Children of illegal immigrants, known as Anchor babies.
*
6. $3 Million Dollars a DAY is spent to incarcerate illegal immigrants.
*
7. 30% percent of all Federal Prison Inmates are illegal immigrants. Nearly half the inmates in CA are Mexicans.
*
8. $130 Billion Dollars a year is spent on Illegal immigrants for Welfare & Social Services by the American taxpayers.
*
9. $400 Billion dollars a year in suppressed American wages are caused by the illegal immigrants.
*
10. In 2006, illegal immigrants sent home $45 BILLION in remittances to their Countries of origin.
*
11. The Dark Side of Illegal Immigration: Nearly One million sex crimes committed By Illegal Immigrants In The United States.
12. From $40 to $60 billion hauled back to Mexico from heroin sales!
VIVA LA RAZA SUPREMACY AND NO BORDERS?
"In his state of the union address to the Mexican nation, Calderon established his imperialistic imperatives: "I have said that Mexico does not stop at its border, that wherever there is a Mexican, there is Mexico. And, for this reason, the government action on behalf of our countrymen is guided by principles, for the defense and protection of their rights."
"We have got to eliminate the gringo, and what I mean by that is if the worst comes to the worst, we have got to k ill him." --- La Raza early founders, Professor Jose Angel Gutierrez.
(DO A SEARCH FOR THE U.S. TAX FUNDED MEX FASCIST PARTY of LA RAZA "THE RACE" NOW CALLING ITSELF UNIDOSus.
MEXICO'S SUPREMACY IN AMERICA
NEW YORK (CNN) -- Mexican President Felipe Calderon Sunday demanded the United States surrender its sovereignty, abandon the rule of law and accede to Mexico's inherent supremacy.
Lou Dobbs says Mexican President Felipe Calderon is showing "blatant hypocrisy" on immigration.
In his state of the union address to the Mexican nation, Calderon established his imperialistic imperatives: "I have said that Mexico does not stop at its border, that wherever there is a Mexican, there is Mexico. And, for this reason, the government action on behalf of our countrymen is guided by principles, for the defense and protection of their rights."
Calderon protested the U.S. government's increased raids on illegal employers of illegal alien employees and work site enforcement. In what is little more than a faint nod to the Bush administration's responsibility to enforce U.S. immigration law, the Department of Homeland Security had planned to send out notices to employers from the Social Security Administration informing them of non-matching records between an employee's name and Social Security number. These employers would then be forced to resolve any discrepancy within 90 days or be required to dismiss the employee or face up to $10,000 in fines for knowingly hiring illegal immigrants.
But then, ethnocentric advocacy groups and some labor unions, trying to bolster their membership, sued to stop the crackdown on hiring illegal alien workers. A federal judge in California last week issued a temporary restraining order blocking the plan, giving a victory to the AFL-CIO, the American Civil Liberties Union and the National Immigration Law Center, all of which brought the suit alleging DHS exceeded its authority in making the rule.
That U.S. District Court judge ruled as if she were an employee of the Mexican government, rather than the U.S. government. Homeland Security was simply enforcing existing immigration laws. Are we not a nation that follows the rule of law? If not, we're no country at all.
Calderon must have been delighted by the judge's decision. Calderon, like his predecessors, Carlos Salinas and Vicente Fox, has failed miserably to establish policies that would create jobs for the Mexican people and to eliminate shameful, unchecked corruption and incompetence in the Mexican government.