Friends of ALIPAC,
While we are extending our fundraising deadline by 24 hours, only 48 hours remain for you to decide if ALIPAC will continue to fight Amnesty and illegal immigration beyond this point. (By Midnight Monday, July 1, 2019.) Please step forward to rally to us in these final moments at--
https://www.alipac.us/donations/
We have
fought hard and efficiently on your behalf
, and are so thankful for each of you who have sacrificed time and/or funds in 2019 to help ALIPAC fight to save every job, tax resource, election, and American life we can from this invasion.
We have raised only $12,082 of the $15,000 we must raise for ALIPAC to fight onward beyond this point!
Sen. Graham's Amnesty bill is expected to come at us next week, so please rally to us in these final 48 hours by
contributing at least $10, but preferably $25, $50, $100, $200, $500, or $1,000+
to help ALIPAC meet the costs of running a national organization.
48 hours left to help at--
https://www.alipac.us/donations/
William Gheen and The ALIPAC Team
PS: This is a hard deadline. We either raise the remaining $3,000, or we have to bow out. The decision is yours. If you want a hard-hitting national organization fighting against illegal immigration and Amnesty, now is the time to support us at--
https://www.alipac.us/donations/
F
Massive Migrant Crossings Lead to Another Shelter Opening in Arizona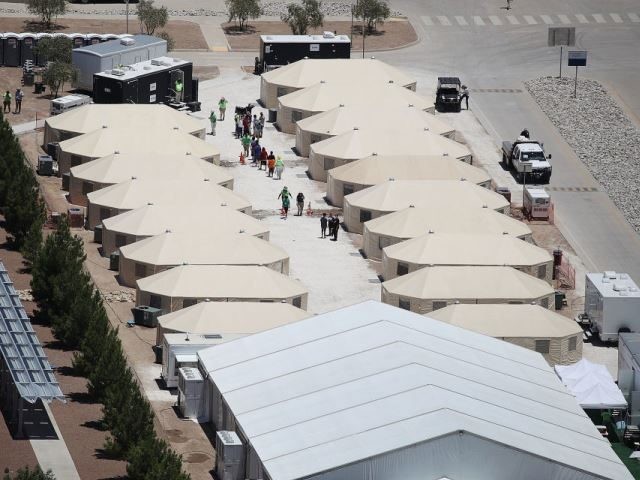 Border Patrol officials in the Yuma Sector announced the building of an additional temporary migrant shelter in response to "sustained large volumes of family units in the Arizona sector. Sector officials opened the new shelter for tours late last week.
Border Patrol officials began construction of a new family shelter in the Yuma Sector" on June 15 in response to the strain on resources and facilities" due to the continuing unprecedented numbers of migrant families illegally crossing the border in southwestern Arizona, according to a statement obtained by Breitbart News. The shelter became available for tours on June 28 and is expected to begin housing migrants soon.
The shelter is reported to be similar in design to other temporary facilities located in Donna and El Paso, Texas. It is expected to hold up to 500 migrant families and unaccompanied minors.
"The temporary, soft-sided facility will accommodate up to 500 individuals in U.S. Border Patrol custody while they await transfer to U.S. Immigration and Customs Enforcement, or the U.S. Department of Health and Human Services-Office of Refugee Resettlement," officials said in a written statement. "The temporary structures are weatherproof and climate-controlled for eating, sleeping, and personal hygiene."
U.S. Customs and Border Protection (CBP) awarded a contract valued at just under $15 million to build the facilities. This includes showers, toilets, and syncs, officials reported. It also includes the perimeter monitoring equipment, office space, lockers, security, power, HVAC services, food, snacks, water, and custodial services, CBP officials stated.
Construction on the project began just over two weeks ago and is part of the Border Patrol's effort to secure the border and meet the humanitarian needs of the current border crisis. During the month of May, Yuma Sector Border Patrol agents apprehended 42,225 family units. This is up from 8,775 in May 2017 — a 381 percent increase, according to the May Southwest Border Migration Report.
Additionally, Yuma Sector agents apprehended nearly 6,000 unaccompanied minors and nearly 6,500 single adults.
Bob Price
serves as associate editor and senior political news contributor for the Breitbart Border team. He is an original member of the Breitbart Texas team. Follow him on Twitter
@BobPriceBBTX
and
Facebook
.