The fascistic politics of Trump and Bannon had, and continue


to have, substantial support within the corporate and financial


elite. The Trump administration's agenda of social


counterrevolution, tax cuts for the rich and increased military


spending have, moreover, broad support on Wall Street and


in the Pentagon.
Clinton ran as the candidate of Wall Street
and the military-intelligence apparatus, in
alliance with privileged sections of the upper-
middle class based on identity politics. She
evinced open contempt for the grievances of
workers devastated by mass layoffs and the
destruction of wages and pensions,
promoting
the slanderous claim that Trump
owed his electoral success to racism within
the "white working class."
Politico: GOP Senators Plan No-Safeguards Amnesty by Spring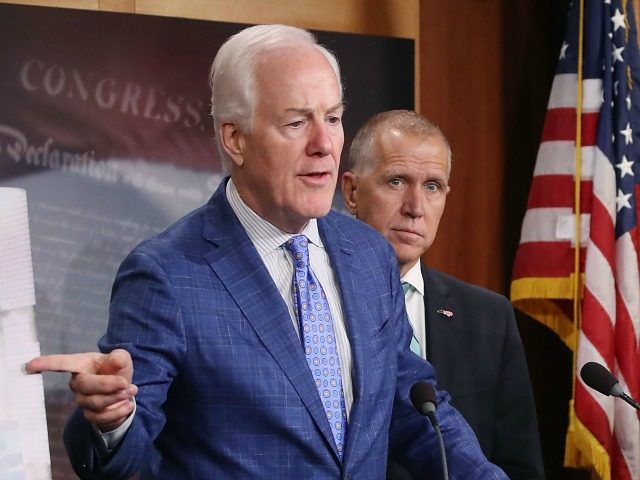 Establishment GOP Senators are trying to assemble a cheap-labor amnesty for young illegals which will not protect Americans workers from unscrupulous employers, nor reduce the huge annual inflow of migrants and workers, according to a report in Politico.
Senate Majority Whip John Cornyn (R-Texas) said the Senate Judiciary Committee chairman, Chuck Grassley of Iowa, has convened a working group on immigration that includes himself and GOP Sens. Lindsey Graham of South Carolina, Thom Tillis of North Carolina and James Lankford of Oklahoma, as well as other lawmakers. Sens. David Perdue of Georgia and Jeff Flake of Arizona also are among the Republicans who have been engaged in the talks, according to sources.

"There's a solution to be had there," Cornyn said. "But we just need to get on with it."

… some outlines of an agreement are becoming clearer. For instance, the senators have all but ruled out including a mandatory workplace verification system known as E-Verify in a final DACA agreement, according to multiple lawmakers engaged in the talks.
E-Verify is the government database which companies can use to verify the legality of a job-applicant. Immigration reformers say the job-magnet for illegals must be turned off by requiring all employers use the E-verify system for all job applicants.
The Senators are considering vague "beefed-up border security provisions," but the article did not say if the GOP Senators plan to support the construction of the border wall.
The GOP group is responding to pressure from Democrats and business groups who want the federal government to extend President Barack Obama's so-called "DACA" amnesty for the 700,000 to 3 million younger illegals. Democrats and business groups also want to block an immigration reform which would reduce the number of immigrants and drive up Americans' wages.
Instead of merely blocking the latest amnesty threat, immigration reformers are working President Donald Trump to win a major reform that will reduce the annual number of immigrants, and so help raise wages, high-tech investment, and productivity.
Trump has begun by winding down Obama's DACA amnesty, and so the 690,000 DACA beneficiaries will start losing their work-permits March 5. The gradual loss of the illegal-immigrant workforce will open up hundreds of thousands of jobs for Americans, and force companies to compete for workers by offering higher pay.
On October 8, Trump also released his
popular
principles
for vetting any congressional amnesty deal. According to the
letter
which Trump sent to leaders in Congress:
As President, I took an oath to uphold the Constitution, which makes clear that all legislative powers are vested in the Congress, not the President.

I, therefore, tasked the relevant executive departments and agencies to conduct a bottom-up review of all immigration policies to determine what legislative reforms are essential for America's economic and national security. Rather than asking what policies are supported by special interests, we asked America's law enforcement professionals to identify reforms that are vital to protect the national interest. In response, they identified dangerous loopholes, outdated laws, and easily exploited vulnerabilities in our immigration system – current policies that are harming our country and our communities.

I have enclosed the detailed findings of this effort. These findings outline reforms that must be included as part of any legislation addressing the status of Deferred Action for Childhood Arrivals (DACA) recipients. Without these reforms, illegal immigration and chain migration, which severely and unfairly burden American workers and taxpayers, will continue without end.

Immigration reform must create more jobs, higher wages, and greater security for Americans — now and for future generations. The reforms outlined in the enclosure are necessary to ensure prosperity, opportunity, and safety for every member of our national family.
The only pro-American members of Grassley's group are Grassley and Perdue.
Grassley is a strong critic of the many federal programs which allow companies to import white-collar and blue-collar workers for jobs in the United States. The programs include the H-1B, L-1, OPT, TN, H-2A, H-2B, which collectively import roughly 700,000 workers per year.
Perdue is promoting his wage-boosting RAISE Act. His poll-tested RAISE Act would help Americans by focusing on the core issue — the number of migrants who enter the country every year to compete against Americans for decent wages. The RAISE Act, which is co-sponsored by Arkansas Sen. Tom Cotton, would reduce immigration numbers by reducing the huge
chain-immigration
inflow.
Politico, however, suggests his reforms are opposed by the other Senators, saying:
Ideas that do remain in contention among this circle of Republicans include beefed-up border security provisions, limiting some chain migration and measures that one senator described as a "down payment" on shifting the U.S. immigration laws into a merit-based system, according to GOP senators.
Perdue's focus on number and chain-migration is likely unpopular among the remaining Senators in Grassley's group, all of whom are pro-amnesty and pro-cheap labor, even though that combination is
very unpopular
among voters.
For example, Tillis is an aggressive advocate for
business' greater use
of cheap-labor migrants and has recruited Lankford to push his
SUCCEED
amnesty for at least 2.5 million illegals.
Lankford has damaged his own standing with
awkward statements
, including his declaration that the American economy gains when migrants compete against Americans for good jobs:
The job issue is an interesting issue, because those individuals are already in the job market. Many of these DACA students are actually DACA young adults, they already have access to the job market right now because they've been given deferred action. So they are in higher education, they are in the job market, they are currently a part of our economy, currently. That continual competition in our economy doesn't hurt us, that continues to help us. It actually hurts us to put those individuals out of the economy.
The Tillis-Lankford bill does include a token curb on chain migration by delaying naturalization for 15 years. Democrats, however, will work to reduce the delay and are already pushing the Dream Act, which maximizes chain-migration by allowing naturalization in just three years for illegals who are married to citizens.
Flake has developed his own amnesty bill, but his clout will decline because he announced Wednesday that he will retire from the Senate amid growing home-state opposition to his pro-migrant policies.
Graham is the leading GOP advocates for amnesty and he jump-started the 2013 "Gang of Eight" amnesty to deliver low-wage workers to his home state's tourism, hospitality, and agriculture industries. Once a DACA amnesty is passed, "we're going to increase legal immigration so employers don't have to cheat" by hiring illegals, he
said
in October 2017. The Politico article notes that Graham wants the nation's immigration system to help companies, not to help raise Americans' wages.
Cornyn is pushing
a weak border security bill
while opposing the E-Verify bill that is bitterly opposed by the farming industry. The food industry is facing tough competition from overseas — and future competition from urban "vertical farm" companies. So it is pushing for cheap immigrant labor via a new H-2C guest worker program instead of investing in labor-saving-productivity boosting, American-made, farm machinery.
According to Politico:
"There are large segments of some important sectors, like agriculture, where we need to do E-Verify with [another] immigration reform to make sure that there's an adequate legal workforce," Cornyn said. "And if we start adding too much stuff to the DACA-border security approach, then we get back into comprehensive immigration reform and nothing happens."
Pro-American reformers worry that Cornyn's border bill could serve as a fake-tough security measure to muffle public opposition to an amnesty.
The Politico article does not discuss the Democrats'
risky political strategy
of favoring migrants over Americans. In 2014, that pro-migrant, pro-business policy helped the Democrats lose nine seats in the Senate.
Four million Americans turn 18 each year and begin looking for good jobs in the free market.
But the federal government inflates the supply of new labor by annually accepting 1 million new legal immigrants, by providing almost 2 million work-permits to foreigners, by providing work-visas to roughly 700,000 temporary workers and doing little to block the employment of roughly 8 million illegal immigrants.
The cheap-labor policy has also reduced investment and job creation in many interior states because the coastal cities have a surplus of imported labor. For example, almost 27 percent of zip codes in Missouri had fewer jobs or businesses in 2015 than in 2000, according to a new report by the
Economic Innovation Group
. In Kansas, almost 29 percent of zip codes had fewer jobs and businesses in 2015 compared to 2000, which was a two-decade period of massive cheap-labor immigration.
Americans
tell pollsters
that they strongly oppose amnesties and cheap-labor immigration, even as most Americans also want to favor legal immigrants, and many sympathize with illegals.
Because of the successful cheap-labor strategy, wages for men have remained
flat since 1973
, and a growing percentage of the nation's annual income is shifting to investors and away from employees.
Paul Ryan's Secret Amnesty Plan Comes Less Than Month After DACA Illegal Alien Accused of Murder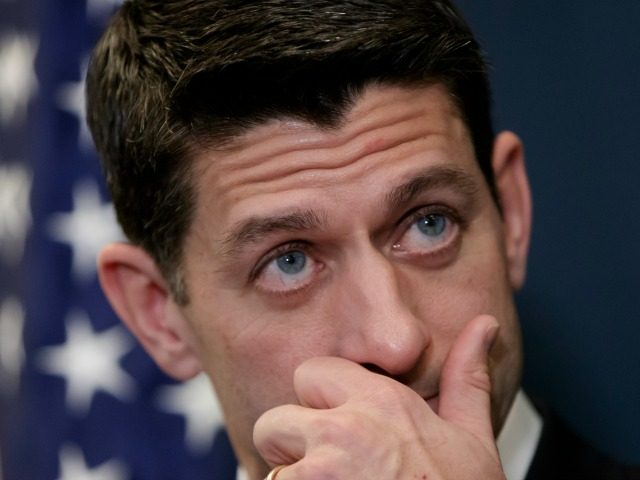 House Speaker Paul Ryan's closed-door announcement of slipping amnesty for nearly 800,000 illegal aliens covered by the Deferred Action for Childhood Arrivals (DACA) program into an end-of-the-year spending deal comes less than a month after a DACA recipient has been accused of murder.
"He did talk about the fact that that would be good if we could get ahead of that as opposed to being reactionary," RSC Chairman Mark Walker (R-NC) told the HuffPost following the meeting with Ryan.
Two House Republicans confirmed to the HuffPost that Ryan mentioned at the gathering slipping DACA amnesty into the spending deal.
Ryan's leaking of a secret plan to attach amnesty to a spending bill comes less than a month after Breitbart News confirmed that a DACA recipient allegedly murdered a high school student in South Carolina.
Sherrer was charged in connection with the murder of 18-year-old Diana Martinez-Gonzalez, who was found shot to death in a wooded area in the town of Easley, South Carolina.
During a press conference, Master Deputy Ryan Flood said the DACA recipient confessed to a deputy about his alleged murder of Martinez-Gonzalez.
Sherrer allegedly murdered the girl in the wooded area because she had spread false rumors about him, the illegal alien reportedly told deputies. Police say the DACA recipient had also held another teenage girl against her will but that she escaped the scene.
Sherrer is now facing first-degree murder charges, and if he is released from prison at any time, he will be deported.
The latest case of a DACA illegal alien's alleged involvement with murder is one of the thousands of cases where DACA recipients have been accused or convicted of crimes against Americans.
In another case, Cinthya Garcia-Cisneros, an illegal alien protected by DACA, was convicted in 2014 of two counts of felony hit and run after she killed two Forest Grove, Oregon, stepsisters — Anna Dieter-Eckerdt and Abigail Robinson, ages 6 and 11, respectively — who were playing at the time of the incident.
Although screening for DACA was previously touted as being sufficient in keeping criminals out, USCIS revealed that more than 2,100 recipients had their status revoked for being criminals or gang members.
The crisis in the Republican Party and the fracturing of the American two-party system
26 October 2017
The eruption of open warfare between the Republican Party establishment and the Trump administration marks a new stage in the political crisis within the United States.
The conflict within the Republican Party came to a head on Tuesday with the speech from the floor of the Senate by Jeff Flake, who announced that he would not seek reelection and denounced Trump's actions as "dangerous to a democracy" and a threat to "the efficacy of American leadership around the globe." Flake's speech followed a series of statements attacking Trump by leading Republicans, including senators John McCain (chairman of the Armed Services Committee) and Bob Corker (chairman of the Foreign Relations Committee) and former President George W. Bush.
Leading Democrats lined up to praise Flake, a right-wing fiscal hawk and advocate of austerity. Senate Minority Leader Charles Schumer called Flake "one of the finest human beings I've met in politics," adding that he "will be missed."
The outbreak of political warfare within the Republican Party is the latest episode in a conflict within the American state that raged throughout the Trump election campaign and has intensified over the ten months of his administration. Central to this struggle are differences over foreign policy, with Trump's Republican opponents denouncing his brand of "America First" ultra-nationalism as destructive of US global dominance, particularly in regard to relations with Washington's traditional allies and the political/military offensive against Russia and China.
From the beginning of his election campaign,
Trump's strategy was to exploit social and
economic discontent and widespread disgust
with the Democratic Party to foster the
growth of a far-right, fascistic and extra-
parliamentary movement.
His elevation soon after the election of Steven Bannon, editor of Breitbart News, to become his chief strategist signaled the continuation of this policy in the White House. As the World Socialist Web Site

wrote

at the time, "A man with direct ties to fascist, racist and white supremacist organizations will be the right-hand man of the president, with immense power to determine government policy."
The fascistic politics of Trump and Bannon had, and continue to have, substantial support within the corporate and financial elite. The Trump administration's agenda of social counterrevolution, tax cuts for the rich and increased military spending have, moreover, broad support on Wall Street and in the Pentagon.
At the same time, significant sections of the ruling class are concerned about the implications of the election of Trump for the strategic interests of American imperialism abroad and for the social and political stability of the United States at home.
After Trump solidarized himself with fascist groups that rampaged through Charlottesville, Virginia in August, Bannon, who had come into conflict with White House Chief of Staff and former Marine General John Kelly, was removed as chief strategist and resumed his position at Breitbart.
The departure of Bannon, however, had more the character of a release from the constraints of the White House than a demotion. Since formally leaving the administration, Bannon has pursued a political strategy of attacking the top leadership of the Republican Party and supporting primary challengers to Republican incumbents, Flake among them, who are not in line with the Trump administration's agenda of extreme nationalism and anti-immigrant racism.
The political conflicts within the United States mirror global processes. In country after country, far-right movements have exploited the political vacuum created by the rightward lurch of the social democratic and labor parties, which long ago repudiated any concern for the issues facing the working class.
On Tuesday, the fascistic Alternative for Germany made its debut in the German parliament following elections in September in which it won 94 seats, benefiting from the electoral collapse of the Social Democratic Party.
The far-right Freedom Party is set to enter the Austrian government following elections last month in which it increased its vote by nearly 7 percentage points, coming in second, ahead of the Social Democrats. The party of a billionaire right-wing populist won last week's parliamentary elections in the Czech Republic, which saw the collapse of the social democrats.
In Britain, the anti-immigrant UK Independence Party emerged as the leading political force in last year's Brexit referendum. In France, National Front leader Marine Le Pen won 34 percent of the vote in presidential elections earlier this year, making it to the run-off election won by Emmanuel Macron. In Japan, the right-wing militarist Shinzo Abe won reelection as prime minister by a substantial margin.
In the United States, Trump, in alliance with Bannon, is pursuing a similar strategy, with the aim of either taking over the Republican Party or instigating a fracture that would break up the two-party system.
Paralleling international developments, Trump exploited the reactionary and militarist character of the Obama administration, the Democratic Party and the Clinton campaign.
Clinton ran as the candidate of Wall
Street and the military-intelligence apparatus,
in alliance with privileged sections of the
upper-middle class based on identity politics.
She evinced open contempt for the grievances
of workers devastated by mass layoffs and the
destruction of wages and pensions, promoting
the slanderous claim that Trump owed his
electoral success to racism within the "white
In the aftermath of Trump's election, the Democrats have shifted further to the right, including a move last week remove supporters of Bernie Sanders from the Democratic National Committee. They have systematically covered up the far-reaching significance of the election of Trump and the appointment of figures like Bannon.
The central focus of the Democrats since Trump's election has been an increasingly frenzied campaign over Russian intervention in the US elections. This has been aimed both at fighting out conflicts within the ruling class over foreign policy and, ever more openly, justifying Internet censorship and the destruction of free speech.
The central orientation of the Democrats is on winning the support of the military and the intelligence agencies, which are emerging as the arbiters of American politics. The Democratic Party's orientation was spelled out in a column by the New York Times' Thomas Friedman published yesterday, in which Friedman once again called for the intervention of the military against Trump.
Appealing to Defense Secretary James Mattis, best known for commanding US forces in the destruction of Fallujah in 2004, to take "action," Friedman wrote: "I am not talking about a coup… Trump needs know that it is now your way or the highway—not his." In other words, the military must take control, coup or otherwise.
The fracturing of the political system is an
expression of an intractable crisis of American
capitalism. In the conflicts within the ruling
class, there is no progressive or democratic
side. Trump's open Republican critics include
a war criminal and advocate of torture
(George W. Bush), a fanatic war hawk
(McCain), a close ally of Wall Street and the
military (Corker) and a far-right advocate of
cuts in social spending (Flake).
Nothing progressive can come from a resolution of the crisis from above through some form of palace coup. Any such settlement will only shift the entire political system further to the right and escalate the assault on the working class and the drive to world war.
A political crisis on the scale engulfing Washington is a hallmark of a pre-revolutionary situation. Social explosions are on the horizon. The critical task for the working class is to advance its own, independent solution to the crisis and not allow itself to be dragged behind any faction of the ruling elite. The fight of the working class against Trump and the entire ruling class raises the urgent necessity for a mass political movement opposed to the Democrats and Republicans and directed to the overthrow of the capitalist system.
JAMES WALSH
THE OBAMA HISPANICAZATION of AMERICA
How the Democrat party surrendered America to Mexico:
"The watchdogs at Judicial Watch discovered documents that reveal how the Obama administration's close coordination with the Mexican government entices Mexicans to hop over the fence and on to the American dole." Washington Times
"

The cost of the Dream Act is far bigger than the Democrats or their media allies admit. Instead of covering 690,000 younger illegals now enrolled in former President Barack Obama's 2012 "DACA" amnesty, the Dream Act would legalize at least
3.3 million illegals
, according to a pro-immigration group, the Migration Policy Institute."
Washington, D.C. (October 25, 2017) – An analysis of newly released 2016 Census Bureau data by the Center for Immigration Studies shows that a record 65.5 million U.S. residents five years of age and older speak a language other than English at home. As a share of the population, more than one in five U.S. residents now speaks a foreign language at home – including residents like Jovita Mendez, who has lived in the California for over 20 years and recently became a U.S. citizen, despite being unable to speak, read, or write in English.
The largest percentage increases since 2010 among languages with more than 400,000 speakers were for Arabic, Hindi, Urdu, Chinese, Persian, Haitian, and Gujarati. (Hindi and Gujarati are spoken in India; Urdu is spoken in Pakistan.)
"The English language has always been part of the glue that holds our country together," said Steven Camarota, co-author of the report and Director of Research at the Center. "But the number of immigrants allowed into the country is now so large that it may be overwhelming the assimilation process, including learning English."
View the entire report at
https://cis.org/Report/655-Million-US-Residents-Spoke-Foreign-Language-Home-2016
Among the findings:
Of those who speak a foreign language at home, 26.1 million (39.8 percent) told the Census Bureau that they speak English less than very well. This figure is based entirely on the subjective opinion of the respondents.


On an objective test of English literacy, prior CIS research showed that even among immigrants who have lived in the country for more than 15 years, 43 percent score at the "below basic" level, which is sometimes equated to functional illiteracy.


CIS has also estimated in prior research that roughly one out of three immigrants who are naturalized citizens has below basic English literacy.


The new Census Bureau data show that many Americans who speak a foreign language at home are not immigrants. In fact, half of the growth in foreign language speakers since 2010 is among those born in the United States. Overall, 44 percent (29 million) of those who speak a language other than English at home are U.S.-born.


Of foreign languages with more than 400,000 speakers, the largest percentage increases since 2010 were among speakers of Arabic (up 42 percent), Hindi (up 33 percent), Urdu (up 22 percent), Chinese (up 20 percent), Persian and Haitian (each up 15 percent), and Gujarati (up 14 percent). Hindi is a national language of India, Urdu is the national language of Pakistan, Persian is the national language of Iran, and Gujarati is spoken in India.


States with the largest share of their populations speaking a foreign language at home in 2016 were California (45 percent), Texas (36 percent), New Mexico (34 percent), New Jersey (32 percent), New York and Nevada (each 31 percent), Florida (29 percent), Arizona and Hawaii (each 27 percent).


States with the largest percentage increases in the number of foreign-language speakers 2010 to 2016 were: Wyoming (up 25 percent), Utah (up 20 percent), Maryland (up 19 percent), Nevada (up 18 percent), Oklahoma (up 17 percent), Nebraska and North Dakota (each up 16 percent), and Virginia, Florida, and Minnesota (each up 15 percent).


Taking the longer view, states with the largest percentage increases in foreign-language speakers 1980 to 2016 were: Nevada (up 1,040 percent), Georgia (up 926 percent), North Carolina (up 744 percent), Virginia (up 475 percent), Tennessee (up 425 percent), Arkansas (up 412 percent), Washington (up 395 percent), Florida (up 361 percent), South Carolina and Utah (each up 349 percent), Oregon (up 346 percent), and Maryland (up 345 percent).
Census Bureau: 44.6% in California Don't Speak English at Home; 35.6% in Texas; 34.5% in NM; 31.7% in NJ; 31.0% in NY
At the same time, according to the Census Bureau, 18.6 percent of California residents 5 and older do not speak English "very well."
That ranks California No.1 among the states for the percentage of people in both of these categories.
Nationwide, 21.6 percent speak a language other than English at home and 8.6 percent speak English less than very well.
Texas ranked second for the percentage of residents five and older who do not speak English at home (35.6 percent). New Mexico ranked third (34.5 percent); New Jersey ranked fourth (31.7 percent) and New York ranked fifth (31.0 percent).
States Ranked by the U.S. Census Bureau by the Percentage of People 5 and Older Who Speak a Language Other Than English at Home:
West Virginia had the smallest percentage of residents (2.5 percent) who spoke a language other than English at home. Montana had the second smallest (3.7 percent); Mississippi had the third smallest (3.8 percent); Alabama, the fourth (5.1 percent); and North Dakota the fifth (5.2 percent).
"We ask one question about whether people speak a language other than English at home, what language they speak, and how well they speak English to create a profile of the languages spoken in communities,"
says the Census Bureau on its website
.
The first question on language the Census Bureau asks respondents is a yes-no question: "Does this person speak a language other than English at home?"
If the answer is "yes," there are two follow up questions: "What is this language?" "How well does this person speak English?" For this last question, respondents have the option to answer: very well, well, not well, or not at all.
The percentages of those who fall into each category, as published by the Census Bureau, apply only to "people 5 years and over."
In addition to leading the nation with the percentage of residents 5 or older who speak a language other than English at home, California also led the nation for the percentage of people who,
as the Census Bureau puts it
, "speak English less than 'very well.'"
In 2016, 18.6 percent of the people 5 or older in California spoke English less than very well.
Texas ranked second in this category (14.0 percent); New York was third (13.7 percent); New Jersey was fourth (12.6 percent), and Hawaii was fifth (12.2 percent).
Montana was the state with the smallest percentage of residents who could not speak English very well (0.7 percent). West Virginia had the second smallest (0.8 percent); Vermont, the third (1.3 percent); Mississippi, the fourth (1.4 percent); and Maine, the fifth (1.7 percent).
States Ranked by the U.S. Census Bureau by the Percentage of People 5 and Older Who Speak English Less Than Very Well:
California also led the nation for the percentage of residents (27.2 percent) who are foreign born.
New York was second (23.0 percent); New Jersey was third (22.5 percent); Florida was fourth (20.6 percent), and Nevada was fifth (20.0 percent).
The five states with the smallest percentage of foreign-born residents were: West Virginia (1.7 percent), Mississippi (2.0 percent), Montana (2.1 percent), Wyoming (3.2 percent) and North Dakota (3.2 percent).
Nationwide, according to the Census Bureau, 13.5 percent of the people are foreign born.
A fifth-generation Californian laments his state's ongoing economic collapse.
American Spectator, October 19, 2017
What's clear is that the producers are leaving the state and the takers are coming in. Many of the takers are illegal aliens, now estimated to number over 2.6 million.
The Federation for American Immigration Reform estimates that California spends $22 billion on government services for illegal aliens, including welfare, education, Medicaid, and criminal justice system costs.
Liberals claim they more than make that up with taxes paid, but that's simply not true. It's not even close. FAIR estimates illegal aliens in California contribute only $1.21 billion in tax revenue, which means they cost California $20.6 billion, or at least $1,800 per household.
Nonetheless, open border advocates, such as Facebook Chairman Mark Zuckerberg, claim illegal aliens are a net benefit to California with little evidence to support such an assertion. As the Center for Immigration Studies has documented, the vast majority of illegals are poor, uneducated, and with few skills. How does accepting millions of illegal aliens and then granting them access to dozens of welfare programs benefit California's economy? If illegal aliens were contributing to the economy in any meaningful way, California, with its 2.6 million illegal aliens, would be booming.
Furthermore, the complexion of illegal aliens has changed with far more on welfare and committing crimes than those who entered the country in the 1980s.
Heather Mac Donald of the Manhattan Institute has testified before a Congressional committee that in 2004, 95% of all outstanding warrants for murder in Los Angeles were for illegal aliens; in 2000, 23% of all Los Angeles County jail inmates were illegal aliens and that in 1995, 60% of Los Angeles's largest street gang, the 18th Street gang, were illegal aliens.
Granted, those statistics are old, but if you talk to any California law enforcement officer, they will tell you it's much worse today. The problem is that the Brown administration will not release any statewide data on illegal alien crimes. That would be insensitive. And now that California has declared itself a "sanctuary state," there is little doubt this sends a message south of the border that will further escalate illegal immigration into the state.
Indeed, California goes out of its way to attract illegal aliens. The state has even created government programs that cater exclusively to illegal aliens. For example, the State Department of Motor Vehicles has offices that only process driver licenses for illegal aliens. With over a million illegal aliens now driving in California, the state felt compelled to help them avoid the long lines the rest of us must endure at the DMV.
And just recently, the state-funded University of California system announced it will spend $27 million on financial aid for illegal aliens.
They've even taken out radio spots on stations all along the border, just to make sure other potential illegal border crossers hear about this program.
I can't afford college education for all my four sons, but my taxes will pay for illegals to get a college education.
"An important factor in our long-term
success requires securing our borders,"
Attorney General Sessions said.
Overall, in the 2017 Fiscal Year, officials revealed that a record-breaking 455,000 pounds plus of drugs had already been seized. In 2016, that number amounted to 443,000 pounds. The 2017 haul is worth an estimated $6.1 billion – BREITBART – JEFF SESSION'S DRUG BUST ON SAN DIEGO
REMITTANCES ….. are only part of Mexico's looting…
and billions for anchor baby breeders, billions for heroin
sales and then do the numbers!
Mexicans abroad sent home nearly $2.4 billion in transfers in November, 24.7 percent higher than a year earlier, marking their fastest pace of expansion since March 2006, according to Mexican central bank data on Monday…
70% OF ILLEGALS GET WELFARE!
"According to the Centers for Immigration Studies, April '11, at least 70% of Mexican illegal alien families receive some type of welfare in the US!!! cis.org"
So when cities across the country declare that they will NOT be sanctuary, guess where ALL the illegals, criminals, gang members fleeing ICE will go???? straight to your welcoming city. So ironically the people fighting for sanctuary city status, may have an unprecedented crime wave to deal with along with the additional expense.
$17 Billion dollars a year is spent for education for the American-born children of illegal aliens, known as anchor babies.
$12 Billion dollars a year is spent on primary and secondary school education for children here illegally and they cannot speak a word of English.
$22 billion is spent on (AFDC) welfare to illegal aliens each year.
$2.2 Billion dollars a year is spent on food assistance programs such as (SNAP) food stamps, WIC, and free school lunches for illegal aliens.
$3 Million Dollars a DAY is spent to incarcerate illegal aliens.
30% percent of all Federal Prison inmates are illegal aliens. Does not include local jails and State Prisons.
2012 illegal aliens sent home $62 BILLION in remittances back to their countries of origin. This is why Mexico is getting involved in our politics.
$200 Billion Dollars a year in suppressed American wages are caused by the illegal aliens.
Nearly One Million Sex Crimes Committed by Illegal Immigrants In The United States.
THE HORDES OF ILLEGALS KEEP COMING…. Despite America's jobs, housing and Mexican crime tidal wave.
Pollak: Flake, Corker Hoping Trump Will 'Fall' So They Can 'Take Back Their Control' of GOP
Wednesday on MSNBC's "MTP Daily," Breitbart senior editor-at-large Joel Pollak said Sens. Jeff Flake (R-AZ) and Bob Corker (R-TN) were criticizing President Donald Trump because they were "hoping he'll fall and they can take back their control as gatekeepers of the party."
Pollak said, "I think it's noteworthy that when Jeff Flake took to the Senate floor to talk about his grievances against the president, he didn't mention policy, he didn't mention ideology. He mentioned behavior and used that term as well. What he really meant was the president's words, use of Twitter, some of the things he said in response to critics, and I don't they are what most people think of when they think of threats to democracy. I think if you had a president who ignored the Constitution, as Obama did, or a president who ignored the courts, as Obama did."
He continued, "The striking thing about Jeff Flake's speech was he completely ignored the eight years of Obama, some of the hostility on the left. There was no criticism what the left, what the Democrats had done to create the political situation we're in. So I don't know what it is specifically he had a problem with Trump about."
He added, "I think for many of Trump critics, especially in the never Trump wing of the Republican Party, it is really about personality. It is also about access. These are people from institutions, maybe think tanks or other lobbying organizations, who thought he would have access to power if a Republican won, and Trump did it without them so they don't have that access. And so they are burning bridges hoping he'll fall and they can take back their control as gatekeepers of the party."