Forget the Border Wall, Mr. President. Look to the Hole in Worksite Enforcement Rules
By Jerry Kammer
PBS NewsHour, September 25, 2017
I
f President Donald Trump is serious about stopping illegal immigration, he should forget about the border wall and turn his attention to the gaping hole in the enforcement of immigration law at U.S. worksites.

Washington has been unwilling to repair this problem, despite three decades of failure since Congress passed the erroneously named Immigration Reform and Control Act of 1986 (IRCA). As a result of the law, the U.S. population of undocumented immigrants grew from about 3.5 million in 1990 to its peak of 12.2 million in 2007. The current estimate is 11.3 million people.

Presented as a compassionate but pragmatic compromise, IRCA coupled a one-time amnesty for millions of illegal immigrants with an employer sanctions regime to punish those who knowingly hired persons not authorized to work in the United States.

But the law came into the world with a fatal defect. Because of the clout of strange-bedfellows — a left-right coalition that united immigrant rights activists, Latino politicians, businesses, and libertarians — IRCA was stripped of a mandate for the executive branch to develop a secure means of verifying that workers were authorized. Instead, workers were allowed to present documents from a wide assortment of easily counterfeited identifiers, and employers were required to accept any document that "reasonably appears on its face to be genuine."
http://www.pbs.org/newshour/making-sense/column-forget-border-wall-mr-president-look-hole-worksite-enforcement-rules/
It's About Time – Employer Hit by $96 Million Penalty for Hiring Illegal Aliens
CIS Immigration Blog, September 29, 2017
. . .
The feds also secured a guilty plea from Larry Gauger, a mid-level Asplundh executive, for the same set of issues; he faces sentencing in federal court on October 16. One hopes he gets some jail time.
This was not a garden-variety illegal alien hiring violation, according to court documents.
As a result of an E-Verify check, some 100 Asplundh workers were identified as not being in the country legally and were laid off by the firm. Then some of them were knowingly rehired under new, phony names bearing new, phony documents.
The information filed against the company cited four examples of this double-dealing, with, for instance, a worker who had been Danny Palao prior to his being laid off, being rehired as Jose Feliciano.
. . .
https://cis.org/North/Its-About-Time-Employer-Hit-96-Million-Penalty-Hiring-Illegal-Aliens
DoJ sues company that refused to hire Americans
The Department of Justice is cracking down on companies that show a preference for hiring foreign workers over Americans. DoJ filed suit against a Colorado company that refused to hire three Americans as seasonal technicians, preferring to employ foreign workers under the H-2A visa program.
The complaint alleges that in 2016, Crop Production discriminated against at least three United States citizens by refusing to employ them as seasonal technicians in El Campo, Texas, because Crop Production preferred to hire temporary foreign workers under the H-2A visa program.
"In the spirit of President Trump's Executive Order on Buy American and Hire American, the Department of Justice will not tolerate employers who discriminate against U.S. workers because of a desire to hire temporary foreign visa holders," Attorney General Jeff Sessions said in a statement. "… Where there is a job available, U.S. workers should have a chance at it before we bring in workers from abroad."
This is the first complaint filed stemming from the "Protecting U.S. Workers Initiative," which was launched on March 1.
A Civil Rights Division official told Fox News that since the initiative's launch, the division has opened 29 investigations of "potential discrimination against U.S. workers based on a hiring preference for foreign visa workers."
DOJ officials also told Fox News the department has reached at least one settlement with a company discriminating against U.S. workers in favor of foreign visa workers, and distributed over $100,000.
There is no more abused immigration rule than worker visa programs. The H-2A program, and other visa programs that allow foreign workers into the U.S., was never meant to replace American workers or keep Americans from being employed. These programs were designed to take up the slack in seasonal employment and hire foreigners when there aren't enough Americans qualified to do the job.
The latter reason is dubious and complicated, which is why companies can get away with preferential hiring. In this case, the transgression was apparently so obvious that DoJ sued. You can expect a settlement by the company, who won't want to go through an extended legal process.
The case will also act as a deterrent to other companies who are abusing the visa program and keeping Americans from working jobs for which they are qualified.
Digital Enforcement: Effects of E-Verify on Unauthorized Immigrant Employment and Population
'Ruled Out': GOP Amnesty Plan Excludes E-Verify, Allowing Employers to Continue Hiring Illegal Aliens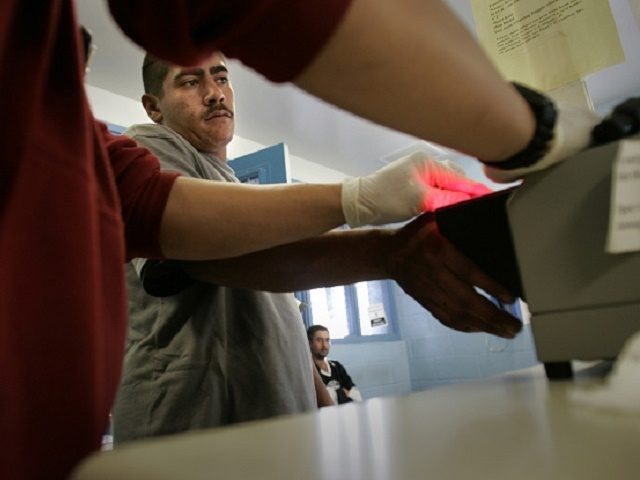 Senate Republicans crafting legislation to give amnesty to millions of illegal aliens have entirely "ruled out" including the popular initiative to mandate that employers use E-Verify, a system that weeds out illegal aliens from taking American jobs.
At the same time, a major pro-American immigration priority for President Trump's administration, mandatory E-Verify — which prevents employers from hiring illegal aliens by forcing them to check each workers' immigration status — has been totally excluded from any amnesty plan by the Senate Republicans.
… some outlines of an agreement are becoming clearer. For instance, the senators have all but ruled out including a mandatory workplace verification system known as E-Verify in a final DACA agreement, according to multiple lawmakers engaged in the talks.
The move to exclude E-Verify from a DACA amnesty deal also shows the lack of seriousness the Senate and House Republicans hold for Trump's recently released 70-point list of immigration priorities.
Aside from mandatory E-Verify, Trump's immigration priorities include:
Construction of a border wall
Deporting unaccompanied alien children who are not at-risk in their native country
Preventing criminal illegal aliens and gang members from receiving immigration benefits
Eliminating the diversity visa lottery
Classifying overstaying a visa as a "misdemeanor"
Restricting certain federal grants to sanctuary cities, which refuse to detain criminal illegal aliens
Ending family-based chain migration
Enacting a merit-based legal immigration where only qualified immigrants can enter the U.S.
Of Trump's immigration priorities, mandatory E-Verify is easily the most popular pro-American initiative, with recent polling by Pulse Opinion Research showing that a majority of 68 percent of likely voters support E-Verify.
Under mandatory E-Verify and stricter immigration laws, American workers see rising wages, specifically in the blue-collar U.S. jobs that working-class Americans often have to compete with illegal aliens for.
Every year, the U.S. admits more than 1.5 million legal immigrants a year, not including the thousands of foreign workers who enter the country to take low-skilled seasonal jobs in farming and non-farming industries.
For decades, Attorney General Jeff Sessions argued that massive low-skilled immigration to the U.S. has forced the American working-class into unemployment and undercut blue-collar wages.