MEXICO'S SECOND LARGEST CITY OF LOS ANGELES, THE COUNTY OF WHICH HANDS MEXICANS MORE THAN A BILLION DOLLARS IN WELFARE FOR THEIR ANCHOR BABY BREEDERS!
Mexican Invasion By Invitation of the Democrat Party
At the current rate of invasion (mostly through Mexico, but also through Canada) the United States will be completely over run with illegal aliens by the year 2025. I'm not talking about legal immigrants who follow US law to become citizens. In less than 20 years, if we do not stop the invasion, ILLEGAL aliens and their offspring will be the dominant population in the United States.
"Critics argue that giving amnesty to 12 to 30 million illegal aliens in the U.S. would have an immediate negative impact on America's working and middle class — specifically black Americans and the white working class — who would be in direct competition for blue-collar jobs with the largely low-skilled illegal alien population." JOHN BINDER
"Additionally, under current legal immigration laws, if given amnesty, the illegal alien population would be allowed to bring an unlimited number of their foreign relatives to the U.S. This population could boost already high legal immigration levels to an unprecedented high. An amnesty for illegal aliens would also likely triple the number of border-crossings at the U.S.-Mexico border." JOHN BINDER
Trump Blasts U.S. Anchor Baby Policy: 'You're Violating Something Very Sacred, You're Violating a Border'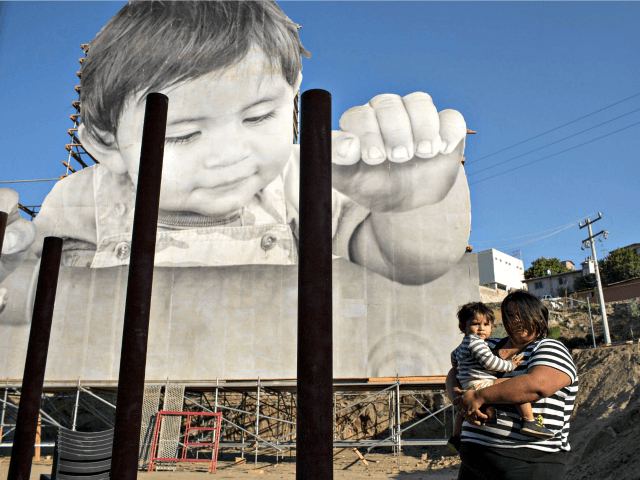 President Trump blasted the United States' birthright citizenship policy whereby the U.S.-born children of illegal aliens are given automatic American citizenship, noting that illegal aliens are "violating a border."
During a roundtable discussion in West Virginia, Trump slammed the birthright citizenship policy — illegal aliens' children are commonly referred to as "anchor babies" — noting that fellow Western nations do not have such a policy.
If you have a baby on our land, congratulations. That baby is a United States citizen. We're the only one. Now Mexico has very tough policies. They can do whatever they want, which is the way it should be. You're violating something very sacred. You're violating a border. [Emphasis added]
As Breitbart News reported, there are 4.5 million anchor babies in the U.S. under the age of 18-years-old. This estimate does not include the potentially millions of anchor babies who are older than 18-years-old.
The 4.5 million anchor babies estimate exceeds the four million American children born every year. In the next decade, the CBO estimates that there will be at least another 600,000 anchor babies born in the U.S., which would put the anchor baby population on track to exceed annual American births — should the U.S. birth rate not increase — by more than one million anchor babies.
The birthright citizenship debate was not always partisan, as it currently is, with establishment Republicans and Democrats supporting anchor babies.
Former Senate Majority Leader Harry Reid (D-NV) once opposed birthright citizenship, saying in 1993 that "no sane country" would reward illegal aliens with U.S. citizenship for their children.
Proponents of birthright citizenship often claim the 14th Amendment to the U.S. Constitution requires the policy. The Supreme Court, however, has never explicitly ruled that the children of illegal aliens must be granted automatic citizenship and many legal scholars dispute the idea.
John Binder is a reporter for Breitbart News. Follow him on Twitter at
@JxhnBinder
.
CHRISTIAN SCIENCE MONITOR
What will America stand for in 2050?
The US should think long and hard about the high number of Latino immigrants.
President Obama has encouraged Americans to start laying a new foundation for the country – on a number of fronts. He has stressed that we'll need to have the courage to make some hard choices. One of those hard choices is how to handle immigration. The US must get serious about the tide of legal and illegal immigrants, above all from Latin America.
It's not just a short-run issue of immigrants competing with citizens for jobs as unemployment approaches 10 percent or the number of uninsured straining the quality of healthcare. Heavy immigration from Latin America threatens our cohesiveness as a nation.
The political realities of the rapidly growing Latino population are such that Mr. Obama may be the last president who can avert the permanent, vast underclass implied by the current Census Bureau projection for 2050.
STAGNANT WAGES and the Dem Party's obsession with open borders, amnesty and no damned legal need apply!
THE LA RAZA SUPREMACY PARTY for OPEN BORDERS, AMNESTY, NON-ENFORCEMENT, NO E-VERIFY and no Legal need apply!!!