THE BILLIONAIRE CLASS WAGES WAR ON AMERICA!
"GOP estb. is using the $5 billion border-wall fight to hide up to four blue/white-
collar cheap-labor programs in lame-duck DHS budget. Donors are worried that
salaries are too damn high, & estb. media does not want to know."
TOP EVIL CORPORATIONS LOOTING AMERICA
Goldman Sachs TRUMP CRONIES
JPMorgan Chase OBAMA CRONIES
One man could end world hunger, but he won't – by Lee Camp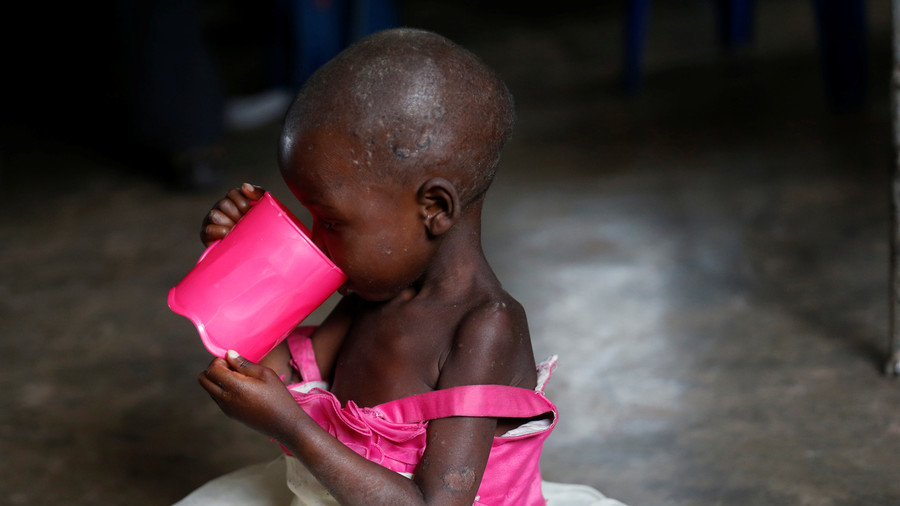 I do not want to talk about Jeff Bezos. But in order to not talk about Jeff Bezos, I have to talk about Jeff Bezos.
We all know the Lex Luthor-looking head of Amazon is the richest human in the world.
He's achieved a net worth of
more than $150 billion
by selling everything that has ever existed… with free shipping. (It turns out the only thing stopping the human race from giving all our money to one man was that pesky $4.99 shipping fee.)
Read more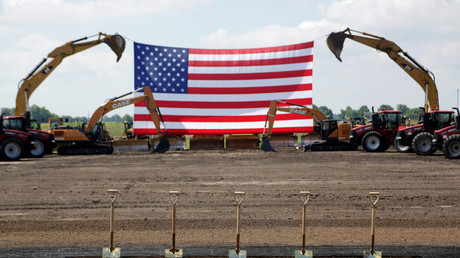 But let me stop right here. Even the way we talk about economics is influenced by a capitalist culture that tells us amassing money is the answer to everything. Did you notice I said Bezos "achieved" a net worth of $150 billion, and that seems like a normal way to phrase it? However, would you say, "Jeffrey Dahmer achieved eating the hearts of 10 different people?" No, that would sound odd to you. Yet having $150 billion is nearly as sociopathic, and still we use terminology as if it's GREAT!
But, like I said, this column is not about Jeff Bezos. It's about clean water.
Clean water is one of the most important things to anyone and everyone (second only to nacho cheese). Yet millions around the world don't have clean water or struggle to get it. A
report by the UN
"
estimated that 300 million people on the continent [of Africa], more than a third of the population, have no fixed supply [of clean water]
." About 2.5 billion lack proper sanitation.
The CDC says
2,200 children die a day from diarrheal diseases – mostly from unclean water.
Millions of people in total die each year from a lack of clean water. So how much would it cost to change that? It would cost
$10 billion
a year to bring pure water to the entire world.
Jeff Bezos himself could provide the world with clean water for the next 15 years.
He could save millions upon millions of lives. But instead of doing that, he will continue to enrich himself by delivering sex toys in a box with a smiley on it.
Read more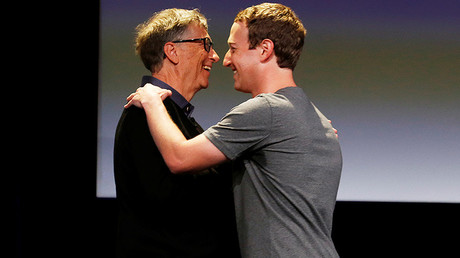 But this is not about Jeff Bezos. It's about world hunger.
According to UNICEF
, 22,000 children die each day due to poverty while the UN in 2015
estimated
it would cost $30 billion a year to end world hunger. Imagine – not a soul hungry! And big shock – when people aren't hungry, there's less crime, less hatred, better decision-making, and so forth. Hunger correlates with all kinds of sh*tty stuff, which means we all benefit when there's no hunger. Think about it; you probably have co-workers who miss lunch and start spraying hate crimes around the office. Then you have to say, "
Leslie, I think if you just had a taco, you would stop using the C-word so much.
" Now imagine Leslie on a global scale.
Jeff Bezos himself could end world hunger for five straight years. If he teamed up with the Koch brothers, they could do it for eight to 10 years.
But Bezos wouldn't do that. Instead, he'll just make billions convincing people to put Amazon Echo spy systems into their own homes.
This column is not about Jeff Bezos. It's about Flint, Mich.
You remember how upset we were about Flint's water? It was poisoned with lead. It was destroying lives of people who were already poor to begin with. Then the authorities came to the conclusion it would cost
$216 million
to fix, and everyone was aghast. That's an insane amount of money. How could ANY city afford that?!
Jeff Bezos could pay to repair Flint's water supply 694 times over.
He could pay for it 690 times over and still have $864 million left to pay for a cast of people to dance around him dressed like wood sprites and sprinkle glitter on his shining bald head for the rest of his f***ing life. (So don't say he wouldn't be happy.)
But this column is not about Jeff Bezos. It's about homelessness.
Read more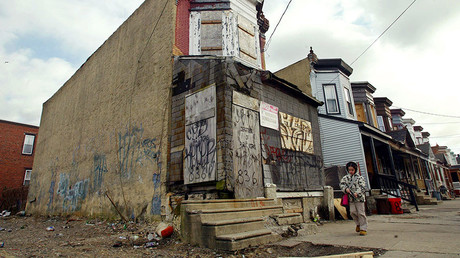 There are
554,000 homeless
people in the US, one of the richest countries in the world. What would it cost to give each of these struggling people his or her own apartment? Recent numbers show the cheapest apartments to rent in America are in Wichita, Kan. (because why would ya?… unless you were heavily invested in grasshoppers). In Wichita an apartment costs
$632 per month
. (In San Francisco, that's the cost of the monthly utility bill for a dog house.) So $632 per month amounts to $7,584 per year. Therefore, the total cost to give every American houseless person an apartment in Wichita would be $4.2 billion.
Jeff Bezos could give every homeless person their own apartment for the next 36 YEARS.
This is one man we're talking about! But Jeff Bezos would never do that. He'd rather push a bag of
3,000 live ladybugs
on someone actually searching Amazon for "Lady Bugs" the Rodney Dangerfield
film
(which was apparently intended as a children's movie, but now seems like a guidebook for how to become a #MeToo predator).
But this column is not about Jeff Bezos. It's about education.
When people go to college without coming out stuck under immense debt, it often changes their whole lives. They can get better jobs, eat healthier, provide for their family. "
According to the American Association of Community Colleges
," this
source says
, "
the average yearly cost of tuition and fees for community college students in the US is $3,347…
" It usually takes two years to graduate from community college, so the cost for two years is $6,694.
Jeff Bezos could pay for the entire community college education of 22.4 million students.
Read more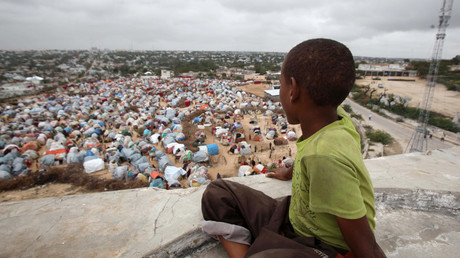 That's more than the entire number of college students enrolled this year across our country. Of course you'd have to pay for your own beer bongs, posters of John Belushi in the
"college" sweater
, macaroni stuck to the floor and pregnancy tests. (But I know a guy who can get you a homemade pregnancy test for 35 cents. It's made out of alkaline batteries and sawdust, but it'll spot a freakin' baby a mile away.)
However, this column is not about Jeff Bezos. It's about the system that created Bezos.
If you removed Bezos from Amazon tomorrow and vacuumed all his money away, he would be replaced by another sick hoarder of egregious wealth. This is because we have a deathly ill economic system. Think about it this way – the goals of our economy (and any economy),
Pursuit of abundance (all people's basic needs are met)

Sustainability (can the system keep going forever)

Liberation of humanity from hard and dangerous labor (nobody doing jobs they hate)

Adaptation to emerging technologies and variables
Makes sense – we should seek a sustainable system where nobody is dying or miserable. Here's the problem – unfettered capitalism doesn't even claim to be ATTEMPTING any of that. Our economy's mission statement
is basically to
"
… preserve inefficiency for the sake of monetary circulation, economic growth and power preservation.
"
Profit over all else. It doesn't matter how many people die or work at an Amazon warehouse for pennies. Does. Not. Matter. So it's not that capitalism is failing in this new Gilded Age. Rather, capitalism is succeeding at what it was meant to do: amass all the money in a tiny number of hands and exploit everyone else.
That's what this column is about.
This article was originally published by Truthdig.
Like this story? Share it with a friend!
What's behind Amazon's plan to raise its minimum wage to $15 an hour?
By Jerry White
3 October 2018
With great fanfare on Tuesday, Amazon announced it will raise the minimum wage it pays to 250,000 workers and 100,000 seasonal temps to $15 an hour. In the United Kingdom, the company is raising the wages of 40,000 permanent and temporary workers to £10.50 (US $13.69) an hour in London and £9.50 (US $12.39) across the rest of the country.
The wage increases, which will go into effect for Amazon and Whole Foods workers on November 1, are a response to the deep opposition of Amazon workers to the poverty level wages and brutal working conditions at the giant retail and logistics company. The growing militancy of Amazon workers is, moreover, part of a wider sentiment among workers in the US and internationally, who after a decade of declining real wages since the 2008 financial crash are determined to fight for substantial improvements.
The pay increase, however, is minimal and will do little to improve the living standards of Amazon workers. The median Amazon worker was paid $28,446 last year, according to company filings, which comes out to about $13.68 an hour. An increase to $15.00 an hour—$1.32 more for the median worker—would amount to a yearly wage of $30,000. This is 120 percent of the official poverty rate for a family of four and will do little to help workers keep their heads above water, particularly in urban centers with higher costs of living.
Internal company documents available to Amazon workers make clear that the raise will be accompanied by the elimination of various incentive bonuses and other programs, which workers rely on to help with bills and car payments. This includes all or parts of the Variable Compensation Plan (VCP) and MyReward bonuses based on attendance and site performance goals. Also cut is the limited stock vesting program, known as the Restricted Stock Units (RSU) plan.
"We are phasing out the incentive pay component and the $15 will be simple minimum with no targets required," one message from the company to workers said. Another read, "We will be phasing out the RSU grant program for stock which would vest in 2020 and 2021 … replacing it with a direct stock purchase plan before the end of 2019."
According to Amazon, full-time workers at its US fulfillment centers already make an average hourly wage of over $15 an hour, including stock and incentive bonuses. It is not clear, therefore, if workers will see any net benefit from the much-promoted raise.
"At first, I thought, $15 an hour, that's a start. But when you do the math, it does not add up to very much," Shannon Allen, a worker from Amazon's fulfillment center in Haslet, Texas, who became homeless after suffering a serious workplace injury, told the International Amazon Workers Voice.
"There will be a raise, but they are taking away our bonus at the end of the month and the stocks we were entitled to. Workers are still not getting medical treatment after getting injured. Workers are still starving. Workers are still homeless. What about the workers in India? Are they going to get $15 too or are they still going to be getting $267 a month? I would love to know that," Allen said.
The move by Amazon CEO Jeff Bezos was carefully orchestrated with the Democratic Party to bolster the image of the company. Last month, Vermont Senator Bernie Sanders introduced legislation, called the Bezos Act, to tax corporations for what their low-wage workers receive in government health-care benefits or food stamps.
"We listened to our critics, thought hard about what we wanted to do and decided we want to lead," Bezos said in a statement Tuesday. "We're excited about this change and encourage our competitors and other large employers to join us." Bezos said the company would also lobby for an increase in the federal minimum wage, which has not increased from $7.25 in a decade.
Sanders, right on cue, hailed the move, saying, "Today I want to give credit where credit is due, and that is that Mr. Bezos and Amazon have done the right thing. This is a significant step forward for many thousands of Amazon employees."
Sanders added, "Not only does this make a difference in the lives of hundreds of thousands of Amazon employees, it also sends a message to the fast food industry, the airline industry and the retail industry in general that the time is now to begin paying workers a living wage."
To call $15 a "living wage" is ludicrous. The average hourly wage in manufacturing four decades ago would be the equivalent of $23 an hour in 2018 dollars. The $15 mark advocated by Sanders and the union- and Democratic Party-aligned "Fight for $15" campaign has increasingly become the new norm, including in the auto industry.
The billionaire CEO is not being motivated by high ideals but by cold, hard cash considerations. With the official unemployment rate falling to the lowest level in nearly two decades, large employers like Amazon are increasingly competing for workers, particularly for the upcoming holiday rush. In January, Walmart raised its minimum wage to $11. Facebook boosted its minimum wage for janitorial staff, food-service workers and other contractors to $15 an hour and Costco pays $14 an hour. Target, which plans to hire 120,000 temporary workers this holiday season is paying $12 an hour and offering a chance at $500 gift cards.
Amazon's move takes place after the company's proposal last month for 2 to 4 percent raises was met with disgust from workers. "It wasn't enough at all," one part-time worker in San Bernardino, California, told Bezos' Washington Postabout a 40-cent increase that would raise her pay to $13.15. "The HR manager in the room was like, 'Aren't you excited? Come on, clap!' We started a slow clap, with no emotions on our faces. A 3 percent raise in four years—it feels like damage control."
After a four-decade decline in real wages, workers are earning barely enough to subsist. If some employers are raising wages it is because they need workers in their factories to pump profits out of them. Analysts have already said the meager raise will have no negative effect on the bottom line of the company whose market capitalization reached $1 trillion last month.
Nor will it make a dent on Jeff Bezos, whose net worth increased to $165 billion earlier this summer making him the richest man in modern history. If this wealth was divided equally among Amazon's global employees, each would get a check for $300,000.
Whatever raise is given to Amazon workers will be more than made up through ever greater exploitation, higher pace, and more workplace injuries. The company already uses electronic devices to monitor productivity and time workers during their bathroom breaks and now new technology is being tested that will use sound pulses to redirect a worker's hand if he moves it in the wrong direction while moving items from a bin to a delivery box.
It is well worth examining what Bezos is doing from the standpoint of history. More than a century ago another corporate magnate, Henry Ford, more than doubled the wages of his workers, raising them to $5 per day, from about $2.38 a day. The move was not motivated by a sudden burst of generosity from Ford, then the richest man in the world.
Instead, Ford wanted to lower the turnover rate at his Highland Park, Michigan, factory where workers were leaving in droves because of brutal speed up on the new assembly lines. Ford was also alarmed by the growing support for socialist and labor organizers. After introducing the new wage in 1914, his profits doubled, and Ford declared two years later, "The payment of $5 a day for an eight-hour day was one of the finest cost-cutting moves we ever made."
Under conditions of growing class conflict in the US and around the world and the growth of socialist and anti-capitalist sentiment, Sanders and the Democratic Party would have workers believe that they can improve their conditions, not through collective struggle, but through appeals to the magnanimity of billionaires like Bezos.
New Amazon facility in Oregon: Tax cuts for corporation, poverty wages for workers
By Kayla Costa and Emily Edison
27 September 2018
After years of tax-break negotiation and construction, a new Amazon fulfillment center will soon be running at full speed in Troutdale, Oregon, a town 15 miles east of Portland. Amazon anticipates the opening of 1,500 full-time positions at the fulfillment center, which would immediately double the number of Oregon employees working for the Seattle-based internet retail and logistics giant.
Residents in the area have been inundated with radio advertisements and news articles about the new facility, which present Amazon as a benevolent provider of "competitive wages, benefits, stocks, and a pre-paid tuition program." Presenting the $14 an hour that will be paid at the fulfillment center as generous is a cruel joke, especially given the staggeringly high rental and living costs in the greater Portland area.
The massive 855,000-square foot facility is the first of its scale in Oregon, and cost $180 million to build. Operating with Amazon's notorious logistics model, based on fast-paced labor and automated machines, the fulfillment center will specialize in large-sized products, such as exercise equipment and furniture. There will also be massive
fulfillment centers
opening in Salem, Oregon this year, and in North Portland next year.
Local and state officials offered a total of $213.1 million in tax breaks to provide Amazon free rein to expand its exploitation of the working class in Oregon, specifically in rural and suburban resource-poor areas of the state. Amazon has acquired $1.12 billion in tax cuts across the United States since 2000, but Oregon achieved the highest amount promised to the corporation of all fifty states.
Of this giant amount, $176 million would come through Oregon's Strategic Investment Program, for a proposed data center in the city of Hermiston. Corporations in Oregon pay below 8 percent in excise taxes, and account for only 38 percent of all state taxes, the 4th lowest percentage of the 50 states and Washington D.C.
These tax cuts will be paid for by working and middle-class people in the state through the form of more cuts in essential public services. Oregon already trailed West Virginia and Louisiana in per pupil school funding, according to the 2016 Annual Survey of School System Finances, U.S. Census Bureau. Several school districts, including Portland, have carried out budget cuts and layoffs.
In the summer of 2017, the government bodies of Port of Portland and Troutdale handed the trillion-dollar corporation $9.6 million in tax breaks for the construction of the Troutdale super-hub. In an effort to justify this tax giveaway, politicians in Troutdale said Amazon would pay workers at least $15 an hour in total compensation, including all benefits.
The approval of tax breaks for the construction of the Troutdale and North Portland hubs went through unanimous votes by Port of Portland commissioners. The commission is a nine-member body, appointed by the governor and approved by the state Senate, that oversees economic development of airports, marine terminals and business parks in the area.
Most of these commissioners are trusted members of the corporate and political elite and their flunkeys in the union bureaucracy. They include Vice President of Nike, Inc., and former Obama aide Sean O'Hollaren, President of Oregon AFL-CIO Tom Chamberlain, business manager for the International Brotherhood of Electrical Workers Local 48 Gary Young; and Intel Corporation Vice President Pat McDonald.
Oregon Governor Kate Brown, center, with local officials at site of Amazon fulfillment center in Troutdale in June 2017
Democratic Governor Kate Brown, who has appointed at least two commissioners since she was elected in 2014, praised the opening of the Amazon center. At a
press conference
about the approval of the fulfillment center in June of last year, she told the crowd of commissioners and business elites, "Today is a celebration…that this community created together." She continued by praising the local government's "vision and leadership that paved the way for this investment" and thanking "Amazon for seeing Troutdale and Oregon as a promising part of your future."
Kate Brown speaks as a representative of the entire political establishment at local and state levels, which is dominated by the Democratic Party in Portland and the Republican Party in the southern and eastern parts of the state.
Port of Portland commissioners, in conjunction with Troutdale leaders, used Amazon's contract to launch the construction of a 344,000-square foot facility at the Troutdale Reynolds Industrial Park, to host Amazon, FedEx, and other corporate industrial centers.
Like many other locations chosen by Amazon, the industrial park is the site of a former manufacturing plant, where workers once had relatively secure and good paying jobs. The Reynolds aluminum manufacturing plant operated for 60 years and was one of the biggest employers in the Portland area, with 800 workers at its peak, before it was closed by Alcoa in 2000.
Between the Portland metro-area cities of Troutdale, nearby Gresham and Wood Village, there exists a working-class area of just under 170,000 residents. While official unemployment rates in the area remain close to the national average of 5 percent, 18.8 percent of the population lives below the federal poverty line, mostly between the ages of 18 and 40 years old, according to Data USA. Many workers are employed in warehousing, retail, food and health services, where they have all seen wages stagnate alongside soaring costs of living.
According to a 2017 report by the National Low Income Housing Coalition, the average monthly rent for a two-bedroom apartment in the Portland area is $1,242. The coalition says a minimum wage of $23.88 an hour at forty hours per week would be required to afford rental costs. The average renter, however, earns under $15 an hour.
In order to afford housing, on top of food, healthcare, clothing and other basic necessities, workers often have to live in precarious conditions or take on multiple jobs to make ends meet.
Such is the situation of hundreds of thousands of Amazon workers internationally. Many are living paycheck-to-paycheck, and still others must rely on dwindling social assistance in addition to their income from Amazon in order to survive. Around the country, Amazon workers are being driven to exhaustion and physical deterioration, broken down with injuries, then cast aside and ignored by management.
These poverty conditions stand in stark contrast to the $1 trillion value of the Amazon corporation, along with the $160 billion personal wealth of CEO Jeff Bezos, who makes $3,000 per second off the backs of the company's highly exploited workers.
Amazon workers are in a powerful position, however, to launch their own offensive to improve their conditions and living standards. Connected to millions of other workers through an interconnected logistics and technology chain in the US and global economy, a collective struggle by Amazon workers would quickly impact virtually every sector of the economy.
Silicon Valley's corrupt nexus: War, censorship and inequality
17 September 2018
On Wednesday, Amazon CEO Jeff Bezos, the world's richest man, will give the keynote address to the US Air Force Association's annual conference. Bezos will discuss "how industry can better partner" with the US military.
Bezos' speech comes amid his Seattle-based firm's lobbying to win a $10 billion contract, known as "Project JEDI," to host large sections of the Pentagon's operations infrastructure on the internet cloud. In a move that will likely win him points with the military brass awarding the contract, Bezos recently donated $10 million to a Virginia-based super PAC seeking to elect veterans to office and create a "less polarized government."
The Amazon CEO will appear as the representative of the world's second-largest company by market capitalization, the second-largest employer in the United States, the world's biggest provider of cloud computing services, and America's largest e-commerce retailer, with twice the sales of the next nine competitors.
Bezos, who also owns the Washington Post, is among America's most powerful oligarchs. His speech to the Air Force Association embodies the corrupt nexus between the military, the financial oligarchy, the media and the high-tech companies, all of which are working to create a regime of censorship targeting left-wing, anti-war and socialist viewpoints.
This partnership expresses, in practice, the vision laid out in the Pentagon's latest National Security Strategy, which calls for "the seamless integration of multiple elements of national power—diplomacy, information, economics, finance, intelligence, law enforcement and military."
This is a formula for a society in which all of the mechanisms of social control are jointly harnessed to defend and expand the wealth and power of America's financial oligarchy. Toward this authoritarian end, Bezos and company are mobilizing one of the critical mechanisms—the media.
Bezos' Washington Post has prepared its owner's appearance at the Air Force event with a series of op-eds and editorials calling for a closer partnership between the Pentagon and Silicon Valley. More than any other major US newspaper, the Post has argued for the fusion of America's high-tech sector with its military, in line with the Pentagon's so-called "third offset" strategy, which aims to regain America's "military edge" by "harnessing a range of technologies, including robotics, autonomous systems and big data," in the words of the Economist.
The Post's campaign for a further integration of technology corporations with the military has been combined with attacks on tech workers who oppose the alliance of the firms for which they work with the US war machine.
Over the past two decades, hundreds of thousands of America's brightest minds have gone to work in Northern California's Silicon Valley and its offshoot in Seattle, lured by promises that "people with passion can change the world for the better," in the words of former Apple CEO Steve Jobs, and the promise that they would help "organize the world's information and make it universally accessible and useful," in the words of Google's mission statement.
But each year, more and more technology workers have found themselves involved in developing the means to carry out mass murder, censorship and political repression, prompting protests by workers at Google, Amazon and Microsoft.
In June, Amazon workers issued an open letter opposing the company's provision of facial recognition technology to police forces as well as its cloud computing contracts with the agencies carrying out Trump's Gestapo-style attacks on immigrants.
That same month, Google announced that it would end its involvement in a Pentagon program to build artificial intelligence capabilities for military drones after more than a thousand Google employees signed a letter demanding that Google swear off building "weapons of war."
The Washington Post has opposed these protests. In an August 8 op-ed, two executives from Anduril Industries, a military defense contractor seeking to sell virtual reality systems to the Pentagon, condemned the protesting workers. "We understand that tech workers want to build things used to help, not harm," the executives wrote. "We feel the same way," they continued. "But ostracizing the US military could have the opposite effect of what these protesters intend: If tech companies want to promote peace, they should stand with, not against, the United States' defense community."
The authors added: "The world is safer and more peaceful with strong US leadership. That requires the US government to maintain its advantage in critical technologies such as AI. But doing so will be difficult if Silicon Valley's rising hostility toward working with Washington continues."
The Post reiterated these points in an editorial last week entitled "Silicon Valley should work with the military on AI." Bezos's newspaper made the cynical argument that the technology companies should partner with the Pentagon because the result might be technologies with applications outside of mass murder. "DARPA [Defense Advanced Research Projects Agency] contractors will probably develop products with non-lethal applications," the Post declared.
The open secret of Silicon Valley's collaboration with the Pentagon is that the wars to be fought with the help of artificial intelligence will not take place only beyond America's borders—they will also include class and civil wars.
America's financial oligarchy, whose wealth has more than doubled since the 2008 financial crash, is issuing warnings about the dangers posed to its wealth by an increasingly restive and angry working class. In a report published last week, JPMorgan Chase warned about the potential impact of a new financial crisis in fueling political opposition.
The report by the biggest US bank stated: "The next crisis is also likely to result in social tensions similar to those witnessed 50 years ago in 1968"—a year that saw urban rebellions and mass protests against the Vietnam war in the US, the May–June general strike in France, and a global radicalization of the working class.
"In 1968," the report continued, "TV and investigative journalism provided a generation of baby boomers access to unfiltered information on social developments such as Vietnam and other proxy wars, civil rights movements, income inequality, etc. Similar to 1968, the internet today (social media, leaked documents, etc.) provides millennials with unrestricted access to information on a surprisingly similar range of issues. In addition to information, the internet provides a platform for various social groups to become more self-aware, polarized and organized."
Such groups "span various social dimensions based on differences in income/wealth," warned the bank. In other words, the looming financial crisis will likely spark a mass movement of the working class against social inequality.
Recognizing the immense power of the internet to mobilize opposition to the existing social order, under conditions where a mass audience for socialism is emerging among workers and young people, America's leading technology companies, working with the state, are scrambling to impose political censorship.
At a congressional hearing last week, Facebook Chief Operating Officer Sheryl Sandberg pledged to replace "bad speech" with "alternative facts" in users' news feeds. She boasted that her company now employs some 20,000 people to censor content.
Google, for its part, has continued and intensified its censorship of left-wing, anti-war and socialist websites. Since the World Socialist Web Site first reported last year that changes to Google's algorithms had led to a sharp fall in the readership of 13 left-wing sites, the search traffic of these sites has plunged even further, hitting a combined decline of 50 percent.
The reactionary nexus between Silicon Valley, the CIA and the Pentagon must be—and will be—opposed. All over the world, workers are entering into struggle—from teachers and Amazon, UPS and postal workers in the United States, to pilots and cabin crew in Europe, to construction workers in Turkey. These workers must understand that they are the targets of censorship, and that they must mobilize to fight the drive to silence socialist and left-wing oppositional views.
Andre Damon