What Do the Latest ICE Raids Augur?



This week's

ICE raids of chicken plants in Mississippi

, which apprehended 680 illegal workers, has generated the usual howls of outrage from the pro-illegal-immigration crowd. There was a tsunami of "

but look at the crying children!

" variety of coverage, but the award for the most unhinged response goes to the League of United Latin American Citizens (LULAC), founded 90 years ago as a pro-assimilation patriotic organization, which denounced the raids as "

state terrorism

".

Actually, it's long overdue. Enforcement the ban on hiring illegal aliens has been laughably flaccid, under both Republicans and Democrats, as Pulitzer Prize winner

Jerry Kammer laid out here

. Tom Homan pledged two years ago that ICE would

step up worksite enforcement

and there has, in fact, been an increase. One of the obstacles, though, has been bureaucratic — the bureau within ICE responsible for such work, Homeland Security Investigations, is largely led by former Customs Service guys who

couldn't care less about immigration

. That's one reason under Obama the ICE press releases were mainly about counterfeit Gucci handbags and illegal imports of ancient artifacts and the like.

Fine, but without illegal aliens, who will debone the chicken? As happened after the

2006 Swift & Co. meatpacking raids

, the targeted plants will raise wages and cast their recruitment net wider. And there are plenty of potential workers. My colleague Steven Camarota coincidentally published a report this week showing that Mississippi has

the lowest labor-force participation rate

of any state; in the first quarter of this year, only 62 percent of non-college native-born adults in Mississippi were working or actively looking for work. That's fully 20 points lower than first-place Iowa, and a 12-point drop even from Mississippi's rate during the same period in 2000. The idea that we're running out of potential workers, even in today's good economy, is comical. It may well be that those American workers who don't already have a job are harder to employ – ex-cons, maybe, or recovering addicts or what have you. But importing foreign workers to fill entry-level jobs not only does nothing to address their employability problems; instead, it's a crutch that enables us to ignore the problems of our own workers.

To be blunt, too many employers are satisfied with leaving marginal American workers to their welfare checks and opioids, and importing foreigners to take their place.

Another critique of such raids is that they're just body-count exercises – a few illegals are deported, the rest get jobs elsewhere, and the employers get a slap on the wrist, if that. This is a real danger. But a clue that this operation might be different comes in the

ICE press release

, which referred to "seizing business records pertaining to the ongoing federal criminal investigation". While it can be easy to deport the illegal workers, especially if they're among the 1 million illegals who've ignored deportation orders and become fugitives, the law makes it much more difficult to make a criminal case stick against the employers. But even here, raids like this are essential, as we saw with the

2008 raid against a meatpacking plant in Postville, Iowa

. That plant had been suspected of all kinds of labor violations for years – wage and hour, occupational safety, child labor, you name it – but neither state nor federal investigators could ever get the evidence they needed. But when the plant was raided, many of the illegal workers were charged with their own crimes –

ID theft, tax fraud, perjury

, etc.

– and that gave prosecutors leverage to get them to rat out the management in exchange for leniency. Let's hope that's what the feds have in mind in Mississippi.

Also this week, the

Washington Post

published the latest in its series of stories on

illegal workers at various Trump properties

. There's nothing particularly new in this story, which focuses on illegal aliens who worked at a Trump-owned construction company – the paper has been documenting for months now that illegals have worked at Trump golf clubs and resorts, and the president's sons, who run the operations, have said they're signing up all their properties with E-Verify (a few had already been using it, but most weren't). They should have enrolled in E-Verify in 2015, at the latest, in preparation for the campaign, but better late than never. Reporting like this is important to make sure they follow through.

But one nugget from the story was interesting, if unsurprising: "Another immigrant who worked for the Trump construction crew, Edmundo Morocho, said he was told by a Trump supervisor to buy fake identity documents on a New York street corner." This is probably true, though it happened 19 years ago, and the supervisor is both retired and blind, so it's too late to make any charges stick. Nonetheless, the

Post

should turn over to ICE the names of any current supervisors they're told about who engaged in illegal activity. ICE may follow through, or not – either way it's news and people should know.

But something the president had said last month points to assignment for ICE: "Probably every club in the United States has that [illegal workers], because it seems to me, from what I understand, a way that people did business."

So let's see some arrests at golf courses, too.
25 MINUTE VIDEO OF ACTUAL MEX INVASION. Illegals pour over Texas rancher's property.
We've got an even more ominous enemy within our borders that promotes "Reconquista of Aztlan" or the reconquest of California, Arizona, New Mexico and Texas into the country of Mexico….. AND THE ENEMY IS THE LA RAZA SUPREMACIST GLOBALIST DEMOCRAT PARTY!
President Trump was registered as a Democrat for 8 of the 16 years prior to running for President where he won the race by talking tough about illegal immigration after reading Ann Coulter's book
Adios, America
.
Trump now disavows Coulter and recently admitted on
spanish
language media Telemundo that he has always supported working out an Amnesty deal for DACA (View)
and Dreamer illegal aliens, a shocking fact Trump concealed during his 2016 campaign for President.
Ann Coulter reported on April 17, 2019 that Trump's life-long Democrat son-in-law, and immigration legislation surrogate,
Jared Kushner told -- "hundreds of New York bankers and businessmen on Dec. 16, 2016, Jared admitted that Trump was "easy to hate from afar." But not to worry, he said, Trump wouldn't be keeping his campaign promises -- especially on immigration." (View
)
ALIPAC originally endorsed and supported Trump but
withdrew the organization's endorsement five months after Trump broke his first immigration issue promise by refusing to end Obama's unconstitutional DACA Amnesty
on day one as promised.
Now, ALIPAC is keeping track of Trump's numerous broken promises such as...
-- failing to secure the border,
-- failing to end Obama's DACA Amnesty,
-- failing to end birthright citizenship,
-- failing to build new miles of border wall,
-- failing to oppose Amnesty for illegals,
-- failing to oppose legal immigration increases,
-- failing to stop illegal alien caravans,
-- failing to end catch and release Presidential policies,
-- failing to stop sanctuary cities and illegal voters,
-- and failing to mass deport illegal immigrants as he promised voters last month, three months ago, and in 2016.
ANN COULTER: WILL THE GLOBALIST DEMOCRAT PARTY FOR BANKSTERS AND BILLIONAIRES DESTROY AMERICA?
I would also go to all of the working class that are in America, construction workers in particular
. Their salaries have not just stagnated, they have gone down in the last 20 years.

These are the least among us. We are the only ones not speaking out of self-interest

. …
Most of the people who are advocating for open borders
… they

have a vested in interest in having either the cheap labor or the Democratic voters

. Their neighborhoods aren't the ones being overwhelmed.

They get the cheap maids, the cheap nannies, and then they strut around like they're Martin Luther King

.
No,

you are talking in your self-interest, Chamber of Commerce, and Koch brothers, and Nancy Pelosi, and Chuck Schumer

. It's Donald Trump and our side who are actually caring about our fellow Americans — the kids who are getting addicted to black tar heroin. …
The heroin problem in this country is 100 percent a problem of not having a wall on the border. And 70,000 Americans are dying every year
. That's more that died in the entire Vietnam War.

That is a national emergency

.

ANN COULTER
///
ANN COULTER EXPOSES TRUMP'S "WALL" HOAX
In fact, Trump is steadily moving in the precise opposite direction of what he promised.
Illegal immigration is on track to hit the highest levels in more than a decade, and Trump has willfully decided to keep amnesty advocates Jared, Ivanka, Mick Mulvaney, Marc Short, and Mercedes Schlapp in the White House. For all his talk about immigration, did he ever consider hiring people who share his MAGA vision?
"Through love of having children we're going to take over."

Augustin Cebada, Information Minister of Fascist Brown Berets, militant para-military soldiers of Aztlan shouting at U.S. citizens at an Independence Day rally in Los Angeles, 7/4/96 (LOS ANGELES COUNTY HANDS OUT $1 BILLION YEARL TO MEXICO'S ANCHOR BABY BREEDERS)
"The children of illegal aliens are commonly known as "anchor babies," as they anchor their illegal alien and noncitizen parents in the U.S. There are
at least 4.5 million
anchor babies in the country,
a population that exceeds
the total number of annual American births."

JOHN BINDER
"As
Breitbart News
recently reported, there are more anchor baby births in the Los Angeles, California metro area than the total U.S. births in 14 states and the District of Colombia. Every year, American taxpayers are billed about
$2.4 billion
to pay for the births of illegal aliens." JOHN BINDER
Poll: Swing Voters Hugely Oppose 2020 Democrats Promising More Immigration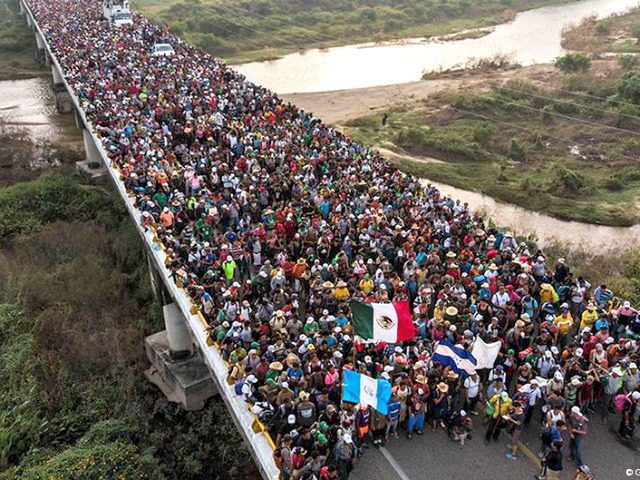 Swing voters — by a large majority — say they are unlikely to support 2020 presidential candidates who support more illegal and legal immigration to the United States, a new poll finds.
The latest Harvard/Harris Poll reveals that about 69 percent of swing voters said they are somewhat unlikely or very unlikely to support a 2020 presidential candidate that supports opening the U.S.-Mexico border to more illegal and legal immigration.
Overall, about 64 percent of registered voters said they would be more unlikely to support a 2020 presidential candidate that backs increasing illegal and legal immigration to the country — including about 63 percent of Generation X voters, 45 percent of Democrats, and 66 percent of voters who describe themselves as "moderate."
Working-class and lower middle-class voters, by a majority, are increasingly unlikely to support 2020 presidential candidates who support increasing illegal and legal immigration levels that drive up foreign labor market competition against which they would be forced to compete.
About 65 percent of Americans with some college education or less said they would be more unlikely to vote for a 2020 presidential candidate that supports more immigration to the U.S. Likewise, nearly 70 percent of Americans earning $75,000 or less a year said the same, as well as 66 percent of suburban voters and 76 percent of rural voters.
While President Trump is running on an economic nationalist platform that seeks to reduce overall illegal and legal immigration to the country in order to increase wages and open blue-collar job opportunities for America's working and middle class, 2020 Democrats have vowed to open the southern border, allow millions of foreign nationals to seek asylum in the U.S., and increase legal immigration levels.
Former Vice President Joe Biden, for example, has routinely said that he supports a legal immigration policy that effectively allows any foreign degree-holder to seek a white-collar job in the U.S., and he has promised to provide free taxpayer-funded healthcare to all 11 to 22 million illegal aliens.
Similarly, Sen. Elizabeth Warren (D-MA) has committed to increasing legal immigration levels that would bring in more foreign competition to working and middle-class Americans while decriminalizing all illegal immigration.
Recent polling by NPR/PBS NewsHour/Marist finds that moderate Democrat voters are turned off by the open borders, more legal immigration position that nearly every 2020 Democrat presidential candidate has taken.
A plurality of 47 percent of moderate Democrat voters said providing free health care to illegal aliens is a bad idea as opposed to 43 percent who say it is a good idea. Nearly six-in-ten moderate Democrat voters also said decriminalizing illegal border crossings is a bad idea, while only 34 percent say it is a good idea.
The Washington, DC-imposed mass immigration policy — whereby more than 1.5 million mostly low-skilled foreign workers are admitted to the U.S. to compete against Americans every year — has been a boon to corporate executives, Wall Street, big business, and multinational conglomerates, as every one percent increase in the immigrant composition of an occupation's labor force reduces Americans' hourly wages by 0.4 percent. Every one percent increase in the immigrant workforce reduces Americans' overall wages by 0.8 percent.
The poll surveyed 2,214 registered American voters online between July 31 and August 1.
John Binder is a reporter for Breitbart News. Follow him on Twitter at
@JxhnBinder
.