Trump's DHS Extends 'Temporary' Amnesty for 300K Foreign Nationals
President Donald Trump's Department of Homeland Security (DHS) Secretary Kirstjen Nielsen is extending a temporary amnesty status for more than 300,000 foreign nationals, a notice from the agency states.
I
n an announcement on Thursday, Nielsen said DHS would not only continue to complywith a preliminary injunction from last year — in which a federal judge in California blocked Trump's rescinding of Temporary Protected Status (TPS) — but that the agency would be extending TPS for hundreds of thousands of nationals of Sudan, Haiti, Nicaragua, and El Salvador through January 2020.
Sudanese nationals have had their TPS extended since 1997, while Nicaraguans have enjoyed TPS since 1998. Likewise, El Salvador's nationals have had TPS since about 2001, and Haitians have had their TPS renewed since about 2010.
Trump sought to end TPS for the more than 300,000 foreign resident population in the U.S., prompting a lawsuit from the American Civil Liberties Union (ACLU). Now, though, Nielsen's decision to extend TPS will allow the foreign nationals to stay in the country until at least January 2020, a reversal of the administration's initial plan.
About 200,000 of the nationals protected by TPS in the latest DHS decision are from El Salvador, while another 50,000 are from Haiti. The remaining more than 50,000 nationals are from Sudan and Nicaragua.
TPS has become a quasi-amnesty for otherwise illegal aliens created under the Immigration and Nationality Act of 1990 (INA) that prevents the deportation of foreign nationals from countries that have suffered through famine, war, or natural disasters. Since the Clinton administration, TPS has been transformed into a de facto amnesty program as the Bush, Obama, and now Trump administration has continuously renewed the program for a variety of countries.
Pro-American immigration reformers like former Kansas Secretary of State Kris Kobach have argued that the TPS program has been abused by the open borders lobby and DHS officials.
At the beginning of 2020, DHS will announce whether the agency will once again renew TPS for the more than 300,000 foreign nationals or terminate their status.
John Binder is a reporter for Breitbart News. Follow him on Twitter at @JxhnBinder.
America Created Just 20,000 Jobs in February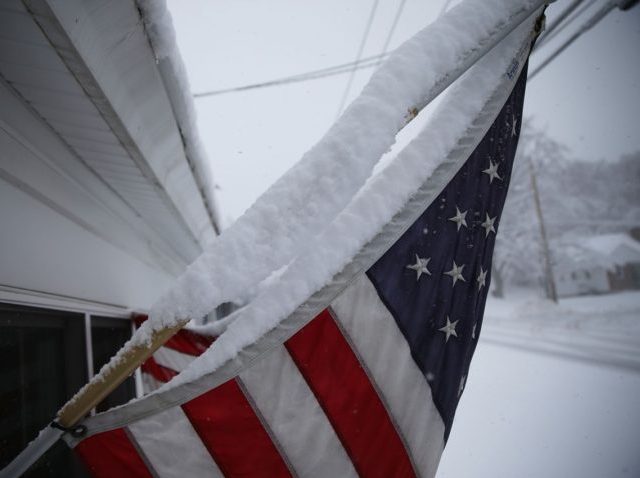 The American economy added a paltry 20,000 jobs in February. The unemployment rate ticked
down to 3.8

percent, the government said Friday.

Economists had expected 175,000 nonfarm payroll growth and the unemployment rate to hold fall to at 3.9 percent.

January's job growth was revised up to 311,000 from 304,000 and December was revised up to 227,000 from 220,000.

Job creation has been a particularly strong suit for the economy. Last year saw more job creation than the previous two years, with 2.6 million new jobs over the course of the year compared with 2.2 million in 2017 and 2.3 million in 2016. For the full year of 2018, the average monthly gain was 223,000. Since President Trump was elected in November 2016, the U.S. economy has created over 5 million jobs.

Job numbers can be volatile week to week. Revisions as high as 100,000 jobs, plus or minus, are not uncommon. February's number is so low and such a deep departure from the prior months that many market watchers expect it will be revised upward.

The broader unemployment rate that counts discouraged workers as well as those employed part-time for economic reasons dropped to 7.3 percent in February from 8.1 percent in January.
THE SECRET REPORT ON TRUMP AND HIS PARASITIC FAMILY'S DESIGNS TO FLOOD AMERICA WITH CHEAP LABOR
TRUMP HOWLS ABOUT HAVING TO PAY LEGALS A LIVING WAGE AT SWAMP PALACE MAR-A-STOLEN.

"Our entire crony capitalist system, Democrat and Republican alike, has become a kleptocracy approaching par with third-world hell-holes. This is the way a great country is raided by its elite." ---- Karen McQuillan

AMERICAN THINKER
DEATH of the AMERICAN MIDDLE-CLASS
GOP PARTNERS WITH THE GLOBALIST BILLIONAIRE DEMOCRAT PARTY TO ASSAULT THE AMERICAN WORKER.
THE WAR FOR OUR BORDERS IS REALLY A WAR FOR OUR JOBS!
AMNESTY AND OPEN BORDERS: IT'S ALL TO SERVE THE BILLIONAIRE CLASS AND KEEP WAGES DEPRESSED!
STARING IN THE FACE of AMERICA'S UNRAVELING and the ROAD TO REVOLUTION
"It will more likely come on the heels of economic dislocation and dwindling wealth to redistribute."
"Our entire crony capitalist system, Democrat and Republican alike, has become a kleptocracy approaching par with third-world hell-holes. This is the way a great country is raided by its elite." -- Karen McQuillan THEAMERICAN THINKER.com
"The kind of people needed for violent change these days are living in off-the-grid rural compounds, or the "gangster paradise" where the businesses of drugs, guns, and prostitution are much more lucrative than "transforming" America along Cuban lines." BRUCE THORNTON
There can be no resolution to any social problem confronting the population in the United States and internationally outside of a frontal assault on the wealth of the financial elite.
The political system is controlled by this social layer, which uses a portion of its economic plunder to bribe politicians and government officials, whether Democratic or Republican.
Why do all global billionaires want wider open borders, amnesty and no E-VERIFY?
AMERICA: THE ECONOMY IS RIGGED BY COGRESS SO THE RICH BECOME SUPER RICH.
The American middle class gets the tax bills for Wall Street's crimes and bottomeless bailouts!
Wealth concentration increases in US.
*
*
The latest research on wealth inequality by University of California economics professor Gabriel Zucman underscores one of the key social and economic trends since the global financial crisis of 2008. Those at the very top of society, who benefited directly from the orgy of speculation that led to the crash, have seen their wealth accumulate at an even faster rate, while the mass of the population has suffered a major decline.
The past 40 years have seen the consolidation of a plutocratic elite, which has subordinated every aspect of American society to a single goal: amassing ever more colossal amounts of personal wealth. The top one percent have captured all of the increase in national income over the past two decades, and all of the increase in national wealth since the 2008 crash.
Carney: U.S. Does Not Have
a Labor Shortage; It Has a
Wage Shortage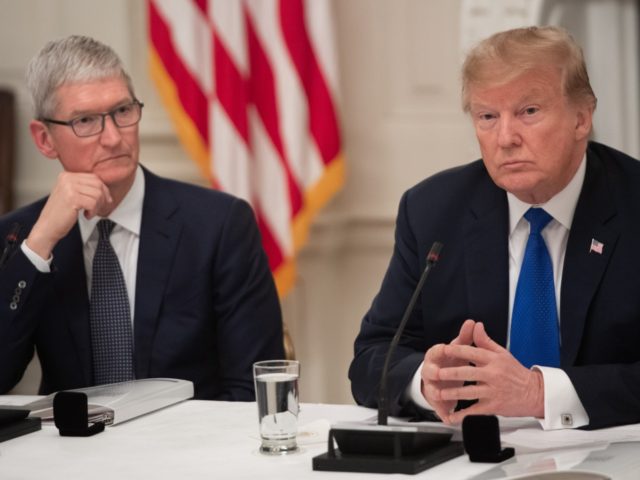 President Donald Trump is right. America needs more workers.
But if his advisers are telling him that this means America needs higher levels of immigration, they are misleading the president. America does not need to import workers. We have plenty of potential workers who were sidelined by the Great Recession and globalization.
In the first two years of the Trump presidency, America created two million jobs. The unemployment level fell to an astonishing 3.7 percent in September, the lowest level in decades, and it has averaged 4 percent over the past year.
The official unemployment rate, however, only includes Americans looking for work. It overlooks more than 90 million Americans who are officially out of the labor force. The civilian labor force participation rate is now just 63.2 percent—down from more than 66 percent prior to the Great Recession.
Even when adjusted for America's aging workforce and more working-age Americans attending college, participation is low. Just 82.6 percent of Americans between the ages of 25 and 54 were counted in the labor force, according to the most recent figures from the Department of Labor. That's a full percentage point lower than it was in the late 1990s, the last time unemployment was this low:
In his recent testimony on Capitol Hill, Fed chair Jerome Powell called the low level of labor force participation a "very troubling concern."
"There are lots of people, millions of people, who are out of the labor force and in a perfect world, in a better world, would be in the labor force," Powell said. "We want the economy to grow, and we want that prosperity to be widely spread. Labor force participation gets both of those things almost better than anything."
President Trump knows that millions of Americans are out of work. In his first address to a joint session of Congress in February 2017, Trump said, "We must honestly acknowledge the circumstances we inherited. Ninety-four million Americans are out of the labor force."
To be sure, since the election, we've made some progress in drawing Americans back into the labor force. More than 2.1 million people joined the labor force in 2018. The participation rate is up a full percentage point compared with a year ago, as is the participation rate among those prime working age Americans between 25 and 54.
But wage growth has lagged behind expectations and historical levels. Average hourly earnings grew 3.2 percent in 2018. After adjusting for inflation, that amounted to an increase of just 1.7 percent.
Compare that with the 4.2 percent average wage growth right back in 2001—when the workforce participation rate was higher than 66 percent.
The low level of wage growth indicates that despite the howls from corporate America about worker shortages, employers are not vigorously chasing workers with higher pay. Absent rapidly rising prices for labor, cries of a shortage ring hollow. All available data show a tight relationship between workforce participation and wage growth.
"Businesses love to say we've got shortages — it's this historic worker shortage. Well, show me the money," Minneapolis Fed President Neel Kashkari said last year.
When the labor force is swamped with demand, prices rise and attract additional supply—just as conventional economic textbooks suggest. But when wage growth is weak, workers stay on the sidelines.
Now, employers like Apple, whose chief executive Tim Cook was seated beside President Trump at the meeting of the White House's Workforce Advisory Panel on Wednesday, are unlikely to find workers with the skills they need among Americans currently out of the workforce. But Apple could hire and train experienced workers away from other firms, creating job openings that can be filled by less experienced workers, and so on, eventually creating openings for those out of the workforce.
Think of it like an economic ladder. As an American worker climbs the ladder, she frees up the rung where she used to stand. The worker behind her climbs up a step, freeing another rung. As long as there are workers not yet on the ladder, there is plenty of room in the economy for moving up.
Importing skilled labor disrupts the climb. Instead of raising wages and employing more Americans, companies may import workers and stick them in the empty slot on the ladder. Those at the bottom do not move up. Those off the ladder never climb on.
One reason many employers prefer foreign workers is that U.S. residency is a subsidy—a form of compensation for the worker that the employer does not pay for. Visas are a form of corporate welfare that enables businesses to pay foreign workers less than they would need to pay a homebrewed worker to do the same job.
The size of this subsidy is enormous. Visa workers are often permitted to bring spouses. Even unmarried visa workers can win new work permits by marrying someone currently living abroad. Any children born in the U.S. will be citizens, who will eventually be able to sponsor their parents for citizenship.
From an economic perspective, U.S. residency is part of the compensation foreign workers receive for accepting employment from a company like Apple. Americans, however, need to be compensated in dollars or benefits—forms of compensation that subtract from the bottom line. Immigration keeps labor costs down.
It is no wonder, then, that the president's Workforce Advisory Panel—which has only one representative of the private workforce compared with 15 CEOs—told the president we have a worker shortage and urged him to abandon his policy of hiring Americans first. This protects their bottom lines.
Employers have been using this line for years. Bloomberg recently quoted a 2011 Federal Reserve report that cited companies in the Richmond region complaining about the lack of skilled workers.
"Finding skilled workers continued to be a major concern," the Fed's November 2011 beige book said.
Unemployment was 8.6 percent. Since then, America has added 18 million jobs, according to Bloomberg.
LEGALS FLEE THE LA RAZA WELFARE STATE!
MEXIFORNIA: The Globalist Democrat Party's Vision of America
Migrant enclaves already are at the top of the U.S. lists for bad places to live - 10 of the 50 worst places in America to live according to

this list

are in California, and all of them are famous for their illegal populations. MONICA SHOWALTER
California—not Mississippi, New Mexico, or West Virginia—has the highest poverty rate in the United States. According to the Census Bureau's Supplemental Poverty Measure—which accounts for the cost of housing, food, utilities, and clothing, and which includes noncash government assistance as a form of income—nearly one out of four Californians is poor.
Kerry Jackson
California's de facto status as a one-party state lies at the heart of its poverty problem. With a permanent majority in the state senate and the assembly, a prolonged dominance in the executive branch, and a weak opposition, California Democrats have long been free to indulge blue-state ideology while paying little or no political price. The state's poverty problem is unlikely to improve while policymakers remain unwilling to unleash the engines of economic prosperity that drove California to its golden years.

Kerry Jackson
As Breitbart News

reported

, if chain migration is not ended — as President Donald Trump has demanded — the U.S. electorate will forever be changed, with between seven to eight million new foreign-born individuals being eligible to vote because of chain migration, and overall, an additional 15 million new foreign-born voters.
No Justice for Taxpaying Americans
By Howie Carr
But the real double standard kicks in when the undocumented Democrat gets to the courtroom. A taxpaying American can only dream of the kid-gloves treatment these Third World fiends get.
Illegal aliens continue overwhelming the state, draining California's already depleted public services while endangering our lives, the rule of law, and public safety for all citizens.
Arthur Schaper
The costs of illegal immigration are being

carefully hidden

by Democrats. MONICA SHOWALTER
The Federation for American Immigration Reform estimates that California spends $22 billion on government services for illegal aliens, including welfare, education, Medicaid, and criminal justice system costs.
STEVEN BALDWIN
Heather Mac Donald of the Manhattan Institute has testified before a Congressional committee that in 2004, 95% of all outstanding warrants for murder in Los Angeles were for illegal aliens; in 2000, 23% of all Los Angeles County jail inmates were illegal aliens and that in 1995, 60% of Los Angeles's largest street gang, the 18th Street gang, were illegal aliens.
HAVE YOU EVER HEARD ANY POL TALK ABOUT AMERICA'S HOMELESS? Nope! It's only amnesty, amnesty, amnesty…. keep them coming to keep wages depressed!
The City by the Bay's homelessness problem is profound even for California, where as much as 30 percent of the country's homeless live.
Illegal aliens continue overwhelming the state, draining California's already depleted public services while endangering our lives, the rule of law, and public safety for all citizens.
Arthur Schaper
The costs of illegal immigration are being
carefully hidden
by Democrats. MONICA SHOWALTER
The Federation for American Immigration Reform estimates that California spends $22 billion on government services for illegal aliens, including welfare, education, Medicaid, and criminal justice system costs. STEVEN BALDWIN
US household net worth sees biggest fall since crisis: Fed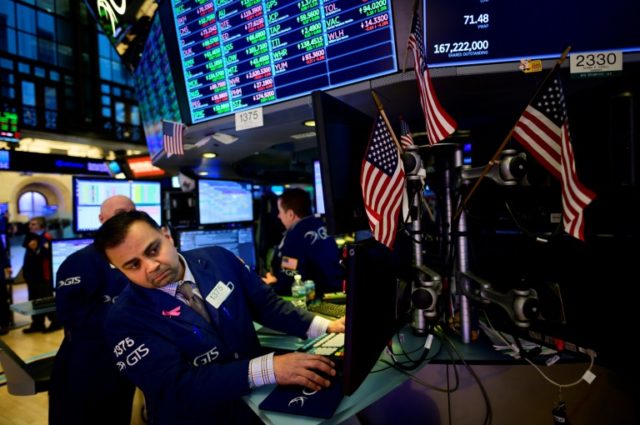 Washington (AFP) – American households saw their net worth plummet at the end of 2018 amid a rout on Wall Street, the biggest tumble since the global financial crisis, the Federal Reserve reported Thursday.
The benchmark Dow Jones Industrial Average alone lost 13 percent from October to December, draining the value of stock holdings including in retirement accounts, amid concerns about the slowing US economy and the trade war with China.
Household net worth fell $3.7 trillion to $104.3 trillion in the final three months of the year, according to the Fed's quarterly report. The 3.5 percent decline was the largest drop in percentage terms since the fourth quarter of 2008.
The value of equities alone fell $4.6 trillion during the quarter but this was partly offset by gains in the value of real estate and other assets, the report said.
Stocks have recovered much of the fourth quarter losses, as Washington and Beijing have signaled they are close to reaching a trade deal, and as Fed policymakers said they intend to hold off on any further increases to benchmark interest rates, reducing concerns that rate hikes would slow the economy.
Declining stock prices in December ate into consumer confidence and coincided with sharp drops in retail sales.
Economists say Wall Street selloffs can make consumers fearful for the future and thus wary of spending.
Consumer spending in December fell 0.5 percent, its largest monthly decline since September 2009, according to the Commerce Department.
"Deaths of despair" continue to soar
US deaths from alcohol, drugs and suicide at all-time high
More than 150,000 Americans died from alcohol and drug-induced fatalities and suicide in 2017. This is more than twice as many as in 1999 and the highest number since recordkeeping began in that year. This skyrocketing rate of so-called deaths of despair was confirmed in a new analysis released this week by Trust for America's Health (TFAH) and Well Being Trust (WBT).
TFAH and WBT analyzed data from the Centers for Disease Control and Prevention (CDC) between 2016 and 2017 and found that the national rate for deaths due to alcohol, drugs and suicide increased 6 percent over that year, from 43.9 deaths per 100,000 to 46.6 deaths per 100,000. While the rate of increase is lower than in the previous two years, it is still higher than the 4 percent average annual increase since 1999.
The new analysis provides insight into the CDC's findings last years that showed a drop in life expectancy from 78.7 years to 78.6 years, the third consecutive year-on-year decline. In the years since the 2008 financial crisis many workers and their families have confronted an unprecedented crisis of social misery, which is literally cutting life out from under them.
Certain groups of Americans have been hardest hit by the "deaths of despair" examined in the new analysis:
• Ages 35–54: The rate of death from alcohol, drugs and suicide was 72.4 per 100,000. This was a 35 percent increase over 2007 figures.
• Males of all ages: A death rate of 68.2 deaths per 100,000 was found among men.
• Regional disparities: West Virginia, with 81 deaths per 100,000, and New Mexico, with 77, had the highest rates of "deaths of despair" among the 50 US states.
Death by suicide
The suicide rate in 2017 was 4 percent higher than in 2016, rising from 13.9 deaths per 100,000 to 14.5 deaths per 100,000. In 2017, 47,200 Americans died as a result of suicide. Deaths by suicide were particularly high among males (22.9 per 100,000), whites (16.6 per 100,000) and people living in rural areas (19.4 per 100,000)
Over the past decade suicide rates increased by 22 percent. Suffocation and hanging suicides have risen by 42 percent since 2008, while firearm suicides saw a 22 percent increase. These methods are often chosen by suicide victims over less violent means because they are more likely to result in death.
One of the most disturbing trends over the last decade has been the rise is deaths by children ages 1–17. Although suicide deaths in 2017 were still lower than for other age groups, at 2.4 per 100,000, they have risen by 16 percent since 2016. Over the last decade, 12,660 youth under the age of 17 took their own lives, according to the CDC.
Suicide rates over the past decade have also increased proportionally more among blacks (30 percent rise) and Latinos (36 percent) than among other racial and ethnic groups.
Research published by the CDC last year showed that the overall suicide rate increased by 25 percent across the US over the two decades ending in 2016. These figures paint a picture of a social crisis driving increasing numbers of people, both young and old, to take their own lives in the face of personal crises, mental health issues, substance abuse and economic despair.
In 2017, 35,800 Americans died of alcohol-induced causes. The TFAH/WBT report included deaths from alcohol induced causes, including alcohol poisoning, liver and other diseases. It did not include alcohol-related vehicle accidents, violence or accidental fatalities.
Alcohol-induced deaths rose 2 percent in 2017 over 2016, the smallest increase since 2008–2009. The alcohol death rate has increase by 38 percent since 2008. Alcohol-related deaths were highest among males (16.2 per 100,000), whites (12.2 per 100,000), adults ages 55–74 (26.4 per 100,000) and in rural areas (13 per 100,000).
People 55–74, who should be enjoying their retirement, instead are abusing alcohol in record numbers. Those 18–34—who should be gainfully employed, studying or embarking on new careers—have seen a 69 percent rise in alcohol-related deaths over the past decade, as they suffer through unemployment, layoffs and drown in college debt.
Drug deaths
The synthetic opioids fentanyl and carfentanil are 50 to 100 times and 10,000 times more potent than morphine, respectively. Natural/semisynthetic opioids include hydrocodone, oxycodone, morphine and heroin.
Two decades ago, synthetic opioids were responsible for less than 10 percent of all drug deaths in the US. In 2017, they accounted for 38 percent of all drug deaths, with an average of 547 Americans succumbing to opioid overdose deaths every week .
The synthetic opioid crisis has taken its toll on every segment of American society, but has especially hit males (with 12.8 deaths per 100,000 in 2017), blacks (8.6 deaths per 100,000), whites (9.5 deaths per 100,000), adults ages 18–54 (15.2 deaths per 100,000) and those living in metropolitan areas.
A recent study showed that opioid overdose death rates among US teens and children have tripled over the past 17 years. The study, published online in JAMA Network Open, found that young children died from either accidentally ingesting narcotics or from intentional poisoning. Teens more often died from unintentional overdoses, using prescription painkillers found in their homes or drugs bought on the streets.
The Northeast region had the highest opioid mortality rate in 2017 (15.7 deaths per 100,000), followed by the Midwest (12.1 deaths per 100,000). Drug deaths in the Midwest, which includes the Rust Belt ravaged by industrial decline, saw a 122 percent increase in all drug deaths from 2007 to 2017.
The surge in synthetic drug deaths must be laid at the feet of the multibillion-dollar pharmaceutical companies, who have flooded neighborhoods with these potent opioids. Drug companies have pushed prescription narcotics through bribing doctors to prescribe the addictive substances, and by secretly and deliberately increasing their addictive properties.
While politicians of both big business parties have feigned outrage at such practices, they are on the payroll of Big Pharma, receiving millions of dollars from drug company lobbyists. In 2018 alone, the pharmaceutical and health products industry spent a record $280 million on their lobbying efforts.
The war against the health and lives of American workers has been a bipartisan conspiracy conducted over decades as part of a conscious strategy to claw back the gains of the working class begun over a century ago.
For the 150,000 Americans who died from alcohol and drug-induced fatalities and suicides in 2017, millions more have been affected—family, friends, co-workers. But for politicians in Congress and pharmaceutical CEOs this devastating toll is seen as the "cost of doing business."
The US health care crisis—exemplified by these "deaths of despair" and falling life-expectancy—is a true national emergency, in contrast to the "national emergency" on the Southern US border fabricated by Donald Trump and his fascistic advisers.
The epidemic of alcohol-, drug- and suicide-related deaths is a social crisis that requires a socialist response. Such social misery cannot be battled under conditions where the health and welfare of the vast majority is subjugated to the private wealth of the pharmaceutical and insurance companies and giant healthcare chains. These capitalist enterprises must be expropriated, transformed into public utilities and run on the basis of social need, not profit.
Illegal Immigration Under Trump Projected to Surpass Obama Era Levels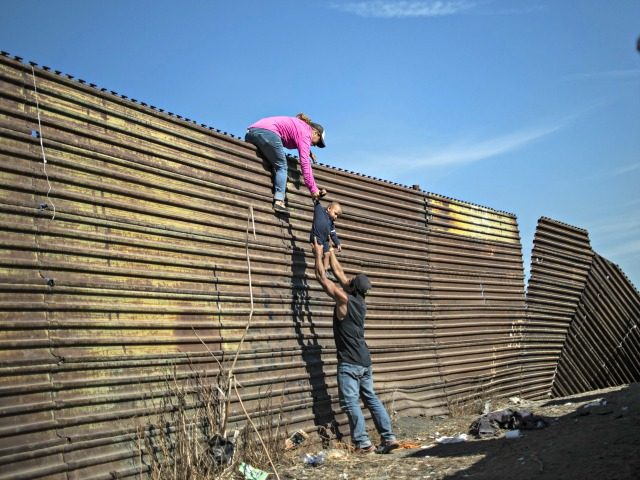 President Trump is projected to oversee the largest flow of illegal immigration at the United States-Mexico border since former President Bush's administration, surpassing every year of crossings under former President Obama.
As Breitbart News reported, more than 76,000 border crossers attempted to enter the U.S. in the month of February — the most apprehensions of illegal border crossers and migrants in this month in 12 years.
While Trump's administration expanded the Catch and Release program last month and Department of Homeland Security (DHS) Secretary Kirstjen Nielsen focuses her attention on cybersecurity and terrorism issues, the U.S. is projected to see a level of illegal immigration this year that will surpass every year of illegal immigration under Obama.
Princeton Policy Advisors researcher Steven Kopits estimates that there will be about 775,000 illegal border crossings this year when the last month's border data is analyzed. This would indicate that Trump's overseeing of the crisis at the southern border would reach Bush era levels of mass illegal immigration when, in many years, more than illegal border crossings occurred in a single year.
In the past, Kopits has projected that there would be about 606,000 border crossings this year, the most illegal immigration since Fiscal Year 2008 when Bush was still in office.
Now, Kopits predicts illegal immigration to reach "a phenomenal pace of acceleration" at the southern border this year. The researcher also expects up to half a million border crossers will successfully enter the country through the border this year.
Should illegal immigration hit the level of 775,000 attempted border crossings this year, as Kopits projects, this would be nearly double what illegal immigration was in Obama's last Fiscal Year.
Simultaneously, about 224,000 Unaccompanied Alien Children (UAC) are resettled across the U.S. every half decade after arriving at the border. The resettlement policy, often used by MS-13 gang members, is expected to be exacerbated after Trump signed into law a quasi-amnesty for any illegal alien living in the same household with a UAC.
The vast majority of voters say a border wall would be effective in stopping illegal immigration, though that has not equated to progress on constructing new barriers at the border.
Only about 40 miles of replacement fencing have been built since Trump's election, although about 124 miles of new wall and replacement fencing has been approved by Congress. This month, about 14 miles of new wall is expected to be constructed in southern California and some new portions of a wall have been constructed in the El Paso, Texas region.
Today, the majority of the U.S.-Mexico border remains open. At the same time, the U.S. has continued funding border walls and border security programs in Pakistan, Afghanistan, Egypt, and Lebanon.
John Binder is a reporter for Breitbart News. Follow him on Twitter at @JxhnBinder.
DHS Sec. Kirstjen Nielsen Predicts 900,000 Border Apprehensions This Year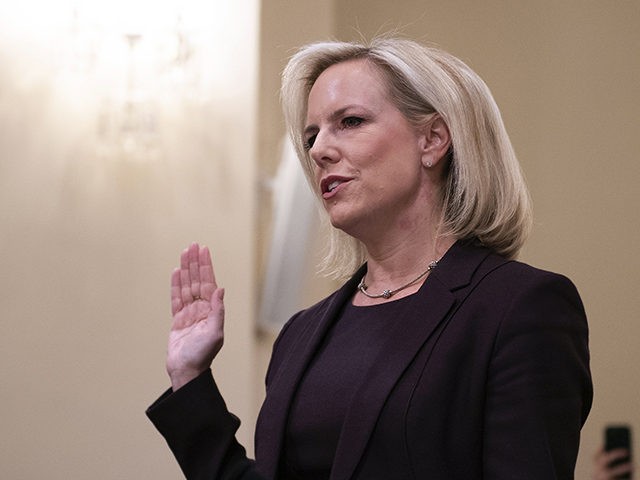 Roughly 900,000 migrants will be registered crossing the border this year, Homeland Defense secretary Kirstjen Nielsen predicted in congressional testimony Wednesday.
"We are on track for this year, for 900,000 apprehensions at the border," she told the House's Committee on Homeland Security, one day after officials revealed that 76,000 migrants flooded across the border in February 2019.
The nation's border defense system "is clearly breaking," Nielsen told GOP Rep. Michael Guest.
"We need a barrier. We cannot take operational control of the border without it," she said.
Nielsen's prediction of 900,000 new migrants does not include migrants who sneak past the border guards, nor migrants who overstay their legal tourist or work visas, nor the resident population of at least 11 million illegal migrants.
In addition, the 900,000 number does not include the expected inflow of one million legal immigrants or the continued residency of at least two million visa workers during 2019, even as four million young Americans leave schools in 2019 to look for well-paying jobs amid the flood of foreign workers.
Nielsen's statement came as nearly all Democratic Senators — and some GOP Senators — plan to vote against President Donald Trump's emergency plan for construction of a border wall.
The news also comes shortly after the Democratic and GOP legislators drafted a 2019 budget that added at least $415 million to provide the migrants with food, transportation, legal advice, and medical care as they cross the border in search of U.S. jobs, residency, schooling, and taxpayer aid.
The prediction also comes as Democrats, judges, and pro-migration activists fight to preserve the legal loopholes which allow migrants who bring children to walk through the border wall and disappear into communities of illegal migrants.
Migrants frankly state their goals. The Washington Post interview a Guatemalan migrant who brought his son up to the border to help him reach an arranged job at a pizza restaurant in Pennsylvania:
Across rural Guatemala, [

Dionel] Martinez said, word has spread that those who travel with a child can expect to be released from U.S. custody. Smugglers were offering two-for-one pricing, knowing they just needed to deliver clients to the border — not across it — for an easy surrender to U.S. agents.

"If this continues, I don't think there will be anyone left in Guatemala," Martinez joked. The men from his village near the town of Chiquimula were all leaving, he said, bringing a child with them.

Martinez said he used the family home as collateral. He had four months to pay off the $2,500. "I need a way to feed my family, and this is it," he said.
In the United States free-market economy, any inflow of foreign workers — either legal or illegal, either permanent or temporary – cuts Americas' jobs and wages, and it transfers the lost wages to CEOs and investors.
This federal policy of using legal and illegal migration to boost economic growth shifts enormous wealth from young employees towards older investors by flooding the market with cheap white-collar and blue-collar foreign labor.
That annual inflow of roughly one million legal immigrants — as well as the population of two million visa workers and eight million working illegal immigrants — spikes profits and Wall Street values by shrinking salaries for 150 million blue-collar and white-collar employees, especially the wages earned by the four million young Americans who join the labor force each year.
The federal government's cheap labor policy widens wealth gaps, reduces high tech investment, increases state and local tax burdens, hurts kids' schools and college education, pushes Americans away from high-tech careers, and sidelines millions of marginalized Americans, including many who are now struggling with fentanyl addictions.
Immigration also steers investment and wealth away from towns in Heartland states because coastal investors can more easily hire and supervise the large immigrant populations who prefer to live in coastal cities. In turn, that coastal investment flow drives up coastal real estate prices and pushes poor Americans, including Latinos and blacks, out of prosperous cities such as Berkeley and Oakland.