Tucson Border Patrol Agent Attacked by Multiple Assailants, Says Sector Chief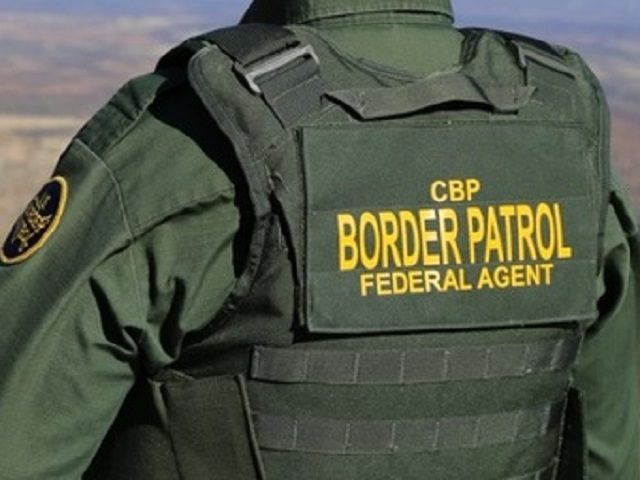 The Border Patrol agent shot on Tuesday was attacked by "multiple assailants," Tucson Sector officials stated. An update released Wednesday by the sector chief confirms much of the original reporting from Tuesday by Breitbart Texas.
Tucson Sector Chief Patrol Agent Rodolfo Karisch told reporters in a Wednesday update that a Border Patrol agent was shot in the early morning hours of Tuesday. The agent was on foot, conducting an investigation into sensor activity in the area of Ruby Road and Chimney Canyon. The area is located south of Arivaca, Arizona.
The chief said the injured agent is in good spirits and stable condition.
Chief Karisch said they told the agents to "recognize that you're in an extremely dangerous job out there, but you should always keep your guard up when you are patrolling those borders or performing law enforcement duties."
"We know the inherent dangers of this profession, but we continue to protect our country and our communities," he continued.
The chief alluded to reports that the agent was working alone at the time of the shooting. He said they attempt to pair agents up in the more dangerous areas, but that does not always happen. Media reports indicated that the agent was alone at the time of the shooting.
Sources working under the umbrella of U.S. Customs and Border Protection told Breitbart Texas that the shooting occurred between 3:30 and 4:30 Tuesday morning in the Chimney Canyon area located southeast of Aravaca.

One of the sources said the Border Patrol agent was shot in the chest and back as well as in the hand and knee, but heavy plate body armor successfully stopped the shots to the chest and back. Breitbart Texas was unable to confirm this account with officials.

Another source told Breitbart Texas that the injured Border Patrol agent is a paramedic. That source claimed the injured agent applied his own tourniquet and started his own IV. The source also claimed the injured agent was transported by an emergency medical helicopter to a hospital. Breitbart Texas was unable to confirm these claims with officials.

Another source told Breitbart Texas that the agent was ambushed on a trail and that a group of four or five illegal immigrants were later apprehended in the area. This source did not know if the illegal immigrants are connected to the shooting. Breitbart Texas was unable to obtain official confirmation of these details as well.
Tucson Sector officials responded an hour later with the following statement:
A United States Border Patrol agent was involved in a shooting incident on Tuesday June 12, 2018, at approximately 4:30 a.m. (MST), south of Arivaca, Arizona.

The Border Patrol Agent was shot and subsequently transported to an area hospital for medical treatment. Several subjects in the area were taken into custody.

This is an active shooting investigation and the situation is evolving, further information will be provided as it becomes available. The FBI and CBP's Office of Professional Responsibility are jointly involved. More information will be provided as it becomes available.
Wednesday morning's statement from Chief Karisch confirms many of the facts initially obtained by Breitbart Texas from unofficial sources. Those facts include that the agent, a 21-year veteran Border Patrol paramedic-trained agent, administered his own emergency medical care and that he was transported from the scene by an air ambulance to a local hospital. His statement also confirms the Breitbart Texas source's account that agents apprehended a group of illegal immigrants in the area. The chief explained that it is still not known if these subjects are connected to the shooting. He said they are being detained on immigration violations at this time.
Chief Karshich also confirmed that hostile gunfire struck the agent multiple times.
Wednesday's statement from Tucson Sector officials also provides a few new facts about the shooting. Sector officials stated that the wounded agent returned fire after being shot several times "in close proximity." The statement did not indicate if any of the suspects were shot by the wounded agent.
Tucson Sector officials also stated that the group of migrants was located by a Customs and Border Protection Air and Marine Operations helicopter. The officials also stated that the agent was attacked by an "unknown number of assailants."
Officials said they could not respond to Breitbart Texas' questions about the weapon or weapons used in the shooting as the FBI has taken over the investigation. The shooting is also being investigated by the DHS Office of Inspector General, CBP's Office of Professional Responsibility, and the Santa Cruz Sheriff's Office.
Bob Price serves as associate editor and senior political news contributor for Breitbart Texas. He is a founding member of the Breitbart Texas team. Follow him on Twitter
@BobPriceBBTX
,
GAB
, and
Facebook
.
DHS Secretary Kirstjen Nielsen Tours Israel Border Barrier for Mexico Wall Ideas
TEL AVIV – U.S. Homeland Security Secretary Kirstjen Nielsen toured Israel's border fence with Egypt Tuesday in order to gather information on Israeli border technology that can be adapted for the U.S.-Mexico border.
At a security conference later that day in Jerusalem, she said, "Border security is national security. Our Israeli partners know that better than anyone, and I was fortunate today to see the incredible work they are doing to keep their territory safe."
President Donald Trump has expressed admiration for Israel's sensor-rigged security barrier on the Egyptian border that has all but stopped the flow of illegal immigrants from entering the country as well as preventing infiltration from terrorists. The security fence cost Israel around $380 million.
"From Ottawa to Berlin, our communities are now on the frontlines," Nielsen said. "All countries represented here have experienced this evil in one form or another, whether your nationals have been victims or your homelands have been hit directly."
The struggle "requires moral clarity," Nielsen added.
"So all of us in this room must remember we are engaged in a generational struggle against Islamist militants, the preeminent terror threat to our lives, our livelihoods and our way of life," she said.
As the Times of Israel noted, Nielsen's blunt language echoes that of Trump and is reflective of the shift in rhetoric from the Obama administration, which sought to avoid associating terms like "Islamic" with"terrorism" out of fear that it would alienate Muslim moderates.
Nielsen praised Israel for its help in combating terrorism on the domestic front.
"Following the 9/11 attacks — the deadliest terror assault in modern world history — you were right there by our side," she said. "We knew we could not win the coming fight alone. And we turned to you for guidance because the State of Israel has withstood decades of violence at the hands of fanatics — and has proudly defended freedom against relentless terrorist enemies."
Nielsen has been under fire from Trump for not doing more to decrease the amount of illegal migrant entries into the U.S.
A U.S. official spoke to Reuters about Nielsen's visit to the Israel-Egypt border.
"She understood the challenges and opportunities that exist there," the official said.
A U.S. State Department statement said last week that Nielsen would "receive an operational briefing on Israeli border infrastructure technology and systems."
Charlie Daniels: We Need a Wall – But That's Just the Beginning
"I believe that if Hillary had been elected she would have found a way to give amnesty and eventually citizenship to all the millions of Hispanics who are now here illegally and would have, in theory, have opened the border so that more and more could cross and be eligible to vote, until an undefeatable voting block would have been created, putting a more and more progressive electorate into power." CHARLIE DANIELS
388 SHERIFFS FROM 40 STATES SAY
BUILD THE FREAKING WALL!!!
Mexico says we will simply tunnel under it and our LA RAZA DEMOCRAT PARTY will buy the shovels for us to do it!
Bristol County, Massachusetts, Sheriff Thomas Hodgson state in an
open
letter,
issued on March 21, makes clear that the responsibility for the continued carnage of innocent Americans caused by those who shouldn't be present in the country in the first place lies firmly in the lap of Congress. "Because Congress has failed to enact the necessary reforms, our citizens and legal residents face even greater dangers, our national security is more vulnerable, and our enforcement efforts have been seriously compromised"
Adios, Sanctuary La Raza Welfare State of California



A fifth-generation Californian laments his state's ongoing economic collapse.

By Steve Baldwin

American Spectator, October 19, 2017
What's clear is that the producers are leaving the state and the takers are coming in. Many of the takers are illegal aliens, now estimated to number over 2.6 million.
The Federation for American Immigration Reform estimates that California spends $22 billion on government services for illegal aliens, including welfare, education, Medicaid, and criminal justice system costs.
Democrats are responsible for tent cities for illegal alien kids
Illegal alien children are flooding across the border.
Some are coming alone; some are accompanied by adults who may or may not be their parents. The government is overwhelmed by the numbers; recently, the government converted a former Walmart into a home for illegal alien kids. Can you imagine seeing illegal aliens in a Walmart? That's surely a first for our nation!
But as space runs out, the government has announced plans to open tent cities to house the illegal alien kids. Democrats have blasted this as inhumane, and even Republican House speaker Paul Ryan says he is against separating kids from their illegal alien parents.
Well, if he's against it, what is he for?
This whole situation was created by Democrats. First, Democrats and the courts created a magnet of welfare benefits for illegal aliens who entered the country. It was so tantalizing that some families south of the border sent their children across, knowing they would get free food, shelter, and education.
Secondly, Obama expanded the definition of "asylum" to include people who claimed they feared "crime gangs" or even feared abusive husbands. That incentivized illegal aliens to make up stories of persecution and to flood the border, creating another magnet that drew in all these illegal aliens – and their children.
Thirdly, Obama largely stopped prosecuting illegal aliens criminally for crossing the border. Attorney General Jeff Sessions decided to start enforcing the law again, which sent parents of illegal aliens to jail. Children could not accompany parents to jail, therefore they had to be sent somewhere. The federal government doesn't have facilities to take care of thousands of children and therefore is planning to create a tent city or cities to process the illegal kids until they can be found foster homes.
The liberal media paint this as cruel in the extreme. But if you look at what caused the children to be here in the first place, it was Democrats. Democrats expected the parents, and their kids, to be able to walk across the border, be given a court date many years in the future, and be free to melt into the population – in effect, be given a "get out of jail free" card. People south of the border, knowing this, have flooded across by the millions.
Now that the law is being enforced, it looks cruel to the children. If there is any cruelty, it is caused by the Democrats, who lured all those kids here. In the meantime, I suspect that the taxpayer-funded food, shelter, education, and entertainment these kids will receive will still be a big step up from the shacks they hail from. And perhaps when word filters back across the border that crossing the border illegally is once again taken seriously, the unsustainable flow of illegals, created by the Democrats, will be reduced.