The rash of kidnappings and beheadings come just days after, as

Breitbart Texas

reported, a Coahuila court ordered the release of nine police officers who had previously been convicted for working with Los Zetas. While authorities have not made any public statements on the case, investigators believe the two cases are closely related.
GRAPHIC CONTENT: Terror In Mexican Border State, 4 Beheadings by Los Zetas Cartel After Release of Narco-Cops
Breitbart Texas traveled to the Mexican States of Tamaulipas and Coahuila to recruit citizen journalists willing to risk their lives and expose the cartels silencing their communities. The writers would face certain death at the hands of the various cartels that operate in those areas including the Gulf Cartel and Los Zetas if a pseudonym were not used.
Breitbart Texas' Cartel Chronicles
are published in both English and in their original
Spanish
. This article was written by Coahuila's "JM Martinez" and Breitbart Texas' Ildefonso Ortiz.
PIEDRAS NEGRAS, Coahuila — Terror continues to take hold of this border city as the number of gruesome beheadings by the Los Zetas drug cartel continues to grow. Just days after Los Zetas had beheaded three informants and made a gory show of spreading their heads around the city, they have done it again.
On Tuesday, shortly after 8 p.m., authorities responded to emergency calls at parking lot of the Soriana shopping center just outside of a store called Coppel on the corner of Industrial Avenue and Mendoza Berrueto Boulevard in the border city of Piedras Negras, just south of Eagle Pass, Texas. In the parking lot, authorities located a human head wrapped in a black plastic bag that had been left next to a Cadillac Escalade.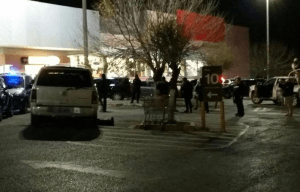 Authorities cordoned off the area as they began to document and gather evidence before eventually removing the human remains from the area.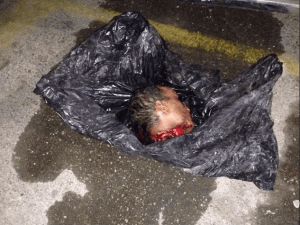 Shortly after 10 p.m., authorities responded to a second call about human remains in an empty lot near the red light district. Authorities arrived to the area and discovered the body of the severed head that had been found just hours before. investigators documented the evidence and took the body to the morgue to carry out an autopsy and other investigative procedures.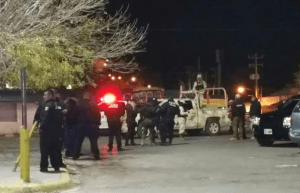 This fourth beheading comes just days after, as

Breitbart Texas

reported, Los Zetas had kidnapped and beheaded three victims who had been providing authorities with information. The victims have since been identified as 33-year-old Eliseo Ruiz Santos, 37-year-old Claudia Elizabeth Hernandez Cardenas and 17-year-old Cristian Ramos Alvarado.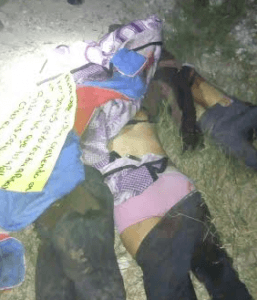 In that case, Los Zetas left a poster board warning the public that anyone who trusted the GATES (special anti-cartel police unit) would receive a similar fate.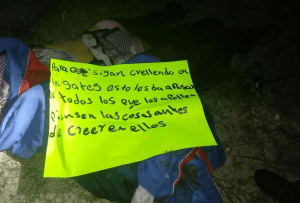 The rash of kidnappings and beheadings come just days after, as

Breitbart Texas

reported, a Coahuila court ordered the release of nine police officers who had previously been convicted for working with Los Zetas. While authorities have not made any public statements on the case, investigators believe the two cases are closely related.
Tuesday's beheading came as a slap to the face of Coahuila government officials since, just hours before the fourth head was found, Secretary of State Victor Zamora held a press conference to announce the capture of three gunmen that he believes are responsible for the three earlier beheadings.
Zamora identified the three detainees as Juan Enrique "La Sirena" Pena Zapata, Ernesto "El Pollo" Juantos Vasquez and Carlos Gerardo "La Chiva" Flores Rodriguez.
NEARLY HALF THE MURDERS IN MEX-OCCUPIED CA ARE BY MEXICAN GANGS.
OF THE TOP 200 MOST WANTED CRIMINALS (MURDER) IN THE CITY OF LOS ANGELES, 186 ARE MEXICAN.
Overall Deportations Drop in 2015, 27% for Criminal Aliens
DECEMBER 23, 2015
Email
Print
Text Size
After a year after freeing tens of thousands of illegal immigrants convicted of serious crimes, the Department of Homeland Security (DHS) is distorting annual deportation figures by falsely claiming the number of criminal aliens removed from the U.S. keeps increasing when in fact it's shrinking drastically.

In fiscal year 2015
deportation figures
released this week, DHS celebrates that its enforcement efforts prioritize criminals and threats to public safety as well as national security. The agency created after 9/11 to keep the country safe claims the latest stats show "the number of convicted criminals removed from the interior continued to increase." The reality is that deportations of criminal aliens
declined 27%
from last year—from 86,923 in 2014 to 63,127 in 2015. This serious discrepancy was exposed by the Washington D.C.-based Center for Immigration Studies (CIS), which further reveals that the number of criminal deportations in fiscal year 2015 is less than half of what it was in 2011.
Not surprisingly, the total number of deportations has also dropped thanks to President Obama's policies—including broad amnesty—limiting federal immigration authorities from initiating removal proceedings. The latest DHS figures analyzed by CIS show total deportations in 2015 were one-third less than in 2011, before the Obama administration implemented its various initiatives to protect illegal aliens in the U.S. Immigration and Customs Enforcement (ICE) deported 25% less illegal immigrants last year than the previous year—from 315,943 in 2014 to 235,413 in 2015. Those figures include both border and interior cases. CIS also broke the numbers down by interior deportations and that number declined even more—31% from last year, from 100,114 in 2014 to 69,478 in 2015.
The figures are sure to drop further in the coming year, according to CIS Director of Policy Studies Jessica Vaughan, who recently testified at a Senate Judiciary Committee hearing along with ICE Director Sarah Saldana. While Saldana expressed pride in her agency's deportation numbers, Vaughan
testified
that they are abysmal. "This willful neglect has imposed enormous costs on American communities," Vaughan told lawmakers. "In addition to the distorted labor markets and higher tax bills for social welfare benefits that result from uncontrolled illegal immigration, the Obama administration's anti-enforcement policies represent a threat to public safety from criminal aliens that ICE officers are told to release instead of detain and remove. The administration's mandate that ICE focus only on the 'worst of the worst' convicted criminal aliens means that too many of 'the worst' deportable criminal aliens are still at large in our communities."
Last year the Obama administration released 36,007 aliens convicted of 88,000 crimes from detention centers throughout the United States, according to breathtaking DHS
records
obtained by CIS. The crimes committed by illegal aliens released from federal custody include homicide, sexual assault, theft, kidnapping and alcohol-related driving convictions. It's unlikely that these undocumented convicts will ever get deported, at least not during the remainder of the Obama presidency. In the
statement
announcing the latest deportation figures DHS lays the foundation for even lower numbers in the future by warning of "changing migrant demographics" that impact removal operations.
This is a reference to the significant increase in Central Americans apprehended at the southwest border in recent years. "Higher numbers of Central Americans crossing our border require greater resources, as the removal process for this population takes more time, personnel resources, and funding to complete compared to the removal process for Mexican nationals," DHS states.
"Additionally, many of these Central American nationals are asserting claims of credible or reasonable fear of persecution. Such cases require careful adjudication, and therefore, take longer to process. Early data indicates that some individuals have successfully obtained asylum in the removal proceedings process."