Dems' dilemma: The country wants border security, but their base wants open borders
Donald Trump has the Democrats over an immigration barrel, and Rep. Tim Ryan knows it.
Ryan has announced his intention to run for president, and the Ohio congressman is one of the only Democrats in the race who clearly sees that the nation at large wants better border security, but the radical left that has taken over the party wants to be more welcoming of illegal aliens, even going so far as advocating the elimination of ICE.
This sets Trump up for nicely for 2020. While Democrats will be trying to outdo one another in promoting open borders policies, Trump will be talking immigration meat and potatoes; securing the border to protect the country.
"You can't come to Ohio and the Great Lakes states and assure them about immigration without first and foremost assuring people that you are going to protect their children," Ryan said. "It has to be a lot smarter and more effective than it is now."

But so far this year, most of Ryan's rivals have chosen a different path, almost entirely focused on denouncing Trump's policies as un-American, bigoted and inhumane, while offering new policies that are more welcoming to undocumented immigrants than anything offered by President Barack Obama or, in some cases, the party's last nominee, Hillary Clinton.

The result is a Democratic primary debate that is far more liberal on immigration than any previous campaign, fueling a new debate over whether the party is giving Trump an unneeded boost in key swing states as it tries to animate its own left-leaning voters.

At the heart of the problem is the stark divide between progressive Democratic primary voters and white working-class swing voters when it comes to the security issues around immigration.

The numbers help explain Trump's own strategy of fanning fear about immigration, while creating controversy around the issue that tends to enrage Democratic voters. In a typical provocation, Trump said Friday he was considering releasing detained immigrants [sic] in liberal cities, as punishment for Democratic refusal to change immigration laws. A few weeks earlier, he labeled Democrats the party of "open borders, drugs and crime."
It says a lot about the Post's mindset that its reporters would consider it fear-mongering for Trump to warn about the hundreds of thousands of illegal aliens currently in American prisons. Criminals come across the border illegally. To deny that fact is simply to deny reality. It's a real problem that needs to be addressed by doing a much better job in securing our southern border.
Trump is using immigration as a wedge issue, not only to clearly mark the divide in our country over illegal immigration, but his efforts also have the effect of dividing the Democratic Party, further distancing the far left from ordinary Democratic voters.
It's a clever strategy, if a cynical one, that promises to pay big dividends in 2020.
For Voters, Illegal Immigration Remains Big Problem, But Not for Democrats
Rasmussen Reports, April 5, 2019
http://www.rasmussenreports.com/public_content/politics/current_events/immigration/april_2019/for_voters_illegal_immigration_remains_big_problem_but_not_for_democrats
Excerpt:
A new Rasmussen Reports national telephone and online survey finds that 67% of all Likely U.S. Voters think illegal immigration is a serious problem in America today, with 47% who say it's a Very Serious one. Thirty-two percent (32%) say it's not a serious problem, but that includes only eight percent (8%) who rate it as Not At All Serious.
Another line they cut into: Illegals get free public housing as impoverished Americans wait
Want some perspective on why so many blue sanctuary cities have so many homeless encampments hovering around?
Try the reality that illegal immigrants are routinely given free public housing by the U.S., based on the fact that they are uneducated, unskilled, and largely unemployable.
Those are the criteria, and now importing poverty has never been easier. Shockingly, this comes as millions of poor Americans are out in the cold awaiting that housing that the original law was intended to help.
Thus, the tent cities, and by coincidence, the worst of these emerging shantytowns are in blue sanctuary cities loaded with illegal immigrants - Orange County, San Francisco, San Diego, Seattle, New York...Is there a connection? At a minimum, it's worth looking at.
The Trump administration's Department of Housing and Urban Development is finally trying to put a stop to it as 1.5 million illegals prepare to enter the U.S. this year, and one can only wonder why they didn't do it yesterday.
The Times notes that the rules are confusingly contradictary, and some illegal immigrant families are getting full rides based on just one member being born in the U.S.
The pregnant caravaner who calculatingly slipped across the U.S. in San Diego late last year, only to have her baby the next day, now, along with her entire family, gets that free ride on government housing.
Plus
lots of cheesy news coverage
about how heartwarming it all is. That's a lot cheaper than any housing she's going to find back in Tegucigalpa.
Migrants would be almost fools not to take the offering.
The problem of course is that Americans who paid into these programs, and the subset who find themselves in dire circumstances, are in fact being shut out.
The fill-the-pews Catholic archbishops may love to tout the virtues of illegal immigrants and wave signs about getting 'justice" for them, but the hard fact here is that these foreign nationals are stealing from others as they take this housing benefit under legal technicalities. That's not a good thing under anyone's theological law. But hypocrisy is comfortable ground for the entire open borders lobby as they shamelessly celebrate lawbreaking at the border, leaving the impoverished of the U.S. out cold.
The Trump administration is trying to have this outrage fixed by summer. But don't imagine it won't be without the open-borders lawsuits, the media sob stories, the leftist judges, and the scolding clerics.
Trump's DHS Releases 12,500 Illegal Aliens into U.S. in One Week
Over the last week, President Trump's Department of Homeland Security (DHS) released a total of about 12,500 border crossers and illegal aliens into the interior of the United States, federal data confirms.
According to catch and release totals obtained by Breitbart News, DHS has released about 12,500 border crossers and illegal aliens into the U.S. over a nine-day period between April 9 and April 17. At this rate, DHS is releasing more than 1,300 border crossers and illegal aliens every day into the country.
The catch and release process often entails federal immigration officials busing border crossers into nearby border cities and dropping them off with the promise that they will show up for their immigration and asylum hearings, sometimes years later. The overwhelming majority of border crossers and illegal aliens are never deported from the country once they are released into the U.S.
In the last week, alone, nearly 6,000 border crossers and illegal aliens have been released into the El Paso, Texas, area, and about 3,500 have been released into the San Antonio, Texas, region.
The catch and release policy carried out by DHS, in recent months, has inundated and overwhelmed border regions of the country so much that in Yuma, Arizona, this week, Mayor Douglas Nicholls declared an emergency, citing a lack of public resources to deal with the release of thousands of migrants into the community.
Since December 21, 2018, a total of 146,000 border crossers and illegal aliens have been released into the interior of the U.S. At current illegal immigration levels, the country is on pace to admit between one to 1.5 million. Should the Trump administration continue to mass-release border crossers and illegal aliens into the country, there could potentially be nearly 490,000 released by the end of the year.
John Binder is a reporter for Breitbart News. Follow him on Twitter at
@JxhnBinder
.
Study: Nearly 1M Migrant Children Could Enter U.S. Before 2020 Election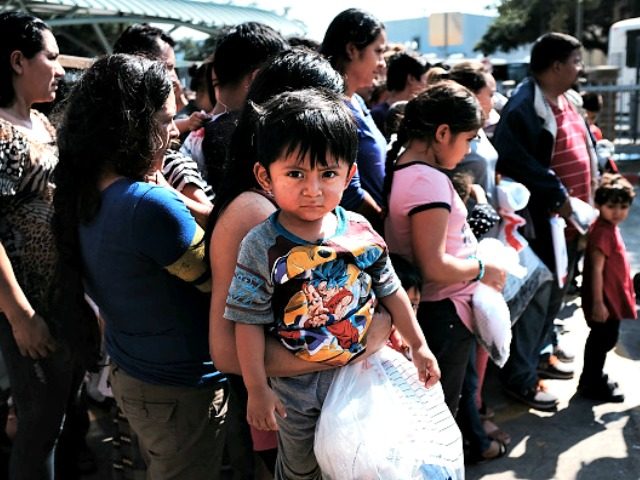 Nearly one million migrant children could enter the United States, either unaccompanied or with their border crossing parents, before the 2020 election if projected rates of illegal immigration pan out, new research finds.
Assuming 80 percent of these migrant children enroll in school, the U.S. could be faced with absorbing 240,000 new migrant school students across the country –and specifically states like California, New York, Texas, Florida, Georgia, Illinois, and New Jersey — this coming school year, alone.
For the 2019 to 2020 school year, for instance, California would be forced to absorb about 50,000 new migrant students. Likewise, Texas would see an influx of about 36,000 migrant students.
Fast forward to the beginning of the next school year, September 2020 to June 2021, and the U.S. could have nearly a million new migrant children in the country before the 2020 presidential election, about 800,000 of which could enroll in school systems, under the mass migration scenario.
"Should the situation not be resolved and asylum seeking continue at the pace we anticipate for the coming year, by September 2020, nearly 1,000,000 asylum children could be in the US (arriving Jan. 2019 – Aug. 2020)," Kopits writes.
This translates to California's public school system having to take about 168,000 new migrant students at the beginning of next year's school year while Florida would see an influx of about 59,000 and for New Jersey, an influx of about 36,000. Texas would see an influx of about 120,000 new migrant students.
Feds: 1 in 4 Inmates Are Foreign-Born, Costing U.S. Taxpayers $1.4B Annually