WaPo: Defiant Outsider Roy Moore Aims for 'New Level of Disruption in the U.S. Senate' Against the Swamp Status Quo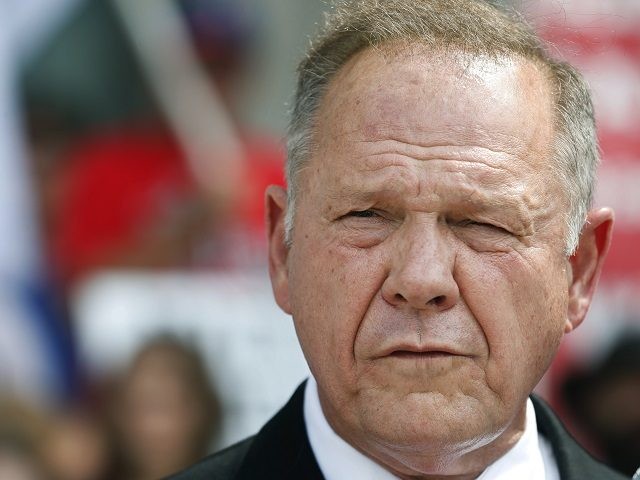 Michael Scherer of the Washington Post profiles "outsider" candidate Judge Roy Moore, the frontrunner in Alabama's U.S. Senate primary runoff election, in an article published Thursday morning.
While Scherer hopes to tarnish Moore as an "angry" theocrat, the former justice's life story provides a compelling narrative of a determined fighter who was always bristled at establishment corruption.
The story reveals several compelling episodes from Moore's past: His Vietnam service, his training in boxing and martial arts, his "hobby" of "hard manual labor" including building his own home, and his record as chief justice for his home state's Supreme Court. Scherer writes that Moore's ideology and fighting spirit could lead to "a new level of disruption in the U.S. Senate."
DECATUR, Ala. —

With the thunder and fire of an old-time revivalist, U.S. Senate candidate Roy Moore rose before the assembled souls at the Redemption Baptist Church, a front-runner in the polls days out from an election that could rattle the rickety structures of the Republican Party.

"You think that God's not angry that this land is a moral slum?" asked Moore, 70, reciting a rhyming poem he had written years earlier during a 50-minute address before several dozen believers. "How much longer will it be before his judgment comes?"

Republican primary voters across the country have been trying since 2010 to elect angry, outsider candidates who promise to disrupt the ways of Washington. But no one in recent history has promised to be quite as disruptive as Moore, a former chief justice of the Alabama Supreme Court who has twice been removed from the bench for defying judicial orders.

That attitude could predict a new level of disruption in the U.S. Senate, where individual members still have significant powers to upend proceedings and slow down legislation. Many of his supporters are counting on it.

"Watch if he doesn't do exactly what he says he will do," says Dean Young, a longtime Moore friend and adviser, who helped coax him into the Senate race. "They can kick him off every committee. They can blackball him. It won't matter if it's one man against 99 in the Senate. We all know Judge Moore will be that one man."



Palin: DC Swamp Afraid of Judge Moore Because 'He's Not One of Them'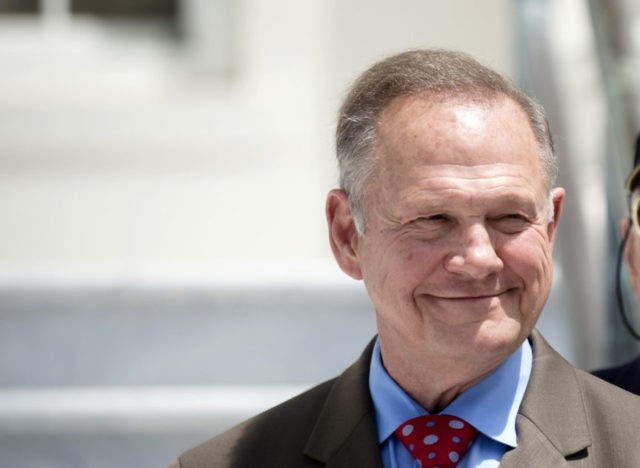 Saying that grassroots conservative Alabama Senate candidate Judge Roy Moore was "deplorable before deplorable was cool," former Alaska Governor Sarah Palin said the D.C. Swamp is afraid of Moore because they know he is "not one of them."
At a raucous Thursday rally after Moore debated his establishment Republican opponent Sen. Luther Strange, Palin said that a vote for Moore was not a vote against Trump but rather a vote for Trump's economic nationalist agenda that the D.C. Swamp is trying to "hijack." She also said that if Moore defeats Strange on Tuesday, more grassroots conservatives across the country will be inspired to take on "their own Swamp creatures."
Palin urged voters to "send the loudest message you can send to D.C. at this time" and praised Moore as a "man of principle." She said if Moore makes a promise, one can "take it to the bank."
"Rule of law. No illegal immigration. No bad trade deals," Palin said while touting Moore. "And the importance of God and our shared American culture and our heritage."
She said "Judge Moore is gonna defend our interests with the same steel spine that he defended those 10 Commandments."
"I don't think there's any cooler nickname you can have than the '10 Commandments Judge'—that's a badge of honor," Palin told the crowd.
Palin blasted the Swamp creatures for "dumping millions and millions of dollars" into Alabama to "spread lies" about Moore because they are so afraid of Moore going to D.C. to drain the Swamp.
"They are afraid. They should be afraid. Because the judge is a threat to their power," she said. "Because he's on our side. And they know it. And they know that he's not one of them."
Palin said Moore "answers to you just like [former Sen. Jeff] Sessions answered to Alabama."
"And we will not be the forgotten man and woman," she said. "We will not be satisfied with more broken promises from Republicans who campaign one way and they govern another."
Palin reminded the crowd that "this movement gained steam here with Trump and Sessions, and it's going to continue here Tuesday when you vote for the judge."
"The Swamp can't win here. This is our red line. Just you watch," she said as the raucous crowd chanted "Drain the Swamp!"
Former Sen. Jim DeMint Endorses Judge Roy Moore in Alabama Senate Race
AP/Susan Walsh
Former Sen. Jim DeMint (R-SC) announced on Thursday his endorsement of Judge Roy Moore in next week's Alabama U.S. senate race, in another blow to the establishment-backed candidate Luther Strange's campaign.
In a press release, DeMint, who is a leading figure in the Tea Party movement, took aim at the "Kings of the Washington Swamp" opposing Moore's candidacy.

"The American people are tired of the lack of leadership on Capitol Hill. They want people who are willing to fight to save our country," DeMint said. "Judge Moore has proven he has the courage and the commitment to stand up to the Washington establishment and help President Trump implement a positive agenda. That's why the Kings of the Washington Swamp are working so hard to keep Judge Moore from becoming the next U.S. Senator from Alabama, and why conservatives are supporting him."

Despite receiving an endorsement from President Donald Trump, Luther Strange remains the overwhelming choice for the Republican establishment. In recent weeks, the Senate Leadership Fund, a PAC affiliated with Senate Majority Leader Mitch McConnell, has flooded the state with a series of false attack ads against Moore's campaign.

However, Roy Moore has received backing from other politicians including Head of the House Freedom Caucus Mark Meadows, as well his initial primary candidate Rep. Mo Brooks, as well as endorsements from leading figures in the populist nationalist movement, including the likes of Sarah Palin, Mike Huckabee, and Ann Coulter.

Moore currently holds a commanding lead in polls over Strange. In a

recent poll

conducted by JMC Analytics, Moore has a solid 47 percent lead against Strange's 39 percent, while another 13 percent remain undecided.

"Jim DeMint has served this nation with honor and is a fine example of a Christian statesman," Judge Moore said on the endorsement. "He is someone whom I greatly admire and hope to learn from as I prepare to serve the people of Alabama in the United States Senate."
Luther Strange Finance Chair Tied to Alabama Bribery Case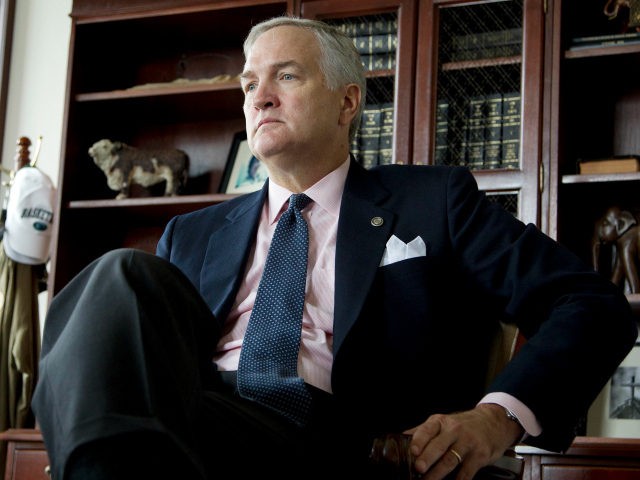 Alabama Senator Luther Strange's campaign finance chair, Thompson Tractor CEO Mike Thompson, is listed on federal tax documents as an officer of the nonprofit Alliance for Jobs, which federal prosecutors say was used to bribe former Alabama state Representative Oliver Robinson, who pleaded guilty to federal corruption charges this month, AL.com's Kyle Whitmire and John Archibald report.
Neither prosecutors nor court documents have said Thompson was in any way involved in the bribery scheme, but tax records show he was one of only two officers for the Alliance for Jobs and the Economy. According to the nonprofit's tax filings, Thompson served as secretary for the AJE from its incorporation in 2015 through at least the end of 2016, the time period when, prosecutors say, every dollar raised by the nonprofit was used to buy influence from then-state Rep. Oliver Robinson.
…
"This new detail raises further questions about Luther Strange's official acts to oppose the EPA Superfund site while receiving $50,000 from Drummond around the same time," he continued.
The bribery scheme
Earlier this month, state Rep. Oliver Robinson pleaded guilty to accepting bribes in exchange for opposing the expansion of a north Birmingham Superfund site into Tarrant, which could potentially have cost area companies millions of dollars in cleanup.
…
According to Robinson's plea agreement, he accepted payments through the Birmingham law firm Balch & Bingham, Drummond and the AJE to oppose the Superfund expansion.
Thompson Tractor's headquarters are in Tarrant, near where the EPA was considering expanding the Superfund site.
Read the rest of the article, here.
Alabama State Rep: Luther Strange Not Telling Truth About Corruption Probe
Alabama State Representative Ed Henry (R-Hartselle) is calling for the release of his grand jury testimony in connection with a corruption case involving former Alabama House Speaker Mike Hubbard. Henry says now-U.S. Senator Luther Strange, who is facing a runoff Senate primary election next week against conservative Judge Roy Moore, is not telling the truth behind the anti-corruption unit he led while serving as Alabama's attorney general.
Henry began the news conference [Wednesday] in Madison by saying he'd considered violating the law to disclose his testimony, but said he [sic] after he was warned by friends he was risking arrest, he decided to publicly ask Alabama Attorney General Steve Marshall to allow his testimony to be released.
…
Alabama State Rep. Mike Ball (R-Madison) also spoke. Ball said he'd raised concerns to Strange about how Hart was using and leaking grand jury testimony. Ball said Strange didn't appoint a special counsel as requested and instead, sent him a letter [to] say the matter had been reviewed and his office had found no wrongdoing.
Read the rest of the article, here.
Exclusive — Make Central America Great Again: Luther Strange Lobbied for Trade Deal That Drained Thousands of Alabama Jobs to Honduras, Mexico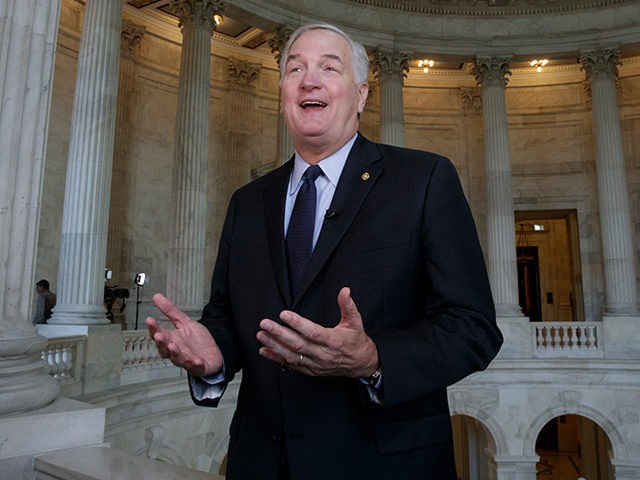 MONTGOMERY, Alabama — For over one hundred years, Alabamians manufactured clothing in Alexander City for a company called Russell. Today you can still buy Russell Athletic gear in "Alex City" but it won't be made locally.
It will likely be made by workers in Honduras, El Salvador, or China.
In a strange twist of fate, one of the key figures who helped bring about this transfer of jobs out of Alabama is now campaigning for the Senate seat formerly occupied by Jeff Sessions. Even stranger still, his campaign ads promise that he will "Kill Unfair Trade Deals."
His name is Luther Strange.
The company now known as Russell Brands was founded in 1902 by Benjamin Russell on the ashes of Alex City's business district, which had suffered a devastating fire months earlier. Russell expanded and thrived in the decades that followed, eventually becoming the largest manufacturer of athletic apparel and uniforms in the country. It became, at one point, the exclusive producer of uniforms for Major League Baseball.
At its height, Russell employed at least 7,000 people in Alabama.
Strange enters the Russell story as a lobbyist for the powerful political broker and law firm Bradley Arant Boult Cummings LLP. Russell paid the firm $660,000 for Strange's lobbying efforts between 2000 and 2006. One of Russell's major political focuses at the time: getting the U.S. to sign onto a NAFTA-style free trade agreement with Central American countries.
Details of Strange's lobbying efforts are hard to come by.
Whatever it was Strange did on behalf of Russell's free-trade politics, it was effective. The U.S. Senate approved the Dominican Republic-Central American Free Trade Agreement, known as DR-CAFTA, in 2005. The very next year, Russell announced that it would move thousands of jobs out of Alabama to Mexico and Honduras.
"Russell said the company will eliminate about 2,300 jobs from its global workforce of 15,000. About 1,700 of the jobs cuts will be in the United States, with about 1,250 in Alabama," the Associated Press
reported
in 2006. "About 1,200 of the U.S. jobs will eventually be replaced by hiring in Honduras and Mexico, the company said."
The cuts initially left Alex City with 2,000 Russell jobs. But more cuts were to come. The company was purchased by Berkshire-Hathaway and merged into the Fruit of the Loom business. It has since laid off hundreds of more workers in Alex City and Wetumpka.
Russell apparel is now manufactured in facilities all over the world, including four plants in the Dominican Republic, six in El Salvador, and nine in Honduras, according to the company's 2010 statement. Wages for apparel workers in those countries can be as low as $1 dollar per hour. The company has 19 facilities in China.
Lobbying for the Central American free trade pact was a very lucrative job for Luther Strange. But for thousands of Alabamians it was far more devastating than that 1902 fire that nearly destroyed Alex City.
A senior adviser to the campaign of Judge Roy Moore, the conservative frontrunner for the U.S. Senate in Alabama against Strange in Tuesday's upcoming GOP primary runoff, told Breitbart News that Strange's efforts to lobby to send Alabama jobs to Central America and elsewhere is "staggering."
"Luther Strange's record of self-dealing is staggering," Drew Messer, a senior adviser to the Moore campaign, told Breitbart News. "In his former life as a Washington lobbyist, he was paid big bucks to work for implementing CAFTA, the trade debacle that sent thousands dof Alabama jobs to Mexico and Honduras and thousands of small businesses into bankruptcy. Strange's entire career has been marked by putting his own interest over the people of Alabama."
The Strange campaign, meanwhile, has not responded to a request for comment.
But what makes all of this even more interesting is the fact that President Donald Trump–who campaigned in 2016 against exactly the type of behavior that Strange engaged in for years as a lobbyist–is now heading to Alabama to campaign for Strange. On Wednesday evening, as more and more details about Strange's lurid history continued dripping out to the public, Trump even called Strange "tough" on "trade," among other issues, on Twitter.
But surely, at that time, Trump had no idea that Strange–as a lobbyist–supports shipping Alabama jobs overseas to places like Mexico, Central America, the Dominican Republic, and China. But now the White House does, and has not responded to a request for comment. On Thursday morning, Breitbart News informed White House press secretary Sarah Huckabee Sanders and communications director Hope Hicks of this forthcoming investigative reporting from Breitbart News on Strange's history on trade, and asked them how President Trump believes this is "tough" on "trade." They have not commented.
Despite Trump's and Vice President Mike Pence's decision to publicly endorse and campaign for Strange–the president will campaign for Strange on Friday, and the vice president on Monday–Moore maintains his lead in the race. Moore's lead over Strange is in large part because despite the president's backing politically of Strange, policy-wise Moore is much more in line with the president's campaign agenda.
Moore, in a recent exclusive interview with Breitbart News here in Montgomery, even made clear he stands with the president on trade policy.
"I think that's one of the strongest points I agree on with the president," Moore told Breitbart News when asked what he would do to bring factories and jobs back to America from foreign countries.
"I agreed with the president before he was president," he continued. "I agree with the president's position from even before he was president. This is one of the greatest travesties in our country. I agree with free trade—our country was established on free trade—but it's not free trade when governments become involved in the trade process like what has happened in certain foreign countries. I think that that warps this concept and it's allowed businesses to go overseas to Mexico, China, wherever. I support the president 100 percent in bringing industry back into our country. Quite frankly, I think it can be brought back into our country—we don't lose the technology, we don't lose the skill sets. We can develop those again. I know steel plants, sock factories all across Alabama and the South have been taken."
Strange, meanwhile, has said nothing of the sort–and as of this writing, refuses to do an interview with Breitbart News supporting the president on trade, and refuses to renounce his lobbyist history for the exact type of trade deals that President Trump campaigned against.
Breitbart News' Matthew Boyle reported from Montgomery, and Breitbart News' John Carney reported from New York City.
Luther Strange Hides from DACA Amnesty Questions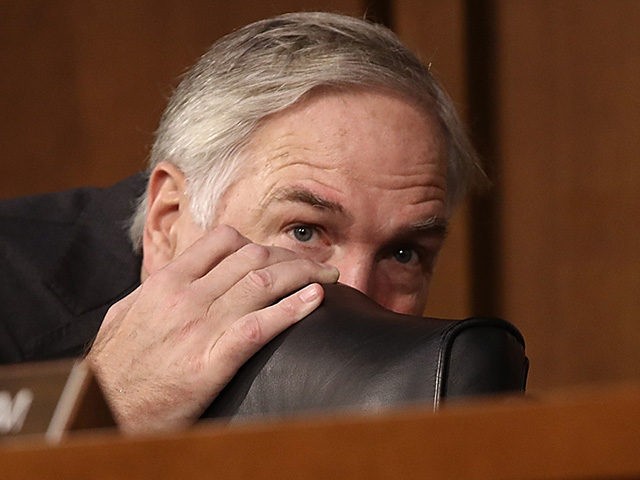 Sen. Luther Strange is running from questions about his possible support for the Democrats' huge "Dreamer" amnesty, which would provide citizenship to at least 3.3 million illegals and also cut wages in his home state of Alabama.
Strange's campaign website
ducks
the high-profile issue, saying only that:
It is our duty to uphold and enforce immigration law. Individuals who enter our country illegally should not receive the benefits that taxpaying Americans do. Immediate deportation of criminal aliens, building President Trump's border wall, and cutting off funding for sanctuary cities are all effective means to enforce America's laws and strengthen its borders.

Enforcing immigration law is also crucial to protecting Americans from terrorists seeking entry into our country under false pretenses. Luther Strange stands with President Trump and supports banning refugees in terrorist countries from entering our borders.
One Alabama constituent received a similarly evasive answer, according to a report in
Alabama Today
:
Jack Kemp of Fosters, Ala. posted Strange's email response on his Facebook page Tuesday, concerned that the Senator supports the Dream Act as he did not outright refute it in the email.
The reported response from Strange's office says "Currently, this [amnesty] bill is in the Senate Judiciary Committee. I do not serve on that committee, but if this bill comes to the Senate floor for debate and a vote, I will keep your views in mind." The Facebook post did not say Strange would oppose a DACA amnesty.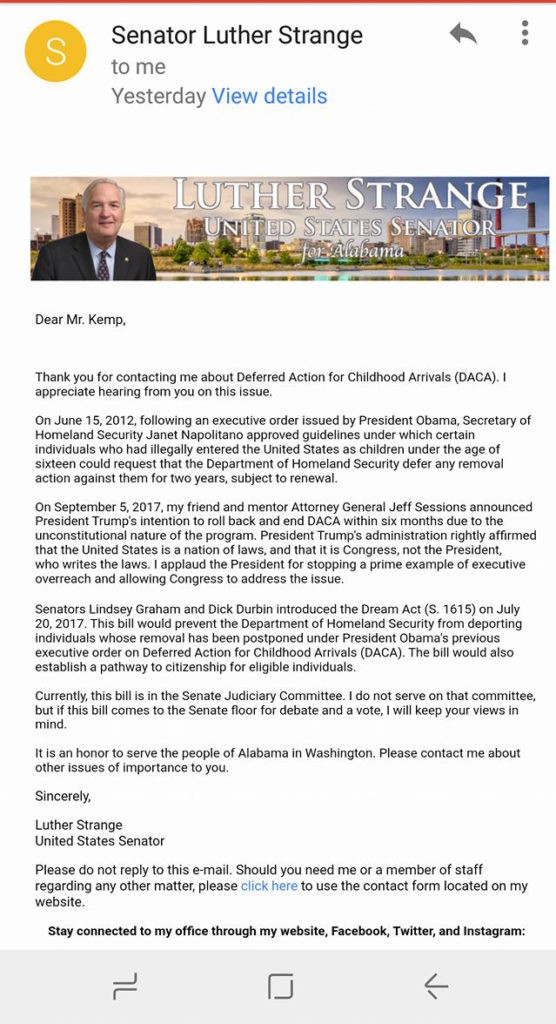 Strange offered a similarly
vague description
of his DACA-amnesty views in a
radio ad
which criticizes Judge Roy Moore, his primary rival, for not knowing about the "dreamer' program. The radio ad declared that Strange "is proud to stand beside President Trump who understands how serious it is to stop illegal immigration and enforce our nation's laws." The ad did not say that Strange would oppose a DACA amnesty.
Strange's campaign did not respond to messages from Breitbart News.
The Senator's evasiveness is notable because top Senate Democrats — including New York Sen. Chuck Schumer and California Rep. Nancy Pelosi — are pushing President Donald Trump to accept their unpopular Dream Act legislation without offering any exchange, such as a border wall, penalties on employers who hire illegals or passage of the popular merit-immigration RAISE Act.
The DACA issue blew up September 13 when the two Democrats declared that Trump had agreed to accept a DACA amnesty without getting funds for a border wall.
The cost of the Dream Act is far bigger than the Democrats or their media allies admit. Instead of covering 690,000 younger illegals now enrolled in former President Barack Obama's 2012 "DACA" amnesty, the Dream Act would legalize at least
3.3 million illegals
, according to a pro-immigration group, the Migration Policy Institute.
Once provided with amnesty and citizenship, the 3.3 million illegals would be able to get Obamacare grants — at an estimated cost of roughly
$115 billion
per decade — and also sponsor many of their foreign-based relatives to join them in the United States, so inflating the scale and cost of the amnesty.
Strange's silence on the issue has prompted critics to say he has quietly agreed to support the amnesty, which is backed by a large swath of companies who stand to gain from the increased inflow of immigrants, who double as cheap workers and welfare-aided consumers.
For example, the amnesty is boosted by the
U.S. Chamber of Commerce
, which has
endorsed
Strange. The companies pushing for the DACA amnesty include
Walmart
and Target. Walmart has more than 130 stores in the state, and Target has at least five stores. Both firms profit from the growing immigrant population in the state.
The state is home to roughly 150,000 immigrants, both legal and illegal, who are working in roughly 84,000 jobs. Fewer than 2,000 of these legal and illegal migrants work as agricultural workers, while at least 35,000 are working middle-class jobs in construction or the food sector, or as teachers, according to a
pro-immigration lobbying group
founded by
billionaire Mike Bloomberg
.
The number of
DACA illegals
in the state is roughly 4,300, but many similar-aged illegals would be eligible for the bigger Dream Act amnesty.
The inflow of extra foreign workers helps keep wages low in the state. In December 2016, for example, the federal Bureau of Labor Statistics
reported
:
[The] average weekly wages advanced in five of Alabama's largest counties from the second quarter of 2015 to the second quarter of 2016. Shelby's 2.8-percent wage increase ranked 107

th

among the nation's 344 largest counties and was the only large county in Alabama to rank in the top third of the national ranking. Average weekly wage growth in Alabama's four other large counties ranged from 2.3 to 0.1 percent. (See

table 1

.) … When all 67 counties in Alabama were considered, 23 reported average weekly wages under $650, 24 had wages from $650-$749, 12 had wages from $750-$849, and 8 had wages above $850.
When serving at the state's Attorney General in 2011, Strange
sought to weaken
the state's draft HB 56 law curbing the employment of illegal immigrants. He initially failed, but when Obama's federal government later sued the state to stop enforcement of the law, Strange used his power as Attorney General in October 2013 to
stop defending the law
and allow most of it to be eliminated.
Reportedly, Strange also has a one-sixth share in a company which effectively trades EB-5 visas and green cards to wealthy Chinese people who want to live in the United States. On September 19, his campaign staff
told WHNT
that "Luther agrees with the Trump administration that there are serious concerns over the EB-5 visa program, which is not being used as originally intended. It's time for Congress to get to work on these issues." The Strange statement did not propose to eliminate the often-criticized EB-5 program.