Mexican Cop Arrested with 50 Pounds of Meth in California, Say Police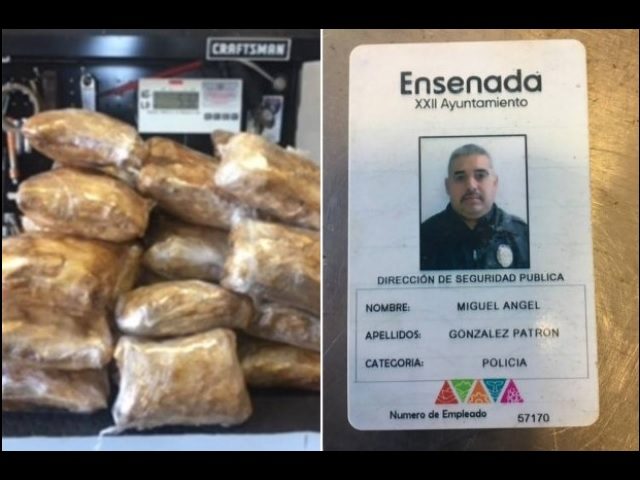 A police officer from Mexico was arrested in Orange County, California, for allegedly transporting 50 pounds of methamphetamine on Wednesday.
An Orange County Sheriff's deputy patrolling the I-5 Freeway between Orange and San Diego counties reportedly stopped a vehicle for equipment violations and contacted a male driver who identified himself as 41-year-old Miguel Angel González Patrón, according to local reports. Patrón claimed to be an active duty municipal police officer from Ensenada, Baja California, and produced a Mexican identification card as proof of his employment. The Orange County deputy reportedly noted that Patrón appeared extremely nervous and displayed behavior suggesting criminal activity.
After Patrón reportedly consented to have his vehicle searched, the deputy, with assistance from a narcotic K-9 detection dog, discovered a hidden compartment containing more than 50 pounds of methamphetamine. Patrón was arrested and detained on suspicion of transporting a controlled substance and use of a hidden compartment to conceal a controlled substance, according to Orange County Sheriff's Officials. Patrón was booked and held on a $200,000 bail.
According to local media reports

from Ensenada, Jorge Íñiguez Díaz, the Director of Public Security, confirmed Patrón is an active duty officer and was listed on vacation at the time of his arrest. Patrón is assigned to the south sector of the municipality and is already facing administrative actions for his arrest back home.
Ensenada, the once peaceful beach resort community approximately 68 miles south of the U.S.-Mexico Border, is seeing a spike in cartel activity and violence.
The Mexican Army made two seizures in Ensenada on August 17 (1,036 pounds of meth, heroin, and fentanyl) and August 18 (1,653 pounds of meth, fentanyl, and marijuana).
The Mexican Army made a

seizure of 1.5 tons (3,064 pounds or 1,390 KG) of hard drugs consisting of fentanyl, heroin, cocaine, and methamphetamine in Ensenada in June 2018.
Robert Arce is a retired Phoenix Police detective with extensive experience working Mexican organized crime and street gangs. Arce has worked in the Balkans, Iraq, Haiti, and recently completed a three-year assignment in Monterrey, Mexico, working out of the Consulate for the United States Department of State, International Narcotics and Law Enforcement Program, where he was the Regional Program Manager for Northeast Mexico (Coahuila, Tamaulipas, Nuevo Leon, Durango, San Luis Potosi, Zacatecas.) You can follow him on
Twitter
. He can be reached at
robertrarce@gmail.com