MULTI-CULTURALISM and the creation of a one-party globalist country to serve the rich in America's open borders.
"Open border advocates, such as Facebook's Mark Zuckerberg, claim illegal aliens are a net benefit to California with little evidence to support such an assertion. As the CIS has documented, the vast majority of illegals are poor, uneducated, and with few skills. How does accepting millions of illegal aliens and then granting them access to dozens of welfare programs benefit California's economy? If illegals were contributing to the economy in any meaningful way, CA, with its 2.6 million illegals, would be booming." STEVE BALDWIN – AMERICAN SPECTATOR


THE BILLIONAIRE CLASS WAGES WAR ON AMERICA!
"GOP estb. is using the $5 billion border-wall fight to hide up to four blue/white-
collar cheap-labor programs in lame-duck DHS budget. Donors are worried that
salaries are too damn high, & estb. media does not want to know."
TOP EVIL CORPORATIONS LOOTING AMERICA
Goldman Sachs TRUMP CRONIES – CLINTON CRONIES
JPMorgan Chase OBAMA CRONIES
Halliburton
BUSH CRIME FAMILY CRONIES
BARACK OBAMA POSITIONS MARK ZUCKERBERG of FAKEBOOK to be his global controller of propaganda for the Obama bankster funded third term for life.
Bokhari: A Left-Wing Journalist Mafia Now Runs Silicon Valley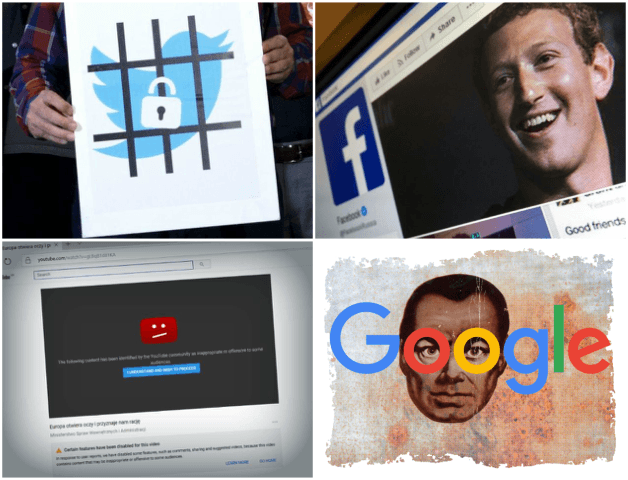 The Internet once seemed poised to utterly destroy the establishment media. In an era where everyone with a phone and a social media account could reach an audience of millions, the need for professional journalists gatekeeping information seemed pointless.
Yet journalists have savagely fought back against the social media companies that once threatened to displace them. Today, one angry email from a left-wing journalist is enough to get a tech giant to frantically manipulate its algorithms — or even create manual blacklists — to appease them.
For another example, look at Breitbart News'
latest scoop on YouTube
, which caught the company red-handed altering search results for "abortion" mere hours after a
Slate
writer complained about the prominence of pro-life content on the platform.
Increasingly, Silicon Valley seems to be governed by a Mafia-like cycle of shakedowns imposed by the mainstream media. It usually follows the same pattern.
Having seen how easy this game is, other journalists follow suit, taking aim at their personal favorite targets — whether its search results on YouTube or the criticism of progressive activists on Twitter. Silicon Valley might consider the advice of Rudyard Kipling —
once you pay the Dane-geld, you never get rid of the Dane.
Whereas the alternative media's main criticism of Silicon Valley is its increasing censorship and favoritism, the objective of the mainstream media seems to be the artificial elevation of its own content on these platforms, and, in true Dane-geld fashion, even extracting payment from the tech giants.
Consider the following examples.
YouTube adjusted its search algorithm to raise the ranking of "authoritative sources" in search results for "abortion" and "abortions" after a left-wing journalist complained.

In the same story, we learned that YouTube gave the same treatment for search results related to "David Hogg" — videos critical of the anti-second amendment activist were a frequent complaint of journalists.

The same story revealed that YouTube is even protecting search results for Maxine Waters, a Democratic congresswoman — the party most favored by the mainstream media.

YouTube has also announced a push to downrank independent media sources (this is what they mean when they promise to tackle "misinformation") in its recommended searches.
In the short-term, this followed criticism from BuzzFeed News about "hyper-partisan" content in recommended videos.
In the long-term, it followed relentless attacks against YouTube from the mainstream media, which in 2017 sparked the so-called "adpocalypse" — a mass boycott of the platform by advertisers.
Facebook announced last year that it will pour money into establishment news sources, and artificially promote them in its algorithm.
YouTube has announced a similar multi-million dollar package of support for "authoritative" journalists.
This is part of Google's larger decision to throw $300 million at mainstream journalists.
Facebook launched a crackdown against U.S.-focused independent media and grassroots political pages, banning approximately 800 of them just weeks before the midterm elections in November.
When Twitter initially failed to follow other social media platforms by banning Infowars and Alex Jones last year, a relentless intensely negative media attentionagainst the platform followed. Twitter eventually caved in and banned Jones.
When journalists and progressive celebrities embarked on a barrage of violent threats against MAGA hat-wearing high school kids (on the basis of widely promoted fake news smears by the mainstream media), Twitter failed to deverify or ban the majority of them.
A week later, when ordinary Twitter users mockingly told journalists that they should "learn to code" if they lose their jobs, Twitter started banning those ordinary users, calling their behavior "targeted harassment." In other words, violent threats will get you a slap on the wrist from Twitter, but mocking a journalist even once will get you permabanned!
This isn't a left or right issue, by the way. When Facebook purged independent media pages in November, plenty of left-wing anti-establishment pages were affected too — especially if they leaned libertarian and anti-war.
In other news that should alarm the anti-establishment of both the left and right, Microsoft recently installed the "NewsGuard" browser extension on its mobile Edge browser by default. Founded by two neoconservative ex-journalists, the extension grants a green "trustworthy" or red "untrustworthy" rating to all news sources the user encounters.
Another fun fact about NewsGuard — the journalist-run project that seeks to restore "trust and accountability" to the media is funded by an advertising corporation whose D.C.-based subsidiary spins positive press coverage for the Kingdom of Saudi Arabia. Sounds trustworthy!
Journalists complaining about recent layoffs want you to think that their entire profession is at risk. And maybe it was, at one point. But those same journalists now receive hundreds of millions of dollars from both
national governments
and tech giants, special favors in the latter's algorithms, and the regular banning of their competitors. An industry on the verge of extinction? Not while the protection money keeps flowing.
Adios, Sanctuary La Raza Welfare State of California
A fifth-generation Californian laments his state's ongoing economic collapse.
By Steve Baldwin
American Spectator, October 19, 2017
What's clear is that the producers are leaving the state and the takers are coming in. Many of the takers are illegal aliens, now estimated to number over 2.6 million.
The Federation for American Immigration Reform estimates that California spends $22 billion on government services for illegal aliens, including welfare, education, Medicaid, and criminal justice system costs.
BLOG: MANY DISPUTE CALIFORNIA'S EXPENDITURES FOR THE LA RAZA WELFARE STATE IN MEXIFORNIA JUST AS THEY DISPUTE THE NUMBER OF ILLEGALS. APPROXIMATELY HALF THE POPULATION OF CA IS NOW MEXICAN AND BREEDING ANCHOR BABIES FOR WELFARE LIKE BUNNIES. THE $22 BILLION IS STATE EXPENDITURE ONLY. COUNTIES PAY OUT MORE WITH LOS ANGELES COUNTY LEADING AT OVER A BILLION DOLLARS PAID OUT YEARLY TO MEXICO'S ANCHOR BABY BREEDERS. NOW MULTIPLY THAT BY THE NUMBER OF COUNTIES IN CA AND YOU START TO GET AN IDEA OF THE STAGGERING WELFARE STATE MEXICO AND THE DEMOCRAT PARTY HAVE ERECTED SANS ANY LEGALS VOTES. ADD TO THIS THE FREE ENTERPRISE HOSPITAL AND CLINIC COST FOR LA RAZA'S "FREE" MEDICAL WHICH IS ESTIMATED TO BE ABOUT $1.5 BILLION PER YEAR.
Liberals claim they more than make that up with taxes paid, but that's simply not true. It's not even close. FAIR estimates illegal aliens in California contribute only $1.21 billion in tax revenue, which means they cost California $20.6 billion, or at least $1,800 per household.
Nonetheless, open border advocates, such as
Facebook Chairman Mark Zuckerberg
, claim illegal aliens are a net benefit to California with little evidence to support such an assertion. As the Center for Immigration Studies has documented, the vast majority of illegals are poor, uneducated, and with few skills. How does accepting millions of illegal aliens and then granting them access to dozens of welfare programs benefit California's economy? If illegal aliens were contributing to the economy in any meaningful way, California, with its 2.6 million illegal aliens, would be booming.
Furthermore, the complexion of illegal aliens has changed with far more on welfare and committing crimes than those who entered the country in the 1980s.
Heather Mac Donald of the Manhattan Institute has testified before a Congressional committee that in 2004, 95% of all outstanding warrants for murder in Los Angeles were for illegal aliens; in 2000, 23% of all Los Angeles County jail inmates were illegal aliens and that in 1995, 60% of Los Angeles's largest street gang, the 18th Street gang, were illegal aliens.
Granted, those statistics are old, but if you talk to any California law enforcement officer, they will tell you it's much worse today. The problem is that the Brown administration will not release any statewide data on illegal alien crimes. That would be insensitive. And now that California has declared itself a "sanctuary state," there is little doubt this sends a message south of the border that will further escalate illegal immigration into the state.
"If the racist "Sensenbrenner Legislation" passes the US Senate, there is no doubt that a massive civil disobedience movement will emerge. Eventually labor union power can merge with the immigrant civil rights and "Immigrant Sanctuary" movements to enable us to either form a new political party or to do heavy duty reforming of the existing Democratic Party. The next and final steps would follow and that is to elect our own governors of all the states within Aztlan."
Indeed, California goes out of its way to attract illegal aliens. The state has even created government programs that cater exclusively to illegal aliens. For example, the State Department of Motor Vehicles has offices that only process driver licenses for illegal aliens. With over a million illegal aliens now driving in California, the state felt compelled to help them avoid the long lines the rest of us must endure at the DMV.
And just recently, the state-funded University of California system announced it will spend $27 million on financial aid for illegal aliens.
They've even taken out radio spots on stations all along the border, just to make sure other potential illegal border crossers hear about this program.
I can't afford college education for all my four sons, but my taxes will pay for illegals to get a college education.
https://spectator.org/adios-california/?utm_source=American+Spectator+Emails&utm_campaign=6e1b467cf4
If Immigration Creates Wealth, Why Is California America's Poverty Capital?
California used to be home to America's largest and most affluent middle class. Today, it is America's poverty capital. What went wrong? In a word: immigration.
According to the U.S. Census Bureau's Official Poverty Measure, California's poverty rate hovers around 15 percent. But this figure is misleading: the Census Bureau measures poverty relative to a uniform national standard, which doesn't account for differences in living costs between states – the cost of taxes, housing, and health care are higher in California than in Oklahoma, for example. Accounting for these differences reveals that California's real poverty rate is 20.6 percent – the highest in America, and nearly twice the national average of 12.7 percent.
Likewise, income inequality in California is the second-highest in America, behind only New York. In fact, if California were an independent country, it would be the 17th most unequal country on Earth, nestled comfortably between Honduras and Guatemala. Mexico is slightly more egalitarian. California is far more unequal than the "social democracies" it emulates: Canada is the 111th most unequal nation, while Norway is far down the list at number 153 (out of 176 countries). In terms of income inequality, California has more in common with banana republics than other "social democracies."
More Government, More Poverty
High taxes, excessive regulations, and a lavish welfare state – these are the standard explanations for California's poverty epidemic. They have some merit. For example, California has both the highest personal income tax rate and the highest sales tax in America, according to Politifact.
Not only are California's taxes high, but successive "progressive" governments have swamped the state in a sea of red tape. Onerous regulations cripple small businesses and retard economic growth. Kerry Jackson, a fellow with the Pacific Research Institute, gives a few specific examples of how excessive government regulation hurts California's poor. He writes in a recent op-ed for the Los Angeles Times:
Extensive environmental regulations aimed at reducing carbon dioxide emissions make energy more expensive, also hurting the poor. By some estimates, California energy costs are as much as 50% higher than the national average. Jonathan A. Lesser of Continental Economics ... found that "in 2012, nearly 1 million California households faced ... energy expenditures exceeding 10% of household income."
Some government regulation is necessary and desirable, but most of California's is not. There is virtue in governing with a "light touch."
Finally, California's welfare state is, perhaps paradoxically, a source of poverty in the state. The Orange Country Register reports that California's social safety net is comparable in scale to those found in Europe:
In California a mother with two children under the age of 5 who participates in these major welfare programs – Temporary Assistance for Needy Families, Supplemental Nutrition Assistance Program (food stamps), housing assistance, home energy assistance, Special Supplemental Nutrition Program for Women, Infants and Children – would receive a benefits package worth $30,828 per year.
... [Similar] benefits in Europe ranged from $38,588 per year in Denmark to just $1,112 in Romania. The California benefits package is higher than in well-known welfare states as France ($17,324), Germany ($23,257) and even Sweden ($22,111).
Although welfare states ideally help the poor, reality is messy. There are three main problems with the welfare state. First, it incentivizes poverty by rewardingthe poor with government handouts that are often far more valuable than a job. This can be ameliorated to some degree by imposing work requirements on welfare recipients, but in practice, such requirements are rarely imposed. Second, welfare states are expensive.

This means higher taxes and therefore slower economic growth and fewer job opportunities for everyone – including the poor.
Finally, welfare states are magnets for the poor. Whether through domestic migration or foreign immigration, poor people flock to places with generous welfare states. This is logical from the immigrant's perspective, but it makes little sense from the taxpayer's. This fact is why socialism and open borders arefundamentally incompatible.
Since 1960, California's population exploded from 15.9 to 39 million people. The growth was almost entirely due to immigration – many people came from other states, but the majority came from abroad. The Public Policy Institute of California estimates that 10 million immigrants currently reside in California. This works out to 26 percent of the state's population.
This figure includes 2.4 million illegal aliens, although a
recent study from Yale University
suggests that the true number of aliens is at least double that
. Modifying the initial figure implies that nearly one in three Californians is an immigrant. This is not to disparage California's immigrant population, but it is madness to deny that such a large influx of people has changed California's society and economy.
Importantly, immigrants vote Democrat by a ratio higher than 2:1, according to a report from the Center for Immigration Studies. In California, immigration has increased the pool of likely Democrat voters by nearly 5 million people, compared to just 2.4 million additional likely Republican voters. Not only does this almost guarantee Democratic victories, but it also shifts California's political midpoint to the left. This means that to remain competitive in elections, the Republicans must abandon or soften many conservative positions so as to cater to the center.
California became a Democratic stronghold not because Californians became socialists, but because millions of socialists moved there. Immigration turned California blue, and immigration is ultimately to blame for California's high poverty level.