THESE FUCKERS DO NOT OPERATE ANY DIFFERENTLY THAN THE FUCKING BANKSTERS THAT LOOT THIS COUNTRY!!!
While drug distributors have paid a total of $400
million in fines over the past 10 years, their
combined revenue during this same period was over
$5 trillion.
American middle-class is addicted, poor, jobless and suicidal…. Thank the corrupt government for surrendering our borders to 40 million looting Mexicans and then handing the bills to middle America?
US drug executives testify before Congressional on opioid crisis
By Brian Dixon
10 May 2018
On Tuesday, the executives of five drug distributors testified before a House Energy and Commerce Committee oversight panel. The committee opened its investigation one year ago after newspaper articles reported on drug distributors shipping large quantities of opioid painkillers to West Virginia, fueling the ongoing drug overdose crisis in that state and across the country.
These drug distributors—who flooded communities with opioids while ignoring suspicious orders—along with opioid manufacturers such as Purdue Pharma and Insys Therapeutics—who downplayed the addictive nature of opioids and promoted their expanded use—bear substantial responsibility for the opioid epidemic in the United States where an average of 115 people die every day from opioid overdoses. West Virginia, the subject of the committee investigation, has the highest opioid overdose rate in the country, according to the Centers for Disease Control and Prevention.
The committee received testimony from John Hammergren, President and CEO of McKesson Corporation; George Barrett, Executive Chairman of the Board of Cardinal Health Inc.; Steven Collis, Chairman, President and CEO of AmerisourceBergen Corporation; Joseph Mastrandrea, Chairman of the Board of Miami-Luken, Inc.; and J. Christopehr Smith, former President and CEO of H.D. Smith Wholesale Drug Company.
At the hearing, company executives dodged responsibility while shedding crocodile tears over the opioid epidemic that they helped create, including by shipping large numbers of opioids to pill mills in West Virginia.
"With the benefit of hindsight, I wish we had moved faster and asked a different set of questions [to the pharmacies]," Cardinal Health Executive Chairman George Barrett told the committee.
"I am deeply sorry we did not. Today, I am confident we would reach different conclusions about those two pharmacies," Barrett said, referring to two pharmacies in West Virginia that were shipped millions of pills by the company.
John Hammergren, President and CEO of McKesson Corporation, was asked about his company shipping 5.6 million pills to a Sav-Rite between 2007 and 2008, the equivalent of shipping 9,650 pills a day. The company's monitoring system, however, is supposed to flag orders greater than 8,000 pills a month.
He blamed the company's failure to detect the fraudulent orders on human error, while claiming the company had difficulty understanding the requirements of the law: "In the past we've had challenges understanding the regulations the regulator was asking us to follow," he said.
Hammergren also tried to downplay the 151 million doses of oxycodone and hydrocodone McKesson shipped to West Virginia between 2007 and 2012 by arguing that they were only a fraction of the 2 billion doses of all prescription drugs the company distributed to the state.
"West Virginia pharmacies overall were, and continue to be, very high volume customers for prescription drugs generally," he said.
With the sole exception of Joseph Mastrandrea, Chairman of the Board of Miami-Luken, none of the executives admitted to any responsibility for their company's role in the opioid epidemic.
According to a December 2016 investigation by the

Charleston Gazette-Mail

, between 2007 and 2012 drug distributors shipped over 780 million doses of oxycodone and hydrocodone to West Virginia, a state with a population of only 1.8 million people.
The House committee's investigation has focused on the large shipments of prescription painkillers to a number of pharmacies located in small, rural towns in West Virginia:
Tug Valley Pharmacy and Hurley Drug Company in Williamson; Westside Pharmacy in Oceana; Colony Drug in Beckley; the Family Discount Pharmacy in Mount Gay-Shamrock; and two Sav-Rite Pharmacies in Kermit.
According to data provided by the Drug Enforcement Agency (DEA) to the House committee, between 2006 and 2016, drug distributors shipped nearly 21 million prescription painkillers to two pharmacies, Tug Valley Pharmacy and Hurley Drug Company, located in Williamson, a town with just over 3,000 residents. Miami Luken shipped more than half of the 10 million pills sent to the Tug Valley Pharmacy.
Cardinal Health sent Hurley Drug Company nearly half-a-million doses of hydrocodone in 2011 alone, or about 41,000 doses per month. According to DEA data cited by the committee, the average rural pharmacy in 2011 was sent only 18,000 doses of hydrocodone per month.
The Westside Pharmacy located in Oceana, which has a population of about 1,400, sold nearly 600 times the number of oxycodone pills as another nearby pharmacy. Miami Luken shipped 4.4 million opioid doses to the pharmacy between 2008 and 2015, according to company data. H.D. Smith shipped 369,000 pills to the pharmacy in 2009 and over 625,000 in 2010.
In Beckley, a town of around 17,000 people, Miami-Luken shipped over 7 million hydrocodone and oxycodone pills to the Colony Drug pharmacy over a period of 11 years. Over just one three-month period (December 2013 through February 2014), the company supplied the pharmacy with 168,400 doses of oxycodone.
According to letters sent by the committee, the H.D. Smith Wholesale Drug Company sent over 1.1 million hydrocodone pills to the Family Discount Pharmacy located in Mount Gay-Shamrock in 2008, an increase of 1,880 percent over the previous year. This was enough pills to supply all of the 1,800 residents of the community 635 doses of hydrocodone. Between 2006 and 2014, McKesson and Cardinal Health together shipped 12.3 million doses of opiods to this pharmacy. By 2016, the total sold by all drug distributors to the Family Discount Pharmacy was around 16.6 million doses.
The Sav-Rite pharmacy located in the small town of Kermit, population 406, was the top purchaser of hydrocodone in the state and ranked number 22 in the country in terms of overall number of pills it received. Between 2005 and 2011, Miami-Luken shipped 6.3 million hydrocodone and oxycodone pills to Kermit. Between 2007 and 2008, McKesson shipped 5.6 million pills to the town. And, despite the start of a well-publicized federal investigation in 2008, McKesson resumed selling opioids to the pharmacy in 2011.
By law, these companies must report to the DEA all suspicious orders. However, through lobbying and political pressure, the companies have succeeded in not only largely skirting the law, but also in getting congress to

pass legislation

making it more difficult for the DEA to crack down on negligent drug distributors.
The three primary drug distributors—McKesson Corporation, Cardinal Health, and AmericsourceBergen—are among the largest US corporations. In 2016, these three companies, which account for about 90 percent of all drug distribution revenues, had a combined $406.5 billion in US drug distribution and related revenues, according to the Drug Channels Institute. McKesson, with over $192 billion in revenue, is the fifth largest corporation in the country, while Cardinal, with $121 billion in revenue, stands at number 15. The three companies ship nearly 85 percent of all prescription drugs in the US.
So far, these companies have only received a slap on the wrist for actions that have caused untold suffering in communities not only in West Virginia, but across the country. For example, in settlements reached with the state of West Virginia, Cardinal Health paid $20 million, AmerisourceBergen paid $16 million and Miami-Luken paid $2.5 million.
In 2008, McKesson agreed to pay a $13.5 million civil penalty for failing to report suspicious orders and in 2017 paid a record $150 million civil penalty for similar actions. Cardinal health agreed to a $44 million settlement in 2016.
While drug distributors have paid a total of $400 million in fines over the past 10 years, their combined revenue during this same period was over $5 trillion.
Opioid Crisis Overwhelms Foster System
More children are entering foster care, with more trauma issues and less chance of being reunited with family
May 9, 2018 11:19 am
Last Updated: May 9, 2018 11:19 am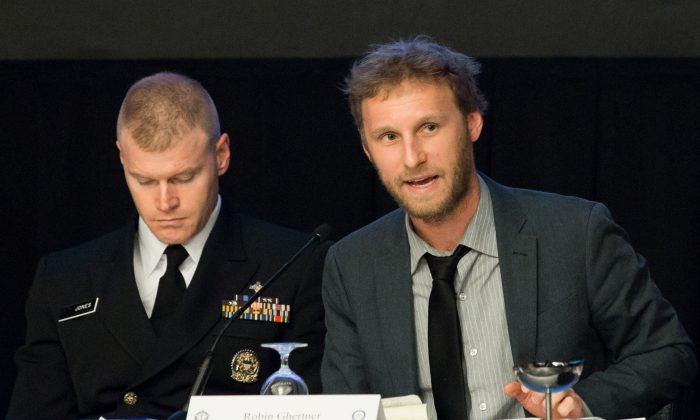 WASHINGTON—Right now, 8.7 million children in the United States have parents with a substance use disorder.
Child welfare systems are overloaded, staff burnout is extreme, and foster homes are becoming more scarce, even as the need rises.
"We know that in a community, a 10 percent increase in fatal overdoses is associated with between 4 and 5 percent increase in foster care entries," said Robin Ghertner, director of data and technical analysis with the Department of Health and Human Services, at an opioid roundtable in Washington on May 3.
"And research has shown consistently that opioids is a big part of that," he said. "So this is a really, really nasty problem."
Ghertner said more than 270,000 children entered the foster system in 2016, and one out of every three cases in which children were removed from home was due to parental substance use.
"It's actually much higher than that. That's just what's reported through the data systems that we get at the federal level," he said. In the more dramatic cases, Ghertner said, caseworkers are forced to have children stay in their offices or a hotel while they search for a foster home for them.
And, once in the system, the child's chances of being reunited with his or her parents are worsening.
"There's an intense amount of pessimism in the child welfare system," Ghertner said. He said judges and caseworkers used to be optimistic that "a good portion" of the children that are removed from home are going to go back to their families.
"It's not that way anymore in a lot of communities," he said. "There are communities in New England and Appalachia where it's few and far between that a child will go back to the parent. So it's very depressing circumstances."
Since fiscal year 2013, the number of children whose parents' rights were terminated has increased—from 58,700 in 2013 to 65,300 in fiscal 2016, according to data from Health and Human Services.
Alongside the increase in foster numbers, there has been a big jump in the number of extended family members taking in children.
Around 2.6 million grandparents are raising children, according to 2015 census statistics.
Treatment
Ghertner said a dearth of family-friendly treatment options exacerbates the problem.
Medication-assisted treatment is the accepted treatment protocol for opioid addiction, but most addicts have a host of other issues going on at the same time.
The most commonly used version of medication-assisted treatment is suboxone, which is a combination of buprenorphine (an opioid) and naloxone (which blocks the effects of opioids).
Suboxone has been used for opioid addiction since 2002, and methadone, the other main medication-assisted treatment, has been around for decades.
Vivitrol, a relatively new drug, is an injection of naltrexone that blocks opioid receptors in the brain for one month at a time.
Gerthner said a lot more than medication-assisted treatment is needed, "particularly for people that are dealing with co-occurring problems."
"And those can be co-occurring psychological/mental problems, they could also be housing, they could be employment—there are many, many things that go into this," he said.
"And unfortunately … rural communities are particularly struck by the opioid crisis [and] typically do not have a lot of these services."
A Successful Model
Dr. William Bell, president and CEO of Casey Family Programs, said the use of drug treatment courts is a huge step toward keeping families together.
"The courts began to work in a conversation with parents to say, 'We know that you want your child back. We want you to have your child back. But we also know that you need to overcome this disease that you have. We will work with you to increase your capacity to see your child as long as you're working to achieve the sobriety that we know is necessary and you want to have,'" he said at a February Senate hearing.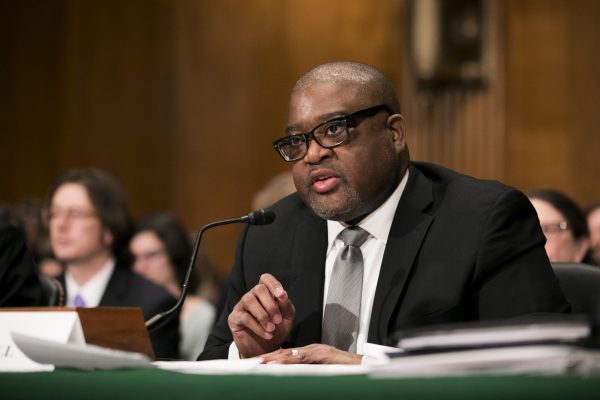 Casey Family Programs helped launch a pilot program in Ohio last year called START (Sobriety, Treatment, and Reducing Trauma). It aims to keep children at home or return them home as quickly as possible.
"Research has shown that when parents are able to get into treatment programs with their children in a timely manner, two-thirds of them complete the program compared with only one-fifth of parents who complete the program when their children are not allowed to stay in the treatment facility with them," said Bell.
Ohio Attorney General Mike DeWine, who helped launch START, said children with a parent or parents addicted to drugs tend to stay in foster care longer, and they enter foster care having experienced significant trauma.
"While mom and dad are high, these kids may go days without food or supervision. They may have witnessed a parent inject drugs, overdose, or even die," he said in a statement. "By creating this program, we hope to help these 14 counties give the silent victims of the opioid epidemic—the children—the best care possible, while also helping their parents recover from their addiction."
Referrals to the START program begin anytime, with the earliest being after an expecting mother tests positive for a substance in either the second or third trimester, said Bell. A positive drug test also triggers an immediate referral to child welfare. "At any stage, it has become a prima facie challenge of abuse and neglect to have a positively exposed child in utero," Bell said.
The START team steps in and goes to the family home to conduct an assessment. The team includes a peer mentor, who is someone in addiction recovery or who has lived in the child welfare system.
The family can then choose to participate in the START program, which will assist with treatment, recovery, transportation, and peer support.
Ohio START is modeled on a similar program in Kentucky that resulted in about half as many children returning to foster care due to parental addiction, according to DeWine. Parents involved in the Kentucky program were also found to have twice the sobriety rate.
Bell relates the current situation to his experience of being in New York City during the middle of the crack epidemic.
"I like to do the comparison between what happened when crack was the issue and what we're trying to do right now in the opioid crisis," he said. "What we're trying to do right now is a much more humane approach to dealing with families who are struggling with a disease.
"Under the crack epidemic, that woman would have been referred to child welfare, we would have done an investigation, and in all likelihood, we would have removed that child and placed that child in foster care.
"She would have been in the court system, maybe represented by a quality attorney, maybe not. Her child would have been languishing in foster care, and she would have had a long list of things that she had to complete in order to get her child back—including housing, including parenting skills, including overcoming substance abuse."
Look how the liberal drug culture has destroyed Eureka, California
In normal circumstances, Eureka, California, would be a paradise. It's situated in northern California on the Pacific Coast and is simply beautiful, sandwiched between rugged redwood forests and an implacable open sea. The weather is perfect, constantly between 50 and 75 degrees year round. It's isolated from other major cities, but some find value in the quiet of a more secluded lifestyle.
Unfortunately, Eureka, in Humboldt County, is in the center of a narco-state where marijuana is grown industrial-scale and drug use is rampant. The situation has gotten so bad that even tourists avoid it. Here's one telling review from TripAdvisor. It's a little long but well worth the read:
Just back from 5 days in Eureka CA. Had not been there for a few years so decided to visit north coast area, see some redwoods, great coastal scenery and victorian homes along the way. We were quite impressed that someone is trying to make Eureka a tourist destination (murals, town gazebo, festival, arts and a wonderful visitors center),. At the same time, we witnessed what appeared to be several dozen (at least!!) drunken and/or drugged human beings lying on curbs, in doorways, against fences, behind stores, camping out in parking lots, stumbling onto HWY 101 etc etc. Old motels (The Serenity for one) were overflowing with people outside at all hours of the day and night. A poor pit bull was chained to a fence next to highway all day Saturday w/ cops driving back and forth. Drug deals appeared to be taking place right out in the open within sight of traffic on 101. We stopped to take a picture of a cute mural downtown and a wild-eyed woman came screaming out of the shrubs-screaming at us for "taking her picture". She had something in her raised hand and we got out of there fast. This was across the street from the jail and near an area of lovely victorian homes on 3rd. Doesn't really matter where in town it was because it was all over. Mixed in with great businesses, lovely scenery, restaurants and historic places, we dodged crazies screaming at the top of their lungs. Panhandlers followed people around from store to store. We were in one cafe when a man sat down in filthy urine soaked clothes and reeking of alcohol. He wasn't ordering anything but just came to talk-however, most of the other customers had to get up and leave as the smell was so overpowering. And although we felt bad that these people have such problems...well...Eureka has a big problem too. A split-image.

Later, at [a bookrestore] in the Bayshore Mall, we found several prominent displays on growing and/or manufacturing drugs. Umm...from the looks of Eureka's streets, that information has already been put to use. I hope that this once lovely town can come to grips with this problem.
The above review is a few years old, but be assured that nothing has changed for the better in Eureka, as The New York Times reports:
California's North Coast is known for its natural beauty and magnificent redwoods, but Eureka, the Humboldt County seat, is increasingly known for something else: the prevalence of dirty needles littering parks and public areas, crude remains of a heroin scourge that is afflicting the region.

Drug use in Humboldt County has many layers. Meth has been a scourge in rural California for many years, and because it is often shot intravenously, the transition to heroin has been too easy for many. Eureka's large homeless population has been especially vulnerable to addiction in recent years.

Discarded syringes have become a significant concern for the town's residents, who worry that the needles pose a threat to children and tourists.
OK, so why do so many people here use drugs? Theories abound, with the most common explanations tending to involve the marijuana industry and its associated culture of permissiveness and experimentation. Michael Goldsby [an addiction studies instructor at College of the Redwoods since 1987] thinks that theory makes sense.

"Risk factors for drug problems include availability of drugs, positive peer attitudes towards drug use [and] community norms that accept drug misuse," he explained. "Drug and alcohol use is accepted and even encouraged in our community."
Legalized drug use has destroyed some of the most beautiful places in California and is now doing the same in Colorado and elsewhere, where "harmless" marijuana, the gateway to even worse narcotics, has been legalized. It's just a shame that immorality seems to go hand in hand with some of the prettiest places in America.
Nothing "Safe" About Safe Injection Sites
New York embraces a grotesque proposal.
May 11, 2018
New York City mayor Bill de Blasio has
announced support
for a plan to create "safe injection sites," where addicts can take illegal street drugs with legal sanction in a medically managed environment. Such sites have been used so far only outside the United States. In New York City, deaths by overdose are four times those from homicide. De Blasio, looking to raise his profile, perhaps in pursuit of higher office, views "safe" sites as an important tool in the battle against a nationwide epidemic of opioid abuse. Emergency-room visits for opioid overdoses rose
30
percent across the U.S. from July 2016 to September 2017, according to the Centers for Disease Control and Prevention. In 16 states, overdoses rose by 54 percent in large cities.
Advocates argue that safe injection sites offer proactive treatment options for addicts who come to shoot up. But there is "virtually no evidence that (safe injection sites) lead people into treatment,"
notes
Massachusetts governor Charlie Baker, who opposes them. Vermont, which wants to set up sites, was
lambasted
by its own U.S. attorney for its ambition to do so. "It is a crime, not only to use illicit narcotics, but to manage and maintain sites on which such drugs are used and distributed," noted the federal prosecutor's office in a December 2017 open letter.
The worst potential consequence is the normalization of serious drug use in the name of harm reduction. Safe injection sites are essentially state-sponsored shooting-up galleries. No limits have been defined for who can use them, or how often. If a teenager decides that he wants to experiment with black tar heroin, should the injection site be opened to him? Should nurses accompany users who arrive at the sites to take lethal quantities of fentanyl, with naloxone inhalers ready at hand to revive them? How many overdoses will addicts be permitted per day? How many additional police officers will be detailed to the neighborhood around the legal injection site to deal with drug sales, or with drug robberies of eager addicts heading to the sites to use?
We have some evidence of what these sites look like in practice and the effect they create. David Carson, a local politician from Redmond, Washington, went to Vancouver to visit one of the sites touted as a major success by advocates. Instead, he saw lives and a whole neighborhood being destroyed. "It looked like a war zone. There were drug-addled, glassy-eyed people strewn about," Carson
noted
. "One man was lying shoeless and lifeless on his side on the cold sidewalk; I honestly couldn't tell if he was alive or not; I couldn't bear to take a picture of him."
Opioids have ravaged families and devastated communities across the country. Encouraging their open use undermines the rule of law and will do nothing to quell their continued abuse, let alone the problems underlying mass addiction. Mayor de Blasio deserves credit for his focus on this scourge, but legal injection sites are not the answer. In fact, they will only worsen the crisis.