Is Corporate America Selling Out Our Country?
Within hours of Pearl Harbor, President Franklin Roosevelt began summoning the heads of American industry to Washington. Roosevelt knew the country would need an unprecedented buildup of planes, ships, and other war materiel. Without hesitation, American companies responded. Ford, Packard, Chrysler, 3M, Hormel, General Mills, Pillsbury, Cargill, Boeing, and many other major U.S. companies gave their all to the war effort. At Roosevelt's request, the president of General Motors even left his company to oversee the war production effort as a lieutenant general in the U.S. Army. Roosevelt's initial request for 50,000 new airplanes per year was openly mocked by the Germans as outlandishly high and impossible to achieve. But the mighty U.S. industrial base roared to life and pulled it off. By war's end, the United States was producing 100,000 warplanes a year. U.S. industry literally transformed itself to save our country. It's fair to wonder if our current CEOs would do the same.
Would American companies in a new globalized economy drop everything for their country? Do American companies even consider themselves American anymore? The Daily Caller News Foundation asked 19 of the biggest names in corporate America if they saw themselves as "American" companies. It shouldn't be a very hard question to answer. But 10 of the 19 -- including Amazon, Apple, Chevron and General Electric -- refused to answer altogether. The others mostly gave weasel answers. Only General Motors and the bank JPMorgan Chase were willing to clearly identify as American institutions. And even with them, the actual record is cause for concern.
Billionaire tech investor Peter Thiel brought this issue to light recently when he accused Google of "seemingly treasonous" behavior for cozying up to the communist Chinese government. Amazingly, Google has been working on a censored search engine: Project Dragonfly, built for the Chinese government and designed to keep the Chinese people from seeing the free flow of information. At the same time, Google refused to work with the U.S. military. Thiel suggested that the FBI and CIA should investigate Google, which seems like a good place to start. More broadly, though, can we really call Google an American company?
Google and many other U.S.-based companies have operations, sales, and customers all over the world. They think of themselves globally. They value the bottom line above all. A dollar made in China is the same as a dollar made in America.
The question for America is whether this is sustainable. Every big company has a Washington office dedicated to influencing U.S. government policy and regulation. With our increasingly powerful government and regulatory regime, it's smart for companies to do this, and there is nothing wrong with it in theory. But now that corporate America is pushing Washington for its often globalist positions instead of for policies that benefit Americans, we may have a real crisis on our hands.
We're not talking about just a few corporate offices. Washington is completely dominated by corporate America. Big companies fund the influential trade associations all over Washington and hire lobbyists all over Congress and the regulatory agencies. These lobbyists understand our increasingly complex labyrinth of regulations. And they are often writing the laws Congress enacts.
Think tanks are supposed to be independently analyzing and commenting on our policies. But who do you think funds the think tanks in Washington? Corporate America dominates in this sphere as well. When they want a new law or to stop a law or regulation they don't like, these companies go even further, hiring public relations firms and ad agencies to convince us of their positions. All of this is a multibillion-dollar business.
Lately, when senators and representatives leave Congress, they go to work for the corporate influence machine. Over two-thirds of the congresspersons who retired or lost their seats this last election cycle is now corporate lobbyists. That's a record level. A seat in Congress has become an extended tryout for a high-paying corporate influence job.
All of this would be of less concern if corporate interests still aligned with actual American interests, but those days seem to have ended sometime between the great industrial ramp-up for World War II and Google's recent siding with communist China over the U.S. military. Where does this leave the American people?
Trump Acts Like a Populist. His Regulatory Record Suggests Otherwise.
The administration has consistently favored big businesses over average people.
The White House/Flickr
A
t some point, every president has had to grapple with the fact that he is not a king. This unhappy realization usually comes after they've been unable to pass one of their biggest priorities through Congress. Recall Bill Clinton with health care, George W. Bush with social security privatization, and Barack Obama with gun control. Donald Trump has learned this, too, when he tried—and failed—to repeal Obamacare. Having to work with a co-equal branch of government often serves its intended purpose: to prevent the executive from imposing his or her unchecked will on the country.
But that is not the case with regulation. The regulatory process usually doesn't involve the opposition party, at least beyond eliciting occasional complaints, and it usually draws little public scrutiny. As a result, the president's regulatory record provides special insight into his undiluted priorities and beliefs.
The Brookings Institution catalogues all new regulatory moves, and it has reported that Trump and his appointees have taken 175 significant regulatory actions since he took office in January 2017. While Trump's legislative agenda has focused on building a border wall and lowering taxes for wealthy people and businesses, his regulators have mounted sustained attacks on environmental standards, consumer and worker safeguards, and barriers to discrimination. They have consistently favored big businesses and important interest groups over average people. For all his bluster about America's "forgotten men and women," a close look at Trump's regulatory record reveals him to be anything but a populist.
Most presidents use their regulatory authority to nudge the economy in one way or another. The Federal Trade Commission and the Federal Communications Commission, for instance, typically focus on promoting competition. Others are designed to simply help Americans, like the Consumer Financial Protection Bureau which is responsible for protecting people from fraud and abuse by financial companies. Partisan disagreements are a regular part of this process. But most of the time, the controversies come down to arguments over a new rule's relative economic costs and benefits.
On occasion, Trump's regulators have addressed traditional economic matters, as by creating a fast track for FDA approval of new gene and cell therapies, streamlining procedures authorizing small companies to export natural gas, and proposing a simpler licensing process for commercial space launch vehicles. But their main actions have had little to do with improving the economy. Instead, Trump's regulators have mounted a sweeping assault on environmental and consumer protections.
Perhaps because climate was one of Obama's signature regulatory issues, Trump's EPA moved quickly to roll backnew limits on greenhouse gas emissions by coal-fired power plants, which were put in place under Obama's Clean Power Plan. Trump's EPA also repealed Obama-era limits on methane emissions by oil and natural gas producers and sidetracked requirements that states track and reduce CO2 emissions on their highways. What's more, it threw out the previous administration's rules raising fuel-efficiency standards for cars and trucks and weakened requirements that oil companies install equipment to control offshore spills, allowed oil drilling on federal lands with endangered species and proposed the same for most of the Outer Continental Shelf, and suspended limits on how many toxic metals a power plant can discharge into surface water. Meanwhile, Trump is the first president since the EPA was established nearly 50 years ago to issue no new regulations strengthening environmental protections.
Nor has he used his regulatory power to beef up protections for consumers and workers. Since healthcare was Obama's signature legislative achievement, it seems unsurprising that Trump's regulators would do everything they can to undermine it. Starting in January 2017, they moved quickly to shorten the open enrollment period for Obamacare under the law and watered down the requirements for coverage. They have also proposed ending the Affordable Care Act's ban on insurers discriminating on the basis of gender, gender identity, or pregnancy. It doesn't end there. They recently proposed new rules to allow states to certify "short-term health plans" that exclude people with pre-existing conditions, have no caps on out-of-pocket costs, and don't cover "essential benefits" like hospital care, prescription drugs, and mental health or substance abuse services.
Trump appointees have also made it materially easier for people to be ripped off: they repealed a requirement that payday lenders determine if a borrower can repay a loan before lending them funds; lessened the performance standards that for-profit colleges have to meet before they can accept federal student loans; issued new rules to increase the hours that truck, bus, and school bus drivers can work without resting; expanded the exemptions from minimum wage and overtime regulations; and nullified people's rights to stop internet service providers from selling their personal information.
Equally disconcerting, the Trump administration regularly uses new rulemaking to advance the conservative social agenda. New regulations make it substantially more difficult for family planning clinics that provide abortion services for low-income people to receive federal dollars, and permit employers to excludecontraceptive services from their health plans if they object on "moral" or "religious" grounds.
Finally, Trump and his agency heads have deliberately weakened regulations to prevent discrimination. They shelved the requirement that communities receiving federal housing funds develop plans to combat housing discrimination based on race, along with guidelines barring auto dealers from charging higher interest rates based on race and allowing transgender students the right to choose their bathrooms. Most recently, they proposed to sharply narrow the circumstances under which colleges and universities have to investigate their students' allegations of sexual assault.
After almost three years with Donald Trump in the White House, a clear theme has emerged. He and his appointees have used their regulatory authority to enhance the power of big businesses and conservative activist groups and weaken the rights of ordinary people. Despite Trump's self-branding as the tribune of the working class, his record exposes him as dismissive at best, and hostile at worst, to the people a real populist would be championing.
New York Times Op-Ed: Yes, Migration Does Spike Economic Inequality, Damage Middle Class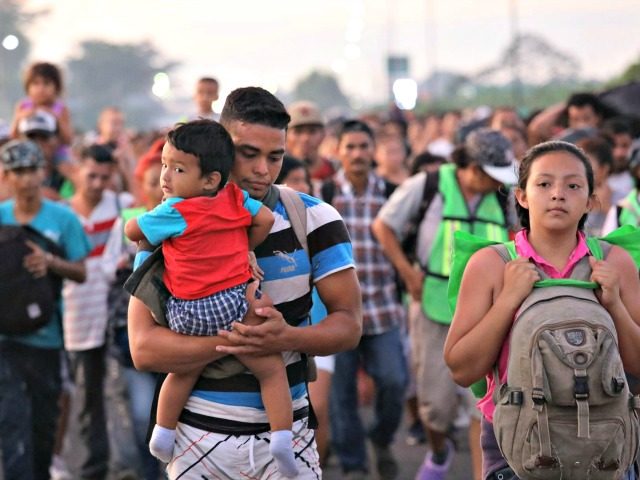 A regular columnist in the New York Times is admitting that mass migration causes inequality throughout America.
"I think our immigration policy should take into account the sharp rise in inequality over the last few decades," David Leonhardt wrote July 17. He explained:
It's not just a coincidence that the period of strongest income gains for middle-class and poor families — starting in the 1940s — followed, and overlapped with, a period of falling immigration. "Immigration restriction, by making unskilled labor more scarce, tended to shore up wage rates," the great labor historian Irving Bernsteinwrote.

The economists Peter Lindert and Jeffrey Williamson have noted that the foreign-born share of the labor force fell to 5 percent in 1970, from 21 percent in 1915. Countries with "slower labor force growth" in the middle of 20th century, they note, "experienced deeper income inequality reductions."
Leonhardt's column is a modest step but is notable because nearly all former liberals have remained silent about the huge economic and political consequences of their high-migration/cheap-labor economic strategy. The silence is all the more remarkable because one of the most obvious consequences has been the 2016 election of a New York real-estate entrepreneur to the White House.
But Leonhardt's admission will likely go nowhere because his proposed fix for the current inequality is to shift the pain of cheap-labor migration from blue-collar Americans to his own influential professional class and their cosseted college-graduate children.
Instead of lowering or ending immigration, he suggests the inequality problem can be addressed by reducing, "or at least hold constant, the level of immigration by people who would compete for lower- and middle-wage jobs while increasing immigration among people who would compete for higher-wage jobs.
His column provides more evidence that elite Americans are so enamored of immigration and diversity that they would throw the college graduate class under the bus rather than give up their visions of ruling over a chaotic and fractured "diverse" society.
Few establishment reporters can follow the money through the immigration debate, partly because their careers are risked by exposing the elites' economic, statu, and political gains from mass migration. The major risk for journalists is the likely backlash from their own peers and customers — the
progressives
in the
Democratic base
, the
business
elites
, and high-status
university leaders
who pride themselves on their self-serving support for divide-and-rule diversity.