The Trump and Clinton Immigration Plans
By Marguerite Telford
CIS Blog, July 29, 2016
http://cis.org/telford/trump-and-clinton-immigration-plans-serving-different-constituencies
Excerpt: Immigration might well be the political issue that decides the 2016 presidential election. Voters care about immigration - the only public policy issue that impacts all other issues, including national security, crime and community safety, wages and employment, fiscal policy, education, healthcare, the drug epidemic, and the environment. So which presidential candidate advocates policies that keep America safe, help the economy, the American worker and families?
The contrast between the two candidates' immigration views could not be more distinct. Nowhere has the difference been more apparent than on the stages of the recent national conventions. The Republican National Convention highlighted the rule of law and the impact Americans feel from crime perpetuated by illegal aliens who would not have been in the country if laws were enforced. The parents of those who died at the hands of illegal aliens took the stage and told their stories, pleading that immigration laws be enforced so other families do not suffer the same pain.
EXCLUSIVE: Breitbart/Gravis Blockbuster Immigration Poll Demonstrates Americans Want Total Revolution Against Mass Immigration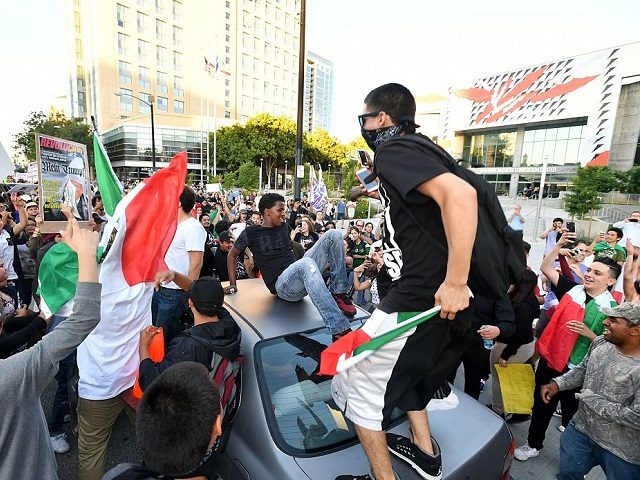 New polling data shows that it would be virtually impossible for Hillary Clinton to win the general election if the Republican nominee were able to frame the immigration issue in populist terms that emphasize reducing the overall amount of immigration into the country and protecting jobs, incomes, and benefits for the domestic population.
The poll was conducted by Gravis Marketing, a nonpartisan research firm, in conjunction with Breitbart News Network, and surveyed a random selection of 2,010 registered voters throughout the nation.
VIDEO: OPINION JOURNAL: DO IMMIGRANTS STEAL U.S. STEM JOBS?
"The poll shows that instead of dividing Americans, immigration is an issue where Americans have reached the consensus that it is a problem, maybe the problem," said Doug Kaplan, the managing partner of Gravis Marketing.
The polling data suggests that the Republican Party could see overwhelming electoral success if it were able to portray Clinton's immigration policy as a corporatist attempt to flood the labor supply with foreign workers in order to drive down wages and incomes for American workers.
As the polling data confirms, the most potent framing of the immigration issue is to focus on the numbers and scale of total immigration into the country, and to present the American people with the choice between more immigration and less immigration.
Whereas the media and Democrats try to frame the immigration issue as pitting native-born Americans against foreign-born Americans, the polling reveals that Republicans should offer a completely different framing of the issue– one which focuses on the interests of the domestic American population– and all of its members (i.e. foreign-born, native-born, etc.)–versus the interests of the world's seven billion people that live outside the United States.
In other words, the media understands the words "pro-immigrant" not in the context of helping actual immigrants (i.e. people living inside the United States, who were born elsewhere). Rather the media and Democrat politicians uses the term "pro-immigrant" in a completely alien way– i.e. in a way which focuses on trying to help foreign nationals who do not live in America. The new polling information underscores the importance for Republicans to reclaim the historically correct understanding of "pro-immigrant"– as meaning defending U.S. residents who have already immigrated to the country against competition for jobs and resources from foreign nationals residing outside of the country.
Below are some of the poll's findings:
– By a nearly 6 to 1 margin, U.S. voters believe immigration should be decreased rather than increased.
Every three years, the U.S. admits a population of new immigrants the size of Los Angeles. Sixty three percent of voters said that this figure is too high, whereas only a minuscule 11 percent of voters said that number is not high enough. Only 13 percent of Democrats and Independents— and only 7 percent of Republicans— said immigration should be increased.
– By a 25-to-1 margin, voters believe that unemployed American workers should get preference for a U.S. job rather than a foreign worker brought in from another country.
Seventy five percent of voters believe American workers should get U.S. jobs, whereas only 3 percent of voters believe foreign workers should be imported to fill U.S. jobs.
Democrats agreed with this sentiment by a margin of roughly 30-to-1 (69.8 percent who think jobs should go to unemployed Americans whereas only 2.3 percent think foreign labor should be imported). African Americans agree with this sentiment by a margin of 65-to-1 (78.5 percent who think unemployed Americans should get the jobs versus 1.2 percent who think foreign workers should be brought in). Hispanics agree with this sentiment by a margin of 30-to-1 (59.1 percent versus 2.0 percent).
There are roughly 94 million Americans operating outside the labor market today. Yet every year the U.S. admits one million plus foreign nationals on green cards, one million guest workers, dependents, and refugees, and half a million foreign students.
– Sixty one percent of voters believe that any politician, "who would rather import foreign workers to take jobs rather than give them to current U.S. residents, is unfit to hold office."
Yet politicians on both sides of the aisle, such as Hillary Clinton and House Speaker Paul Ryan, have pushed policies that would do just that. Clinton
supported
a 2013 immigration expansion bill, which would have doubled the number of foreign workers admitted to the country at a time when millions of Americans are not working. Speaker Ryan has a
two decade long history
of pushing for open borders. Ryan has
called
for enacting an immigration system that would allow foreign nationals from all over the globe to freely and legally enter the country and take any U.S. job. Speaker Ryan has
explained
that he believes foreign labor is necessary to help corporations keep wages low.
– Three out of four voters believe the nation needs "an immigration system that puts American workers first, not an immigration system that serves the demands of donors seeking to reduce labor costs."
More than seven out of ten African Americans agreed with the sentiment that the nation's immigration system should prioritize needs of American workers above donors who want to reduce labor costs.
– A majority of U.S. voters (53%) believe "record amounts of immigration into the U.S. have strained school resources and disadvantaged U.S. children."
– A majority of voters (55%) disagree with Hillary Clinton's call to release illegal immigrants arriving at the border into the United States and give them a chance to apply for asylum.
A majority of women (51.6 percent) opposed Clinton's proposal to release illegal immigrants into the interior and allow them to apply for asylum.
– Roughly three out of four voters— including nearly three out of four Democrat voters— believe that "instead of giving jobs and healthcare to millions of refugees from around the world, we should rebuild our inner cities and put Americans back to work."
African Americans agreed with this sentiment by a 10 to 1 margin (86.3 percent agree versus 8.5 percent disagree). Hispanics agreed by a margin of 5 to 1 (68.9 percent agreed versus 12.6 percent disagreed).
The number of immigrants in the U.S. is currently at a record high of 42.4 million. In 1970, fewer than one in 21 Americans were foreign-born. Today, as a result of the federal government's four-decade-long green card gusher championed by Ted Kennedy, nearly one in seven U.S. residents was born in a foreign country. If immigration levels remain at the same rapid pace— without any expansions— within seven years, the foreign-born share of the U.S. population will reach an all-time high.
In the 1920s, the last time the foreign-born share of the population reached a record high, then-President Calvin Coolidge hit the pause button for roughly fifty years, producing an era of explosive wage growth and allowing immigrants already in the country to assimilate.
As the polling data suggests, a majority of U.S. voters would be supportive of similar measures to reduce immigration and improve jobs, wages and benefits for the domestic population.
TIM KAINE'S OPEN BORDERS AND THE
MEXICAN GANGS HE PROTECTS WITH
ENDLESS PROMISES OF AMNESTY!
OBAMA'S OPEN BORDERS TO DESTROY THE AMERICAN MIDDLE CLASS - MILLIONS OF INVADING CRIMINALS NOT DEPORTED
OPEN BORDERS KEEPS WAGES FOR LEGALS DEPRESSED AND BUILDS THE LA RAZA SUPREMACY PARTY BASE FOR THE DEMOCRAT PARTY HELL BENT ON DESTROYING THE GOP WITH AN ENDLESS INVASION BY MEXICO!
IMAGES OF AMERICA UNDER NARCOMEX OCCUPATION…. THE PRICE WE PAID FOR THE CLINTON-BUSH-OBOMB SABOTAGE OF OUR BORDERS TO THE MEXICAN DRUG CARTELS
…. After the Clinton-Kaine and Speaker Paul Ryan's AMNESTY and expanded open borders
LA RAZA ILLEGAL CARLOS ESPARAZA RAPED A 7 YEAR OLD. THEN HE WENT OUT AND VOTED DEM FOR WIDER OPEN BORDERS!
CARLOS ESPARAZA IS AN ILLEGAL. HE JUMPED OUR BORDERS TO RAPE A 7 YEAR OLD AND TO VOTE FOR MEXICAN ENDORSED LA RAZA HILLARIA CLINTON.
OPEN BORDERS KEEPS WAGES FOR LEGALS DEPRESSED HUNDREDS OF BILLIONS PER YEAR, AND BUILD THE DEMOCRAT PARTY'S LA RAZA SUPREMACY BASE OF MEXICAN LOOTERS…. We also get the tax bills for Mexico's welfare state on our backs and the LA RAZA crime tidal wave that comes with them!
Sen. Kaine: Immigration Is 'Like Transfusion Of Fresh Blood Into The Bloodstream'
New from the Center for Immigration Studies, 8/1/16
In her recent
report
, Director of Policy
Studies
Jessica Vaughan finds that ICE
deportations continue to decline this year and
are on pace to be the lowest since 2006.
Deportations of criminals also keep declining,
despite a nationwide litany of high-profile
fatalities caused by criminal aliens, and
despite the Obama administration's claimed
focus on removing deportable criminals.
Enforcement in the interior has reached the
lowest level of this administration.
Recent Activities
Publications
1.
The Employment Situation of Immigrants and Natives in the First Quarter of 2016
2.
New Statistics: Enforcement Continues Decline in 2016
Map
3.
Map: Sites of EB-5 Visa Fraud and Folly in the United States
Blogs
4.
The Trump and Clinton Immigration Plans
5.
More Pinocchios for the Post's Immigration Editorial
6.
Obliging Foreign Nations to Meet Their Repatriation Obligations
7.
One of the Offstage Problems of EB-5 — It Lets the Sharks Fleece the Naive
8.
How about a few Pinocchios for the Washington Post's editorial nonsense about jobs?
9.
Tim Kaine on Illegal Alien Minors
10.
Analysis of the "H-1B and L-1 Visa Reform Act of 2015"
11.
Trump, Trade, Immigration, and Working Class Americans
12.
2015 Sentencing Commission Report Documents Downward Trend in Prosecution for Immigration Crimes
13.
Two Clarifications Emerge on Anti-Citizen Food Stamp Discrimination Issue
14.
Fact Checkers Can't Handle the Truth
15.
Immigration Court Backlogs and the Smuggling of Alien Women and Children