LET US CUT THE CRAP! THERE IS NO SUB-CULTURE ON EARTH MORE VIOLENT THAN AMERICA'S GHETTO BLACKS, AND NOT, WHITEY DIDN'T MAKE THEM THAT WAY!
Over 40 people were shot, ten fatally, over Memorial Weekend in gun-controlled Chicago. Local news
reports
the shootings and deaths came despite a stay-at-home order.
The
Chicago Sun-Times
reports
an approximate number of shooting victims at 48, fatal and non-fatal combined.
On Sunday, Breitbart News
reported
four people were killed and 11 others injured in shootings in Chicago during the first 36 hours of Memorial Weekend alone.
The first two fatal shootings of the weekend were discovered around 8 p.m. on Friday. Police found "a 32-year-old male victim…shot to death inside a residence" and a 35-year-old who was shot to death in an unrelated attack at roughly the same time.
The carnage in Chicago occurred even though hundreds of "mediators" had been sent out into hot spots around the city, trying to reduce violence.
Fox 32
reported
"a coalition of organizations is sending 370 community-based mediators to 72 locations across 12 neighborhoods in hopes of tamping down Memorial Day weekend gun violence."
IMAGES:

WINDOW INTO THE DEPRAVED BLACK SUBCULTURE

Anti-police activists and the mainstream media are incensed at the suggestion that the Black Lives Matter movement could have influenced the behavior of the four individuals in Chicago who tortured a disabled white man for hours last week while yelling "Fuck white people" and "Fuck Donald Trump." In one sense, the activists and media are right: The influences were broader than that. They include the reign of racial victimology, inner-city gang culture, and black anti-white animus.

As for interracial violence generally, blacks disproportionately




commit it. Between 2012 and 2015, there were 631,830 violent




interracial victimizations, excluding homicide, between blacks




and whites, according to the Bureau of Justice Statistics. Blacks, who




make up 13 percent of the U.S. population, committed 85.5 percent




of those victimizations, or 540,360 felonious assaults on whites,




while whites, 61 percent of the population, committed 14.4 percent,




or 91,470 felonious assaults on blacks. Regarding threats to blacks




from the police, a police officer is 18.5 times more likely to be killed




by a black male than an unarmed black male is to be killed by a police




Referencing the Wright and DeLisi report, Dr. Williams comments on another reality: that the rate of black homicide and armed robbery as well as other violent crimes are as is as much as 15–30 times more than whites...




BLACKS ARE THE MOST VIOLENT, RACIST, ANTI-SEMITIC, HOMOPHOBIC SUBCULTURE ON EARTH!

Just this month, the Bureau of Justice Statistics released its

2018 survey

of criminal victimization. According to the study, there were 593,598 interracial violent victimizations (excluding homicide) between blacks and whites last year, including white-on-black and black-on-white attacks. Blacks committed 537,204 of those interracial felonies, or 90 percent, and whites committed 56,394 of them, or less than 10 percent. That ratio is becoming more skewed, despite the Democratic claim of Trump-inspired white violence. In 2012-13, blacks committed 85 percent of all interracial victimizations between blacks and whites; whites committed 15 percent. From 2015 to 2018, the total number of white victims and the incidence of white victimization have grown as well.

Blacks are also overrepresented among perpetrators of hate crimes—by 50 percent—according to the most recent

Justice Department data

from 2017; whites are underrepresented by 24 percent. This is particularly true for anti-gay and anti-Semitic hate crimes.
Four Shot Dead, 11 Injured During First 36 Hours of Memorial Weekend in Chicago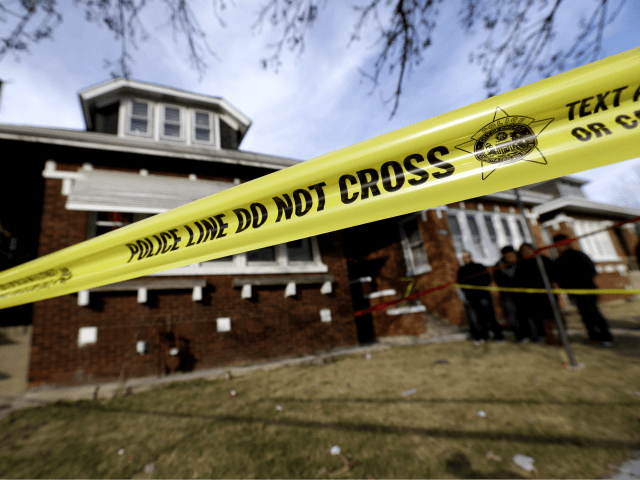 Four people were shot dead and at least 11 were injured as shootings occurred across gun-controlled Chicago during the first 36 hours of Memorial Weekend.
The first fatal shooting was discovered just before 8 p.m. Friday, when police found "a 32-year-old male victim was found shot to death inside a residence." A 35-year-old was shot to death in an unrelated attack at roughly the same time.
Around 11:30 p.m. Friday "a 41-year-old man was discovered lying on a sidewalk after suffering multiple gunshot wounds to his upper and lower body."
The last reported fatality of the first 36 hours occurred at 6 a.m. Saturday, when police found "a 27-year-old man lying on the floor with a gunshot wound to his stomach."