here's something to flap your big mouth over, fucker!
GRAPHIC — Cartel Gunmen Leave Dismembered Bodies in Coastal Mexican State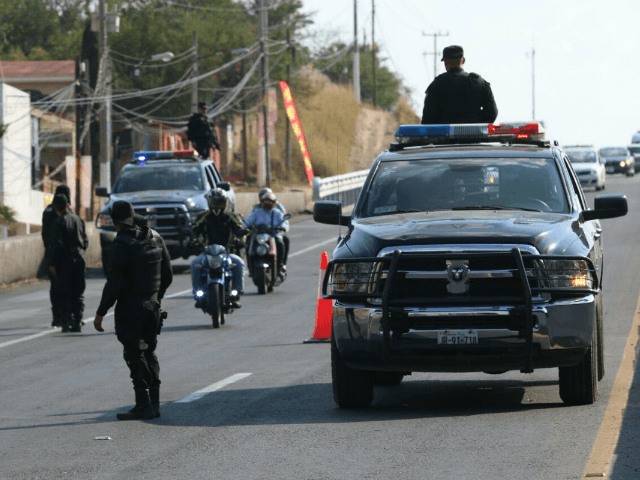 Mutilated legs, torsos, and arms belonging to various bodies were left behind in a pickup with a narco-message in the Mexican coastal state of Jalisco. The gruesome scene indicates a spike in violence in an area that for years had been considered peaceful.
The execution was reported in Guadalajara when authorities responded to the Morelos neighborhood where they found various mutilated body parts piled up inside a maroon pickup.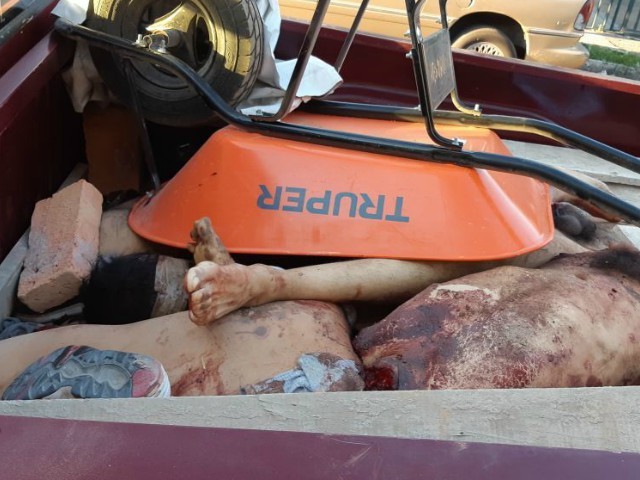 Law enforcement officials revealed to Breitbart Texas that emergency medical personnel had been called to the area in regards to an injured person but when they arrived, found the dismembered victims. State investigators traced the license plates and found they belonged to a Chevrolet Cruze stolen a month prior.
The gunmen used a rock to hold down a cartel message scrawled on a poster board. "You thought that I had retired. I have not left, this is my plaza I am going to fight and take out the trash. Atte El 20"
The Jalisco is considered to be an area controlled by Cartel Jalisco Nueva Generacion, one of the most violent in Mexico. Law enforcement sources revealed to Breitbart Texas that there are several men who used the nickname "El 20," including members of the Sinaloa and the Gulf Cartels. The CJNG once belonged to the Sinaloa but has since broken off and is now fighting their former ally over the control of drug smuggling routes.
One of the photographs from the crime scene shows a wall with the graffiti "CDG Rules." Authorities have not revealed if that is one of the clues that they are following.
Editor's Note: Breitbart Texas traveled to the Mexican States of Tamaulipas, Coahuila, and Nuevo León to recruit citizen journalists willing to risk their lives and expose the cartels silencing their communities. The writers would face certain death at the hands of the various cartels that operate in those areas including the Gulf Cartel and Los Zetas if a pseudonym were not used.
Breitbart Texas' Cartel Chronicles
are published in both English and in their original
Spanish
. This article was written by Tony Aranda from Nuevo León.
AMERICA'S OPEN BORDERS TO TERRORIST… as we defend the borders of every Muslim dictator on earth!
What is MS-13?
10,000 LOSE IN OUR OPEN BORDERS RAPING, MURDERING AND VOTING DEMOCRAT FOR MORE ANCHOR BABY WELFARE.
AMERICA'S OPEN AND UNDEFENDED BORDERS:
LA RAZA HEROIN CARTELS CUT HEART OUT OF LIVING MAN AND BEHEAD HIS PARTNER!
MEXICANS ARE THE MOST VIOLENT CULTURE IN THE WESTERN HEMISPHERE!
Heather Mac Donald of the Manhattan Institute has testified before a Congressional committee that in 2004, 95% of all outstanding warrants for murder in Los Angeles were for illegal aliens; in 2000, 23% of all Los Angeles County jail inmates were illegal aliens and that in 1995, 60% of Los Angeles's largest street gang, the 18th Street gang, were illegal aliens.
Granted, those statistics are old, but if you talk to any California law enforcement officer, they will tell you it's much worse today.
Mexico prefers to export its poor, not uplift them
CHRISTIAN SCIENCE MONITOR
1.)
Mexico ended legal immigration 100 years ago, except for Spanish blood.
2.)
Mexico is the 17th richest nation but pays the 220th lowest minimum wage to force their subjects to invade the USA. The expands territory for Mexicans, spreads the Spanish language, and culture and genotypes, while earning 17% of Mexico's gross GDP as Foreign Remittance Income.
THE GRUESOME VIOLENCE OF THE MEXICAN… over, under and in our open borders.
WHO WILL RID US OF THE INVADERS?
WASHINGTON SECRETS
In US, Mexican presidential candidate calls Trump 'insulting, revolting'
I
n this Sept. 2, 2013 photo, Mexico's President Enrique Pena Nieto, center, shakes hands with the president of the Lower House, Ricardo Anaya Cortes, prior to delivering his first state-of-the-nation address at Los Pinos presidential residence in Mexico City. Anaya is poised to become the standard-bearer of the Forward for Mexico coalition comprising the National Action, Democratic Revolution and Citizens' Movement parties. Pena Nieto is barred from running again. (AP Photo/Dario Lopez-Mills, File)
A leading Mexican presidential candidate has rejected paying for President Trump's border wall and ripped the administration as "insulting and revolting."

Ricardo Anaya Cortes made his comments during a weekend trip to Los Angeles where he sided with illegal immigrants fighting the administration's deportations.
He also met with Janet Napolitano, former President Obama's first secretary of Homeland Security and current president of the University of California. The two talked about "supporting the dreamers and agreed that Mexican migrants deserve respect," he tweeted.
He took exception to U.S. immigration under Trump and said that "the best" Mexico has to offer has been punished.
"After Donald Trump had been insulting, and revolting at the best that Mexico has in the United States, they dared to roll out a red carpet to receive him in Los Pinos, as if he were a head of state," said Cortes, who is running on the For Mexico in Front coalition ticket, which includes the National Action Party (PAN), the Party of the Democratic Revolution (PRD), and the Citizens' Movement (MC).
While meeting in Los Angeles over the weekend, he also promised to support Mexicans in the United States if elected, a pledge the leading Mexican presidential candidate, Andrés Manuel López Obrador, has also made.
"I want to ask you, with my heart in my hand, that every time you hear an aggressive or denigrating expression, remember that there, in Mexico, you are the heroes of the country, the brave, the enterprising, the generous, those who dared to cross the border to give their family a better future. Do not you forget that you are not alone ... all of Mexico is with you and when I am president I will always be on your side," he said.
Paul Bedard, the Washington Examiner's "Washington Secrets" columnist, can be contacted at pbedard@washingtonexaminer.com
Mexico: The most dangerous country for journalists outside of war zones
By Meenakshi Jagadeesan
6 March 2018
On February 13, reporter Pedro Damian Gomez was found dead in his house in the Lomas de la Amistad area of Tijuana in the Mexican state of Baja California. Gomez produced a social media show called "Political Panorama," which covered topical news stories and featured political interviews. While the initial reports by local media of a violent death have been denied by the state attorney's office, the case is far from resolved.
Just prior to his death, Gomez posted a message on his social media account about the mysterious gift of a new car that had been left outside his house with keys and documentation in his name. Beyond the timing of the curious gift, what has fueled suspicions of foul play is the fact that the targeting of journalists working on political stories has become tragically routine in Mexico.
In 2017, Mexico was ranked 147th out of 180 countries on "World Press Freedom Index" that is released annually by Reporters Without Borders (RSF). The group condemned the "appalling level of impunity" in Mexico, where it claims there have been at least 21 unsolved disappearances of journalists since 2000. Mexico's own National Human Rights Commission has backed this claim, further highlighting the fact that at least 8 of the 21 journalists have been missing for more than a decade.
RSF's condemnation of the Mexican state's treatment of journalists coincided with the 10th anniversary of the disappearance of Maurizio Estrada Zamora, who was a crime reporter for local daily La Opinión de Apatzingán. As reported in the PressGazette, Zamora had written a story that "reflected badly" on a federal agency police officer known as "El Diablo." Zamora disappeared shortly after its publication. He was last seen leaving the offices of the newspaper on February 12, 2008. However, it is not just disappearances that seem to afflict Mexican journalists.
The Committee to Protect Journalists, a non-partisan group that tracks press freedoms, reported that the number of journalists killed in the line of duty or in retaliation for their work declined worldwide last year, but remained quite dangerous in some countries. There were eight journalists killed in Iraq and seven in Syria. Mexico was right behind, according to the report, with the recorded deaths of six journalists. RSF pointed out, however, that this was half the number of actual deaths, thus in fact giving Mexico the dubious honor of being the most perilous country for journalists in the world.
In a list compiled last December, the Los Angeles Times provided a snapshot of the lives of the 12 journalists who were killed in Mexico in 2017. Despite difference in age, gender, work experience, and the kinds of media in which they worked, what was common to all the assassinated journalists was a focus on the nexus between organized crime, drug cartels and political corruption. Many of them had faced numerous threats to their lives and had carried on their work despite knowing the grave danger they faced.
Javier Valdez Cardenas, one of the assassinated journalists, had in fact been awarded the Committee to Protect Journalists' International Press Freedom Award in 2011. On receiving the award, Valdez declared that he was dedicating it to "the brave journalists, and to the children and youths who are living a slow death. … I have preferred to give a face and a name to the victims, to create a portrait of this sad and desolate panorama, these leaps and bounds and short cuts towards the apocalypse, instead of counting deaths and reducing them to numbers."
A well-known journalist and author, Valdez was a correspondent for the Mexico City-based daily La Jornada and a cofounder of the regional weekly Riodoce. When fellow correspondent Miroslava Breach was gunned down in the city of Chihuahua on March 23, 2017, Valdez tweeted, "Let them kill us all, if that is the death penalty for reporting this hell. No to silence." Two months later, Valdez was dragged out of his car on a busy street and shot at least 12 times.
A significant number of journalists have given up their work, their homes and their families in an attempt to save their lives. While some have attempted to claim asylum in other countries, particularly the United States, others have gone into hiding in government designated safe houses in Mexico.
The Mexican government has claimed that it is committed to protecting press freedom and the lives of its journalists. As an example, the government cites the establishment of the "Mechanism to Protect Human Rights Defenders and Journalists," a program that provides reporters and photographers who have been threatened or attacked with security guards and a panic button that summons authorities. In the five years of its existence, at least 368 journalists have sought these protections. However, as a recent Los Angeles Times story points out, this remains far from a guarantee of safety.
Julio Omar Gomez, a 37-year-old reporter from La Paz, used to run a popular news web site that reported on the growing violence in the region, as well as stories of government corruption. Hired assassins set fire to vehicles in his garage twice in an attempt to kill Gomez and his family, even leaving a crudely worded note on the scene, "Don't involve yourself in politics."
Initially, Gomez refused governmental protection since it appeared as though local politicians were involved in the murder attempt. But, after his mentor Maximino Rodriguez—a well-known and respected La Pa z journalist—was murdered in a parking lot while assisting his disabled wife, Gomez decided to accept the protection of 24-hour security guards.
Despite this, a third attempt was made on his life, this time resulting in a gunfight that took the life of one of the guards. After this attempt, Gomez has taken refuge in an anonymous safe house, which he leaves only for appointments with a therapist, who is treating him for anxiety and post-traumatic stress disorder. Gomez's time at the safe house is limited. In six months, he will have to fend for himself.
The journalists who fled north of the border have not necessarily fared much better. Despite its claims of prioritizing combating violence against journalists in Mexico, the US government has been singularly reluctant to provide asylum to targeted journalists. Last May, Mexican journalist Martin Mendez dropped his asylum claim in the US and agreed to be deported after he was held in detention for nearly four months. Emilio Gutierrez Soto, a celebrated journalist who has been in the US for nearly a decade after fleeing Mexico, was denied asylum last November and is currently being held in a detention center in El Paso, Texas.
Gutierrez made the decision to flee Mexico after the publication of a series of articles about soldiers ill-treating migrants in boarding houses and stealing their money drew the ire of military commanders. After withstanding a ransacking of his house and ominous drive-bys by military personnel, Gutierrez left in 2008 after a tearful call from a friend who told him to leave immediately since the army was about to kill him. He had assumed that his story would ensure him political asylum in the United States, but that was not to be. Despite being awarded the National Press Club's prestigious Press Freedom Award in Washington, D.C. last year, Gutierrez now awaits potential deportation. As quoted in the Los Angeles Times, he is convinced he will be killed by the government the minute he returns to Mexico. "I feel like I'm another dead journalist," he said.
Far fewer Mexicans receive asylum in the United States than citizens of other countries, including India, Ethiopia and China. The denial of asylum in cases such as that of Gutierrez only underscores the inhumane enforcement-driven logic that has become the guiding force of US immigration policy, notwithstanding its lip service to prioritizing humanitarian concerns.
In recent months, Breitbart Texas has
reported on Gonzalez Flores' cases where

she
EXCLUSIVE — Mexican Border Judge Continues Releasing Cartel Suspects from Jail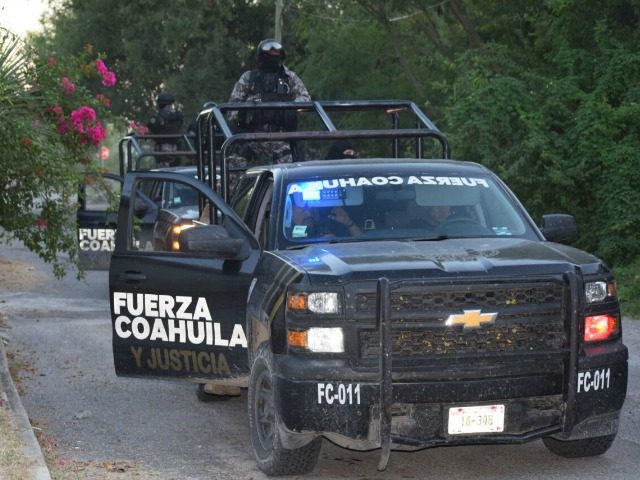 PIEDRAS NEGRAS, Coahuila — A state judge who lives in Texas but works in this border city appears to be continuing her efforts to release cartel-linked drug smugglers in court. The judge previously released under suspicious circumstances various cartel assassins linked to multiple executions in this border city.
According to the information on case number 127/2018, authorities arrested 47-year-old Hugo Alejandro Riojas Morales in Piedras Negras after finding him with two bricks of marijuana that weighed about five pounds.
Authorities charged him with possession of narcotics with intent to distribute, however, the case was dismissed by Gonzalez Flores who ruled that the arrest was illegal. The judge claimed that the time from when authorities arrested Riojas to when they took him to a prison cell did not give police enough time to read him his rights and follow proper procedure. Gonzalez Flores ruled that she did not believe authorities had followed procedures and ordered the suspect released.
In another case, Gonzalez Flores lowered the charges for another local drug dealer in order for him to be released after posting a $200 bond. In case file 125/2018, state authorities arrested 19-year-old Cooper Alberto Gutierrez Hernandez and 20-year-old Karina Guadalupe Pineda Gil after finding approximately one pound of marijuana in their vehicle. Authorities tried to charge both of them with possession of narcotics with intent to distribute. Gonzalez Flores dismissed the charges against Pineda claiming that she was not a drug user, and in the case of Gutierrez, she lowered his charge to a simple possession. Prosecutors tried to argue that Gutierrez had other pending cases and he is deemed a flight risk since he is a U.S. citizen. The judge set his bond at $200.
Editor's Note: Breitbart Texas traveled to the Mexican States of Tamaulipas, Coahuila, and Nuevo León to recruit citizen journalists willing to risk their lives and expose the cartels silencing their communities. The writers would face certain death at the hands of the various cartels that operate in those areas including the Gulf Cartel and Los Zetas if a pseudonym were not used.
Breitbart Texas' Cartel Chronicles
are published in both English and in their original
Spanish
. This article was written by "J.M. Martinez" from Coahuila.
THE GRUESOME VIOLENCE OF THE MEXICAN… over, under and in our open borders.
WHO WILL RID US OF THE INVADERS?
Mexican Cartel Continues Stockpiling Military Weapons in Mexican Border City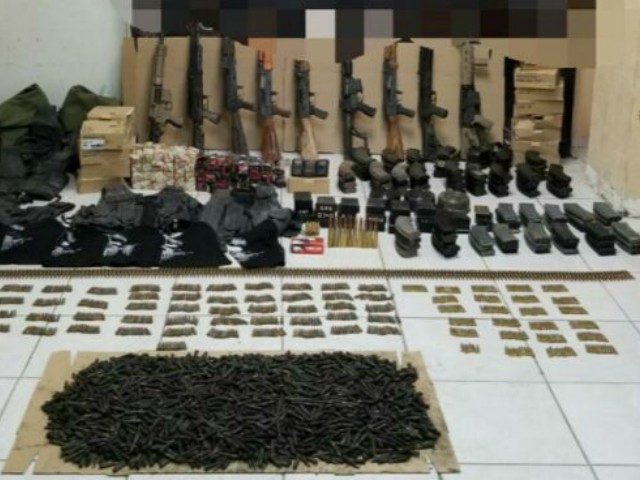 PIEDRAS NEGRAS, Coahuila — The seizure of a large cache of military weapons at a rural area near this border city points to the dangerous cartel, known as Los Zetas continuing to arm themselves in order to continue terrorizing this region.
Recently, state authorities found an arsenal of weapons hidden by Los Zetas off a rural road near Piedras Negras, just across the border from Eagle Pass, Texas. The weapons included a .50 caliber rifle, a rocket launcher, six AK-47s and three AR-15s. Officials also seized 1,500 cartridges of different calibers. The officers also found vests and other tactical equipment. All of the seized items were turned over to federal authorities for further investigation.
State authorities found the arsenal as part of an intelligence-driven operation aimed at minimizing the violent capabilities of the cartel known as Los Zetas. As Breitbart Texas reported, the Los Zetas group known as Cartel Del Noreste (CDN) is the one that maintains its presence in Piedras Negras. The CDN is being challenged by other cartels as well as independent groups.
In recent months, groups of cartel hitmen carried out multiple executions that spread panic among the residents of this city. Although authorities arrested several of the hit men,

state judge Maritza Gonzalez Flores continues to release them

under the argument that there is no evidence tying them to the crimes, Breitbart Texas reported. The judge released numerous cartel-linked drug dealers under suspicious rulings.
Editor's Note: Breitbart Texas traveled to the Mexican States of Tamaulipas, Coahuila, and Nuevo León to recruit citizen journalists willing to risk their lives and expose the cartels silencing their communities. The writers would face certain death at the hands of the various cartels that operate in those areas including the Gulf Cartel and Los Zetas if a pseudonym were not used.
Breitbart Texas' Cartel Chronicles
are published in both English and in their original
Spanish
. This article was written by "J.M. Martinez" from Coahuila.
Murder victim 'was beaten with aluminum baseball bats, suffocated with a plastic bag over his head, then dismembered and barbecued'
Gabriel Moreno, of San Antonio, is on trial for the 2014 murder of 35-year-old Jose Luis Menchaca




Moreno, his cousin Daniel Moreno Lopez, and girlfriend, Candie Dominguez, are all accused of beating and then killing Menchaca at their Texas home

Witnesses testified that Menchaca was bound and gagged, beaten with aluminum baseball bats and suffocated with a plastic bag over his head




His body was then dismembered and some of his remains burned in a barbecue pit




His torso was found dumped in a plastic blue tub, authorities said




If convicted of murder, Moreno faces life in prison
Gabriel Moreno is on trial for the 2014 murder of 35-year-old Jose Luis Menchaca
A Texas man was bound and gagged, beaten with aluminium baseball bats, suffocated with a plastic bag over his head and then dismembered and barbecued, a jury heard Friday.
Three San Antonio residents are accused of viciously beating and then killing 35-year-old Jose Luis Menchaca in September 2014 after an altercation over an alleged drug deal gone bad.
Gabriel Moreno, 34, is currently on trial for the murder. His cousin, Daniel Moreno Lopez, and girlfriend, Candie Dominguez, are also accused of murdering Menchaca and are awaiting trial.
Jurors heard testimonies from witnesses and crime scene investigators on Friday.
Details of the attack were so gruesome the victim's mother had to be taken out of the courtroom on a stretcher, according to My San Antonio.
Menchaca, pictured above with his girlfriend, was beaten with aluminum baseball bats, suffocated with a plastic bag and then dismembered and burned in a barbecue pit
The gruesome crime happened at a San Antonia home on September 30, 2014, police said
One witness, Dennis Austin, told the juror that what he saw in Lopez and Moreno's San Antonio home the day of the beating looked like a scene from a 'horror movie'.
Austin said he stopped by the Hillwood Drive home on September 30 and he saw Menchaca bound at his hands and feet, with his mouth taped, My San Antonio reports.
He said the walls and a couch were covered in blood.
'He (Menchaca) was bleeding from the cheeks, there was blood everywhere on him. It was like a horror movie,' he said.
Austin told the courtroom that he also witnessed Moreno and Lopez try to suffocate Menchaca with a pillow and plastic bag. He said Menchaca begged Lopez not to kill him.
The girlfriend of Menchaca (pictured) had gotten into an altercation with Moreno a few days before the murder
While Moreno and Lopez tried to suffocate Menchaca, Austin said a woman cleaned blood off the walls.
When asked why he did not call the police, Austin told prosecutors that he was 'terrified' and feared for his and his family's safety.
'I was scared, terrified stiff,' he said. 'I was afraid if I did call (police), I would be considered part of what happened and of retaliation.'
After the brutal beating, Austin said Lopez told him to help Moreno move Menchaca from the bedroom, where the attack occurred, to the garage.
He said Menchaca was still alive when he left the home but when he returned a few days later the man's torso was in a plastic blue tub with a plastic bag around the head.
'We saw the torso, head still attached, but detached, like a bobblehead,' he said.
'I will never forget that smell. It smelled worse than decayed animal.'
Menchaca's girlfriend, Sylvia Flores, also testified on Friday, telling the jury that on the day of the attack Dominguez led her and Menchaca to a back room in the home where Moreno and Lopez started to beat Menchaca with the aluminium bats.
She said the two cousins beat her boyfriend 'until he fell to the ground with his bloody head pushed up against a sofa'.
Moreno's cousin, Daniel Moreno Lopez (left), and girlfriend, Candie Dominguez (right), are also accused of murdering Menchaca and are awaiting trial
Flores said she was then stripped naked and bound. She believes she was kept in the home for roughly three days.
She said when Lopez untied her he showed her a barbecue pit and was poking 'a leg or arm, a joint' with a stick, according to Express News.
Flores said she escaped by asking her alleged captors to take her home so she could change her clothes.
When she got to the house, she ran out the back door for help.
Jurors also heard from crime scene investigator Angela Salvatierra, who said when police arrived to the San Antonio home it appeared that someone had tried to clean up.
'There was some cleaning type smells to the room as well. In the back bathroom portion of the back area there was a tote with portions of a human body in it,' she said.
If convicted, Moreno faces life in prison.
Read more:
Unlicensed Daycare Worker Accused of Breaking Child's Legs Tells Cops: I'd 'Rather Be Deported than Go to Jail'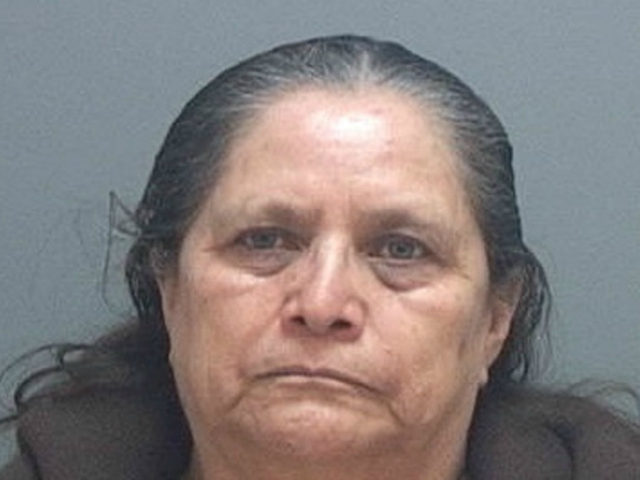 An unlicensed daycare worker in Utah accused of breaking a child's legs reportedly told police that she would "rather be deported than go to jail."
Elvira Ortega, 66, reportedly made the remarks in front of Salt Lake City Police after she was charged with child abuse for slamming the child feet first onto a bathroom floor, KSTU reported.
Court documents say that the boy is less than a year old and was under Ortega's care when his injuries occurred on February 23. Police arrested Ortega after the child's parents brought him to the hospital the day the injuries occurred, the Associated Press reported.
The infant's legs were reportedly broken below the knees.
Salt Lake City Police Detective Greg Wilking told Fox News that Ortega was believed to be a flight risk but could not comment on her immigration status, citing department policy.
Wilking said that Ortega, though she did not have a daycare license, cared for multiple children in her Salt Lake City home around the time the incident occurred.
Texas School Janitor Accused of Soliciting, Grooming, Sexual Assault of 12-Year-Old Girl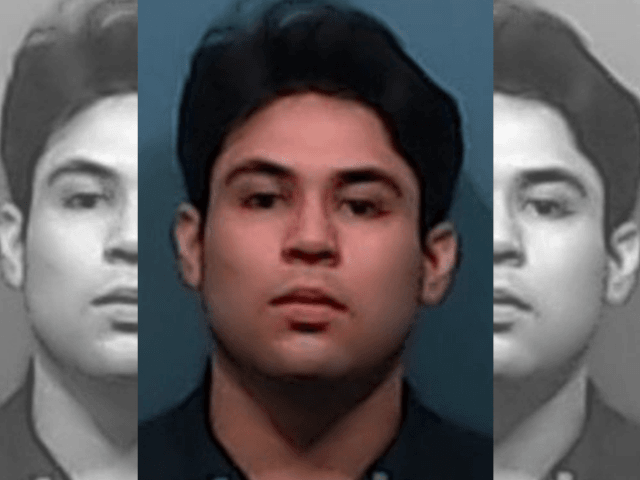 A West Texas middle school janitor stands accused of soliciting, "grooming," and sexually assaulting a 12-year-old girl and attempting to entice another. Authorities said he lured them in by writing his Snapchat ID on the metal toilet paper dispenser in the girls' bathroom. The curious pre-teens subsequently visited his profile online.
Abilene police held a news conference Wednesday reporting the arrest of Madison Middle School custodian Mario Francisco Gomez. Taylor County Jail records show Gomez, 20, remains in custody on $200,000 bond. He is charged with one count of aggravated sexual assault of a child, a first-degree felony, and two counts of online solicitation of a minor under 14 years old, second-degree felonies. Jail officials confirmed to Breitbart Texas that Gomez is a U.S. citizen born in Abilene.
Police Chief Stan Standridge said Gomez used the social media app Snapchat to contact the two known minors who attend middle school in the Abilene Independent School District. He said Gomez left his online username on the metal toilet paper dispenser in a girls' bathroom. The police chief did not identify the code or passwords that prompted the two girls to respond.
Standridge only recounted the events police believe occurred after one of the two victims hooked up with Gomez on Snapchat. He said, "From that point on this 20-year-old custodian began grooming the 12-year-old victim." Standridge explained that grooming is a "specific legal terminology."
The Texas Department of State Health Services (DSHS) defines "grooming" as a practice used by sexual predators in which they manipulate potential victims as well as those individuals surrounding a targeted victim, like parents, to gain access to a child. DSHS says grooming is well-organized and can be short or long term. They note that the longer a sex offender knows an individual the better they are at "zeroing in" their grooming.
In this case, it appears the accused perpetrator gained the trust of the alleged victim relatively quickly. Standridge said police estimated that over roughly two weeks the suspect groomed this child "with the presumption he would want to meet this child." He said they believe the two met and Gomez sexually assaulted the minor after school hours in a middle school bathroom.
The police chief said investigators identified and interviewed a second female victim. He stated this other minor "did not make an outcry of sexual assault but she did affirm that she, too, did receive unsolicited information via social media specific to Snapchat" from the alleged suspect.
This situation surfaced when the parents of the purportedly sexually assaulted girl emailed the middle school's principal Tina Wyatt last Saturday, according to the Abilene Reporter-News. Wyatt immediately forwarded the allegations to a school resource office who shared the information with Abilene police investigators.
Standridge stated the district hired Gomez in December as a substitute janitor and he had access to multiple campuses including another middle school and two elementary campuses.
"If his Snapchat profile is, in fact, in other places on other campuses, it is likely we have additional victims out there," said the police chief. He asked parents to come forward with any information they may have even if their child is not a victim.
Abilene ISD Superintendent David Young told reporters nothing surfaced when the district ran a background check on Gomez before his hiring. Young called Gomez's purported actions "unconscionable." He said they immediately fired the custodial worker.
Follow Merrill Hope, a member of the original Breitbart Texas team, on
Twitter
.
THE STAGGERING COST OF THE WELFARE STATE MEXICO AND THE LA RAZA SUPREMACY DEMOCRAT PARTY HAVE BUILT BORDER to OPEN BORDER'
According to the
Federation for American Immigration Reform's 2017 report,
illegal immigrants, and their children, cost American taxpayers a net $116 billion annually -- roughly $7,000 per alien annually. While high, this number is not an outlier: a recent study by the
Heritage Foundation
found that low-skilled immigrants (including those here illegally) cost Americans

trillions

over the course of their lifetimes, and a study from the
National Economics Editorial
found that illegal immigration costs America over $140 billion annually. As it stands, illegal immigrants are a massive burden on American taxpayers.
Everyday there are 12 Americans murdered and 8 children molested by Mexicans!
Steinle's murderer, Jose Zarate and been deported 5xs!
"While walking with her father on a pier in San Francisco in 2015, Steinle was shot by the illegal alien. Steinle pleaded with her father to not let her die, but she soon passed in her father's arms."
Heather Mac Donald of the Manhattan Institute has testified before a Congressional committee that in 2004, 95% of all outstanding warrants for murder in Los Angeles were for illegal aliens; in 2000, 23% of all Los Angeles County jail inmates were illegal aliens and that in 1995, 60% of Los Angeles's largest street gang, the 18th Street gang, were illegal aliens.
Granted, those statistics are old, but if you talk to any California law enforcement officer, they will tell you it's much worse today.
AMERICA vs MEXICO: CLASHING CULTURES
Mexicans cheat, distribute drugs, lie, forge documents, steal and kill as if it's a normal way of life. For them, it is. Mexico's civilization stands diametrically opposed to America's culture.
The legal age of sexual consent in Mexico is 12 years old. Sex with children at this age and younger is socially acceptable in Mexico. For example: A Mexican Lopez-Mendez pleaded guilty to sexual assault on a 10 year old girl in West Virginia.
MEX GIVES 7-YEAR-OLD CHILD HERPES AFTER REPEATEDLY RAPING HER
"The molestation was reported after the child was taken to a hospital for an outbreak of genital herpes early this month. When asked how she might have contracted the disease, the child claimed that Morales had molested her "a lot of times."
"The legal age of sexual consent in Mexico is 12 years old. Sex with children at this age and younger is socially acceptable in Mexico. For example: A Mexican Lopez-Mendez pleaded guilty to sexual assault on a 10 year old girl in West Virginia." FROSTY WOOLDRIGE
HOW "CHEAP" IS ALL THAT INVADING "CHEAP" LABOR?
Natalio Vitervo-Vasquez was deported twice but returned to provide "cheap" labor. He can't read or write and raped his 10-year-old daughter.
"Prosecutors say the girl, who was 11-years-old at the time, went to a medical center where it was determined she was pregnant. Officials say she would have conceived the child at ten years of age."
"The report states that in fiscal year 2017, ICE arrested 20,201 aliens in California; 81 percent of them were convicted criminals."
Nation's Sheriffs: 'Dangerous and Reckless' Oakland Mayor Giving 'Criminal Illegals Safe Harbor'
The National Sheriffs' Association Executive Director and CEO Jonathan Thompson says that, by alerting criminals that there would be a law enforcement operation in her area, Oakland Mayor Libby Schaaf put both citizens and police in danger.
"This is just another example of a California politician playing politics with the safety of the community," Thompson said Wednesday in a statement condemning Schaaf's "dangerous and reckless" politics, which gave safe harbor to known criminals:
"What the Mayor is doing is dangerous and reckless. By alerting the public of the operation, she gave known criminal illegals safe harbor which ultimately put the people in that area, as well as law enforcement, in danger."
Thomas Homan, U.S. Immigration and Customs Enforcement's acting director, told Fox News that the mayor's warning on Twitter was "beyond the pale" and compared her to a gang lookout who tells people when a police car is arriving. Homan said the Justice Department is looking into whether Schaaf obstructed justice.
"There's over 800 significant public safety threat criminals, these are people who are here illegally and committed yet another crime, been convicted of a crime," he told Fox. "She gave them warning, and there's 800 that we were unable to locate because of that warning, so that community's a lot less safe than it would have been."
The National Sheriffs' Association (NSA) is one of the largest associations of law enforcement professionals in the United States, representing more than 3,000 elected sheriffs across the nation, and a total membership of more than 20,000.
Oakland Mayor Invites Panic in Immigrant Communities
Tom Homan's best weapon
By Andrew R. Arthur
CIS Immigration Blog, February 28, 2018
. . .
Giving dangerous criminal aliens "heads up" about impending ICE arrests enables those aliens to at best flee, but at worst prepare to respond with violent force to such arrests.
That said, however, while ICE Acting Director Thomas Homan might have viewed Schaaf's tweet more charitably. Interestingly, KQED reported that Schaaf herself had admitted:

Spreading rumors of ICE activity has been used as a tactic to strike fear and paralysis in the immigrant communities . ... This is something I thought about very carefully before bringing this information forward, but due to the reliability of my sources and the fact that I received this from multiple sources, I felt that it was my duty to share the information.
BLOG: THERE ARE 15 MILLION ILLEGALS IN MEXIFORNIA AND THEY'RE BREEDING ANCHOR BABIES FOR WELFARE LIKE BUNNIES
The Public Policy Institute of California (PPIC) estimates that "California [is] home to between 2.35 and 2.6 million undocumented immigrants." Alameda County, which includes Oakland, has an estimated 129,500, while the City and County of San Francisco have a combined 35,000, according to PPIC. Adding in Marin's 17,500 illegal aliens, San Mateo's 59,500, Contra Costa's 77,500, and Santa Clara's 183,500, the "Bay Area" population consists of more than a half-million aliens unlawfully present in the United States.
https://cis.org/Arthur/Oakland-Mayor-Invites-Panic-Immigrant-Communities
Northern California ICE Operation Nets 150 Aliens in Three Days
By Preston Huennekens
CIS Immigration Blog, March 1, 2018
. . .
Estimates indicate that California has by far the largest number of illegal immigrants of any state. The state has declared itself a sanctuary state in defiance of federal immigration laws. In response, Homan has been forced to focus large-scale operations in California.
In just three days toward the end of February, ICE agents arrested over 150 illegal aliens in a separate operation in Northern California. Half of those arrested had additional criminal convictions on their record, including assaults, crimes against children, DUIs, and weapons charges.
The report states that in fiscal year 2017, ICE arrested 20,201 aliens in California; 81 percent of them were convicted criminals.
https://cis.org/Huennekens/Northern-California-ICE-Operation-Nets-150-Aliens-Three-Days
ICE: '864 Criminal Aliens' Remain At Large, Partly Thanks To 'Reckless' Warning By Oakland's Mayor
Jazz wrote Monday about Oakland Mayor Libby Schaaf's

decision to warn

the public that Immigration and Customs Enforcement (ICE) agents would be sweeping the city and making arrests. ICE revealed Tuesday that it had detained 150 people in its latest sweep. But ICE Deputy Director Thomas Homan said another 864 criminal aliens managed to elude the sweep. He added that Schaaf's warning was probably responsible for helping some of those individuals avoid arrest. From the

Mercury News

:
"The Oakland mayor's decision to publicize her suspicions about ICE operations further increased that risk for my officers and alerted criminal aliens — making clear that this reckless decision was based on her political agenda with the very federal laws that ICE is sworn to uphold," ICE Deputy Director Thomas D. Homan said…
Homan said ICE deportation officers were still able to remove many "public safety threats" from Bay Area streets.
"However, 864 criminal aliens and public safety threats remain at large in the community, and I have to believe that some of them were able to elude us thanks to the mayor's irresponsible decision," he said. "Unlike the politicians who attempt to undermine ICE's critical mission, our officers will continue to fulfill their sworn duty to protect public safety."…
ICE officials said they made arrests in cities including Sacramento, Stockton, San Francisco and Bay Point, where they detained a Mexican citizen who had been convicted of assault with a deadly weapon and had been removed from the U.S. by ICE eight times. About half of those arrested reportedly had criminal convictions in addition to immigration violations.
But Mayor Schaaf isn't backing down from her sanctuary city policy:
"I do not regret sharing this information," she continued. "It is Oakland's legal right to be a sanctuary city and we have not broken any laws. We believe our community is safer when families stay together. We know that law-abiding residents live in fear of arrest and deportation every day. My priority is for the long-term well-being of Oakland, and I know that our city is safer when we share information that leads to community awareness."
Last night on Special Report, Claudia Cowan reported ICE is asking the DOJ to look into Mayor Schaaf's actions to see if they violated the law:
ICE Deputy Director Thomas D. Homan also appeared on Fox News this morning and repeated his criticisms of Mayor Schaaf: "I watched her statement where she says her priority is the safety of her community. Well, what she did had the exact opposite effect," Homan said.
Acting ICE director Thomas Homan: "Being a law enforcement officer is already dangerous enough, but to give the criminals a heads up that we're coming in the next 24 hours, increases that risk."
Homan also promised that ICE would not give up on doing its job:
Acting ICE director Thomas Homan: "I'll say this to the mayor and every other politician that wants to vilify the men and women of ICE: We're not going away, we're going to keep enforcing the law."
The reason ICE is banging on doors and going into neighborhoods to find people is that California has forbidden local law enforcement officers from allowing ICE agents to sit in jails to process paperwork on people it wants to detain as they are released. So instead of processing many people a day in a safe environment, officers now have to go into communities where they may end up encountering other people, especially family members, who are also in the country illegally. The overall effect is to make ICE much more likely to encounter a lot of people who are not involved in criminal activity but who could be subject to deportation.
The Heartbreaking Tale Of


A Gang Member Being


Deported
President Trump's

threat

to pull ICE and the Border Patrol out of California hasn't been enacted (yet) so immigration enforcement activities are still taking place. Following

the big sweep

in the Los Angeles area, individual investigations are still being handled and

CBS San Francisco brings us

another of the heartbreaking tales of a family being separated by the evil forces of Immigration and Customs Enforcement.
This is a particularly curious bit of coverage given how these stories normally go, and we'll get to why that is in a moment. It starts out as so many of these tales do, with a crying child – the daughter of one Armando Nunez Salgado of Napa – watching as federal agents come charging into the family's backyard and apprehend her dad while he's peacefully working in his garden.
ICE agents took Armando Nunez Salgado into custody outside his home. According to family members, he was in the backyard when agents walked right in through the side gate. His 14-year-old daughter Isabel Salgado dissolved into tears.
"I cried. I got very emotional, I was really sad," said Isabel. "I mean to watch someone who is part of your everyday life and then you just have to watch him leave without saying goodbye. It kind of hurts."
Armando is a construction worker who has been in America more than 30 years. His wife Elena Ponce said his parents brought him to the U.S. when he was only four years old.
Thus far it's fairly typical of such coverage. You've got the wife and the teenage daughter, distressed and in tears over the unfairness of it all. He volunteered to help fight the wildfires plaguing the area last year. On top of that, Armando was brought here when he was only four years old. Shouldn't this guy have been in the DACA program? Why wasn't he a "Dreamer" by now? In any event, he's clearly one of the good guys. The wife concludes by saying, "

So the fact that they took someone off like that. I don't see the sense in it all. He wasn't a danger to the community in any way

."
Normally this is the point where I'd start doing some Google searches to see if there's something else in this guy's history which might attract the attention of ICE. It's not that they can't deport him simply for being here illegally, but if that's the entire story they probably wouldn't make this guy a priority bust. But this is where the CBS article takes a sharp turn and saves us any further searching. It turns out that Armando isn't quite the non-threat that's being described. (Emphasis added)
But it turns out, Armando does have a dangerous past. After our interview, his family members told KPIX 5

he was involved in gangs and drugs for a long time

.
In fact, at one point,

he was on ICE's most wanted list for charges of felony force and assault with a deadly weapon

.
Now things become a bit more clear. He's only had a few years "clean" according to his family, but before that, he was enough of a bad guy to make the most wanted list as a gang member, drug dealer and violent felon. And the most wanted list era was a few years ago since he's gone to ground since then.
Once again, using this as a pitch to make Trump out as the bad guy falls flat because he was a high-profile ICE target being actively sought during the Obama administration. It just so happens that it took until now for federal agents to track him down and take him in. But if all you did was read the first five or six paragraphs of the national news coverage you'd only know that the federal agents had dragged the poor fellow out of his garden, leaving his sobbing wife and young daughter in their wake. In fact, the actual title of the article reads, "

Family Heartbroken After Napa Man Arrested By ICE Agents

."
The reality? A known, dangerous gang member with a violent past was located and taken into custody for processing and (most likely) deportation. You might not want to shed too many tears over this one, kids.
UPDATE:
(

Jazz

) Received this information directly from ICE:
"On Sunday, Feb. 25, U.S. Immigration and Customs Enforcement's (ICE) Enforcement and Removal Operations (ERO) San Francisco Fugitive Operations Team arrested ICE fugitive Armando Nuñez-Salgado, 38, a citizen of Mexico and documented Sureño gang member, who has been previously removed by ICE on four prior occasions. Over the past 18 years he has accumulated criminal convictions in California that have resulted in more than 15 years of prison sentencings. His criminal convictions include assault with a deadly weapon (statutorily enhanced because of his gang member status), burglary, hit-and-run causing injury and evading a peace officer."
This guy had been deported FOUR TIMES and has done 15 years behind bars. He wasn't exactly the teddy bear the media makes him out to be.
Mexicans are the most violent and racist culture in the western hemisphere.
Mexican gangs now commit half the murders in La Raza-occupied CA and 93% of all murders in Los Angeles, Mexico's second largest city.
Mexican Gangs "Ethnic Cleansing" Blacks In L.A.
Latino thugs indiscriminately murder blacks regardless of gang membership, genocidal purge aligns with radical Aztlan theology.

Paul Joseph Watson
Prison Planet
Monday, January 22, 2007

Racist Mexican gangs are indiscriminately targeting blacks who aren't even involved in gang culture, as part of an orchestrated ethnic cleansing program that is forcing black people to flee Los Angeles. The culprit of the carnage is the radical Neo-Nazi liberation theology known as La Raza, which calls for the extermination of all races in America besides Latinos, and is being bankrolled by some of the biggest Globalists in the U.S.A story carried on the liberal website Alternet, charts an explosion in brutal murders of blacks by Hispanic street gangs in L.A. Far from being gang on gang violence, the Latinos are targeting innocent blacks in accordance with a concerted ethnic cleansing campaign that seeks to eradicate all blacks from Hispanic neighborhoods.
In one instance, 21-year-old Anthony Prudhomme was shot in the face with a .25-caliber semi-automatic while lying on a futon inside his apartment, slain by a Latino gang known as the Avenues as part of a racist terror campaign in which gang members earn "stripes" for each black person they kill.
In one typical case," writes journalist Brentin Mock, "Three members of the Pomona 12 attacked an African-American teenager, Kareem Williams, in his front yard in 2002. When his uncle, Roy Williams, ran to help his nephew, gang member Richard Diaz told him, "Niggers have no business living in Pomona because this is 12th Street territory." According to witnesses, Diaz then told the other gang members, "Pull out the gun! Shoot the niggers! Shoot the niggers!"
The fatwah against blacks began in the mid-
nineties, with a 1995 LAPD report concluding
that Latinos had vowed to "Eradicate black
citizens from the gang neighborhood." In a
follow up report on the situation in east Los
Angeles, the LAPD warned that "Local gangs
will attack any black person that comes into
The author notes that since 1990 the African-American population of Los Angeles has halved, partly as a result of rampant illegal immigration and that there are noticeably fewer blacks walking the streets because many have been forced to relocate in fear of the racist gangs.
"The LAPD estimates there are now 22,000 Latino gang members in the city of Los Angeles alone. That's not only more than all the Crips and the Bloods; it's more than all black, Asian, and white gang members combined. Almost all of those Latino gang members in L.A. -- let alone those in other California cities -- are loyal to the Mexican Mafia. Most have been thoroughly indoctrinated with the Mexican Mafia's violent racism during stints in prison, where most gangs are racially based," writes Mock.
Mock blames the "Mexican Mafia" for ordering the campaign of ethnic cleansing from prison, as part of a turf war with the Black Guerilla family, another prison gang, but fails to pinpoint the racist creed from which the Mexican kingpins draw their inspiration - the long standing Aztlan invasion agenda.
Aztlan's goal, known as La reconquista, is to cede and take over the entirety of the southern andwestern states by any means necessary and impose a Communist militant dictatorship. President
WHILE YOU WERE SLEEPING, MEXICO WAS LOOTING, MURDERING and SENDING BILLIONS BACK TO MEXICO!
THE COUNTY OF MEX-GANG INFESTED LOS ANGELES PUTS OUT ONE BILLION DOLLARS TO ILLEGALS!
(FYI – LOS ANGELES MAYOR ANTONIO VILLARAIGOSA IS A MEMBER OF THE FASCIST SEPARATIST MOVEMENT OF
M.E.Ch.A.
HE IS CONSIDERED HIGHLY RACIST AND A MEX SUPREMACIST. HE PLANS TO RUN FOR GOV OF MEX INFESTED MEXIFORNIA, AND WILL BE ELECTED BY THE VOTES OF ILLEGALS!!!)
Despite the fact that the majority of documented hispanics oppose illegal immigration, as do the majority of Americans,
Aztlan and La Raza race hate groups have become the self-appointed voice for a separatist movement that threatens a violent overthrow of the Constitutional system and a barbaric program of ethnic cleansing.
This is held up by the media as 'diversity' and to vociferously oppose it is scorned as racism.
Aztlan and Mecha groups advocate killing all whites and blacks and driving them out of the southern states by means of brutal ethnic cleansing.
Flags and placards carried at marches depict white people having their heads cut off, as seen in the picture below.

Those that protest such groups are then attacked by the establishment media and labeled as racists, despite the fact that the Plan of San Diego, a rallying cry for the hispanic Klan groups, advocates total eradication of any race but hispanics.

Mecha's own slogan reads, "For the race everything. For those outside the race, nothing."
TV stations owned by rich white industrialists erect giant billboards in Los Angeles claiming the city belongs to Mexico, as seen below.

Mainstream hispanics who love America abhor the virulent racism that the Mexican klan groups embrace.

And who bankrolls these pocket radicals? Billionaire tax-exempt foundations and NGO's owned by white men. Organizations like the Ford Foundation, groups who are zealous in their quest to eliminate the middle class and destroy America, turning it into a cashless society, compact city, surveillance control grid where only two tiers of society exist - the elite and the poor slaves.

During the May immigration protests, The Aztlanwebsite carried the following statement.

"If the racist "Sensenbrenner Legislation" passes the US Senate, there is no doubt that a massive civil disobedience movement will emerge. Eventually labor union power can merge with the immigrant civil rights and "Immigrant Sanctuary" movements to enable us to either form a new political party or to do heavy duty reforming of the existing Democratic Party. The next and final steps would follow and that is to elect our own governors of all the states within Aztlan."

Here is the open call for violent separatism and the overthrow of existing state government structures.

During the immigration demonstrations, which were orchestrated by Rob Allyn of Rob Allyn & Co. who is closely tied with George W. Bush, alarming reports of illegals carrying out violent beatings began to surface. In Santa Ana California, illegal aliens swarmed around in mobs invading schools, carrying out violent beatings and in one incident a county worker had a Mexican flag plunged into his chest.
The violent protests that began on May 1 last year were characterized by throngs marching under Mexican flags, many of which were illegal aliens, as a "day without gringos."

Imagine what the reaction would be if white middle class Americans marched in their millions and called the event "a day without blacks."

The media continues to run defense for a violent militant movement that seeks nothing less than the eradication of blacks and whites through ethnic cleansing and the takeover of the southern and western states. This is a separatist junta that has over 30,000 ruthless gang members at its disposal once the call for mobilization is heard, along with millions of illegal aliens pouring across the border.
"In Mexico, a recent Zogby poll declared that the vast majority of Mexican citizens hate Americans. [22.2] Mexico is a country saturated with racism, yet in denial, having never endured the social development of a Civil Rights movement like in the US--Blacks are harshly treated while foreign Whites are often seen as the enemy. [22.3] In fact, racism as workplace discrimination can be seen across the US anywhere the illegal alien Latino works--the vast majority of the workforce is usually strictly Latino, excluding Blacks, Whites, Asians, and others."
"Brown then let her true MSM colors show with a softball question to Murguia implying that opposition to illegal immigration is veiled racism: "What are the racial undertones to this debate for many people? Is that something that worries you?" Murguia was only too happy to be worried, alleging that there are "racial undertones, anti-ethnic overtones." That's when Dobbs got off perhaps his best line of the morning. "The National Council of La Raza is talking about race? La Raza - what does that mean? It means 'the race'!"
SOME HISTORY OF THE MEXICAN FASCIST PARTY of LA RAZA:
ON THE GROWIN POWER OF "LA RAZA" FASCISM FOR MEX SUPREMACY
Now you sound off. Should the United States taxpayer be funding the National Council of La Raza? THE MEXICAN FASCIST PARTY of LA RAZA FOR MEXICAN SUPREMACY
HIGHLY GRAPHIC VIDEO!
AMERICA'S OPEN AND UNDEFENDED BORDERS:

LA RAZA HEROIN CARTELS CUT HEART OUT OF LIVING MAN AND BEHEAD HIS PARTNER!

MEXICANS ARE THE MOST VIOLENT CULTURE IN THE WESTERN HEMISPHERE!

Heather Mac Donald of the Manhattan Institute has testified before a Congressional committee that in 2004, 95% of all outstanding warrants for murder in Los Angeles were for illegal aliens; in 2000, 23% of all Los Angeles County jail inmates were illegal aliens and that in 1995, 60% of Los Angeles's largest street gang, the 18th Street gang, were illegal aliens.

Granted, those statistics are old, but if you talk to any California law enforcement officer, they will tell you it's much worse today.
GRAPHIC — Two Cartel Gunmen Killed in Grenade Attack Against Mexican Cops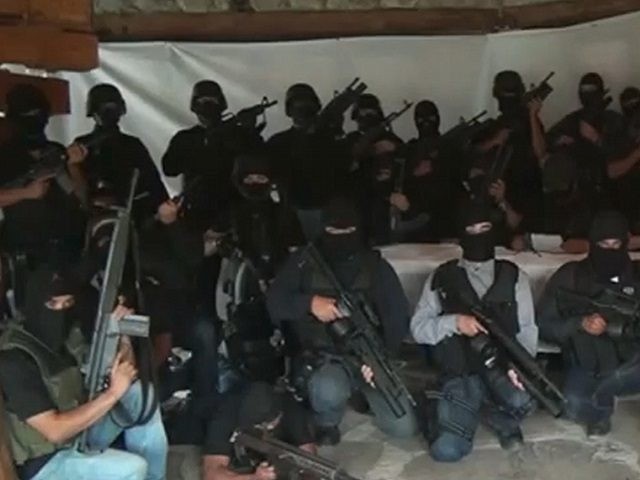 Police officers fighting off a grenade attack managed to kill two cartel gunmen in the Mexican coastal state of Veracruz. The area continues to be one of the most violent as rival criminal organizations fight for control of shipping ports.
The ambush took place in Rio Blanco when state police officers spotted a group of suspicious men began throwing grenades at them and shooting.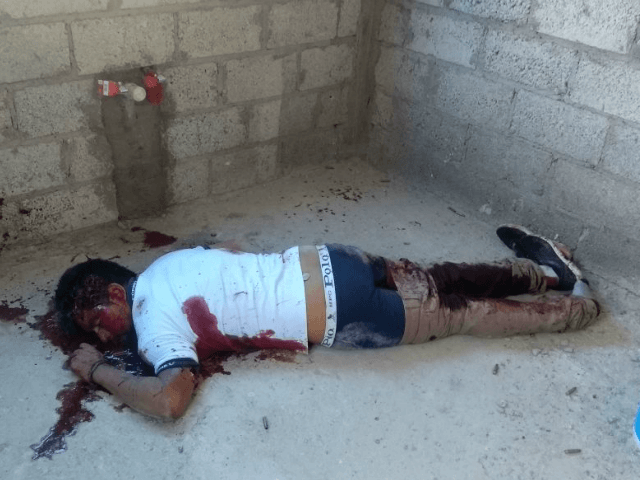 The police officers fought off the attack, killing two of the gunmen and injuring a third who managed to escape. Authorities were able to seize various weapons and a small sedan.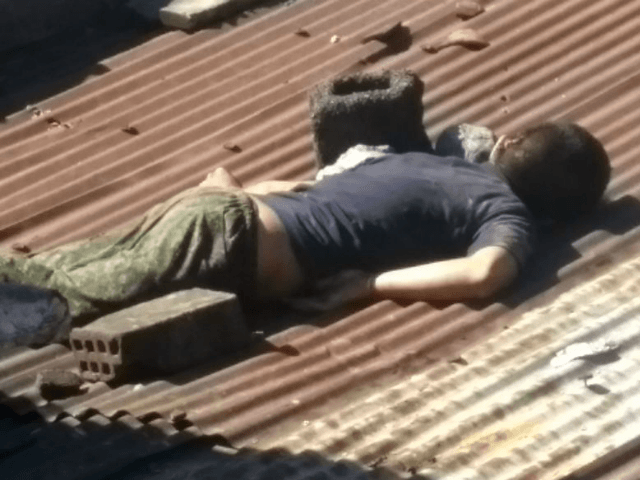 State investigators have not released which cartel the gunmen belong to.
Editor's Note: Breitbart Texas traveled to the Mexican States of Tamaulipas, Coahuila, and Nuevo León to recruit citizen journalists willing to risk their lives and expose the cartels silencing their communities. The writers would face certain death at the hands of the various cartels that operate in those areas including the Gulf Cartel and Los Zetas if a pseudonym were not used.
Breitbart Texas' Cartel Chronicles
are published in both English and in their original
Spanish
. This article was written by Tony Aranda from Nuevo León.
You will hear a lot about these Mexicans in 2018
Over the next few months, the Mexican presidential campaign will hit the front pages. The vote is in early July.
So let me introduce you to some of the names and the one issue that the winner will face. The three major players are:
- José Antonio Meade-Kuribrena of the PRI. This is the party that governed Mexico for over 70 years and the political home of incumbent President Enrique Peña-Nieto. They are often known as the "partido oficial," or a cynical reference to their control of the bureaucracy. They're the Mexican version of the "Deep State" party.
- Ricardo Anaya-Cortés of the PAN. This is a conservative party very popular in the north of Mexico. A friend of mine calls them "los republicanos mexicanos," a reference to their ideological similarity to the GOP. They are often accused of being too close to the Catholic Church and of promoting states' rights.
- Andrés Manuel López-Obrador of the left-of-center MORENA.
This election, as my friend Allan Wall explained, is unusual because of political coalitions that have brought parties from different corners to support the PAN and MORENA.
One of these three men will be next president of Mexico.
At the moment, López-Obrador is leading in some polls, in large part because he's been around for a long time. He was mayor of Mexico City and a candidate in 2006 and 2012 (Consulta Mitofsky poll, AMLO 27.1%, Anaya 22.3%, and Meade 18.0%).
At the moment, it's too early to tell, but I'd keep an eye on Mr. Meade, because he will have the PRI's electoral machinery on his side.
Meade and Anaya would be fairly conventional presidents. López-Obrador promotes himself as the man who will stand up to Trump, but we're not sure what that really means. López-Obrador was always opposed to NAFTA, whereas Meade and Anaya support it.
A

fter a three-year rise in murders, 2017 was the most violent year in Mexico's recent history.

The more than 29,000 murders registered by the National Public Security System represented a 27 percent jump from 2016, and a nearly 60 percent increase since 2014.

As is usually the case, organized crime was the chief driver of this wave of bloodshed.
Every conversation I have with Mexican friends or visitors confirms that "inseguridad" or insecurity is issue number one.
Hispanic judge Trump once disparaged as

'Mexican' rules in favor of border wall
construction
by

Kelly Cohe

n

| Feb 27, 2018
U.S. District Judge Gonzalo Curiel on Tuesday rejected arguments by the state of California and advocacy groups that the Trump administration overreached by waiving laws requiring environmental and other reviews before construction on a southern border wall could begin. (AP Photo/Elliott Spagat, File)