"Heather Mac Donald of the Manhattan Institute has testified before a Congressional committee that in 2004, 95% of all outstanding warrants for murder in Los Angeles were for illegal aliens; in 2000, 23% of all Los Angeles County jail inmates were illegal aliens and that in 1995, 60% of Los Angeles's largest street gang, the 18th Street gang, were illegal aliens."



AMERICAN POVERTY and the LA RAZA MEXICAN WELFARE STATE on AMERICA'S BACKS.



Every day there are 12 Americans (Legals) murdered and 8 children molested by LA RAZA OCCUPYING MEXICANS!

MARK LEVIN: 'THERE IS A BIG, UGLY SIDE TO ILLEGAL IMMIGRATION

THURSDAY ON LEVIN TV, NATIONALLY SYNDICATED RADIO SHOW HOST MARK LEVIN WARNED ABOUT THE DANGERS OF ILLEGAL IMMIGRATION SAYING, "THERE IS A BIG, UGLY SIDE OF ILLEGAL IMMIGRATION," LEVIN SAID. "THERE'S ALL KINDS OF CRIMES BEING COMMITTED BY PEOPLE WHO AREN'T SUPPOSED TO BE HERE."



ILLEGAL IMMIGRATION AND CRIME
The stunning numbers the Left cannot refute.
January 3, 2018
On December 21, 2017 the Department of Justice issued a press release, "Departments of Justice and Homeland Security Release Data on Incarcerated Aliens—94 Percent of All Confirmed Aliens in DOJ Custody Are Unlawfully Present."
The initial statistic cited in the title of that DOJ press release shows that there is a truly significant distinction to be drawn between aliens who are lawfully present in the United States and aliens who are illegally present in the United States, either because they have entered the United States illegally or they have violated the terms of admission after entering the United States via the inspections procedure at ports of entry.
The press release begins with the following statement:
President Trump's Executive Order on Enhancing Public Safety in the Interior of the United States requires the Department of Justice (DOJ) and the Department of Homeland Security (DHS) to collect relevant data and provide quarterly reports on data collection efforts. On Dec. 18, 2017, DOJ and DHS released the FY 2017 4th Quarter Alien Incarceration Report, complying with this order. The report found that more than one-in-five of all persons in Bureau of Prisons custody were foreign born, and that 94 percent of confirmed aliens in custody were unlawfully present.
Although immigration anarchists have consistently manipulated language, engaged in tactics of bullying and intimidation and, when all else failed, flat-out lied about every aspect of immigration, the Trump administration is providing the truth.
The DOJ press release, upon which my commentary today is based, lays out the cold, hard and unequivocal facts. It is significant to note that the title of the press release included the phrase, "confirmed aliens in DOJ custody" because all too frequently aliens who face deportation make false claims to United States citizenship to avoid being deported. Therefore there may even be more deportable aliens in federal custody, while the actual number of such aliens in local and state custody are unknown and unknowable particularly in Sanctuary Cities and Sanctuary States.
Here is an excerpt from the press release that provides some quick statistics and a paragraph that addresses the lack of information about aliens in city and state facilities.
A total of 58,766 known or suspected aliens were in DOJ custody at the end of FY 2017, including 39,455 persons in BOP custody and 19,311 in USMS custody. Of this total, 37,557 people had been confirmed by U.S. Immigration and Customs Enforcement (ICE) to be aliens (i.e., non-citizens and non-nationals), while 21,209 foreign-born people were still under investigation by ICE to determine alienage and/or removability.

Among the 37,557 confirmed aliens, 35,334 people (94 percent) were unlawfully present. These numbers include a 92 percent unlawful rate among 24,476 confirmed aliens in BOP custody and a 97 percent unlawful rate among 13,081 confirmed aliens in USMS custody

This report does not include data on the foreign-born or alien populations in state prisons and local jails because state and local facilities do not routinely provide DHS or DOJ with comprehensive information about their inmates and detainees—which account for approximately 90 percent of the total U.S. incarcerated population.
For decades, the truth has been carefully kept from Americans by globalist politicians from both political parties. They have been far more concerned about doing the bidding of the globalist special interest groups that fund their campaigns, than they have been about the threats that open borders and immigration anarchy pose to public safety and national security.
On April 19, 2016, towards the end of the Obama administration, the House Subcommittee on Immigration and Border Security conducted a hearing on the topic, "The Real Victims of a Reckless and Lawless Immigration Policy: Families and Survivors Speak Out on the Real Cost of This Administration's Policies."
I wrote about that hearing in an article which also included links to statements made by Rep. Trey Gowdy, the Chairman of the subcommittee, who opened the hearing with his statement that set the tone for what would follow. Breitbart.com used one of Rep. Gowdy's statements as the title for their article, "Trey Gowdy: More Illegal Immigrants Convicted of Crimes At Large in the U.S. Than The Population of Pittsburgh."
At that same hearing Congressman Lamar Smith noted that although it has been estimated that illegal aliens account for about 3% of the U.S. population, they account for 30% of all murders -- making illegal aliens 10 times more likely to commit murder than anyone else. Adding that huge number of at-large criminal aliens to the huge number of criminal aliens who are incarcerated in prisons provides a measure of the true scope of the immigration crisis that can only be solved by ramping up efforts and resources to secure our nation's borders and enforce our nation's immigration laws from within the interior of the United States.
Beginning with Carter's administration, the globalist immigration anarchists have embarked on a campaign of deceit. Their goal was to erase America's borders and flood America with a virtually unlimited supply of cheap and exploitable workers, an unlimited supply of foreign tourists and foreign students and ultimately new voters who would be indebted to the politicians who made their presence in the United States possible.
To further obfuscate the truth, Carter demanded that all INS employees substitute the term "immigrant" for the term "alien" even though the term alien is an integral part of the immigration laws of the United States and is defined by the Immigration and Nationality Act simply as "Any person, not a citizen or national of the United States. Under his campaign of deceit, illegal aliens were be referred to as "undocumented immigrants" as though all that these illegal aliens lacked was a piece of paper. The truth is that aliens who run our borders are not undocumented, they are un-inspected.
Here is a bit of clarity: the difference between an illegal alien and an immigrant is compared to the difference between a burglar and a houseguest.
Today so-called sanctuary cities betray America, Americans and immigrants and pose a clear and immediate danger to public safety and national security as their leaders resort to similar Orwellian propaganda to justify their dangerous illegal policies. Those cities should be referred to as "magnet cities" because they attract transnational criminals, fugitives and terrorists and flood the labor market with illegal aliens who displace American and lawful immigrant workers and undermine wages and working conditions.
This past year Congress conducted hearings about America's gang crisis, particularly MS-13, once again disclosing the deadly impact of failures of immigration law enforcement.
Today immigration anarchists continue to tell lies. They say that if local police were to work in coordination with immigration law enforcement authorities that illegal alien victims of crime would be fearful of coming forward to report crimes committed against them.
In reality, visas are available for illegal alien crime victims that would enable them to remain in the U.S. if they cooperate with police in identifying the criminals. Other visas are also available for illegal aliens who, although not the victims of crimes, nevertheless provide actionable intelligence to law enforcement to combat criminals and terrorists and the organizations to which they may belong.
Throughout my career with the INS one of my key areas of responsibility was to use my authority as an INS agent to cultivate informants and cooperating witnesses within ethnic immigrant communities to assist in criminal investigations on the local, state and federal levels.
This was particularly true when I was assigned as the first INS representative to the Unified Intelligence Division of the DEA (Drug Enforcement Administration) and subsequently promoted and assigned, as a Senior Special Agent, to the Organized Crime, Drug Enforcement Task Force.
Indeed, this was one of the critical elements of my annual evaluation.
If advocates for Sanctuary Cities were truly concerned about "immigrants" why in the world aren't they providing information about the visas that are available to illegal aliens who cooperate with law enforcement authorities? The answer is self-evident- they don't care about the immigrants, only about promoting their false narrative.
Another deceitful claim is that through implementation of "Comprehensive Immigration Reform" our authorities would be able to get all of the illegal aliens "out of the shadows" so we would finally know who is here.
In reality, terrorists might avail themselves of the opportunity to acquire new identities if their biometrics were not on file while those alien criminals fugitives and terrorist aliens who know that their biometrics are likely on file, would simply remain in the shadows.
CBP (Customs and Border Protection) has more than 60,000 employees, including inspectors at ports of entry and Border Patrol agents. If, as immigration anarchists claim, it does not matter how aliens enter the United States, why do we need to continue to fund CBP?
The answer, of course, is self-evident.
President Trump understands the truth and is acting appropriately. All rational Americans should be appreciative and supportive of his efforts to protect America and Americans.
Audit looks at migrant re-arrests
(UNFORTUNATELY THESE STATS ARE HIGHLY DATED)
McClatchy Newspapers
Jan. 9, 2007
WASHINGTON - Some illegal immigrants are being released from prison only to be arrested on new charges despite government efforts to deport them and keep them out of the country.
The findings are part of an audit by Justice Department Inspector General Glenn Fine that suggest authorities are still struggling to deport illegal immigrants who commit crimes, even though most state and local authorities are notifying immigration authorities of the imminent release of prisoners.
Fine's office analyzed the cases of 100 immigrants who had served time in prison and found 73 of them were rearrested after being released.
On average, each immigrant was rearrested six times, ranging from traffic violations to assault.
Fine's office couldn't determine how many illegal immigrants had been rearrested overall because immigration authorities don't keep track.
If the sample was any indication, "The rate at which released criminal aliens are rearrested is extremely high," the report said.
Last year, Homeland Security's inspector general said immigration authorities expected that most of the 300,000 illegal and legal immigrants eligible to be deported would be released.
Federal officials said they would need 34,000 additional beds at a cost of $1.1 billion to detain and remove all of them.
Some Illegal Immigrants Have Been Arrested and Re-Arrested 6 Times
Some Illegal Immigrants have been arrested and Re-Arrested 6 Times - Illegal Immigrants arrested for being in the United States illegally may have been charged up to six more times, for more serious crimes, after they were released by local authorities. Additionally, the number of illegal immigrants deported after being declared a felon is on the rise.
The Justice findings by department Inspector General Glenn A. Fine examined the criminal histories of 100 illegal immigrants arrested and then released by local and state authorities in 2004, the latest complete data available. Of the sample group of 100, according to the audit, 73 immigrants were later arrested a collective 429 times - on charges ranging from traffic tickets to weapons and drug charges.
The data suggest "the rate at which released criminal aliens are re-arrested is extremely high," the audit noted. The report, parts of which were redacted, was required by Congress in 2005 and looked at how local and state authorities that receive Justice Department funding are working with the Homeland Security Department.
For years, the government was forced to release thousands of illegal immigrants who were caught in the United States because of not enough jail space and other resources. But last fall, with immigration as a key election-year priority, Homeland Security declared it would detain 99 percent of non-Mexican illegal immigrants until they could be returned to their home nations. The policy generally does not apply to Mexicans, who are almost immediately returned to Mexico after being stopped by Border Patrol agents.
The Justice audit, however, only looked at immigrants who were arrested and released by local and state authorities before they could be turned over to Homeland Security to be detained or deported.
In all, 752 cities, counties and states participating in the program received $287 million in 2005, the audit noted.
Five states - California, New York, Texas, Florida and Arizona - received the bulk of the money, together pulling in more than $184 million.
Assistant Attorney General Regina B. Schofield, who oversees the Office of Justice Programs that controlled the funding, declined comment on the audit, noting that it does not contain any recommendations.
A separate report by the Transactional Records Access Clearinghouse at Syracuse University showed that the number of immigrants who were deported as "aggravated felons" doubled over the last 15 years, from 10,303 in 1992 to an estimated 23,065 in 2006.
But TRAC, which obtained the data from the Justice Department's Executive Office of Immigration Review, noted concerns that some of those immigrants never committed felonies.
"An individual can be declared an aggravated felon on the basis of a conviction on misdemeanor charges such as shoplifting," the TRAC report concluded.
What would the May 1, 2006, illegal immigration boycott look like without illegal immigration?
The lives of 12 U.S. citizens would be saved who otherwise would die a violent death at the hands of murderous illegal aliens each day.
Another 13 Americans would survive who are otherwise killed each day by uninsured drunk driving illegals.
There would be no one to smuggle across our southern border the heroin, marijuana, cocaine, and methamphetamines, which plague the United States, reducing the U.S. supply of methamphetamines that day, by 80%.
Our hospital emergency rooms would not be flooded with everything from gunshot wounds, to anchor babies, to imported diseases, to hangnails, giving American citizens the day off from standing in line behind illegals.
Eight American children would not suffer the horror as victims of sex crimes.
I'll bet you did not see Congressman King's comments on the evening news.
MEXICANOCCUPATION.blogspot.com
The Violent Crimes Institute in Atlanta is a real place. They did a real study. These are the real results. 'Based on a one-year in-depth study, Deborah Schurman-Kauflin of the Violent Crimes Institute of Atlanta estimates there are about 240,000 illegal immigrant sex offenders in the United States who have had an average of four victims each. She analyzed 1,500 cases from January 1999 through April 2006 that included serial rapes, serial murders, sexual homicides and child molestation committed by illegal immigrants.'
FBI DIRECTOR: GANGS 2006
"The violent MS-13 - or Mara Salvatrucha - street gang is following the migratory routes of illegal aliens across the country, FBI officials say, calling the Salvadoran gang the new American mafia. MS-13, has a significant presence in the Washington area, and other gangs are spreading into small towns and suburbs by following illegal aliens seeking work in places such as Providence, R.I., and the Carolinas, FBI task force director Robert Clifford said.
"The migrant moves and the gang follows," said Mr. Clifford, director of the agency's MS-13 National Gang Task Force."
INS/FBI Statistical Report on Undocumented Immigrants 2006 (First Quarter) INS/FBI Statistical Report on Undocumented Immigrants CRIME STATISTICS
95% of warrants for murder in Los Angeles are for illegal aliens.
83% of warrants for murder in Phoenix are for illegal aliens.
86% of warrants for murder in Albuquerque are for illegal aliens.
75% of those on the most wanted list in Los Angeles, Phoenix and Albuquerque are illegal aliens.
24.9% of all inmates in California detention centers are Mexican nationals here illegally
40.1% of all inmates in Arizona detention centers are Mexican nationals here illegally
48.2% of all inmates in New Mexico detention centers are Mexican nationals here illegally
29% (630,000) convicted illegal alien felons fill our state and federal prisons at a cost of $1.6 billion annually
53% plus of all investigated burglaries reported in California, New Mexico, Nevada, Arizona and Texas are perpetrated by illegal aliens.
50% plus of all gang members in Los Angeles are illegal aliens from south of the border.
71% plus of all apprehended cars stolen in 2005 in Texas, New Mexico, Arizona, Nevada and California were stolen by Illegal aliens or "transport coyotes".
47% of cited/stopped drivers in California have no license, no insurance and no registration for the vehicle. Of that 47%, 92% are illegal aliens.
63% of cited/stopped drivers in Arizona have no license, no insurance and no registration for the vehicle. Of that 63%, 97% are illegal aliens
66% of cited/stopped drivers in New Mexico have no license, no insurance and no registration for the vehicle. Of that 66% 98% are illegal aliens.
Violent Crime Up Twice the National Average in Part of California
Photo: Twitter/@ArlingtonPD
Violent crime is up across the country, but in some pockets of California, violent offenses — including murder, rape, robbery and assault — are up twice the national average, according to an FBI report released Monday.
While property crimes were down both nationally and in California, violent crimes spiked almost 4% in the Golden State, even though some in academia made a point to downplay the dramatic increase, according to the
San Francisco Chronicle
:
In California, 1,930 people were slain last year, an increase of 3.7 percent that came on the heels of a rise of 9.7 percent the previous year. But the 2016 rate — 4.9 victims for every 100,000 population — is relatively low compared with the rate 10 years earlier (6.9) and far lower than the rate in 1980 (14.4).
"The overall picture is that homicide and violent crime rates went up dramatically in the 1970s and '80s and '90s, and then underwent a dramatic drop in the last 20 years, and leveled off," said Robert Weisberg, a Stanford University criminal law professor and co-director of the school's Criminal Justice Center.
The FBI's 2016 numbers, he said, "are not inconsistent with that."
Still, Bay Area law enforcement officials have expressed concern about the recent trend, opening up a debate over whether crime has gone up due to several factors, including the effort to reduce jail and prison populations and a struggle in some places to recruit and retain officers.
And Bay Area law enforcement officials are not the only ones wondering if recent prison and sentencing reforms have led to the dramatic increase.
[v]iolent crime rate — which includes the number of homicides, rape, robbery and assault — was 716.3 per 100,000 people in 2016. Nationally, the violent crime rate was 386.3.
With
violent crime in Sacramento
rising at twice the national rate, there are additional questions about the impact of Gov. Jerry Brown's signature prison reform, known as "AB109 Realignment." That measure transferred many dangerous and violent felons from state to county supervision, and effectively commuted many sentences. It also put violent felons back on the streets and ended state parole supervision for those offenders altogether.
In February, California's law enforcement community was rocked when a Whittier police officer, Keith Boyer, 53, was
murdered by an unsupervised AB109 offender
, who would have been behind bars had he been subject to state parole supervision.
Tim Donnelly
is a former California State Assemblyman and Author, currently on a book tour for his new book:
Patriot Not Politician: Win or Go Homeless
. He also ran for governor in 2014.
THE HORDES OF ILLEGALS KEEP COMING…. Despite America's jobs, housing and Mexican crime tidal wave.
"If the racist "Sensenbrenner Legislation" passes the US Senate, there is no doubt that a massive civil disobedience movement will emerge. Eventually labor union power can merge with the immigrant civil rights and "Immigrant Sanctuary" movements to enable us to either form a new political party or to do heavy duty reforming of the existing Democratic Party. The next and final steps would follow and that is to elect our own governors of all the states within Aztlan."
Everyday there are 12 Americans murdered and 8 children molested by Mexicans!
Steinle's murderer, Jose Zarate and been deported 5xs!
"While walking with her father on a pier in San Francisco in 2015, Steinle was shot by the illegal alien. Steinle pleaded with her father to not let her die, but she soon passed in her father's arms."
Adios, California
A fifth-generation Californian laments his state's ongoing economic collapse.
By Steve Baldwin
American Spectator, October 19, 2017
What's clear is that the producers are leaving the state and the takers are coming in. Many of the takers are illegal aliens, now estimated to number over 2.6 million.
The Federation for American Immigration Reform estimates that California spends $22 billion on government services for illegal aliens, including welfare, education, Medicaid, and criminal justice system costs.
Liberals claim they more than make that up with taxes paid, but that's simply not true. It's not even close. FAIR estimates illegal aliens in California contribute only $1.21 billion in tax revenue, which means they cost California $20.6 billion, or at least $1,800 per household.
Nonetheless, open border advocates, such as Facebook Chairman Mark Zuckerberg, claim illegal aliens are a net benefit to California with little evidence to support such an assertion. As the Center for Immigration Studies has documented, the vast majority of illegals are poor, uneducated, and with few skills. How does accepting millions of illegal aliens and then granting them access to dozens of welfare programs benefit California's economy? If illegal aliens were contributing to the economy in any meaningful way, California, with its 2.6 million illegal aliens, would be booming.
Furthermore, the complexion of illegal aliens has changed with far more on welfare and committing crimes than those who entered the country in the 1980s.
Heather Mac Donald of the Manhattan Institute has testified before a Congressional committee that in 2004, 95% of all outstanding warrants for murder in Los Angeles were for illegal aliens; in 2000, 23% of all Los Angeles County jail inmates were illegal aliens and that in 1995, 60% of Los Angeles's largest street gang, the 18th Street gang, were illegal aliens.
Granted, those statistics are old, but if you talk to any California law enforcement officer, they will tell you it's much worse today. The problem is that the Brown administration will not release any statewide data on illegal alien crimes. That would be insensitive. And now that California has declared itself a "sanctuary state," there is little doubt this sends a message south of the border that will further escalate illegal immigration into the state.
"If the racist "Sensenbrenner Legislation" passes the US Senate, there is no doubt that a massive civil disobedience movement will emerge. Eventually labor union power can merge with the immigrant civil rights and "Immigrant Sanctuary" movements to enable us to either form a new political party or to do heavy duty reforming of the existing Democratic Party. The next and final steps would follow and that is to elect our own governors of all the states within Aztlan."
Indeed, California goes out of its way to attract illegal aliens. The state has even created government programs that cater exclusively to illegal aliens. For example, the State Department of Motor Vehicles has offices that only process driver licenses for illegal aliens. With over a million illegal aliens now driving in California, the state felt compelled to help them avoid the long lines the rest of us must endure at the DMV.
And just recently, the state-funded University of California system announced it will spend $27 million on financial aid for illegal aliens.
They've even taken out radio spots on stations all along the border, just to make sure other potential illegal border crossers hear about this program.
I can't afford college education for all my four sons, but my taxes will pay for illegals to get a college education.
America builds the La Raza "The Race" Mexican welfare state
http://www.judicialwatch.org/blog/2017/09/illegal-immigration-costs-u-s-taxpayers-stunning-134-9-billion-year/
JUDICIAL WATCH:
"The greatest criminal threat to the daily lives of American citizens are the Mexican drug cartels."
"Mexican drug cartels are the "other" terrorist threat to America. Militant Islamists have the goal of destroying the United States.
Mexican drug cartels are now accomplishing that mission – from within, every day, in virtually every community across this country." JUDICIALWATCH
"Mexican authorities have arrested the former mayor of a rural community in the border state of Coahuila in connection with the kidnapping, murder and incineration of hundreds of victims through a network of ovens at the hands of the Los Zetas cartel. The arrest comes after Breitbart Texas exposed not only the horrors of the mass extermination, but also the cover-up and complicity of the Mexican government."
"Heroin is not produced in the United States. Every gram of heroin present in the United States provides unequivocal evidence of a failure of border security because every gram of heroin was smuggled into the United States. Indeed, this is precisely a point that Attorney General Jeff Sessions made during his appearance before the Senate Judiciary Committee hearing on October 18, 2017 when he again raised the need to secure the U.S./Mexican border to protect American lives."
Michael Cutler …..FrontPageMag.com
THE MEXICAN DRUG CARTELS OPERATING IN AMERICA'S OPEN BORDERS
Overall, in the 2017 Fiscal Year, officials revealed that a record-breaking 455,000 pounds plus of drugs had already been seized. In 2016, that number amounted to 443,000 pounds. The 2017 haul is worth an estimated $6.1 billion – BREITBART – JEFF SESSION'S DRUG BUST ON SAN DIEGO
THEY INVADE OVER AND UNDER OUR BORDERS… and do so by invitation of the Democrat Party.
Lawmen are worried that the cartel tunnel builders on the Mexican border are now using their engineered concoctions to smuggle illegals, not merely drugs.
That's what the Daily Caller has found,
describing
the new anxiety as one was discovered over the weekend, catching about 30 illegals coming in from Mexico and China. MONICA SHOWALTER – AMERICAN THINKER.com
Surprise! Trump's Order Cutting Funding To Sanctuary Cities Isn't Dead Yet
Back in November,
we saw yet another judge
wading into challenges to one of Donald Trump's executive orders, this one regarding sanctuary cities. The Attorney General has been in a battle with the city of Chicago over their opposition to an order which would force cities to comply with basic rules of cooperation with federal immigration officials. Their first trip to court unfortunately wound up in the Ninth Circuit after Judge William Orrick III (a well known and
generous Democratic donor
) sided with the plaintiffs. The appeals process is moving forward, though, and now the Attorneys General of eleven states
are weighing in on behalf of the administration
. (Bloomberg)
A coalition of 11 mostly Republican-led states urged a federal appeals court to enforce U.S. President Donald Trump's executive order punishing so-called sanctuary cities, which largely forbid local law enforcement from cooperating with federal immigration authorities.

The group filed a joint brief last week urging the appeals court in San Francisco to reinstate a January directive in which Trump threatened broad cuts in funding for jurisdictions that don't assist efforts to deport undocumented immigrants. The states, led by West Virginia Attorney General Patrick Morrisey and his Louisiana counterpart, Jeff Landry, argued sanctuary cities undermine Trump's immigration-enforcement authority and make the country less safe.

Trump has warned that violent Latino gangs flourish in sanctuary cities, while many Democratic-led states and cities contend that cooperation with federal officials drains local resources and risks infringing citizens' rights. The other states backing Trump in the San Francisco fight are Alabama, Arkansas, Florida, Kansas, Nevada, Ohio, Oklahoma, South Carolina and Texas.
Trump is getting some additional support on this front from the NSA. No…
not that NSA
. I'm talking about
the National Sheriff's Association
. They are onboard with cutting grant money to Chicago unless they decide to comply with federal law and support immigration officials. (Daily Caller)
The National Sheriffs' Association (NSA) came out in favor of the Department of Justice (DOJ) Thursday in Attorney General Jeff Sessions's push to withhold funds from Chicago and other sanctuary cities.

The NSA — which represents more than 3,000 sheriffs nationwide — will file an amicus brief in support of the DOJ in ongoing litigation between Sessions and the city of Chicago, The Daily Caller News Foundation has learned. Chicago sued the DOJ in August over his order to withhold certain funding grants from sanctuary cities, and the city won the case in September, but the DOJ has appealed the decision. Notably, the judge's September ruling included a nationwide injunction on Sessions's order, which effectively blocked funds from reaching non-sanctuary jurisdictions as well.
The NSA isn't really focusing on the general question of sanctuary cities overall. Their Executive Director, Jonathan Thompson, is quoted as saying, "It's that the political actions of one jurisdiction should never affect thousands of other counties. That's what's happening here and we find that objectionable." This is a point which has been raised before, but there doesn't seem to be much to be done about it. Once the order is issued, the administration has to fight it through to the top if need be. Of course, given the track record of resistance to Trump's travel ban, the odds of this order standing up aren't looking too bad.
Keep in mind that we're not talking about direct funding which has been appropriated for specific cities by Congress. The money in question is set aside for the executive branch to distribute in the form of Edward Byrne Memorial Justice Assistance Grants. These JAG grants are not automatically given to any jurisdiction. (yes, pedants, I realize "JAG Grants" is redundant, but "JAGs" just sounds awful.) There's an application process to go through and not every request is granted. The idea that the federal government can't require certain benchmarks to qualify for the funds sounds like yet another thing which the Supremes will shoot down when they get their hands on it.
But in the meantime, the #RESIST movement marches on, attempting to use the courts to gum up the works at every turn. This isn't going to last forever, though. Much like the travel ban, if SCOTUS weighs in and clarifies the White House's ability to issue certain orders, subsequent objections will fall flat immediately.
https://hotair.com/archives/2018/01/02/surprise-trumps-order-cutting-funding-sanctuary-cities-isnt-dead-yet/?utm_source=hadaily&utm_medium=email&utm_campaign=nl
Border Patrol: Assaulted on the Front Line
Assaults on Border Patrol agents up 73 percent in 2017, prosecutions low
December 26, 2017 1:04 pm
Last Updated: January 2, 2018 11:42 am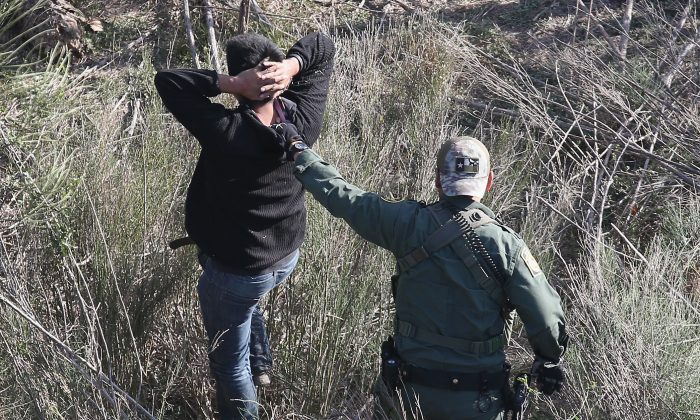 WASHINGTON—Border Patrol agents routinely face drug traffickers, cartel and gang members, human smugglers, and other criminals crossing illegally into the United States. They get rocks thrown at them; they're shot at, punched, kicked, and beaten.
The agents are the first line of defense against the illegal flow of people and contraband—most of which crosses the 2,000-mile southwest border.
And assaults against agents are shooting upward as the border tightens and people get more desperate to evade Border Patrol.
Assaults increased along the border by 73 percent in fiscal year 2017, with 786 cases of assault on a Border Patrol agent reported, compared with 454 in fiscal 2016.
The Rio Grande Valley Sector in Texas is the most dangerous for agents, with 357 assaults recorded in fiscal 2017 up to the end of August—almost triple the number there in fiscal 2016 (134 assaults).
Customs and Border Protection (CBP), under which the Border Patrol sits, was reticent about the reason for the spike. "We won't speculate as to the cause for the increase," a spokesperson said.
However, Chris Cabrera, Border Patrol agent in the Rio Grande Valley and spokesman for the National Border Patrol Council, said he sees several factors behind the increase.
One is a lack of manpower.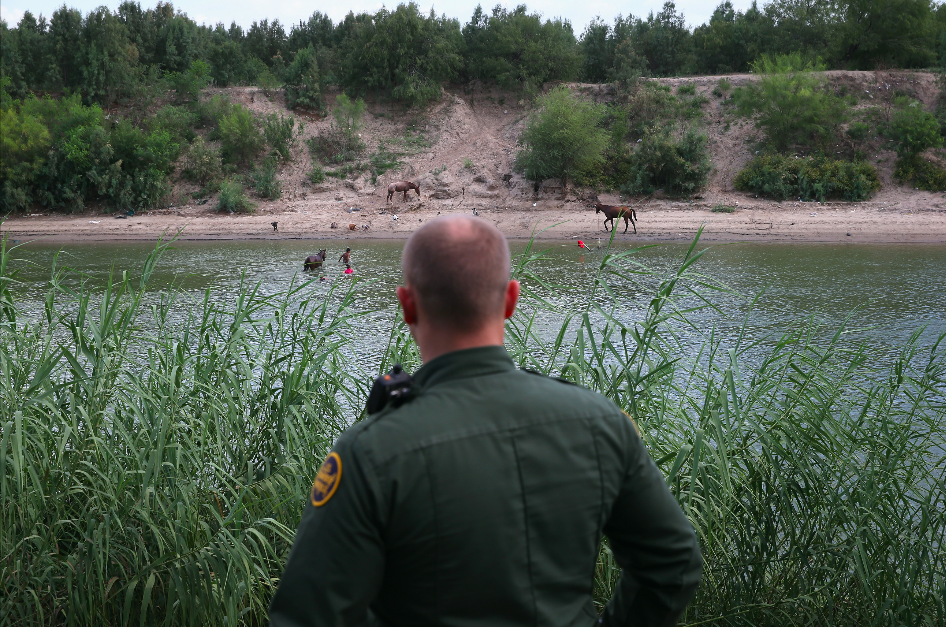 The Rio Grande Valley sector has the highest flow of illegal crossings in the country. In fiscal 2017, the vast majority of the almost 304,000 illegal border crossers came through this sector. Many of them were classified as unaccompanied minors and family units (at least one adult and one child), who seek out the Border Patrol so they can be processed as asylum cases and gain entry to the United States.
"Many agents are being pulled into the station to process these unaccompanied [minors], and women and children that are coming across, so we don't have as big of a footprint out in the field than what we'd like to have," Cabrera said.
Agents often work alone in the field, but they remain in constant communication and request backup whenever they're responding to activity.
The current 19,437 agents is well short of the 21,370 congressionally mandated positions, and President Donald Trump wants an extra 500 agents in 2018 on top of that. He has earmarked $300 million in his fiscal 2018 budget to recruit, hire, and train 500 new Border Patrol agents. The fiscal 2017 budget for Border Patrol was $3.8 billion.
Although the total number of illegal border crossings are lower this year—mostly due to the Trump administration's focus on stopping illegal immigration—the numbers since May have steadily climbed back up to similar levels seen in the last several years.
Cabrera said in a congressional testimony in March 2015, that "at best, we apprehend 35 percent to 40 percent of the illegal immigrants attempting to cross. This number is even lower for drug smugglers, who are much more adept at eluding capture."
He said last week that he believes that percentage hasn't yet increased.
Justice System
Although more boots on the ground would make a big difference, Cabrera's main beef is with the justice system for not cracking down on those who do assault agents.
"The assistant U.S. attorneys are pretty soft on criminals who assault our agents," he said. "So they choose to assault our agents because they know they're not going to face any jail time if they do."
Assaults on Border Patrol agents are investigated by the FBI, who present the cases to the relevant assistant U.S. attorneys.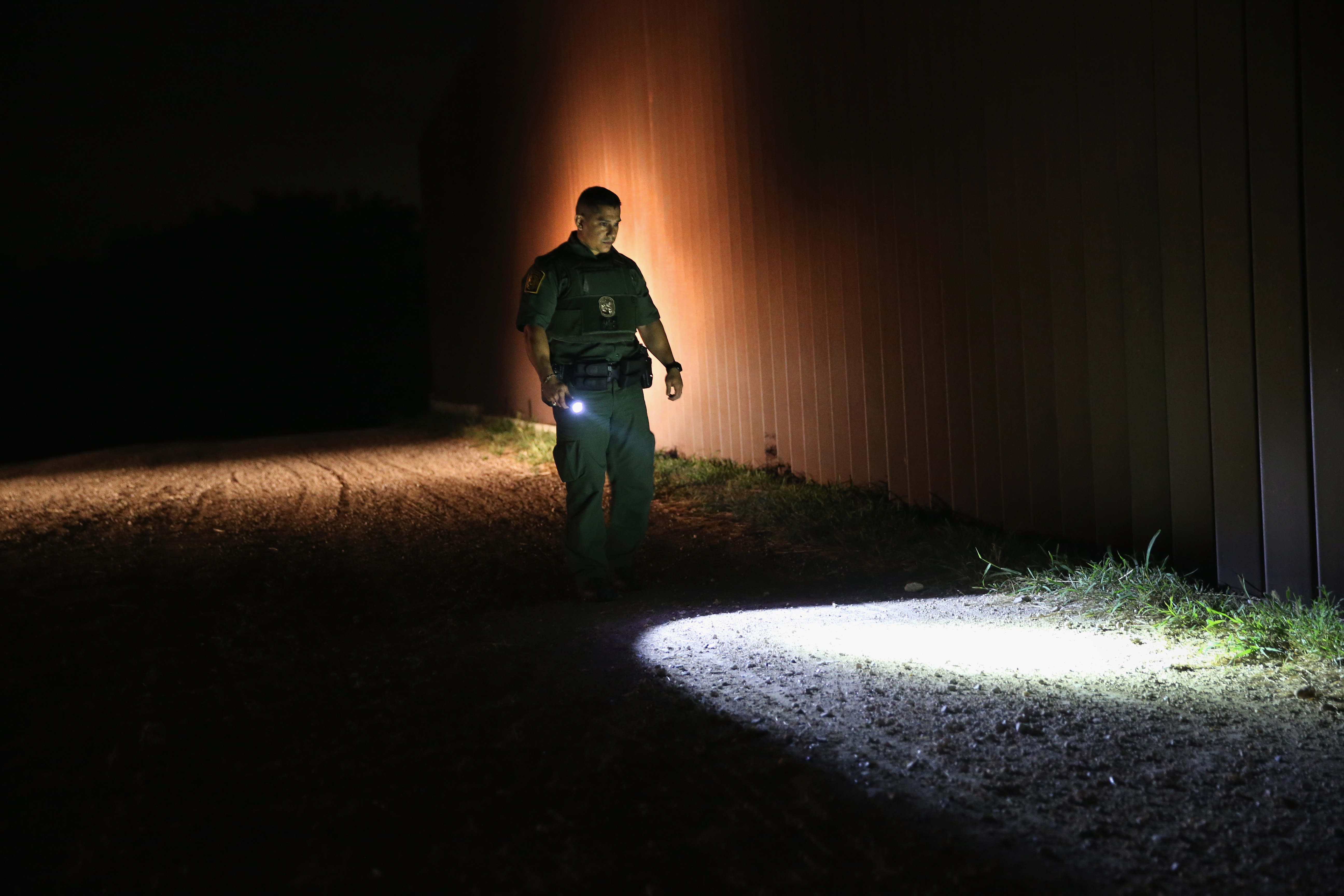 The 2016 statistics from the FBI show that 476 suspects were identified in 503 assaults on all Department of Homeland Security officers (including Border Patrol, Secret Service, and CBP).
Of the 476, only 19 had dispositional information available. Of the 19 suspects, seven were awaiting trial; four were fugitives; four were found guilty; three had their prosecutions declined; and one was found not guilty or had their charges dismissed. The FBI did not respond to questions about the remaining 457 suspects.
In fiscal 2017, the number of offenders referred to prosecution was much higher (184 out of 403 alleged perpetrators), according to CBP numbers.
In the Rio Grande Valley, where 357 assaults were reported in fiscal 2017, a total of 26 defendants faced charges in the Texas Southern district, according to a Justice Department official.
Much of the discrepancy between assault numbers and prosecution numbers has to do with cases in which the assault occurs and the suspect then flees back to Mexico, according to a source familiar with assaults on federal law enforcement and prosecutions.
"If they are never apprehended, it's impossible to prosecute. Further, if they do attempt to return, there's a high likelihood that we'll never know that they committed said assault, which decreases the likelihood for that charge," the source said. "There are also instances where federal prosecutors have multiple charges that they can bring on the defendant, but possibly can't meet the burden of proof on the assault, so that will be dropped."
A Justice Department official said the department is looking at ways to increase collaboration and communication with CBP.
In April, during a visit to Nogales, Arizona, Attorney General Jeff Sessions told CBP employees that the administration has their back.
"Finally, and perhaps most importantly, I have directed that all 94 U.S. Attorneys offices make the prosecution of assault on a federal law enforcement officer—that's all of you—a top priority," Sessions said on April 11. "If someone dares to assault one of our folks in the line of duty, they will do federal time for it."
The maximum penalty is eight years in federal prison and a $250,000 fine.
But Cabrera said Sessions's message hasn't filtered down to the Rio Grande Valley yet.
"He put it out there. Apparently, for whatever reason, it's not being enforced. It is little by little, but not nearly the way it should," Cabrera said.
"It's like pulling teeth with these [prosecutors]; they don't want to take these cases because there's not enough blood or there's not enough damage to the agent. There doesn't have to be a required amount of blood or broken bones or missing teeth for them to prosecute."
He said heavily prosecuting people who assault agents would act as a deterrent.
"If you know you're going to spend a year in jail for putting your hands on a Border Patrol agent—or any federal agent for that matter—you'll think twice before you do it," he said.
Use of Force
Although assaults on Border Patrol are up, agents are using less force than in previous years.
The number of incidents of Border Patrol agents using force—including a firearm or less-lethal devices such as batons or pepper spray—are down from 519 incidents in fiscal 2016 to 398 in fiscal 2017. Agents used a firearm 17 times in fiscal 2017, much fewer than the 55 shots fired in fiscal year 2012.
The Rio Grande Valley and Tucson, Arizona, sectors are the most dangerous.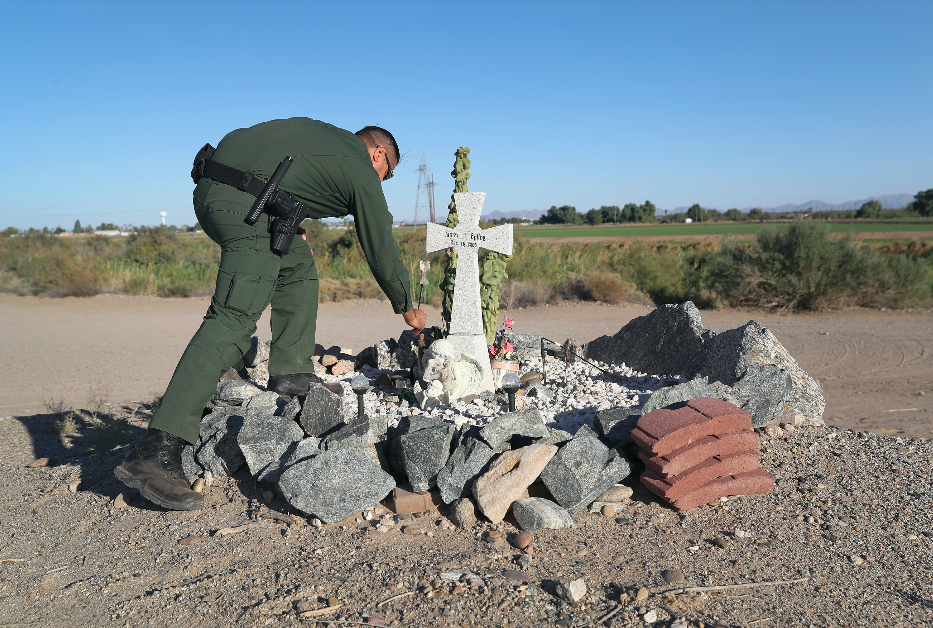 In the Line of Duty
"It's a frightening feeling when one of your coworkers is murdered," said Border Patrol agent Chris Cabrera. "It's nothing that anybody wants to go through, especially with the family and the holidays are right upon us. But … we do the best we can to make sure that we all come home safe at the end of the night."
A Murder
Agent Rogelio Martinez
was killed
and his partner was seriously injured while responding to activity in Big Bend Sector on Nov. 18. Both agents sustained traumatic head injuries, along with other miscellaneous physical injuries. Martinez died early the next morning, on Nov. 19.
The FBI is investigating the incident, and a search warrant suggests the two agents may have been assaulted by illegal aliens with rocks.
Assault in Arizona
On Thanksgiving Day, an agent from the Casa Grande Station was assaulted by a 17-year-old male Mexican national near Vamori, Arizona.
The agent was working alone when he encountered three male Mexican nationals south of Sells, Arizona, early that evening, according to a press statement. While attempting to detain the group, the teen became combative, forcing the agent to use his pepper spray to complete the arrest.
Assault in Texas
On Oct. 27, Miguel Cabrera-Rangel was sentenced to eight years in federal prison for assaulting a federal agent in the Rio Grande Valley.
While a Border Patrol agent was investigating a report of possible illegal aliens on a ranch near Hebbronville, he came upon a group of aliens and attempted to apprehend them. Cabrera-Rangel was one of them and engaged in a struggle with the agent, ultimately gaining control of his service flashlight. Cabrera-Rangel then punched the agent in the face and struck him with the flashlight, causing a bilateral fracture of the nose along with lacerations and contusions.
Cabrera-Rangel will face deportation proceedings after serving his time.
Deadly Weapon
On Oct. 19, a resident of Benavides, Texas, was sentenced to seven years in federal prison, followed by three years of supervised release for assaulting a Border Patrol agent by use of a deadly or dangerous weapon.
Oscar David Gonzalez II, 24, used the car he was driving to intentionally smash into the driver's door of a Border Patrol car while attempting to evade arrest.
Assault Requiring Surgery
On Oct. 23, illegal alien Roman Sanchez-Rivera, 27, was sentenced to four years and three months in federal prison for assaulting and injuring a Border Patrol agent. He was also ordered to pay $21,610.14 in restitution to the Department of Labor.
Agents encountered Sanchez-Rivera and other illegal aliens in the brush near Encinal, Texas. The aliens ran but were soon apprehended. During the arrest, Sanchez-Rivera punched one of the agents in the face, causing injuries. He also forced an intense physical struggle that resulted in serious injuries to one of the agent's knees, which required surgery.
Sanchez-Rivera will face deportation proceedings after serving his time.