SOARING POVERTY IN AMERICA AS IT
HANDS MILLIONS OF JOBS TO
ILLEGALS AND BILLIONS IN
WELFARE!
America's Economic Distress Belt
Income inequality and poverty used to be separate phenomena in America. Today, it's a different story: More than forty percent of U.S. counties have high rates of both.
Income inequality has grown dramatically in America since the early 1980s. This is associated with a myriad of bad things, from worse health and higher rates of violence to locking in disadvantage and limiting the ability to move up the economic ladder.
But until recently, a county with higher inequality did not necessarily have a high concentration of poverty.
A new
study
from the Population Reference Bureau by Beth Jarosz and Mark Mather tracks the dramatic growth in inequality and poverty across America's 3,000-plus counties over the past two-and-a-half decades.
Today, 41 percent of U.S. counties suffer from high levels of combined poverty and income inequality, up from just 29 percent back in 1989. Worse, as the table below shows, just 28 percent of counties have low levels of poverty and low levels of inequality. In other words, more than 70 percent of counties have either high levels of inequality, high levels of poverty, or both.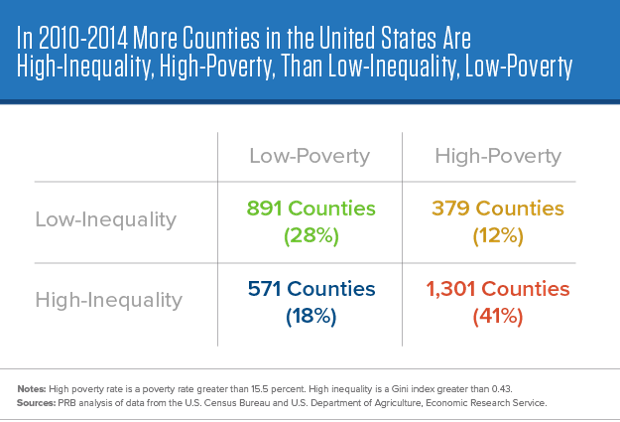 The chart below shows the level of inequality by various types of counties—large metropolitan counties, small and medium-sized counties, and non-metropolitan and rural counties.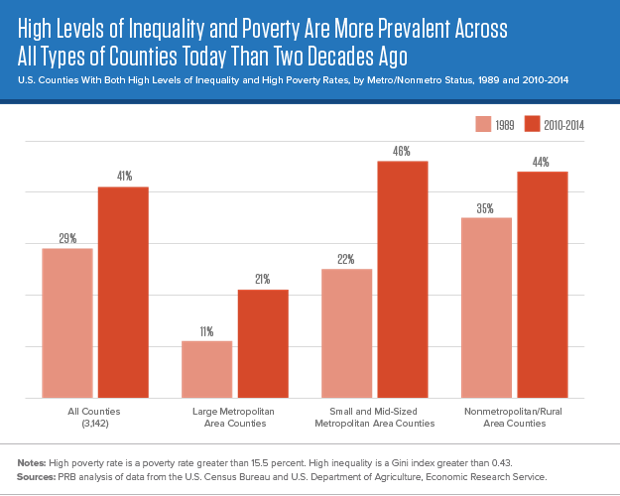 In 1989, 11 percent of large metropolitan counties suffered from high levels of inequality, a figure that grew to 21 percent by 2014. The combination of inequality and poverty increased from 22 percent to 46 percent of small and mid-sized counties and expanded from 35 percent to 44 percent of rural and non-metropolitan counties over that same time period.
The maps below trace the growth in poverty and inequality across U.S. counties over this time. Green represents places with low poverty and low inequality, gold represents low inequality and high poverty, blue represents low poverty and high inequality, and red indicates the disturbing one-two punch of high inequality and high poverty.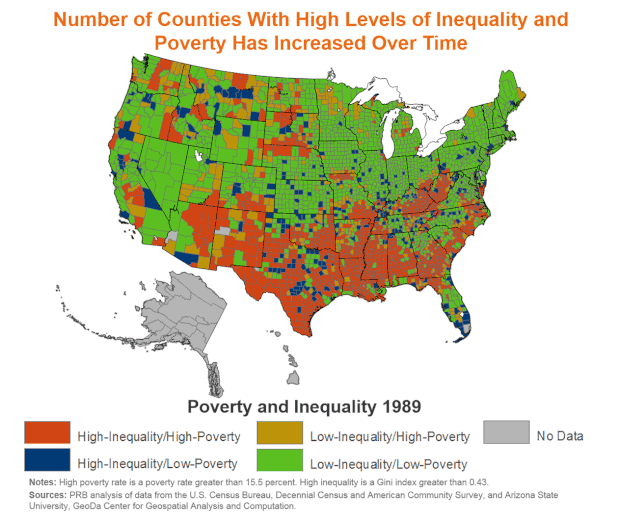 Look how large sections of the map get redder over time: Today, the healthy pockets of green (representing low inequality and low poverty counties) are limited to the Midwest and Mountain regions of the country, along with parts of the Mid-Atlantic. The Sunbelt in particular has become America's economic distress belt, with high levels of inequality and poverty.
While
some commentators continue to extol the Sunbelt's rapid growth
and low housing costs, a rising number of people and places there are falling further behind both in absolute terms and compared to the rest of the country. Inequality and poverty are more than class issues: They are geographic ones as well.
About the Author
Richard Florida is a co-founder and editor at large of CityLab and a senior editor at

The Atlantic.

He is

the director of the Martin Prosperity Institute at the University of Toronto and Global Research Professor at New York University.

MORE