87 Criminal Aliens, Gang Members Arrested in Nevada
More than 80 criminal aliens and gang members were arrested in Reno and Las Vegas, Nevada last week, according to Immigration and Customs Enforcement.
In a continuation of recent operations
targeting illegal immigrant convicts, ICE
Enforcement and Removal Operations (ERO)
officers arrested 87 foreign nationals, whose
crimes and affiliations were heinous enough
to warrant enforcement under the Obama
Over the five-day dragnet, which concluded late last week, ERO officers arrested 65 criminal aliens in the Las Vegas area and 22 in Reno.
The arrestees had convictions for drug
trafficking, weapons violations, child sex
offenses, domestic violence, and re-entry
following a deportation. Two were confirmed
The recent enforcement operations occur as immigration hawks question the Obama administration's commitment to immigration enforcement — even against criminal aliens. In recent years ICE's deportation levels have been on the decline, dropping 43 percent from FY 2012 to FY 2015. In that same timeframe ICE removed 41 percent fewer criminals.
Salt Lake City Field Office Director Daniel Bible highlighted the operations Monday as an example of the benefits provided under the administration's "priorities" for enforcement strategy.
"By taking these individuals off our streets and ultimately removing them from the country, we are making our communities safer for everyone," Bible said in a statement.
The arrestees' were from nine different countries, including 65 criminal alien arrestees from Mexico and 10 from El Salvador. Guatemala, Honduras, Peru, the Philippines, and Cuba each had two arrestees. Additionally one of the arrested criminal aliens was from Taiwan and another from Vietnam.
Among those arrested, ICE highlighted:
-A previously deported 55-year-old Mexican national with a prior felony conviction for transporting and selling heroin;

-A 57-year-old Mexican national convicted of lewdness with a child under 14 that resulted in a four to 10-year sentence in state prison; and a

-42-year-old Salvadoran national with multiple prior felony convictions, including one for statutory sexual seduction.

-A 33-year-old Mexican national with past convictions for drug trafficking, domestic battery, and DUI; and a

-A 19-year-old Mexican national gang member with prior convictions for resisting an officer and robbery.
"Study shows immigrants use 40% more welfare than native born".
THEY COME BY SEA, THROUGH TUNNELS, AND SIMPLY
"In the meantime, the porous southern border has created a
huge national security risk, and the region is a cesspool of
violent criminal activity perpetuated by heavily armed
Mexican drug cartels that have joined forces with Islamic
terrorists to enter the U.S."
CA GOVERNOR JERRY BROWN HAS LITERRALY STOOD
ON THE CA-NARCOMEX BORDER AND TOLD THE
INVADING MEXICANS THAT CA WAS THEIR SECOND
HOME. BUT IT'S THERE FIRST HOME WHEN IT COMES TO
VIDEO: 17 Suspected Illegal Aliens Caught off California Coast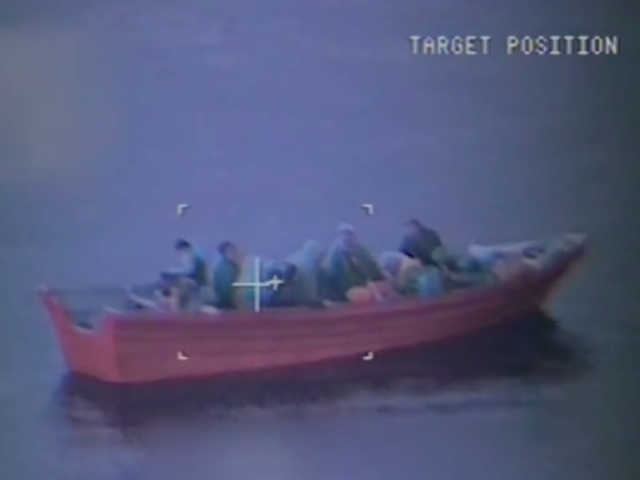 Seventeen suspected illegal aliens aboard a panga boat sent a
distress signal off the coast of San Diego on Tuesday morning
that led the U.S. Coast Guard and U.S. Customs and Border
Protection (CBP) to apprehend the group.
Video of the stranded boat was released, along with the Coast Guard's announcement that the 17 aboard were taken to a local Border Patrol station for processing.
Crew aboard the 87-foot Coast Guard Cutter
Sea Otter
spotted a flare around 4:45 a.m. Tuesday morning off the coast of San Diego, according to the Coast Guard. Coast Guard Sector San Diego Joint Harbor Operations Center watchstanders also received a 911 call around 5:30 a.m. from one of the persons aboard the panga boat.
The Coast Guard release
described
the operation to find and rescue those aboard:
A Sector San Diego MH-60 Jayhawk crew and CBP AMO UH-60 Blackhawk helicopter crew immediately launched to search and at approximately 6:50 a.m., the CBP AMO Blackhawk crew located the vessel approximately eight miles west of Pacific Beach, in San Diego.
At 8:15 a.m., the Sea Otter's crew arrived on scene with the vessel and safely rescued 17 suspected illegal migrants from the disabled panga.
The group was picked up approximately eight miles off of San Diego's Pacific Beach, and delivered to Shelter Island. From there, the Marine Task Force took the group into custody. The 17 were then transported to the Border Patrol office.
Last August, illegal aliens were caught at least twice trying to enter the United States off the coast of southern California. Also last August, a lawsuit was filed naming three CBP agents over the death of an illegal alien aboard a panga boat. The Mexican national perished as a boat of illegal aliens attempted to evade capture and capsized.
Follow Michelle Moons on Twitter
@MichelleDiana