Calling Mohammed a Pedophile Not Covered by Free Speech, European Court Rules
(CNSNews.com) – Europe's top human rights court has ruled that comments about Mohammed having pedophilic tendencies are not covered by the right to freedom of expression, agreeing with the assessment of courts in Austria that the remarks constituted "an abusive attack on the Prophet of Islam which could stir up prejudice and threaten religious peace."
A seven-judge European Court of Human Rights (ECHR) panel in Strasbourg concluded that the Austrian courts had "carefully balanced the applicant's right to freedom of expression with the rights of others to have their religious feelings protected, and to have religious peace preserved in Austrian society."
Thursday's decision came nine years after Elizabeth Sabaditsch-Wolff, an Austrian political scientist and activist, held a seminar in Vienna where among things she criticized the treatment of women in Islam. The topic of Mohammed's marriage to Aisha, the youngest of his dozen wives and concubines, came up.
According to Islamic texts, the 7th century Arabian who founded Islam was betrothed to Aisha when she was six, and the marriage was consummated when she was nine.
The court record quotes Sabaditsch-Wolff as having said that Mohammed "liked to do it with children," (other translations of the German comment render it "had a thing for little girls") and saying, "A 56-year-old and a six-year-old? … What do we call it, if it is not pedophilia?"
In 2011, Sabaditsch-Wolff was convicted under Austria's penal code for "denigrating the teachings of a legally recognized religion" and fined 480 euros (about $546), plus costs. She was acquitted on a charge of incitement.
Sabaditsch-Wolff appealed the decision, but a higher court in Austria upheld it.
In June 2012 the case was lodged with the ECHR, which hears allegations of breaches of the European Convention on Human Rights. Sabaditsch-Wolff complained her freedom of expression rights under the convention had been violated.
She said the Austrian courts had failed to address the substance of the statements in question, in the light of her right to freedom of expression.
If they had done so, Sabaditsch-Wolff argued, they would have qualified that as value judgments based on facts, rather than as mere value judgments.
The ECHR judges disagreed.
They said although people must tolerate the denial by others of their religious beliefs, in cases where comments are "likely to incite religious intolerance" a state might legitimately consider them to be "incompatible with respect for the freedom of thought, conscience and religion and take proportionate restrictive measures."
The judges also said the subject matter "was of a particularly sensitive nature," and that the authorities in Austria were "in a better position to evaluate which statements were likely to disturb the religious peace in their country."
'Not a worthy subject of worship'
Earlier one Austrian court declared, in a ruling cited by the ECHR on Thursday, that Sabaditsch-Wolff's had wrongfully accused Mohammed of pedophilic tendencies because he remained married to Aisha until he died – at which time she was 18, "and had therefore passed the age of puberty."
Curiously, the ECHR judges endorsed the Austrian courts' findings that the comments "had not been made in an objective manner aiming at contributing to a debate of public interest, but could only be understood as having been aimed at demonstrating that Mohammed was not a worthy subject of worship."
(In fact, while Muslims revere Mohammed they do not view him as divine – nor did he claim to be – and they strongly dispute that they "worship" him at all. The Islamic declaration of faith, the shahada, states, "There is no god but Allah and Mohammed is his messenger.")
Furthermore, the judges agreed with the Austrian courts that the applicant "must have been aware that her statements were partly based on untrue facts and apt to arouse indignation in others."
"The national courts found that [Sabaditsch-Wolff's] had subjectively labelled Mohammed with pedophilia as his general sexual preference, and that she failed to neutrally inform her audience of the historical background, which consequently did not allow for a serious debate on that issue."
Although the ruling was now been handed down, parties to any case have a three-month period to request that a decision be referred to the ECHR's five-judge Grand Chamber, which will decide whether a case deserves further examination. If so, it will hear the case and deliver a final judgment.
Assertions about the age of Aisha at the consummation of her marriage to Mohammed are based on what scholars view as authoritative Hadiths (sayings or traditions ascribed to Mohammed), including several by the 9th century scholar Bukhari.
One of them (Vol. 5, Book 58, No. 234) reads in part: "Narrated by Aisha: The Prophet engaged me when I was a girl of six (years) … Then she entrusted me to them and they prepared me (for the marriage). Unexpectedly Allah's Apostle came to me in the forenoon and my mother handed me over to him, and at that time I was a girl of nine years of age."
Although there is some dispute about the ages of some of Mohammed's other wives and concubines, some reports say the youngest after Aisha were Mulaykah, 13, and Safiyah, about 16. At the time of their marriages Mohammed was reportedly 57-58 years-old. Other wives and concubines are reported to have ranged in age from about 19 to 55.
The full ECHR ruling is here.
Seven Found Guilty Over Rotherham Grooming and Rape of Young Girls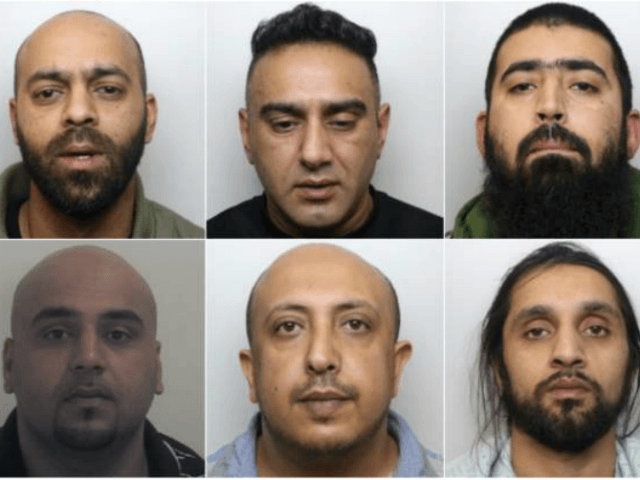 Seven men of Pakistani heritage from South Yorkshire were found guilty of sexual offences against underage girls in the latest abuse trial following the inquiry into the Rotherham grooming gang scandal.
Salah Ahmed El-Hakam, 39, Asif Ali, 33, Tanweer Ali, 37, Mohammed Imran Ali Akhtar, 37, Nabeel Kurshid, 35, Iqlak Yousaf, 34, and a seventh man, who cannot be named for legal reasons, were convicted on Monday of grooming and sexually abusing five underage girls between 1998 and 2005, reports the BBC.
An eighth man, Ajmal Rafiq, 39, was found not guilty of indecent assault and false imprisonment.
During the trial, the victims revealed the extent of the abuse, with one survivor telling the court that she had been raped by "at least 100 Asian men" by the age of 16.
Another had told the jury she had been bitten and raped in Sherwood Forest by two men after they fed her drugs.
One girl had fallen pregnant and had an abortion by the age of 14, while another had given birth by the age of 15, her son fathered by her abuser.
The prosecutor had told the jury, during the eight-week trial, that the gang had targetted the five girls because they "were easy targets" from broken homes who "wanted to be loved" and were "lured by the excitement of friendship with older Asian youths".
The jury also heard that the victims were "frequently in cars [with their rapists] stopped by the police but this did not deter the abusers".
The convictions are the latest to follow on from the National Crime Agency's (NCA) Operation Stovewood — the country's largest law enforcement investigation into grooming gang-based child sexual exploitation (CSE).
Operation Stovewood came about as a result of the 2014 Jay Report which found that 1,400 — estimates revised to up to 1,510 last year — mainly white, working-class girls had been groomed and raped by gangs of mostly Pakistani-origin Muslim men between 1997 and 2013. The report also exposed the culture in police and social services of political correctness and of not believing victims that allowed the abuse to go on for so long.
This is just the latest conviction of a Pakistani-heritage grooming gang from Rotherham, with another recent trial ending in the sentencing of 20 abusers in Huddersfield.
Home Secretary Sajid Javid — himself of Muslim, Pakistani heritage — was criticised by leftists for his reaction to the conviction of the Huddersfield rape gang when he condemned them as "sick Asian paedophiles".
In an interview with The Times on Saturday, Mr Javid said that Pakistani-heritage child gang rapists had "disgraced" his ethnic heritage, admitting that "[there] must be some cultural connection, some reason".
In July, the Home Secretary ordered research into the ethnic and cultural component of grooming gangs and has vowed to fight "uncivilised" forced marriage in the UK.
The full details of the latest convictions are as follows:
Mohammed Imran Akhtar (37), of Rotherham, was found guilty of one count of rape, three counts of indecent assault, sexual assault, procuring a girl to have unlawful sex with another, aiding and abetting Tanweer Ali to commit rape.
Asif Ali (33), of Rotherham, was acquitted of one count of indecent assault and found guilty of two counts of indecent assault.
Tanweer Ali (37), of Rotherham, was found guilty of two counts of rape, two counts of indecent assault, and one count of false imprisonment.
Salah El-Hakam (39), of Sheffield, was found guilty of one count of rape.
Nabeel Kurshid (35), of Rotherham, was found guilty of two counts of rape and one count of indecent assault.
Iqlak Yousaf (34), of Rotherham, was found guilty of two counts of indecent assault and two counts of rape.
One man, who cannot be named for legal reasons, was acquitted of abducting a child and rape but found guilty of two counts of rape.
The seven are due to be sentenced November 16th.