MARK ZUCKERBERG AND OTHER TECH BILLIONAIRES SAY HELL NO TO PAYING LEGALS LIVING WAGES… not when there's boatloads of Chinese ready to take our tech jobs and work cheap!
Paul Singer and George Soros: Billionaire Bookends of Globalist Opposition to Trump Agenda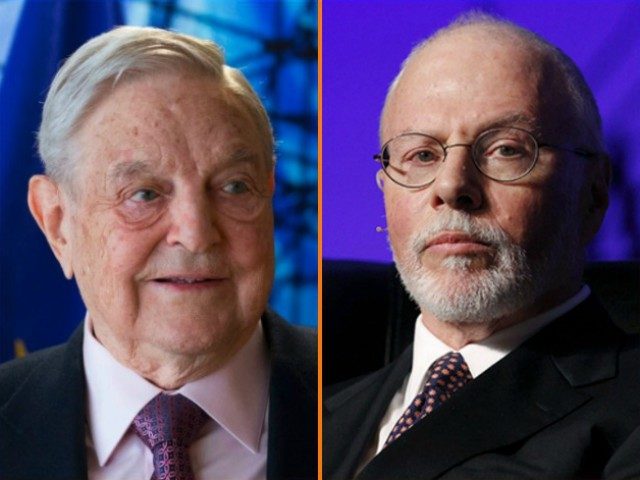 Billionaire hedge fund managers Paul Singer and George Soros define the ideological boundaries of the globalist opposition to the Trump agenda. Neither hesitates to use his substantial financial resources to stymie the populist conservative economic nationalist policies of the "Make America Great Again" coalition.
The payments by Singer-owned Washington Free Beacon to GPS Fusion for "opposition research" on candidate Donald Trump in early 2016 and the recent announcement by Soros that he was
transferring billions of dollars
in his own personal wealth to his Open Society Foundations are cases in point.
"The Washington Free Beacon on Friday confirmed it had originally funded research compiled by the firm Fusion GPS. But leaders from the Free Beacon, which is funded in large part by the Republican donor Paul Singer, insisted that none of the early research it received appears in the dossier released later in the year detailing explosive allegations, many uncorroborated, about Trump compiled by a former British spy," the Associated Press
reported
on Friday.
The amount Singer has invested in the Free Beacon has not been publicly disclosed, but the Daily Caller, another conservative news site, was launched in 2010 with a $3 million investment from billionaire Foster Friess. Similar opposition research projects such as the one the Free Beacon purchased from GPS Fusion on Donald Trump easily cost six figures, though, Matt Continetti, the site's managing editor, has not specified the cost involved, though he has admitted engaging GPS Fusion, an operation most closely identified with Democrats.
Subsequent to the completion of the "opposition research" project on Trump for the
Free Beacon, the Democratic National Committee and the Hillary Clinton campaign, through an intermediary,
apparently hired GPS Fusion
to conduct the "opposition research" on Trump that resulted in the widely discredited "Russian dossier" on the Trump that included the salacious and false tales involving Russian prostitutes.
Before the rise of the "Make America Great Again Coalition," Singer and Soros might have been viewed as diametrically opposed political enemies, but in the fall of 2017 they are simply seen as the philosophical bookends of the globalist ideology of those who oppose the Trump agenda–Never Trumpers among the Republicans, and the "Resistance" among Democrats and the far left.
According
to Open Secrets, for instance, Singer donated over $26 million "campaign contributions to federal candidates, parties, political action committees, 527 organizations, and Carey committees" during the 2016 election cycle, every penny of which went to Republicans or conservatives.
Soros, in contrast, donated
over $21 million
during the same time period, all to Democrats or liberals. Adding the
$5.7 million
his son Alexander Soros donated, again, all of it to Democrats and liberals, Soros father and son donated almost the same amount to Democrats or liberals that Singer donated to Republicans or conservatives.
But despite their support for candidates and causes from the two ostensibly different political parties, Singer and Soros had as many commonalities in terms of the policies they supported as they did differences.
This is not surprising given the fact that they are both immensely wealthy hedge fund managers who largely created their wealth on their own.
George Soros is a legendary hedge fund manager who managed client money in New York from 1969 to 2011. Soros remains an investing heavyweight through Soros Fund Management, his family office that boasts $26 billion in assets. Born in Hungary, Soros fled the country and put himself through the London School of Economics working as a railway porter and waiter. A philanthropist and supporter of liberal causes, Soros founded the Open Society Foundations. It has had expenditures of nearly $14 billion.
Paul Singer, age 73, currently ranks
#288 in the Forbes 400 list
of the wealthiest Americans with an estimated net worth of $2.8 billion:
Paul Singer founded his hedge fund firm, Elliott Management, in 1977 with just $1.3 million. The firm now has some $33 billion in assets under management. Elliott Management often takes activist positions, shaking up companies and even governments around the world. In 2016 the hedge fund firm settled a 15-year battle with the government of Argentina over bond payments, earning a $2.4 billion profit.
The two are in lock step when it comes to immigration policy–they both want open borders–and government control of education–they both support Common Core.
Indeed, as Breitbart has reported extensively, both men have contributed significant funds to the National Immigration Forum, a far left open borders group that led the charge behind the failed "Gang of Eight" illegal amnesty bill in the Senate in 2013.
In April 2013, Ali Noorani, executive director of the National Immigration Forum Action Fund and
issued this press release
through the National Immigration Forum announcing Singer's financial support for the group's pro-amnesty efforts:
Following the Senate introduction of bipartisan immigration reform legislation, the National Immigration Forum Action Fund received a strong show of support from hedge fund billionaire Paul Singer to continue the bipartisan effort for common sense immigration solutions.

Mr. Singer is the founder and CEO of Elliott Management, and is providing a six-figure contribution to the National Immigration Forum Action Fund's "Bibles, Badges and Business" project to encourage Republicans and Democrats to support immigration reform that strengthens our nation's competitiveness and helps us attract the world's best talent and hard workers.

The passionate level of involvement and cooperation from both Republicans and Democrats on immigration reform sends a resounding message that this immigration battle is different than that of decades past. Rather than fall back into the stagnation and polarization that plagues so many of today's political disagreements, immigration reform has produced robust coalitions and unlikely collaborations. This donation by Paul Singer is one of many signs from business leaders that American businesses are not sitting on the sidelines for this immigration reform battle.

The bipartisan Senate bill is a strong start. It includes the core elements necessary for reform like commonsense fixes to our legal immigration system that ensures our competitiveness
In 2009, [George Soros's Open Society Foundations] donated $257,152 to [the National Immigration Forum] aimed at "implementing immigration reform campaign through communications, policy, and field organizing."

Also in 2009, [OSF] donated another $1.5 million to "allow" NIF to "manage and lead Four Pillars Campaign for comprehensive immigration reform, and sustain core policy work supporting and leading policy efforts."

A year later, in 2010, Soros's [OSF] gave NIF another $1.5 million over two separate grants both intended for "general operating support."
As Breitbart News
noted
last week, "Singer's involvement in the dossier, and opposition research on Trump more generally, comports with a years-long pattern of advocacy for mass immigration, massive funding of establishment GOP candidates, and antagonism towards the populist-nationalist movement."
Along with George Soros and the left-wing Ford Foundation, Singer gave hundreds of thousands of dollars to the pro-open borders National Immigration Forum (NIF). The NIF later set up and funded the sham grassroots Christian group "Evangelical Immigration Table" to create the illusion of widespread conservative Christian support for mass third-world immigration. As Breitbart News uncovered, the Evangelical Immigration Table (EIT) never was an independent legal entity and existed only as a front for the NIF. Singer directly funded the effort, as Breitbart News and USA Today reported at the time.

This did not stop establishment Republicans, including the editors of the once-definitive conservative publication National Review, from latching onto the EIT as a genuine font of anti-Trump grassroots activism.

The Wall Street hedge-fund billionaire Singer was an early – and significant – backer of "Gang of Eight" amnesty ringleader Sen. Marco Rubio (R-FL) in the 2016 campaign. This support made good on the two men's years-long relationship based, in large part, on their mutual belief in the most recent major campaign for amnesty for illegal aliens and massive immigration increases in 2013.
Both men also back Common Core.
As Breitbart News
reported
back in 2015, Singer, "who is endorsing Republican presidential candidate Sen. Marco Rubio (R-FL), is a supporter of the Common Core standards and his foundation has been a donor to the heart of former Florida Gov. Jeb Bush's education empire: the Foundation for Excellence in Education."
Singer, who recently threw his support behind Rubio, founded the Paul E. Singer Foundation, whose work thus far has "focused on supporting research and scholars in the areas of free-market economics, the rule of law, U.S. national security, and the future of Israel, as well as LGBT equality efforts and health-care delivery innovation."
"The Foundation seeks to leverage its own philanthropic investments by partnering with proven non-profits and like-minded donors," states the Singer Foundation website. . .

In each year from 2009 through 2014, Singer's foundation donated between $50,001-$100,000 to Bush's Foundation for Excellence in Education (FEE).

One group that is an affiliate of FEE is Chiefs for Change – a "bipartisan coalition of current and former state education chiefs who believe that American public education can be dramatically improved." Some "Chiefs for Change" are also members of the Partnership for the Assessment of Readiness for College and Careers (PARCC), one of the two federally funded interstate consortia that have been developing tests aligned with the Common Core standards.

Additionally, Bush joined with former president of the pro-Common Core Fordham Institute Chester Finn and the U.S. Chamber of Commerce in Conservatives for Higher Standards, a group that promotes the Common Core standards initiative.

FEE's donor list also includes the Bill and Melinda Gates Foundation, the GE Foundation, the Helmsley Charitable Trust, News Corp, the Walton Family Foundation, Bloomberg Philanthropies, Carnegie Corporation, the Schwab Foundation, Microsoft, Exxon Mobil, Houghton Mifflin Harcourt, Intel, K12, Pearson, Scholastic, and Target.
Soros's Open Society Foundations remain a financial supporter of Generation Citizen. That support "will allow us to improve our curriculum in a number of ways, including further alignment with the US Department of Education Common Core Standards," the group's
website
states.
However, when the news broke last week that it was Singer's Washington Free Beaconthat funded GPS Fusion to conduct opposition research on then-candidate Trump, that one time olive branch appeared to take on entirely different interpretation.
Billionaire Mexicans tell their poor to JUMP U.S. OPEN BORDERS and LOOT THE STUPID GRINGO… and loot they do!
Billions of dollars are sucked out of America from Mexico's looting!
Adios, California
A fifth-generation Californian laments his state's ongoing economic collapse.
By Steve Baldwin
American Spectator, October 19, 2017
What's clear is that the producers are leaving the state and the takers are coming in. Many of the takers are illegal aliens, now estimated to number over 2.6 million.
The Federation for American Immigration Reform estimates that California spends $22 billion on government services for illegal aliens, including welfare, education, Medicaid, and criminal justice system costs.
Liberals claim they more than make that up with taxes paid, but that's simply not true. It's not even close. FAIR estimates illegal aliens in California contribute only $1.21 billion in tax revenue, which means they cost California $20.6 billion, or at least $1,800 per household.
Nonetheless, open border advocates, such as
Facebook Chairman Mark Zuckerberg, claim
illegal aliens are a net benefit to California
with little evidence to support such an
assertion. As the Center for Immigration
Studies has documented, the vast majority of
illegals are poor, uneducated, and with few
skills. How does accepting millions of illegal
aliens and then granting them access to
dozens of welfare programs benefit
California's economy? If illegal aliens were
contributing to the economy in any
meaningful way, California, with its 2.6
million illegal aliens, would be booming.
Furthermore, the complexion of illegal aliens has changed with far more on welfare and committing crimes than those who entered the country in the 1980s.
Heather Mac Donald of the Manhattan Institute has testified before a Congressional committee that in 2004, 95% of all outstanding warrants for murder in Los Angeles were for illegal aliens; in 2000, 23% of all Los Angeles County jail inmates were illegal aliens and that in 1995, 60% of Los Angeles's largest street gang, the 18th Street gang, were illegal aliens.
Granted, those statistics are old, but if you talk to any California law enforcement officer, they will tell you it's much worse today. The problem is that the Brown administration will not release any statewide data on illegal alien crimes. That would be insensitive. And now that California has declared itself a "sanctuary state," there is little doubt this sends a message south of the border that will further escalate illegal immigration into the state.
Indeed, California goes out of its way to attract illegal aliens. The state has even created government programs that cater exclusively to illegal aliens. For example, the State Department of Motor Vehicles has offices that only process driver licenses for illegal aliens. With over a million illegal aliens now driving in California, the state felt compelled to help them avoid the long lines the rest of us must endure at the DMV.
And just recently, the state-funded University of California system announced it will spend $27 million on financial aid for illegal aliens.
They've even taken out radio spots on stations all along the border, just to make sure other potential illegal border crossers hear about this program.
I can't afford college education for all my four sons, but my taxes will pay for illegals to get a college education.