MEXICO'S LA RAZA ANCHOR BABY WELFARE STATE AND CRIME TIDAL WAVE, HOMELESSNESS, HOUSING CRISIS, ONE PARTY GLOBALIST GOVERNMENT...

. now do the math!
"More than 750 million people want to migrate to another country permanently, according to Gallup research published Monday, as 150 world leaders sign up to the controversial UN global compact which critics say makes migration a human right."
VIRGINIA HALE
NO WONDER AMERICA HAS A HOUSING AND HOMELESSNESS CRISIS!
Illegal Immigration Last Month Hit Highest Level in Over a Decade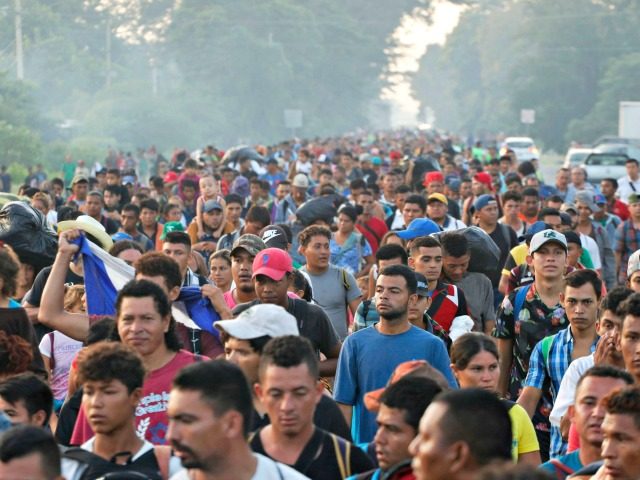 Illegal immigration skyrocketed to the highest level in more than a decade for the month of November, as President Trump's border wall remains unfunded by the Republican-controlled Congress.
Last month, illegal immigration at the United States-Mexico border soared to levels that the country has not seen since Fiscal Year 2014, when more than 51,500 illegal aliens tried to cross the border in April 2015.
In November 2018, there were close to 52,000 border crossings on the southern border, alone, marking the highest level of illegal immigration in the month of November since 2006.
The continuing rise of illegal immigration at the southern border indicates that Fiscal Year 2019 will see the biggest boom of illegal immigration in more than a decade, according to Princeton Researcher Steven Kopits.
In total, Kopits projects that there will be more than 600,000 border crossings next year — a level of illegal immigration that the country has not seen since Fiscal Year 2008, when total southwest border apprehensions exceeded 705,000.
This puts illegal immigration under Trump on track to double what border crossings were in Fiscal Year 2017, when about 310,000 illegal aliens attempted to cross into the U.S. from the southern border.
Spiraling illegal immigration to the country is set behind a backdrop of a White House and Department of Homeland Security (DHS) Secretary, Kirstjen Nielsen, that have yet to convince House and Senate Republicans — who only have control of Congress for about a month — to fund Trump's central campaign promise: A southern border wall.
At the same time of the rising illegal immigration totals, the U.S. is continuing to admit more than a million legal immigrants every year to take American jobs. The mass immigration scheme is a boon to real estate developers, who thrive on the booming populations in major cities, and employers who benefit from a flooded labor market with stagnant U.S. wages and displaced American workers.
The country's mass immigration policy also has massive rewards for Democrats, who are set to import between seven to eight million new foreign-born voters solely from the process known as "chain migration," and overall, an additional 15 million new foreign-born voters.
Poll: 6-in-7 GOP Voters Say Minorities Favored over White Americans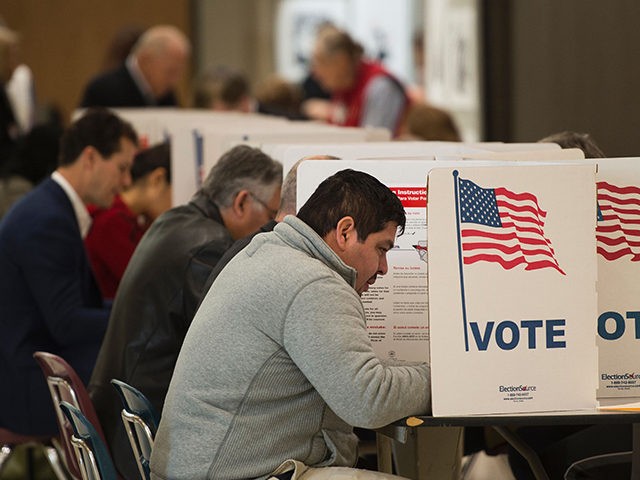 Midterm election polling analysis reveals deep divides between Democrat and Republican voters on the growing multicultural populations in the United States.
Polling analysis from the Pew Research Center reveals that the overwhelming majority of Republican voters in the recent midterm elections, 85 percent, say the U.S. today favors minorities over white Americans. Only 11 percent of GOP voters said white Americans are favored over minority groups.
On the opposite end of the political spectrum, 87 percent of Democrat voters in the midterm elections say white Americans are favored in the U.S. over minorities. Only 12 percent of Democrat voters say minorities are favored over white Americans today.
The poll is an indication, again, of a Republican Party that is increasingly made up of a white working- and middle-class majority that feel disenfranchised due to country's mass immigration policy of importing more than a million legal immigrants a year, while at the same time, having their jobs outsourced to foreign countries through the globalization of the country's economy.
Polling and the recent midterm elections show, yet again, little-to-no support for economic libertarianism with GOP voters overwhelmingly in support of President Donald Trump's economic nationalism.
For example, while the New York Times has complained that states with a white American majority pose "an array of problems," the process known as "chain migration" — whereby newly naturalized citizens can bring an unlimited number of foreign relatives to the U.S. with them — has imported more than nine million foreign nationals since 2005.
As Breitbart News reported, if chain migration is not ended — as President Trump has demanded — the U.S. electorate will forever be changed, with between seven to eight million new foreign-born individuals being eligible to vote because of chain migration, and overall, an additional 15 million new foreign-born voters.
Simultaneously, illegal immigration next year is on track to soar to the highest level in a decade, with a potential 600,000 border crossers expected.
Meanwhile, free trade with China has eliminated or outsourced about 3.5 million American jobs since 2001. Polling this year found that a majority of GOP voters say free trade has hurt the U.S. and cost Americans their jobs.
Gallup: More Than 750 Million People Globally Now Wanting to Migrate
https://www.breitbart.com/europe/2018/12/10/gallup-750-million-wanting-migrate/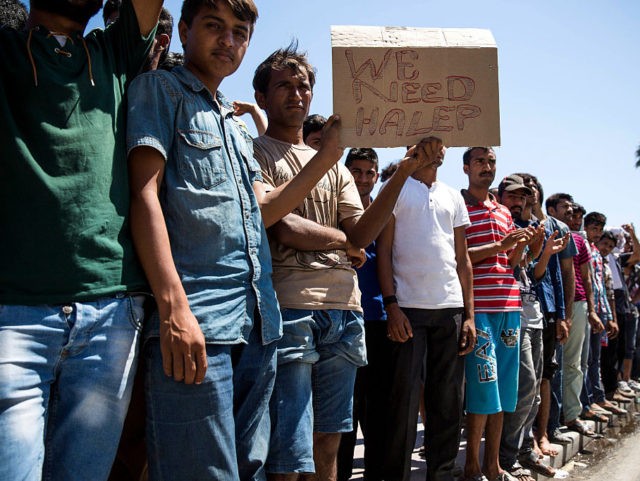 More than 750 million people want to migrate to another country permanently, according to Gallup research published Monday, as 150 world leaders sign up to the controversial UN global compact which critics say makes migration a human right.
The Gallup World Poll survey, which interviewed 453,122 adults in 152 countries between 2015 and 2017, found that 15 per cent of the world's adult population would like to move to another country if they had the chance.
Noting this proportion had risen from 13 per cent between 2010 and 2012, and 14 per cent between 2013 and 2016, the pollster commented that rising populism and a backlash to mass immigration seen in many Western electorates has apparently not deterred would-be migrants from wanting to seek a better standard of living elsewhere.
Regionally, the desire to migrate was found to be highest in sub-Saharan Africa, where 33 per cent of adults wanted to migrate permanently, followed by Latin America and the Caribbean (27 per cent), European nations outside of the EU (26 per cent), and the Middle East and North Africa (24 per cent).
Gallup found there were 13 countries in which half or more of the adult population said they wanted to migrate to another country, with Sierra Leone (71 per cent) topping the list for its proportion of would-be migrants, followed by Liberia (66 per cent) and Haiti (63 per cent).
The U.S. remains by far the most popular country for people wanting to move abroad, with 21 per cent of potential migrants selecting it as their top destination, with Canada, Germany, France, Australia, and the UK each also ranking highly.
Politicians from around the world gathered in Marrakesh, Morocco, on Monday to sign their countries up to a UN accord declaring mass immigration to be "inevitable, desirable and necessary"; however a large number of nations including the U.S., Australia, Chile, Israel, and several EU countries withdrew from the agreement over concerns about national sovereignty.
Earlier this year, Breitbart London reported on data from the Pew Research Center which revealed that up to two-thirds of the 1.1 billion population — a number set to more than double by 2050 — of sub-Saharan Africa were wanting to migrate to Europe or the U.S., millions of whom were planning on making the journey within the next five years.
Analysts such as NumbersUSA president Roy Beck have long pointed out that mass migration into Western countries can never resolve the challenges faced by poor countries, especially as populations in the third world increase.
MEXICANS ARE THE CULTURE OF THIEVERY. THEY NOT ONLY STEAL MILLIONS OF JOBS WITH STOLEN SOCIAL SECURITY, THEY STEAL ANYTHING THEY CAN GET THEIR HANDS ON.
"Mexicans cheat, distribute drugs, lie, forge documents, STEAL and kill a s if it's a normal way of life. For them, it is. Mexico's civilization stands diametrically opposed to America's culture.: FROSTY WOOLDRIDGE
One of the most serious of those crimes involves the theft of the identities of millions of United States citizens and lawfully-admitted immigrants whose citizenship, lawful immigrant status and good names are valued commodities that provide millions of illegal aliens with a sort of "camouflage." MICHAEL CUTLER
AMERICA: THE WORLD'S WELFARE OFFICE
With crime soaring, rampant homelessness, sanctuary state status attracting the highest illegal immigrant population in the country and its "
worst state in the U.S. to do business
" ranking for more than a decade, California and its expansive, debt-ridden, progressive government is devolving into a third-world country. JANET LEVY
"This is how they will destroy America from within. The leftist billionaires who orchestrate these plans are wealthy. Those tasked with representing us in Congress will never be exposed to the cost of the invasion of millions of migrants. They have nothing but contempt for those of us who must endure the consequences of our communities being intruded upon by gang members, drug dealers and human traffickers. These people have no intention of becoming Americans; like the Democrats who welcome them, they have contempt for us." PATRICIA McCARTHY
"Most Californians, who have seen their taxes increase while public services deteriorate, already know the impact that mass illegal immigration is having on their communities, but even they may be shocked when they learn just how much of a drain illegal immigration has become." FAIR President Dan Stein
It needs U.S. support for its war on cartels. Instead of insulting American citizens, Mexico should confront directly the reasons why its people are so desperate to leave, and do all in its power to destroy the cartels that are slowly killing the nation. That includes defunding the murderous gangs by halting illegal immigration.
"Concern over immigrant welfare use is justified, as households headed by non-citizens use means-tested welfare at high rates. Non-citizens in the data include illegal immigrants, long-term temporary visitors like guest workers, and permanent residents who have not naturalized. While barriers to welfare use exist for these groups, it has not prevented them from making extensive use of the welfare system, often receiving benefits on behalf of U.S.-born children," added the Washington-based immigration think tank. By Paul Bedard
Washington Examiner
Who ultimately really pays for all the true cost of all that "cheap" labor?
THE DEVASTATING COST OF MEXICO'S WELFARE STATE IN AMERICA'S OPEN BORDERS
"The Democrats had abandoned their working-class base to chase what they pretended was a racial group when what they were actually chasing was the momentum of unlimited migration". DANIEL GREENFIELD / FRONT PAGE MAGAZINE
BILLIONAIRES FOR wider OPEN BORDERS TO KEEP WAGES DEPRESSED and AMERICA FLOODED WITH FOREIGNERS.
But Benioff's cheap-labor importation plan would also shrink the income and careers sought by millions of American college graduates, many of whom will vote in 2020 for or against Trump.
The nation's workforce now includes roughly 1.5 million foreign college-graduate contract-workers who are imported via the H-1B, L-1, OPT, O-1, J-1, and other visa programs. These outsourcing workers are not immigrants, but instead, they are contract workers hired for one to six years, at lower wages, to take jobs that would otherwise go to American graduates.
The Americans' salary loss, however, would be a gain for the CEOs who see their profits rise and their stock options spike as middle-class salaries decline.
Reducing the inflow of illegals, such as by building a wall; and

Mandating the departure of others through deportation.
Retirement benefits at the age of 61, instead of the usual 62;

A 10 percent bonus on the Social Security benefit while the beneficiary is abroad;

Free one-way plane tickets for the principal and the dependents; and

Checks totaling $5,000, half on arrival in the home country, and the other half a year later, but only paid in person, at a U.S. consulate or embassy.
Study: More than 7-in-10 California Immigrant
Welfare
More than 7-in-10 households headed by immigrants in the state of California are on taxpayer-funded welfare, a
new study
reveals.
NON-CITIZEN


HOUSEHOLDS
ALMOST


TWICE
AS
LIKELY
TO


BE

ON

WELFARE
Majority of Non-Citizen Households in US Access Welfare Programs, Report Finds
It Pays to be Illegal in California
Majority of Non-Citizen Households in US Access Welfare Programs, Report Finds