Report: Millions in Food Stamp Dollars Flowed to Terrorists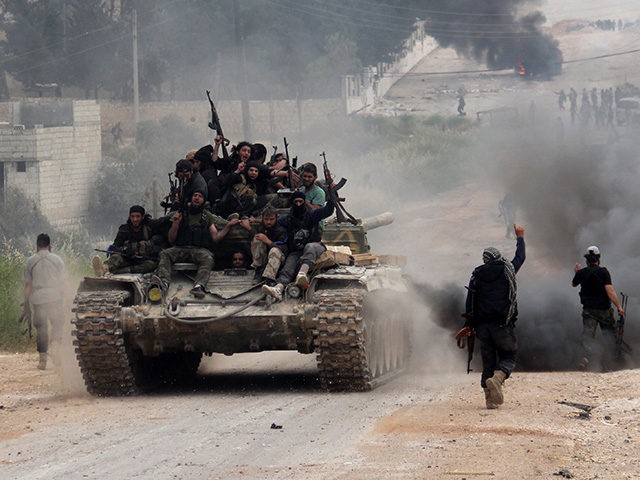 Millions of taxpayers dollars trafficked through food stamp fraud went to terrorists who funded their activities at home and abroad, according to an explosive report from the Government Accountability Institute (GAI).
The report from GAI, where Breitbart News Senior-Editor-at-Large Peter Schweizer serves as president, highlighted several instances where money obtained through Supplemental Nutrition Assistance Program (SNAP) benefits fraud went to fund acts of terrorism, including the 1993 World Trade Center bombings and the 2013 Boston Marathon Bombing.
Although this method of using food stamp fraud money for terrorism has been aroundsince the 1980s, it gained notoriety when New York City detectives testified before a Senate subcommittee about the 1993 World Trade Center bombings.
Detectives told the committee that $125 million in food stamp fraud had "unwittingly" gone to terrorist activities.
One of the masterminds of the 1993 World Trade Center bombings, Mahmud Abouhalima, funded the attacks by operating a million-dollar food stamp fraud scheme out of a video store in Brooklyn.
But the U.S. government did not pinpoint how a lot of these terrorists used money from food stamp fraud to fund their attacks until shortly after the September 11 attacks in 2001.
The U.S. Treasury Department and the U.S. Department of Agriculture's (USDA) Office of the Inspector General (OIG) identified that many terrorists would get away with funding their illicit activities by using businesses known as "hawalas" to launder money.
A "hawala"— which is an Arabic term defined in English as transfer (or trust)— is a method of transferring money through informal agents from international networks, and many Muslim immigrants settled in western countries use the "hawala" method to transfer funds to family members.
GAI, citing a U.S. Treasury report, found that more than $7 billion flows into Pakistan alone through hawalas every year.
Because of the informal, simple nature of the transaction, the "hawala" method has also been popular among criminals and terrorists to launder money from the U.S. to the Middle East, Africa, and Asia without a paper trail.
In one such instance in 2015, federal agents discovered couriers for these "hawala" networks traveling with cash-filled suitcases on flights leaving the United States for East Africa out of Sea-Tac Airport in Seattle, according to the report. The act of transporting the cash itself was not illegal, but it raised suspicion among federal authorities.
One federal investigator analyzing the financial records of the hawalas found that ten of the couriers working for those networks had been on federal welfare benefits.
Investigators say it is very difficult to track the money moved around through hawalas, even though the federal government has known about the use of hawalas and their alleged role in financing terrorism for years.
But as federal investigators became more familiar with the welfare fraud mechanisms used to fund terrorist activities after the September 11 attacks, investigators have cracked down on a number of instances where terrorists have used the benefit fraud for such purposes.
In 2006, a judge sentenced a Chicago grocery store owner to more than four years behind bars for defrauding $1.4 million from the nation's food stamp program and using it to fund terrorist activities carried out by Palestinian Islamic Jihad.
In 2011, the FBI arrested Waad Ramadan Alwan and Mohanad Shareef Hammadi, both Iraqi refugees, on federal terrorism charges for sending "money and weapons to Iraqi insurgents from the U.S." Alwan became a refugee in 2009, citing persecution in his native country, when he settled in Bowling Green, Kentucky. After briefly holding a job in the area, he moved into public housing and collected welfare payouts.
In 2013, federal investigators discovered that Islamic militants Dzhokhar and Tamerlan Tsarnaev, who carried out the Boston Marathon bombings, had been receiving more than $100,000 in federal welfare assistance over ten years. The Tsarnaev brothers, who had emigrated to the U.S. from Kyrgyzstan, had been receiving cash, section 8 housing, and food stamps.
Federal lawmakers have also become aware of these illicit means of transferring money, and have introduced bills to stop "hawalas" and similar money laundering activities. In May 2017, Sen. Chuck Grassley (R-IA) and Sen. Dianne Feinstein (D-CA) proposed legislation that would prohibit the practice of money laundering through hawalas.
US ready to blow another arms control treaty to feed its war economy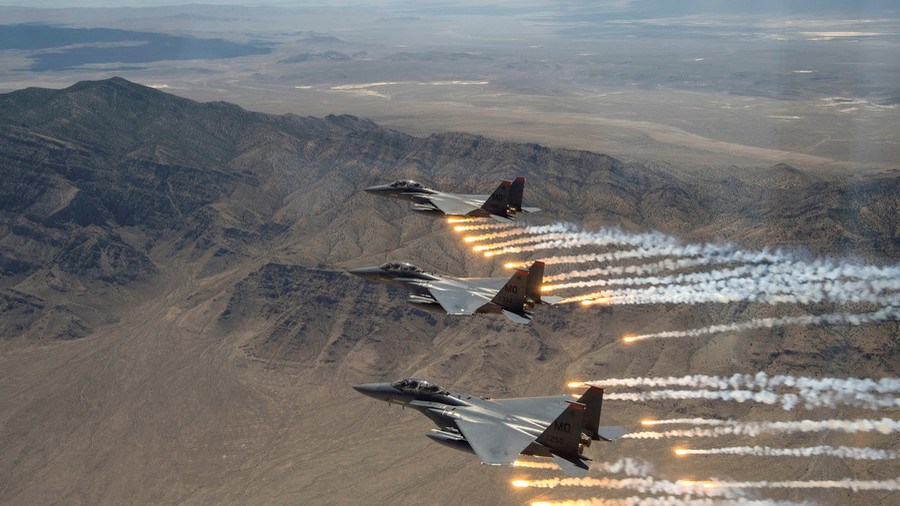 The United States' economy is a military-industrial complex. Therefore any multilateral arms control treaty that limits weapons and war tensions is by definition incompatible with the functioning of American-style capitalism.
President Donald Trump's announced intention of withdrawing the US from the 1987 Intermediate-Range Nuclear Forces (INF) Treaty is but the latest move by Washington in undoing decades of hard-won arms controls agreements.
The US unilaterally scrapped the Anti-Ballistic Missiles (ABM) Treaty back in 2002 under then-President GW Bush. That breach of a decades-old treaty has led to the installation of American missile systems in Europe ever-closer to Russian territory, as the US-led NATO military alliance relentlessly expanded eastwards.
If Trump goes ahead with pulling the US out of the INF, that will leave only one remaining pillar in the arms control architecture, the START Treaty limiting the deployment of all types of nuclear weapons. START is due to expire in 2021 and several hawkish US politicians are urging no replacement.
No wonder then that Trump's unravelling of the nuclear non-proliferation regime is unnerving many people, including NATO allies in Europe. French President Emmanuel Macron reportedly phoned Trump, imploring that the INF is vital for European security. Macron's views were reiterated by German Foreign Minister Heiko Maas.
Moscow and Beijing said the anticipated US move will undermine the strategic balance and unleash a new arms race, reminiscent of the Cold War.
"Mankind is facing full chaos in the nuclear weapon sphere," Russian Senator Konstantin Kosachev said.
Another senior Russian lawmaker, Alexei Pushkov,
slammed
the Trump administration for "
pushing the world to another Cuban missile crisis
."
That standoff in October 1962 saw the US and Soviet Union on the brink of nuclear war. The disaster was averted by President John F. Kennedy and Soviet leader Nikita Khrushchev, who then paved the way for beginning arms controls.
By undoing the INF, the ABM and possibly START, the United States is returning the world to "ground zero," said Pushkov.
That deregulated global situation will inevitably greatly increase the risk of a nuclear war.
Read more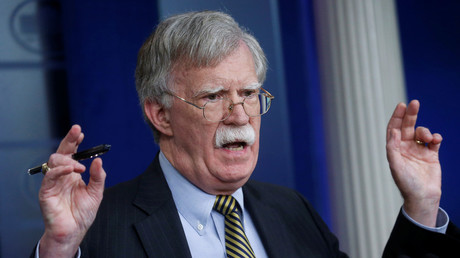 Why would Washington be so reckless?
First, it seems domestic US political infighting is a factor. Trump made his announced repudiation of the INF at a political campaign rally in Nevada at the weekend. There are only around three weeks before US mid-term congressional elections, in which the rival Democrats are vying to take control of the Senate. By talking tough over the INF, claiming that Moscow is in violation of the treaty and the US "won't stand for it," Trump is trying to neutralize the long-held charge from Democrats that he is "soft on Russia."
It is lamentable that international security is being sacrificed because of internal US politicking.
Another factor is that the US needs to abandon the INF if it wants to pursue its ambitions of unipolar military dominance, and in particular its effort to
subjugate
Russia and China. Several strategic planning papers out of Washington over the past two years openly target Russia and China as "
great power rivals
."
By abandoning the INF, the US will have license to expand missile forces towards Russian and Chinese territory. Such an aggressive move could not be done openly for political reasons. Therefore, Washington is finding a pretext for its own violations by accusing Moscow of breaching the INF. Russia has repeatedly
rejected
US claims that it has violated the treaty, pointing out that the American side has never presented evidence to back up its claims.
A third factor is the bigger picture of the US economy as a war-driven system. With an annual spend of over $700 billion on military – about half the total discretionary US budget and multiples more than any other foreign nation – the American economy is dependent on its military-industrial complex. That monstrous deformation of American capitalism, first
warned
by President Eisenhower in 1961, can only exist in the realm of relentless weapons production. That, in turn, relies on the US constantly creating global tensions and uncertainty, even to the point of inciting war.
An arms race is not only a lucrative boon for the Pentagon and American weapons manufacturers – who are the biggest lobby group in Washington – but there is an added strategic objective. By dragging Russia and China into an arms race, it serves as a way for US imperial planners to weaken these rivals.
Out of necessity to counter US military aggression, Moscow and Beijing will be compelled to devote ever-more of their economic resources to weapons procurement. Such a pursuit of militarism, it is calculated, will end up breaking the economies of Russia and China.
Arguably, the Soviet Union's downfall in the late 1980s was largely brought about by decades of inordinate spending on military instead of resources strengthening the civilian economy and society. It seems Trump wants to re-run the Cold War for this purpose of hobbling Russia and China.
Such a limitation does not apply to US capitalism, which gives itself the privilege of racking up endless debt. That privilege is partly due to the unique position of the US dollar as the main global reserve currency. Eventually, however, such profligacy is unsustainable, and when the American collapse comes there will be much gnashing of teeth. However, in the nearer term, the excesses of an arms race can be disguised by seemingly endless American debt.
The various arms control treaties that the US seems bent on unravelling have up to now afforded a certain security from nuclear war. The treaties worked because there was a level of multilateral mutualism between Washington and Moscow.
Not any more, it seems. Washington, especially under Trump, has reduced the art of diplomacy to Twitter tirades and reckless threats, such as when the US ambassador to NATO, Kay Bailey Hutchison, earlier this month
warned
that the American military would "t
ake out
" Russian missiles deemed to be in violation of the INF. She later backtracked on that incendiary comment, but the first impression of preemptive gung-ho mentality is not easily remedied.
Any attempt at diplomacy by Trump seems confounded by a deplorable lack of logic or intelligence. After tearing into the INF, the president appeared to leave the door open for a replacement treaty with Russia and China.
"
We'll have to develop those [short, intermediate-range] weapons, unless Russia comes to us and China comes to us and they all come to us and say, 'Let's really get smart and let's none of us develop those weapons'
."he
said
.
Here's what Trump and the rest of Washington don't understand. The INF treaty has been continually eroded because US military forces insist on stationing their missiles thousands of kilometers from American territory on the doorstep of both Russia and China.
If Trump really wanted to find an accord on this arms control, he would withdraw America's so-called "anti-missile systems" from Poland, Romania and the Black Sea, as well as from South Korea and near China's maritime territory.
Ultimately, though, the best arms control mechanism is for Americans to overhaul their economy away from the warmongering system it is.
Trump threatens to build up US nuclear arsenal until Russia, China 'come to their senses'
US President Donald Trump threatned Russia and China that Washington intends to build up its nuclear arsenal until "people come to their senses."
The president said his words were directed towards Moscow and Beijing, as he prepared to unilaterally leave the Intermediate Nuclear Forces in Europe (INF) treaty. The US president implied China should be part of any new nuclear arms control treaty.
"Russia has not adhered to the agreement," neither in form or in spirit, Trump told reporters outside the White House on Monday, before departing for a campaign rally in Texas.
Until people come to their senses, we will build it up
he said, referring to the US nuclear arsenal. "When they do, we will all be smart and we'll stop. Not only stop, but we'll reduce, which I'd love to do."
Asked if this should be taken as a threat, Trump said yes.
It's a threat to whoever you want. It includes China, it includes Russia

The US has "more money than anyone else by far," Trump added, implying an arms race wouldn't come as a burden. "You can't play that game on me."
The treaty, which went into effect in June 1988, was a major achievement of Cold War detente and helped defuse nuclear fears in Europe. If Trump goes ahead and withdraws from the INF, that would leave the Strategic Arms Reduction Treaty (New START) as the last obstacle to uncontrolled nuclear proliferation. The treaty will expire in 2021, and Washington has not yet decided on renewing it, Trump's national security adviser John Bolton said during his visit to Moscow.
Over the years, Moscow and Washington have repeatedly accused each other of violating the deal. While the US has alleged that Russia has developed missiles prohibited by the INF, Moscow has pointed out that the US anti-missile systems deployed in Eastern Europe can actually be used to launch intermediate-range cruise missiles. Those systems were deployed after Washington unilaterally left the anti-ballistic missile (ABM) treaty in 2002.
In his impromptu press conference, Trump implied that China should be part of any new nuclear arms control treaty. He did not say how his administration intended to achieve that, given the current poor state of affairs between Beijing and Washington, propelled by a trade war and military tensions in the South China Sea.
Trump's hardline approach to trade deals has worked, with Canada, Mexico and the EU quickly coming around to his point of view. His repudiation of the 2015 Iran nuclear deal, however, has not produced another nonproliferation agreement with Tehran.