Fairfax County, Virginia Presents Dire Warning to America
My home county of Fairfax, Virginia was once a safe suburban area with some of the best performing public schools in the nation. It's now a blinking warning sign to America as it hangs on the edge of complete disaster thanks to unchecked immigration and Democrat takeover of the government.
Even with the high concentration of government workers, Fairfax County was once a Republican bastion before it became a political battleground. The Bush/Cheney ticket won the county in a close race in 2000 and then lost it badly in 2004 due to a significant increase in Democrat votes.
Fairfax's descent into its current state started with a wave immigration, much of it illegal, into the area which washed away Republican political viability.
Fairfax County became a nullification (sanctuary) county in 2018 and now puts a significant chunk of money into its budget to defend noncitizens from U.S. Immigration and Customs Enforcement, although the problem started long before that. By 2015, 30% of the county was foreign-born.
MI-13, a brutal criminal gang, is now more active than ever, and the once marquee schools have started what will be a long slide through mediocrity to abysmal.
Fairfax just ranked seventh among the highest-crime sanctuary jurisdictions, ranking just below Chicago and tied with a nearby Maryland county that has had at least nine illegal alien sexual assaults since its sanctuary policy was declared in late July. That's staggering. Fairfax County now is on a list of shame with Chicago, Philadelphia, New York, and San Francisco.
Even apart from the rapidly deteriorating safety, the schools are sinking under the fiscal and social costs. It costs on average $15,283 to educate each of the 188,000 students in the county. That's an enormous bill, and the cost for limited–English proficiency students is likely about $10,000 higher per student.
Back in 2015, when the problem was nowhere near as acute as today, nearby Alexandria County spent over 45% of its instructional funding on limited English proficiency students.
In this context, flooding the county with noncitizens who are contributing little tax revenue must result in worse schools and far higher taxes. It's a mathematical certainty.
But the flood of new residents achieved its primary purpose, which was to make the ground here far more hospitable for Democrat politicians. Nearly 12,000 county residents were in deportation proceedings late last year, which the county is vigorously fighting in the interest of political power.
This once Republican bastion is now a no man's land for Republicans. On the single greatest day of 2016, Donald Trump was way ahead in Virginia with most of the vote counted. But anyone who dared to hope that this was still a battleground state was in for a rude awakening when the votes from the northern Virginia counties were added to the tally.
Virginia is gone. The only difference between Virginia and California is in the shade of blue. The state will trend ever darker blue barring a significant change in the voting patterns of the newer residents.
The dominoes continue to fall. Fairfax fell early, even as neighboring Prince William County remained in Republican hands. But that county is also now in deep trouble, and other dominoes will spread out from there, county by county. This is the same path that Texas is on, only it is a little farther behind.
The Democrat votes brought a Democrat school board, along with local county leadership. This meant the adoption of a policy framework called "One Fairfax" in November 2017.
"One Fairfax" is representative of what is happening across the country. A constellation of groups with backers like George Soros are active across America, subverting local governments and education. As the Daily Caller noted, these groups are already active in 33 cities and counties, covering 10% of Americans.
The "One Fairfax" name brings to mind Sauron's one ring to rule them all from The Lord of the Rings. Like that ring, One Fairfax is intended to destroy all dissent or resistance and to force absolute subservience and surrender. The key buzzword used to squash dissent is "equity," which is intended to shut down debate.
All policies are now looked at through the rubric of race and the liberal conception of social justice with the goal of absolute political power. Liberals use friendly terms like "equity" to hide their true goal, which is a complete reshaping of the county in a Marxist image, where the only thing that matters is some conception of equality of outcomes.
One can almost envision the superintendent holding a map and redrawing lines, muttering, "My precious."
The social engineering leftists of the school board were secretly plotting to redraw district lines for the express purpose of achieving equal racial balance across the schools, to include reinstituting failed busing schemes of yesteryear. They were only temporarily thwarted in this agenda when county residents grew wise to their scheme and stormed their meeting.
There is scant attention paid to actually improving the schools and equipping the teachers to deal with the challenges created by failed policies. My wife is a teacher in the county and brings home horror stories beyond belief. The teachers, who all must attend equity training, have little authority to discipline increasingly unruly kids, some of whom barely speak English, even as class sizes grow.
Even as the teachers face incredible challenges due to the bad policies that wrecked the schools, the school board recently spent an hour debating "International Menstrual Equity" in the belief that what was really hurting student achievement was that girls had to go all the way to the clinic to get free menstrual products and had to conduct a "walk of shame." This is apparently a dire problem even in elementary schools. Lack of discipline or support in overfilled classrooms? No problem. The lack of tampon Pez dispensers scattered throughout the hallways? Major crisis.
The lens of race is now the primary weapon, even at the local level, used to justify the most corrosive and destructive policies, and anyone who objects to their social engineering schemes is automatically branded as a racist.
Their "race lens" is outrageously racist, since it assumes that some races need their social engineering help. There is little difference between the schools with more resources going to schools in less affluent areas. So they are tacitly arguing that the difference is in the students themselves. They would rather move the students great distances to achieve a racial balance than focus on providing education where they live.
In the politicians' quest for power, the kids and teachers are sacrificed as pawns, left to fend for themselves in failing classes that have been social engineered into lunacy.
Fairfax is our country in a microcosm. What happened here is happening all over America. If we don't reverse the trends, both at the local and national level, the long-term prognosis on America is not promising. While the battle will rage on at the local level, Virginia is lost to the Democrats at the national and soon state level. Other states, to include Texas, aren't far behind.
Fletch Daniels blogs at deplorabletouchdown.com and can be found on Twitter at @fletchdaniels.
1.1 Million Migrants Crossed into U.S. in FY2019, Nearly Half-Million Families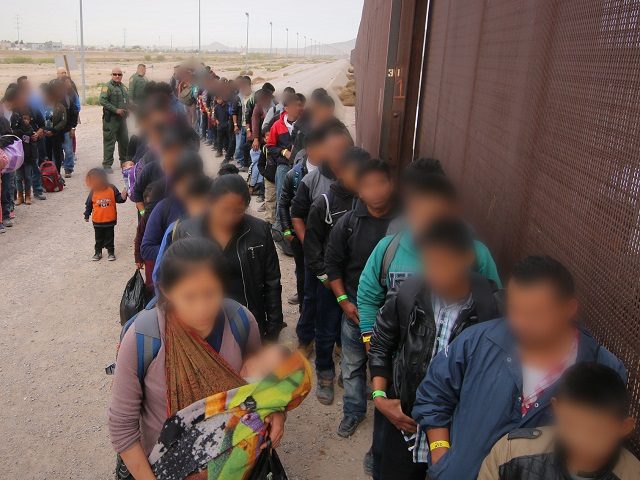 The apprehension of migrants who crossed the border into the U.S. reached 1.1 million during Fiscal Year 2019. More than 850,000 crossed into the U.S. illegally. Of those, nearly a half-million of the migrants were family units.
During Fiscal Year 2019, which ended on September 30, U.S.Border Patrol agents and CBP officers apprehended more than 1,148,000 migrants who crossed the border from Mexico into the U.S., according to year-end numbers released by U.S. Customs and Border Protection on Tuesday in El Paso. The El Paso Sector witnessed the largest percentage increase of illegal border crossings in all categories.
The apprehension of migrants illegally crossing the border is at the highest level since 2007, when agents apprehended 858,638. The apprehension of family units was not tracked in 2007, but this year marks a record for the category–473,000. This number is nearly quadrupled 2018's report of 107,490 migrant family apprehensions. Prior to that, there had never been more than 100,000 family apprehensions in a single year.
Apprehension numbers declined during the last four months of the fiscal year after peaking at 132,589 in May, according to previously published reports. This is due in part to new Mexican immigration procedures negotiated by the Trump Administration.
"In just a 24-hour period, we recorded more than 5,800 people in a single day back in May," CBP Acting Commissioner Mark Morgan told reporters at a press conference in El Paso on Tuesday. "On a single day back in May, we actually had 20,000 individuals in custody. We have a capacity of 4,000."
Earlier this month, these immigration procedures broke up a caravan consisting of approximately 2,000 from Central America, Africa, and the Caribbean Islands, Breitbart Texas
reported
. The group began to move northward from Tapachula, Chiapas, early one-morning after being held up for official travel documents. The group quickly encountered Mexican Federal Police and members of the newly formed National Guard.
When the group came upon the police and soldiers, some scattered while others surrendered.
"This caravan no longer exists," migrant rights advocate Irineo Mujica told the AP.
While the number of migrants apprehended while crossing the border into the U.S. fell during the last four months, Commissioner Morgan stated the numbers are still at crisis levels.
"So last month it was down to 52,000," Morgan stated. "But that's still a significant increase from this time last year." Morgan compared May's daily peak of nearly 6,000 to the September daily average of 1,400 apprehensions per day. "That's still at crisis levels."
Family unit migrant crossings are of particular concern to CBP officials due to the increase in resources required to care, transport, and process them.
During FY2019, Border Patrol agents apprehended 473,682 Family Unit Aliens, according to the 2019 Southwest Border Migration Report. This is an increase of nearly 350 percent over last year's record apprehension of 107,212 family units. The apprehension of Unaccompanied Alien Children also increased by 52 percent to 76,020.
Bob Price
serves as associate editor and senior political news contributor for the Breitbart Border team. He is an original member of the Breitbart Texas team. Follow him on Twitter
@BobPriceBBTX
and
Facebook
.
Washington, D.C. (October 29, 2019) – A report by the Center for Immigration Studies, based on newly released Census Bureau data, finds that 67.3 million residents in the United States now speak a language other than English at home, a number equal to the entire population of France. The number has nearly tripled since 1980, and more than doubled since 1990. In some states, the growth was even more pronounced. All language figures in Census Bureau data are for persons five years of age and older.
Steven Camarota, co-author of the report and the Center's director of research, said, "That more than one in five US residents now speaks a language other than English at home is certainly significant. But perhaps even more important, since 1980 the number who speaks a foreign language at home has more than tripled in 23 states, including in Tennessee, Arkansas, South Carolina, Kentucky, Idaho, Alabama and Oklahoma, which are not traditionally thought of areas of high immigrant settlement."
Among the findings:
• In 2018, a record 67.3 million U.S. residents (native-born, legal immigrants, and illegal immigrants) spoke a language other than English at home. The number has more than doubled since 1990 and almost tripled since 1980.
• Since 1980, the number who speak a foreign language at home grew nearly seven times faster than the number who speak only English at home. Even since 2010, when the number speaking a foreign language at home was already very large, the number of foreign-language speakers increased more than twice as fast as that of English speakers.
• As a share of the population, 21.9 percent of U.S. residents speak a foreign language at home — more than double the 11 percent in 1980.
• In nine states, more than one in four residents now speaks a language other than English at home. These nine states account for two-thirds of all foreign-language speakers. In contrast, in 1980 foreign-language speakers were one in four residents in just two states (New Mexico and Hawaii); and these two states accounted for just 3 percent of all foreign language speakers.
• The states with the largest share of their populations speaking a foreign language at home in 2018 were California (45 percent), Texas (36 percent), New Mexico (34 percent), New Jersey (32 percent), New York and Nevada (each 31 percent), Florida (30 percent), Arizona and Hawaii (each 28 percent), and Massachusetts (24 percent).
• States with the largest percentage increase in those speaking a foreign language at home from 1980 to 2018 are Nevada (up 1,088 percent), Georgia (up 952 percent), North Carolina (up 802 percent), Virginia (up 488 percent), Tennessee (up 459 percent), Arkansas (up 445 percent), Washington (up 432 percent), South Carolina (up 398 percent), Florida (up 393 percent), Utah (up 383 percent), and Oregon (up 380 percent).
• States with the largest percentage increase in the number of those speaking a foreign language at home since 2010 are North Dakota (up 63 percent), Utah (up 29 percent), Iowa (up 24 percent), Florida, Minnesota, Oklahoma, Washington, Maryland and Nevada (each up 23 percent), Oregon and Tennessee (each up 22 percent), North Carolina and Kentucky (each up 21 percent), and South Carolina (up 20 percent).
• In America's five largest cities, just under half (48 percent) of residents now speak a language other than English at home. In New York City it is 49 percent; in Los Angeles it is 59 percent; in Chicago it is 36 percent; in Houston it is 50 percent; and in Phoenix it is 38 percent.
• In 2018, there were 90 cities and Census Designated Places (CDP) with populations of at least 63,000 in which a majority of residents spoke a foreign language at home. These include Hialeah, Fla., and Laredo, Texas (each 89 percent); East Los Angeles (88 percent); and Passaic, N.J. (78 percent).
• In 2018, there were 229 cities and CDPs in which more than one in three residents spoke a language other than English at home. Some of these places may be surprising: Providence, R.I. (50 percent); Allentown, Pa. (48 percent); Germantown, Md. (46 percent); Centerville, Va. (44 percent); New Rochelle, N.Y. (42 percent); West Valley City, Utah (39 percent); Springdale, Ark. (35 percent); and Troy, Mich. (34 percent).
• The largest numerical increases in those who speak a language other than English at home between 2010 and 2018 were among speakers of Spanish (up 4.5 million), Chinese (up 663,000), Arabic (up 394,000), Hindi (up 265,000), Tagalog (up 187,000), Telugu (up 177,000), Vietnamese (up 161,000), Bengali (up 152,000), Portuguese (up 128,000), and Tamil (up 124,000). Telugu and Tamil are spoken in India, Tagalog is the national language of the Philippines, and Bengali is spoken in India and is also the national language of Bangladesh.
• Languages with more than a million people who speak it at home in 2018 were Spanish (41.5 million), Chinese (3.5 million), Tagalog (1.8 million), Vietnamese (1.5 million), Arabic (1.3 million), French (1.2 million), and Korean (1.1 million).
• There are now more people who speak Spanish at home in the United States than in any country in Latin America with the exception of Mexico, Colombia, and Argentina.
• Of those who speak a foreign language at home, 25.6 million (38 percent) told the Census Bureau that they speak English less than very well. This figure is entirely based on the opinion of the respondent; the Census Bureaus does not measure language skills.
• Of those who speak a foreign language at home, 45 percent were born in the United States.
Report: Cops Arrest 80 at Mexican-Run Cockfight in Virginia
Cops arrested numerous suspected illegal aliens and drug-traffickers at an illegal cockfight in Patrick County, Virginia, according to a report in the
Martinsville Bulletin
.
Pew Research: Vast Majority of Illegals, 4-in-9 Legal Immigrants, Not English Proficient
The vast majority of illegal aliens and a sizeable portion of legal immigrants living in the United States are not proficient in the English language, a survey finds.
Coulter: U.S. Isn't Becoming Europe. We're Becoming Rome
Can we have a quick reality check and acknowledge that what is happening to America is a million times worse than what's happening in Europe and is of much greater consequence?
MULTI-CULTURALISM and the creation of a one-party globalist country to serve the rich in America's open borders.
"Open border advocates, such as Facebook's Mark Zuckerberg, claim illegal aliens are a net benefit to California with little evidence to support such an assertion. As the CIS has documented, the vast majority of illegals are poor, uneducated, and with few skills. How does accepting millions of illegal aliens and then granting them access to dozens of welfare programs benefit California's economy? If illegals were contributing to the economy in any meaningful way, CA, with its 2.6 million illegals, would be booming." STEVE BALDWIN – AMERICAN SPECTATOR
(POPULATION 9-2018)
FINISHING AMERICA OFF: THE FOREIGN INVASION FOR "CHEAP" LABOR
Open the floodgates of our welfare state to the uneducated, impoverished, and unskilled masses of the world and in a generation or three America, as we know it, will be gone. JOHN BINDER
But many less-skilled migrants play their largest role by simply shifting small slices of wealth from person to person, for example, by competing up rents in their neighborhood or by competing down wages in their workplace. The crudest examples can be seen in agriculture.
Overall, the Washington-imposed economic policy of economic growth via immigration shifts wealth from young people towards older people by
flooding
the market with
cheap white-collar and blue-collar foreign labor
.
"Critics argue that giving amnesty to 12 to 30 million illegal aliens in the U.S. would have an immediate negative impact on America's working and middle class — specifically black Americans and the white working class — who would be in direct competition for blue-collar jobs with the largely low-skilled illegal alien population." JOHN BINDER
US now has more Spanish speakers than Spain – only Mexico has more
Atlantic Op-Ed: The Migration Wave Has Barely Begun
Americans need to reform their immigration laws before hundreds of millions of foreigners decide to take up residence in the United States, says David Frum, an author at the pro-globalist
Atlantic
magazine.
Immigration to America Is Not What It Used to Be
Immigrants today are not coming from nations of equal or greater economic achievement. In the past, immigrants from Europe, for the most part, were emigrating from nations that were as advanced as the United States was, if not more so. Today the overwhelming majority of immigrants are coming from developing nations.

Immigrants in the past came primarily from European nations which had cultural values—educational, religious, and political—that were, if not nearly identical to American cultural values, at shared a similar trajectory towards achieving those values. Immigrants today come from nations that, relatively speaking, have far fewer cultural similarities to America than past waves of immigrants.

Immigrants today, for the most part, are coming from nations that are rapidly increasing in population and, in aggregate, dwarf the United States in population. Related to this is the fact that in the past, the people already in America were themselves rapidly increasing in population, but this is no longer the case, except among populations of recently arrived immigrants.

Immigrants today arrive via 10-hour hops on an airliner. In the past, waves of immigrants spent 10 months traversing land and sea in a journey of staggering expense and significant dangers. While this isn't universally true, particularly for the overland migrants that cross America's southern border, the general point stands: coming to America today does not require the commitment it required in the past.

Similarly, in the past, immigrants pretty much renounced their countries of origin. They made a one-way trip and they adopted the language and values of America. Today, retaining cultural unity with one's country of origin is a few clicks on the internet, a cheap telephone call, an affordable airfare. Technology has greatly eroded the forces that used to impel immigrants to become Americans.

Immigrants in the past arrived in an America that had a voracious need for unskilled workers. Today the American economy is relentlessly automating jobs that used to require unskilled labor, and the American population already has a surplus of unskilled workers.

Immigrants today are arriving in a welfare state, where they are assured of food, shelter, and medical care that are, in general, orders of magnitude better than anything available to them in their native countries. This creates a completely different incentive to today's immigrants. In past centuries, immigrants came to America to find freedom and to work. Today they are offered a smorgasbord of taxpayer-funded social services.

Immigrant students today—especially in the coastal urban centers where most of them settle—enter a public education system that teaches them with a reverse-racist, anti-capitalist bias. They are taught in our public schools not to assimilate, but to "celebrate diversity"; not to earn opportunities through hard work, but through fighting discrimination. They are taught, often in their native language, that they have arrived in a nation dominated by racist and sexist white males, who exploit the world to amass evil profits.
'Assimilate or Leave' has Always Been U.S. Immigration Policy
Can Democracy Survive without Nationalism?