PELOSI'S OPEN BORDERS FOR MORE CHEAP LABOR
The Mexican Army made two
seizures
in Ensenada on August 17 (1,036 pounds of meth, heroin, and fentanyl) and August 18 (1,653 pounds of meth, fentanyl, and marijuana).
The Mexican Army
discovered
an active drug lab on August 25 in Tecate and seized four tons of methamphetamine.
The Mexican Federal Police
seized
350 pounds of methamphetamine in an active drug lab in Tijuana on August 26.
The Mexican Federal Police
seized
20,000 fentanyl pills in an active lab in Mexicali on September 10.
The Mexican Federal Police
seized
550 pounds of methamphetamine in Tijuana on September 12.
The Mexican Army
seized
1,055 pounds of methamphetamine near the Arizona border on September 14.
A.G. JEFF SESSIONS DEFENDS U.S. BORDERS AGAINST THE DEMOCRAT PARTY AND MEXICO'S INVASION.
"Some of the most violent criminals at large today are illegal aliens. Yet in cities where the crime these aliens commit is highest, the police cannot use the most obvious tool to apprehend them: their immigration status. In Los Angeles, for example, dozens of members of a ruthless Salvadoran prison gang have sneaked back into town after having been deported for such crimes as murder, assault with a deadly weapon, and drug trafficking." HEATHER MAC DONALD
"Heroin is not produced in the United States. Every gram of heroin present in the United States provides unequivocal evidence of a failure of border security because every gram of heroin was smuggled into the United States. Indeed, this is precisely a point that Attorney General Jeff Sessions made during his appearance before the Senate Judiciary Committee hearing on October 18, 2017 when he again raised the need to secure the U.S./Mexican border to protect American lives."
Michael Cutler …..FrontPageMag.com
CJNG is one of the most powerful cartels in Mexico and the Department of Justice considers it to be one of the five most dangerous transnational criminal organizations in the world — responsible for trafficking tons of cocaine, methamphetamine, and fentanyl-laced heroin into the United States.
DHS Secretary: 'ICE Interdicted Enough Fentanyl Last Year to Kill Every American Twice Over'
Fentanyl is a synthetic opiate that according to the U.S. Centers for Disease Control and Prevention is 50 to 100 times more powerful than morphine. The illicit drug has been attributed to the alarming increase in opioid overdose deaths throughout the United States.
March 7, 2019 | 7:31 PM EST
DHS Secretary Kirstjen Nielsen said Wednesday that Immigration and Customs Enforcement (ICE) seized enough fentanyl last year to kill every American citizen twice over.
Read Full Story
Exclusive – President Donald Trump: We're Thinking 'Very Seriously' About Designating Mexican Cartels as Foreign Terrorist Organizations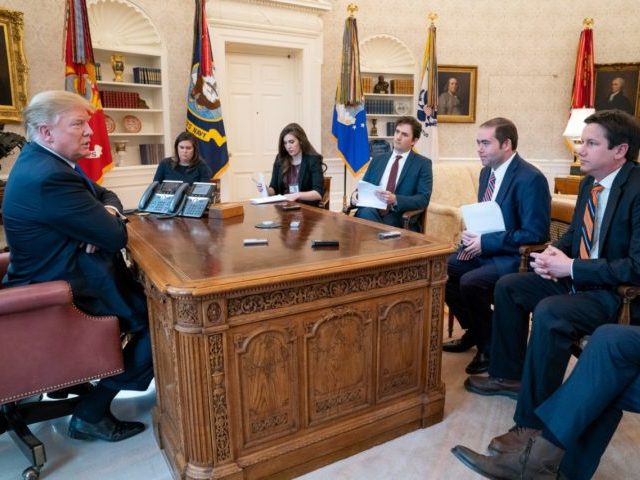 President Donald Trump told Breitbart News on Monday that his administration is thinking "very seriously" about labeling violent Mexican drug cartels, or factions of these cartels, as Foreign Terrorist Organizations (FTOs).
Asked by Deputy Political Editor Amanda House during a wide-ranging, exclusive Oval Office interview with Breitbart News whether his administration is considering designating factions of cartels, or cartels as a whole, as terrorist groups, Trump replied that he is.
"We are. We are," Trump said. "We're thinking about doing it very seriously. In fact, we've been thinking about it for a long time."
"It's psychological, but it's also economic," Trump continued. "As terrorists — as terrorist organizations, the answer is yes. They are."
The president went on to discuss the violence taking place in Mexico.
"Mexico, unfortunately, has lost control of the cartels," Trump said. "They've totally lost control of the cartels. Mexico last year had 42,000 deaths — murders — 42,000. It's considered one of the most unsafe countries in the world."
"Now, I'm with them. I really like the new president. He's a wonderful guy, but you know, 42,000 murders. A lot of it is drug-induced," Trump continued.
Recalling his recent trips to the border in January and February, the president commented on how little media attention the horrors on the border receive, stating:
When I was down on the border in Rio Grande three weeks ago, they had 26 people killed right near where I was. And it was a gang fight, and they were buried on the site. That was right near the area that I was at. The papers don't even write about it. You know, did you read about the 26 people killed? You don't even read about it.
Back in January, Trump visited McAllen, Texas, and toured the border with Texas Sens. Ted Cruz (R-TX) and John Cornyn (R-TX). In nearby Miguel Aleman, Tamaulipas, in Mexico, just about a two-hour drive away from McAllen, at about the same time, as Breitbart News' Cartel Chronicles team reported then, cartel violence that resulted in two large-scale gun battles claimed the lives of 30 people. The Cartel Chronicles team of Breitbart News published several graphic photographs of the aftermath of the gun battles.
Later, in February, Trump held a rally in El Paso, Texas, in the El Paso Sector of the border. Breitbart News' Cartel Chronicles team has published many examples of gruesome violence in Mexico near El Paso, including an October 2018 report from Robert Arce on the discovery of six decapitated bodies by authorities in the state of Chihuahua, Mexico. Just this week, Arce followed up with another report on how three state police officers in Chihuahua were killed in a cartel ambush by drug cartel gunmen. The attack also left five cartel gunmen dead.
In February, U.S. Representatives Chip Roy (R-TX) and Dr. Mark Green (R-TN)

sent

a letter to Secretary of State Mike Pompeo requesting specific Mexican cartel factions be designated as FTOs.
Numerous drug cartels employ terrorist tactics that clearly fit this definition, such as the Reynosa/Los Metros faction of the Gulf Cartel, the Cartel Del Noreste faction of Los Zetas, the Jalisco New Generation Cartel offshoot of the Sinaloa Cartel. These groups use terror to intimidate and to advance their agenda. They threaten the stability of governments across the globe. Even the United Nation's Security Council has recognized the clear link between drug trafficking and terrorism.

Many drug cartels are based in Latin America, regions of which have seen decades of ruthless violence. According to a Congressional Research Service report, since 2006 there have been roughly 150,000 organized crime-related killings in Mexico alone. Additionally, Mexico's Citizen's Council for Public Security lists that forty-two of the fifty most violent cities in the world are in Latin America. Many of these cities are more dangerous than war zones. Drug cartels have committed heinous acts of terrorism, from carrying out bombings that have killed innocent people, conducting ISIS-style beheadings, assassinating government officials and members of law enforcement, and engaging in torture and indiscriminate murder.
Back in late January, too, Director of Breitbart's Border and Cartel Chronicles projects Brandon Darby and Breitbart Border reporter Idelfonso Ortiz reported exclusively that an actual terrorist who had served time in a Mexican prison for bombing of a U.S. consulate in Mexico had taken the reins of a major drug cartel:
A verified and convicted terrorist who attacked a U.S. Consulate with a grenade and automatic rifle fire has taken over the ruthless Los Zetas cartel, a group headquartered at the Texas border in the Nuevo Laredo-Laredo metropolitan border area. Nuevo Laredo, Tamaulipas, sits immediately across the border from Laredo, Texas, and is the only urban location along the entire U.S.-Mexico Border that does not have any fencing or constructed security barrier of any kind. The convicted terrorist, Hector Raul Luna Luna, is known as "El Tory" and was convicted in the 2008 terror attack on the U.S. Consulate in Monterrey, Mexico. He was released from prison due to bribes paid by Cartel Jalisco New Generation (CJNG) and has now taken over the dominant faction of Los Zetas, Cartel Del Noreste (CDN), to open up the lucrative and unsecured border corridor into Texas.
It remains to be seen what will happen from here but now the ball is in the administration's court on what to do with the cartels.
In response to a follow-up question from Breitbart News' Senior White House Correspondent Charlie Spiering, though, President Trump said the establishment media in America is at least beginning to acknowledge the crisis that is on the border–despite the lack of coverage of cartel violence on both sides of the border.
"By the way, I can't believe it. They're finally starting to admit it," Trump said when Spiering noted that some in the media are finally admitting that there is a crisis on the border. "But I was there 4 weeks ago, 26 people were killed and I didn't see one story about it. It's pretty incredible. But you're right though, I can't believe it. I actually saw in the Washington Post and the New York Times over the last couple of days."
Official White House Photo by Tia Dufour
Alexander Marlow is the Editor-in-Chief of Breitbart News, Matthew Boyle is the Washington Political Editor of Breitbart News, Amanda House is the Deputy Political Editor of Breitbart News, and Charlie Spiering is the Senior White House Correspondent for Breitbart News.
A US budget for worldwide war BUT NO MONEY FOR A WALL AGAINST NARCOMEX!
12 March 2019
The budget request made public Monday by the White House must be taken by the international working class as a serious warning. The US government is preparing for full-scale war abroad and savage attacks on the living standards and social benefits of working people at home. The most powerful imperialist state is seeking a record level of military spending, while demanding unprecedented cuts in spending on social necessities such as healthcare, education and the environment.
The Trump administration proposes to give the Pentagon an increase nearly double that sought by the military establishment itself—a 4.7 percent rise over current spending, double the 2.4 percent increase for which Defense Department officials had been planning. The dollar amount of the increase is $34 billion, while the Pentagon asked for only $17 billion.
Total US military spending of $750 billion would be larger than the 2018 military spending of the next 14 countries combined—China, Saudi Arabia, Russia, India, Britain, France, Japan, Germany, South Korea, Brazil, Australia, Italy, Israel and Iraq.
Perhaps the most startling and ominous figure in the budget request is the proposed increase for Overseas Contingency Operations (OCO), the all-purpose war-fighting category that includes funding for the US interventions in Afghanistan, Iraq and Syria, drone warfare across the wider Middle East and North Africa, and the US military buildup on the borders of Russia (European Deterrence Initiative). While the fiscal year 2019 budget provides $69 billion for OCO, the request for FY 2020 balloons to a staggering $164 billion.
Initial press reports, citing White House sources, claim that this is an accounting gimmick, reclassifying a significant portion of the regular Pentagon budget as OCO in order to allow the military nominally to comply with spending caps set in 2011 under a bipartisan budget agreement between the Obama administration and congressional Republicans, but routinely evaded in congressional budget deal-making since then. Under that scenario, the Trump administration would declare that it was now observing the caps, imposing them on domestic spending through a savage across-the-board cut of at least five percent. Meanwhile, overall military spending would soar, since money for the OCO is not counted towards the spending caps.
Whatever the truth of such assertions, funneling almost $100 billion more into Overseas Contingency Operations has implications far beyond Trump's maneuvers with Congress, and would surely provoke alarm in Tehran, Moscow and Beijing. It would give the Pentagon more than enough money to fight a major war, such as an invasion of Iran or Venezuela, both targets of Trump fist-shaking in recent months, or North Korea, if the current talks between Washington and Pyongyang collapse completely. This vast sum could even be used to finance the initial stages of a war with China or Russia, if such a conflict did not immediately escalate into a world-destroying nuclear holocaust.
Moreover, given Trump's ongoing effort to use the declaration of a bogus "national emergency" on the US-Mexico border to redirect Pentagon funds towards the building of his border wall, the creation of a gigantic $164 billion OCO slush fund would give the commander-in-chief virtually free rein for military operations around the world, or within the United States itself. For a sense of the scale of the war allocation, the $164 billion OCO fund by itself is roughly equal to the total military budget of China, at $168 billion, and nearly three times the $63 billion military budget of Russia. It would pay for Trump's border wall many times over.
Specific military spending categories that have been reported include $104 billion for research and development, with the main focus on hypersonic weapons (missiles and planes flying much faster than sound), on artificial intelligence systems (cyberwarfare and automated battlefield weapons), and "space-based technologies." The Navy will contract for two new Gerald Ford-class supercarriers, costing upwards of $13 billion apiece. The Air Force will buy upgraded F-15 fighter jets from Boeing and more F-35s from Lockheed Martin. Tens of billions will go to update and modernize US nuclear weaponry.
Then there is a $9.2 billion "emergency requirements" item that would "address border security and hurricane recovery." The portion devoted to "hurricane recovery" is for past and future damage to US military facilities and the cost of deploying US military resources during and after a storm, not for civilian needs. And "border security" would give Trump yet another pot of money to fund the US-Mexico border wall, in addition to the $8.6 billion formally requested in the budget for that purpose.
While proposing this bonanza for the Pentagon, the Trump budget would impose the biggest cuts in Medicaid and Medicare in history, nearly $2 trillion over 10 years. Medicaid would be converted into block grants to the states, with spending increases limited to the rate of overall inflation, not the much higher rate of health care cost inflation, forcing almost immediate cuts by the states. In addition, the expansion of Medicaid under Obamacare would be repealed, cutting off health coverage for more than 10 million people. The total savings over 10 years are estimated at $1.1 trillion. Another $845 billion would be slashed from Medicare by slashing reimbursements to hospitals and other health care providers and eliminating "waste, fraud and abuse."
According to a White House summary reported by the Washington Post, other federal social spending would be slashed even more in percentage terms, although by smaller dollar amounts: $327 billion over 10 years from food stamps, housing assistance and other means-tested programs; $200 billion from retirement programs for federal and postal workers; $207 billion from college student loan programs, including those that provide food and housing assistance; cuts of 32 percent from the Environmental Protection Agency, 22 percent from the Department of Transportation, 11 percent from the Department of the Interior, 12 percent from the Department of Education and 12 percent from the Department of Health and Human Services.
The response by congressional Democrats and the media to the Trump budget has been to focus on the $8.6 billion request for the border wall—the issue that was the trigger for a 35-day partial shutdown of the federal government that ended in late January. This is a deliberate diversion, allowing the Democrats to posture as intransigent opponents of Trump while they quarrel with him over a sum that represents less than two one-thousandths of a $4.6 trillion budget.
The Democratic leadership fully embraced Trump's military budget as part of a bipartisan deal last year, and it is just as enthusiastically in support of the Pentagon this year. In fact, the Democrats have generally attacked Trump from the right on foreign policy, demanding a more aggressive stance toward Russia in Syria and Eastern Europe, against North Korea, and in opposition to China, particularly on trade.
Even on border security, the Democrats are in full support of further massive spending increases to deploy more technology and hire more Customs and Border Protection and Immigration and Customs Enforcement thugs to persecute immigrants, so long as it isn't labeled as money for Trump's wall.
The delivery of Trump's proposed budget begins an entirely predictable and cynical sham fight in Washington. The Democrats will denounce the proposed cuts in Medicaid, Medicare and other social programs and vow to fight them to the death. They will ultimately do a deal with Trump that includes major new cuts in social programs, which do not, however, go as far as the White House proposals, in return for full funding for the US military-intelligence apparatus, the most reactionary and dangerous force on the planet.
Mexican Border States Net 320 Pounds of Meth in Two Days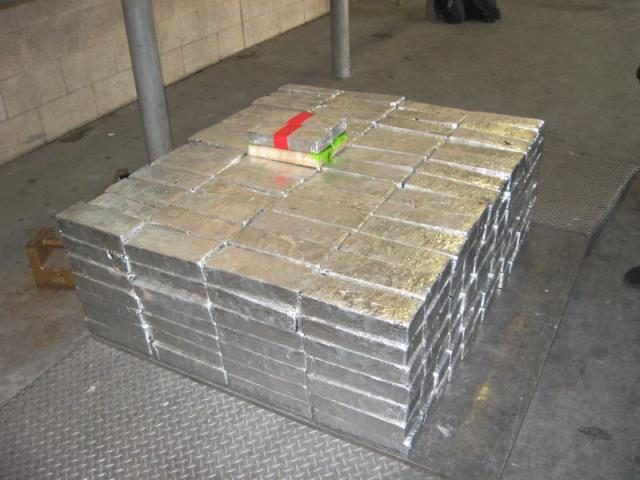 Separate drug seizures in two Mexican border states over the weekend netted 320 pounds of methamphetamine. The first operation occurred in Tijuana and the second on a highway leading to Ciudad Juárez. Two arrests were reported resulting from the incidents.
The first operation took place in Tijuana when investigative elements of the Federal Prosecutors Office (AIC) obtained a search warrant for a residence on Avenida Transpeninsular after intelligence suggested the house was being used to store a large quantity of methamphetamine. The warrant was executed on Friday morning. The AIC agents discovered numerous plastic containers sealed with adhesive tape, each filled with a granulated white substance. The total weight came out to approximately 220 pounds, according to local media
reports
. No arrests were reportedly made.
The second operation occurred on Saturday morning when federal officers tasked with patrolling Mexico's highways stopped a speeding truck on highway Chihuahua-Juárez in Ahumada, approximately 70 miles from Ciudad Juárez. After Federal agents noted the driver, later identified as David Uriel "N.," was behaving suspiciously, a full safety inspection of the truck was conducted. Agents discovered 24 packages concealed within the tires and each contained methamphetamine. The total weight came out to approximately 100 pounds. The driver and his wife, later identified as Diana Esther "N.G.," were both arrested.
During questioning, the driver of the truck said they were traveling from Parral, Chihuahua, (approximately 360 miles south of Ciudad Juárez) and intended to cross into the United States via port of entry in El Paso with minor children to not draw suspicion from U.S. border inspectors, according to a
statement released by the federal police.
Robert Arce is a retired Phoenix Police detective with extensive experience working Mexican organized crime and street gangs. Arce has worked in the Balkans, Iraq, Haiti, and recently completed a three-year assignment in Monterrey, Mexico, working out of the Consulate for the United States Department of State, International Narcotics and Law Enforcement Program, where he was the Regional Program Manager for Northeast Mexico (Coahuila, Tamaulipas, Nuevo Leon, Durango, San Luis Potosi, Zacatecas.) You can follow him on
Twitter
. He can be reached at
robertrarce@gmail.com
.
GRAPHIC: Cartel Dumps


Tortured Bodies Along


Mexican Border City


Highway
REYNOSA, Tamaulipas – Gulf Cartel gunmen dumped the bodies of three victims along one of the highways in this border city. A large deployment of police forces responded to secure the crime scene. The violence comes at a time when rival factions of the Gulf Cartel continue their fight for control of the border region.
Eight-Time Deportee


Accused of Trafficking


$850,000 in Meth, Cocaine
Police arrested an illegal alien in Utah, who had been deported from the U.S. eight different times, for allegedly trafficking $850,000 in meth and cocaine.
GRAPHIC – 7 Human Heads


Dumped in Mexican Border


State
Police discovered seven heads abandoned in an ice cooler Friday morning in the rural community of Bácum, Sonora–sparking fears of an escalation in an ongoing territorial cartel war.
GRAPHIC: Cartel Gunmen


Carry Out Early Morning


Hits in Mexican Border State
CIUDAD VICTORIA, Tamaulipas — Cartel gunmen escalated the number of executions in capital city of this Mexican border state. Hitmen began a new tactic where they are now raiding homes early in the morning. The raids are designed to surprise their sleeping victims and kill them at point-blank range.
JUDICIAL WATCH: