There are billions of people in the world who want to get themselves into the United States and sign up for welfare benefits that are vastly richer than their average incomes at home, not to mention free medical care at emergency rooms, free schooling for their children, and all the rest of our generosity. Now that word has reached them of the open door, they are coming.




Large group of Africans (116 men, women, and children) caught wading across the Rio Grande
Our open door along the southern border for people claiming to seek asylum is such a magnet for the world's poor that a group of 116 people traveled all the way from Africa to Mexico to enter the United States. In video tweeted out by Customs and Border Patrol, the large group, identified as coming from Angola, Cameroon, and Congo (all desperately poor), can be seen wading across the water in the Rio Grande, some carrying children in their arms — an automatic entry into the United States under law that the House of Representatives refuses to change.
Note the child in arms of a woman (source).
Following this, the White House tweeted out a second video and made the point:
Our southern border is now a magnet for illegal immigration from all over the world. It's time for Democrats to help close the loopholes!
There are billions of people in the world who want to get themselves into the United States and sign up for welfare benefits that are vastly richer than their average incomes at home, not to mention free medical care at emergency rooms, free schooling for their children, and all the rest of our generosity. Now that word has reached them of the open door, they are coming.
Robert 'Beto' O'Rourke 'Big Idea' to Give Illegal Aliens Blanket Citizenship
In 2005, a left-leaning blogger wrote, "Illegal immigration wreaks havoc economically, socially, and culturally; makes a mockery of the rule of law; and is disgraceful just on basic fairness grounds alone."
In 2006, a liberal columnist wrote that "immigration reduces the wages of domestic workers who compete with immigrants" and that "the fiscal burden of low-wage immigrants is also pretty clear." His conclusion: "We'll need to reduce the inflow of low-skill immigrants." That same year, a Democratic senator wrote, "When I see Mexican flags waved at pro-immigration demonstrations, I sometimes feel a flush of patriotic resentment. When I'm forced to use a translator to communicate with the guy fixing my car, I feel a certain frustration."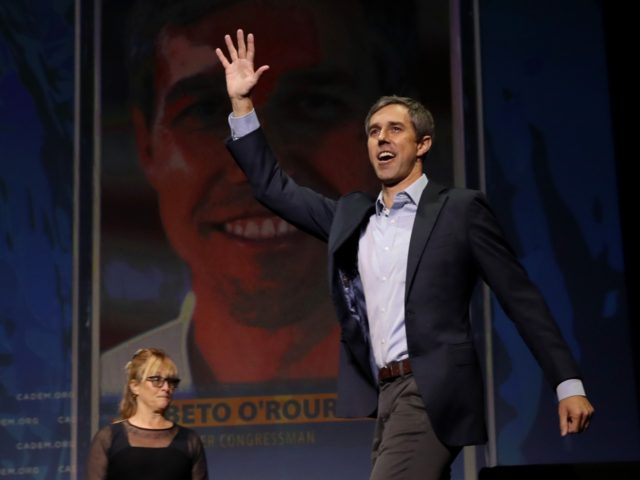 Presidential hopeful Robert Francis "Beto" O'Rourke proposed giving citizenship to large swaths of illegal aliens present in the United States Saturday at a MoveOn.org "Big Idea" event.
O'Rourke began by revisiting his failed 2018 Senate bid in Texas against Sen. Ted Cruz (R-TX) and thanking the MoveOn crowd for their support, saying they "fundamentally changed the nature of democracy" in Texas. He sold the idea that his campaign "unlocked" Texas' 38 electoral college votes ahead of 2020. A documentary on O'Rourke's 2018 campaign recently aired on HBO.
He then launched into his "big idea" for the crowd. "What if we said that we really wanted to ensure every immigrant who has come to this country of immigrants and asylum seekers and refugees was truly treated with the dignity and respect that they deserved and we did not try to mirror Republicans by saying 'but first we're gonna get tough on them, break up those families, deport them, internal enforcement, walls, none of that stuff."
"What if we said…" O'Rourke said before breaking into speaking Spanish. He continued in english hitting against detention centers, deportations, and proclaimed "dreamers" to be as "American as anyone else in this theater here tonight" while saying those individuals brought illegally to the U.S. as children "live in fear of deportation to a country that they do not know." He proposed making them citizens.
O'Rourke continued slamming President Donald Trump, calling his policies "bullshit" as he claimed the president imposed a "Muslim travel ban." The executive action President Trump imposed that some deemed a ban on Muslims was not, but rather named countries identified under the administration of President Barack Obama as those President Trump would restrict immigration from temporarily for national security purposes.
He further proposed that the federal government cancel any citizenship application fees for green card holders with permanent residency to become citizens and mail them full filled out citizenship forms. O'Rourke then spoke of "11 million" illegal aliens in the U.S.
Michelle Moons is a White House Correspondent for Breitbart News — follow on Twitter
@MichelleDiana
and Facebook
This policy of

flooding

the market with cheap, foreign, white-collar

graduates

and blue-collar

labor

also shifts enormous wealth from

young

employees towards older investors, even as it also

widens

wealth gaps,

reduces

high-tech investment,

increases

state and local tax burdens, and hurts children's schools and

college

educations. It also

pushes

Americans away from high-tech careers and sidelines millions of

marginalized

Americans, including many who are now

struggling

with fentanyl addictions. The labor policy also moves business investment and wealth from the heartland to the

coastal cities

,

explodes

rents and

housing costs

,

shrivels

real estate values in the Midwest, and rewards investors for creating low-tech,

labor-intensive

workplaces.
Beto O'Rourke's Plan Opens Borders for Migrants and Job Seekers
Beto O'Rourke's immigration plan, which the presidential hopeful released Wednesday, would open the nation's borders to apparently unlimited waves of unskilled needy migrants and would open the nation's workplaces to cheap workers when companies fear Americans' wages might rise.

Nolte: 7 Reasons Beto O'Rourke's Presidential Campaign Imploded
Fake Hispanic Beto O'Rourke's presidential campaign is looking doornail dead … and let's be honest: it never really took off. But after peaking nationally with 9.5 percent support in the Real Clear Politics poll of polls, he has now collapsed to just 3.2 percent support. And along the way, he dropped from third place (behind 275-year-old Bernie and 189-year-old Biden)
to sixth
.
Ted Cruz Is No Longer the Villain
Beto Is a Spaz
Beto Combines the Worst of Kerry, Biden, Ted Kennedy, Obama, Warren
Straight. White. Male.
Trump Has His Number and Everyone Knows It
Beto the Gaffe Machine
No Vision
Nolte: Beto O'Rourke Says His Campaign Sacrifices Make Up for Miserly Charitable Donations
Fake Hispanic Beto O'Rourke was confronted at a town hall about his miserly campaign donations and responded in such a narcissistic fashion, I suffered a Barry Obama flashback.
He culturally appropriates like Indian Princess Elizabeth Warren.

He drives like Ted Kennedy.

He marries into money like John F'n. Kerry.

He

gives to charity

like Joe Biden.
The 2020 Democrats: Beto O'Rourke
Beto O'Rourke Immigration Plan: No Walls; Amnesty for Dreamers, Parents, 'Millions More'
Former Rep. Beto O'Rourke (D-TX) isn't yet a candidate for the Democrat presidential election, but he is already making clear his stance on immigration — open borders and amnesty for all of the people in the country illegally.
What's Beto's Problem with the Constitution?
Texas Finds 95,000 Non-US Citizens Registered To Vote -- 58,000 Have Actually Voted In Recent Elections
Top 5 Voter Fraud Cases Along Texas Border in 2018… which are the only counties that voted for La Raza Beto!
In a year fraught with voter fraud allegations, many of which resulted in prosecutions across Texas, counties along the Mexican border stood out as hotbeds for investigative activities.
FORMER MEXICAN PRESIDENT ENDORSES BETO O'ROURKE
Texas Democrats asking non-citizens to vote
Safe Spaces: How Sanctuary Cities are Giving Cover to Noncitizens on the Voter Rolls
Public Interest Legal Foundation, August
Immigration and Customs Enforcement (ICE) has released hundreds of migrants in El Paso, Texas over the past few days, including 186 on Christmas Day.
Beto: 2020 Will Be 'Mother of All Tests' for Democracy
Saying "there's never been a darker moment" in America in his lifetime, Rep. Robert Francis "Beto" O'Rourke (D-TX), a potential 2020 presidential candidate, said on Friday that President Donald Trump's reelection campaign will be the "mother of all tests for this democracy."
GLOBALIST FOR BANKSTERS, THE SUPER RICH and OPEN BORDERS
ADVOCATES TO FINISH OFF THE AMERICAN MIDDLE-CLASS.
There's a reason why Soros, Bezos, Zuckerberg, Bloomberg, Gates and the Koch Brothers love the Obomb!
"Democrats Move Towards 'Oligarchical Socialism,' Says Forecaster Joel Kotkin."
MULTI-CULTURALISM and the creation of a one-party globalist country to serve the rich in America's open borders.
"Open border advocates, such as Facebook's Mark Zuckerberg, claim illegal aliens are a net benefit to California with little evidence to support such an assertion. As the CIS has documented, the vast majority of illegals are poor, uneducated, and with few skills. How does accepting millions of illegal aliens and then granting them access to dozens of welfare programs benefit California's economy? If illegals were contributing to the economy in any meaningful way, CA, with its 2.6 million illegals, would be booming." STEVE BALDWIN – AMERICAN SPECTATOR
GEORGE SOROS PARTNERS WITH BARACK OBAMA and ERIC HOLDER TO CREATE A GLOBALIST REGIME FOR THE BILLIONAIRE CLASS and CRONY BANKSTERS…. Open borders and endless hordes of illegals will make it happen!
YOU WONDERED WHY OBAMA-HOLDER WORKED SO HARD TO SABOTAGE AMERICAN VOTING FOR MORE ILLEGALS???
Those are the subliterate, low-skill, non-English-speaking indigents whose own societies are unable or unwilling to usefully educate and employ them. Bring these people here and they not only need a lot of services, they are putty in the hands of leftist demogogues as Hugo Chavez demonstrated - and they are very useful as leftist voters who will support the Soros agenda.
JAMES WALSH
BARACK OBAMA'S HISPANICAZATION of AMERICA…
first ease millions of illegals over our borders and into our voting booths!