Pennsylvania Board Recommends Bill Cosby Be Classified As a 'Sexually Violent Predator'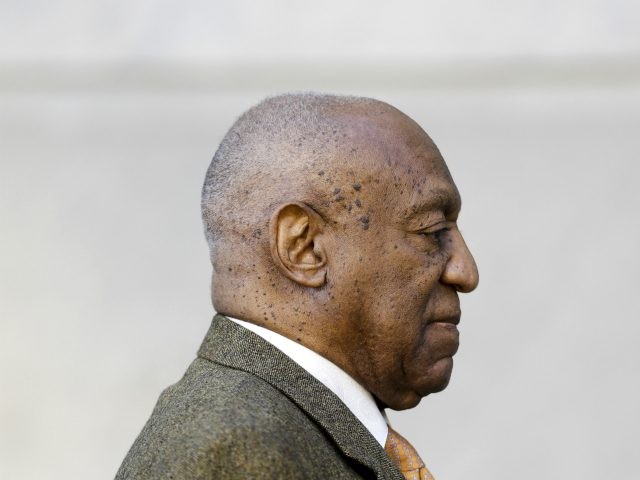 Bill Cosby should be classified as a sexually violent predator, according to an evaluation by Pennsylvania's Sexual Offenders Assessment Board.
The district attorney's office that prosecuted Cosby asked a judge in a filing Tuesday to schedule a hearing on whether to accept the recommendation. No date was immediately set.
"We will see them in court," responded Andrew Wyatt, Cosby's spokesman.
The 81-year-old comedian
was convicted
April 26 of aggravated indecent assault. He was accused of drugging and assaulting former Temple University employee Andrea Constand at his home near Philadelphia in 2004.
The weekslong retrial in suburban Philadelphia included testimony from five other women who were among dozens who have stepped forward to accuse Cosby of similar sexual misconduct.
The Associated Press does not typically identify people who say they are victims of sexual assault unless they grant permission, as Constand has done.
The former TV star once known as "America's Dad" for his portrayal of kindly Dr. Cliff Huxtable on his NBC hit "The Cosby Show" is now
confined to his home awaiting sentencing
, which is scheduled for Sept. 24. He faces up to 10 years in prison. His representatives have said he plans to appeal.
Superior Court Judge Steven O'Neill, who presided at the trial, ordered him to be outfitted with a GPS monitoring bracelet and required him to seek permission to leave home, and only then to visit with lawyers or go to the doctor.
The report by the Sexual Offenders Assessment Board, which examined 14 different criteria, is not public. Copies are given to the prosecutor, defense attorney and court before the hearing and the board's assessor will likely testify about how she made the recommendation.
State law already requires Cosby to register as a sex offender because of the nature of the charge of which he was convicted. The sexually violent predator classification would require increased treatment in prison and increased notification of neighbors upon release.
A person deemed a predator is subject to lifetime, at least monthly, mandatory sex offender counseling with a treatment provider approved by the state board.
Under Pennsylvania law, a sexually violent predator is defined as a person who has a mental abnormality or personality disorder that makes the person likely to engage in predatory sexually violent offenses.


WATCH: Chicago Mayoral Candidate Gives Potential Constituents Cash for Votes
A millionaire businessman running to be Chicago's next mayor gave attendees at a Chicago South Side church some cold, hard cash on Sunday in hopes they would vote for him this November.
Republican mayoral candidate Willie Wilson appeared alongside Illinois Governor Bruce Rauner, who is running for re-election, at New Covenant Missionary Baptist Church Sunday to give away $300,000 to 2,000 people through Wilson's 501(c)(3) organization, the Dr. Willie Wilson Foundation, WGN
reported
.
"My wife and I have been blessed by God to be able to get a few of the material things out of life, and so it's up to us to now continually to share back with all of you all and others," Wilson told church members during the event.
Although Wilson's campaign spokesman insisted that the mayoral candidate's church appearance was not for political purposes, Chicago politicians raised bipartisan concerns with the event.
Illinois State Rep. Emanuel Chris Welch, a Democrat,
tweeted
Monday that Rauner and Wilson "should be investigated" for attempting to buy votes.
Illinois State Rep. David McSweeney, a Republican, also criticized Wilson for handing out cash at the event.
"Check this out if you wonder why Illinois politicians are often a national joke," McSweeney
tweeted
Sunday. "How can Willie Wilson, a candidate for Mayor of Chicago, literally hand out CASH at a public event? This is so wrong!"
A campaign spokesperson for Wilson said the Chicago mayoral candidate had been a philanthropist for 30 years before announcing his mayoral bid and had a reputation for being involved in charitable work.
Wilson is one of ten candidates running for mayor in Chicago and Rauner is facing off against Democratic candidate J.B. Pritzker. Both elections are scheduled to take place in November.