Left-wing corporate media firms like The New York Times, CNN, MSNBC, and the Soros funded power groups want America to believe those who oppose illegal immigration are motivated by dangerous and irrational fears and racism.
Nothing could be further from the truth! The articles posted below are about many recent illegal immigration horrors which these big media corporations conceal and censor. They cover up the mass atrocities committed by illegals on US soil.
While ALIPAC tracks numerous problems associated with illegal immigration (View) in our archives at www.ALIPAC.us, please take a close look at the articles below which document some of the more recent horrors forced upon unsuspecting and innocent Americans by illegal immigrants and illegal immigration supported by these same power groups.
There is blood on the hands of illegal immigration and Amnesty supporters as well as the illegal immigrant perpetrators in these articles, which you can share with others by email and social media using the buttons on the site.
While we do not put these stories out to our email subscribers often, those of us who are compiling this information and building a lasting record of the crimes and victims at ALIPAC really appreciate your support. (Help us here)
It takes a great toll on our minds and hearts to immerse ourselves in this horrific information each day as we work to serve you and defend our nation through ALIPAC.
11-Year-Old Allegedly Raped Repeatedly By Two Illegal Immigrants
https://www.alipac.us/f12/11-year-old-allegedly-raped-repeatedly-two-illegal-immigrants-375009/
Family of
student
allegedly murdered by illegal immigrant wants justice for 'preventable tragedy'
https://www.alipac.us/f12/family-student-allegedly-murdered-illegal-immigrant-wants-justice-%91preventa-364807/
Suspect in crash that killed
father
of five was facing deportation
https://www.alipac.us/f13/suspect-crash-killed-father-five-facing-deportation-driving-without-l-374898/
ICE: Illegal Alien Accused of Rape Allowed to Walk on Bail in Sanctuary County
https://www.alipac.us/f9/ice-illegal-alien-accused-rape-allowed-walk-bail-sanctuary-county-375094/
Somali Wanted for Kidnapping Children as Mother's Body is Identified
https://www.alipac.us/f9/missouri-somali-wanted-kidnapping-children-mothers-body-identified-375085/
California gang members laugh in court while receiving life sentences for
attempted
murder of
cop
https://www.alipac.us/f12/california-gang-members-laugh-court-while-receiving-life-sentences-attempted-m-375108/
ICE arrests illegal immigrant accused of rape 2 months after he was released on bond
https://www.alipac.us/f12/n-c-ice-arrests-illegal-immigrant-accused-rape-2-months-after-he-released-o-375055/
34 Tons of Meth, Ingredients Seized in Western Mexico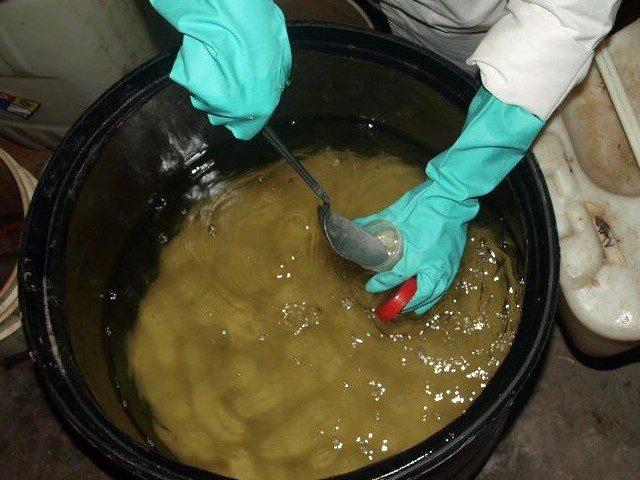 Mexico City announced a major seizure of more than 34 tons of precursor chemicals and methamphetamine during a weekend raid in Michoacán.
The Federal Attorney General's Office (FGR) announced the seizure, which consisted of 34 tons and approximately 12,403 gallons of precursor chemicals and methamphetamine in solid and liquid forms. The Federal Attorney General's Office did not release a breakdown of specific substances discovered, nor the location in the state. Michoacán's coastline provides valuable seaports for outbound product smuggling and incoming precursor loads. The chemicals were believed destined for major meth labs throughout the region.
The FGR announced that expert evidence personnel took responsibility for identifying, counting, weighing, sampling, documenting, and disabling the seized product—in addition to hazardous material cleanup tasks. The substances were transferred to a company in Mexico state that specializes in hazmat disposal under the guidance of law enforcement and military forces.
Michoacán is the center of highly disputed turf between the Cártel de Jalisco Nueva Generación (CJNG) and Los Viagras' regionally aligned gangs. Breitbart Texas recently reported on the grisly discovery of 19 corpses in Uruapan, to include nine badly beaten and tortured bodies that were hung from an overpass. The CJNG claimed responsibility and placed numerous narco-banners to that effect.
Robert Arce is a retired Phoenix Police detective with extensive experience working Mexican organized crime and street gangs. Arce has worked in the Balkans, Iraq, Haiti, and recently completed a three-year assignment in Monterrey, Mexico, working out of the Consulate for the United States Department of State, International Narcotics and Law Enforcement Program, where he was the Regional Program Manager for Northeast Mexico (Coahuila, Tamaulipas, Nuevo Leon, Durango, San Luis Potosi, Zacatecas.) You can follow him on
Twitter
. He can be reached at
robertrarce@gmail.com