THEY REALLY HAVE NO IDEA HOW MANY SUCCESSFULLY JUMP OUR BORDERS AND JOBS.
BUT THE NUMBER OF EMPLOYERS OF ILLEGALS PROSECUTED IS 0.
How Many Illegal Aliens Are Being Released Every Day? A Lot.
https://hotair.com/archives/2019/03/22/many-illegal-aliens-released-every-day-lot/
Yesterday,
John looked at
the general collapse of Democratic talking points regarding the crisis on the border. We have unfortunately reached the point where too many Democrats in Congress are willing to either ignore or defy the data being provided by CBP and the flood of illegal immigrants that are maxing out our detainment facilities. But what happens when there are no more beds to spare and detention centers are full? The illegal aliens are assigned a court date and set free in the interior of the United States. In case you weren't sure how often that's been happening lately, the figure is
roughly 100,000 in just the past three months
. (Washington Times)
ICE has had to turn loose more than 100,000 illegal immigrant family members over the past three months, a top official said Thursday, setting them free in border communities as the surge of people coming to the U.S. overwhelms the system.

That works out to more than 1,000 family members being cut loose every day, stressing not only Homeland Security but also the charities that are trying to help them, and the local infrastructure — including bus stations — that are trying to help them.

The numbers are so high that deportation officers are being taken from other duties such as scouring prisons and jails for criminal migrants and instead are being sent to the border to grapple with the new arrivals.
Those aren't politicians generating these numbers. They're immigration enforcement officers. And if they're pulling in resources from other states to deal with the situation on the border and still cutting loose up to 1,000 people per day, there's a serious crisis going on that needs to be addressed.
And yet, we have Democrats and
their allies in the press
still repeating their talking point about how overall illegal immigration is at "historic lows." Earlier this month, the Los Angeles Times took the unusual approach of saying the illegal crossings had hit the highest rate in a decade, while still calling the numbers historic lows…
in the same article
.
So what does it mean when that many illegal aliens are released in the country's interior? I've often heard panelists on CNN saying it's not that much of a concern and quoting a figure of 90% or more of those released showing up for their court dates. But we know where that number comes from. It's a valid figure, but it only applies to
those who are petitioning for asylum
.
Of course
they're going to be far more likely to show up. They're already working inside the system and hoping for legal residency status.
But what about those without asylum claims who are facing deportation hearings? A study of data covering the past twenty yearsshows that 37% of foreign nationals not in detention failed to show up at their hearings and their cases were disposed of in absentia. That's nearly four in every ten. So if we've released roughly 100,000 in just the past few months and those historical averages hold true, you can see what the real issue is here.
We seriously need to take the politics out of this discussion and work on actual solutions. Yes, we still need more qualified judges handling cases in our immigration courts. The average judge currently has a backlog of more than 1,500 cases in progress. And we need to expand and upgrade our detention centers. But more than anything else, we need to stem the tide of incoming illegal aliens to give the entire system some breathing room.
In other words, build the damn wall already.
Illegal Aliens to Get Early Release After Killing Americans in Hit-And-Runs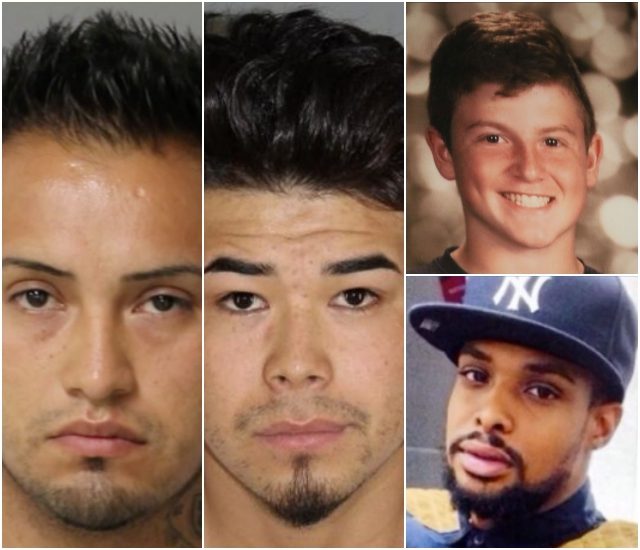 Two illegal aliens who killed two Americans in separate hit-and-run crashes last year will each be eligible for early release after 14 months to five years of serving prison time.
The illegal alien, though, will be eligible for early release from prison after just 14 months of his sentence for the death of Beach. Now, Beach's family is fighting to ensure that Cruz-Carmano is quickly deported if released from prison at any time.
"He gets to go home with his two children. He goes home to his wife. My grandson, he doesn't have a father," Robinson said.
"I'm going to encourage deportation because he has no business here," Robinson said. "Now that he's committed this horrendous crime, he definitely doesn't deserve to be in America. Because if he wanted to be in America he would have come legally."
Meanwhile, Cruz-Carmano's defense attorney said the illegal alien was merely trying to "make a better life for himself" by living in the U.S. illegally.
Cerda pleaded guilty to killing Lee in the crash and for failing to stop at the scene of the crime. In five years, the illegal alien will be eligible for release from prison.
"God tells me he understands how I feel," Pattie Warner-Lee said. "This is a sacrifice to cover our sins so we can leave the earth eternally in Christ."
In the case of 22-year-old Pierce Corcoran, who was allegedly killed in a hit-and-run crash by an illegal alien in Tennessee days before New Year's Eve, there has been a similar pattern of leniency, according to the Corcoran family.
"No felony charges for entering in the first place, killing Pierce, driving uninsured and without a license," a sibling of Pierce's wrote. "What an insult to my brother's life."
Fewer Illegal Aliens Arrested Due to 'Alarming Rates' of Illegal Immigration
President Trump's administration is arresting fewer illegal aliens living in the interior of the United States as the Immigration and Customs Enforcement (ICE) agency is strained dealing with booming levels of illegal immigration at the U.S.-Mexico border.
I
CE officials revealed to Reuters that the agency is having to arrest fewer illegal aliens living throughout the U.S. in order to aid Border Patrol at the southern border because of record illegal immigration levels.
Between October and December 2018, ICE agents arrested about 34,546 illegal aliens living in the country, a 12 percent drop from the year before when nearly 40,000 illegal aliens were arrested by ICE over this same time period.
"Our interior arrests have been affected…" ICE official Nathalie Asher told Reuters.
Asher said the "alarming rates" of illegal immigration at the southern border — where illegal immigration levels this year are expected to outpace every year under former President Obama — have strained ICE agents and forced the agency to redirect help to the border, leaving less deportation officers in the country to handle the illegal population of 11 million to 22 million illegal aliens.
A recent letter from union officials who represent ICE agents charged that Department of Homeland Security (DHS) Secretary Kirstjen Nielsen has "grossly mismanaged" the agency by making ICE agents responsible for carrying out the administration's Catch and Release policy.
The ICE union explained an internal process of Catch and Release wherein ICE agents are technically tasked with releasing all border crossers and illegal aliens into the interior of the country, a policy that union officials write is "extensive, and costly."
This weekend, alone, DHS is expected to release at least 1,800 border crossers and illegal aliens into the interior of the country, as Breitbart News reported.
In an expansive report recently, Breitbart News confirmed that between December 21, 2018 and March 5, DHS released a total of 84,500 border crossers and illegal aliens into the U.S. This release process often entails federal immigration officials busing border crossers into nearby border cities and dropping them off with the promise that they will show up for their immigration and asylum hearings, sometimes years later.
The overwhelming majority of illegal aliens released into the interior of the U.S. are never deported.
The record illegal immigration levels come as the Trump administration most recently expanded the Catch and Release policy by signing a spending bill that cut ICE detention space and increased a program that releases border crossers more quickly.
Current illegal immigration projections predict that aside from the border crossers and illegal aliens who are caught by Border Patrol, then released into the interior of the country, there could be about half a million illegal aliens who successfully cross into the U.S. through the southern border, undetected, this year.
John Binder is a reporter for Breitbart News. Follow him on Twitter at @JxhnBinder.
Gaffney: 'You Can't Assimilate Vast Numbers of People Who Don't Want to be Part' of U.S.A.
During a discussion about the need for immigrants to assimilate into American society and the spectre of sharia (Islamic law) in U.S. communities, Center for Security Policy Chairman Frank Gaffney said it is imperative to keep in mind "that you cannot assimilate vast numbers of people who simply don't want to be part of your society." Gaffney, a former assistant secretary for Defense in the Reagan administration, added that Judge Jeanine Pirro is being suppressed because she dared to ask a question about the origins of the anti-Israel views expressed by Rep. Ilhan Omar (D-Minn.).
When asked about assimilation during a March 20 interview on Breitbart News Daily, Gaffney said to host Alex Marlow, This topic "reminds me of the old story that conservatives are liberals who've been mugged by reality, and the thing you're describing, Alex, is being mugged by the reality that you cannot assimilate vast numbers of people who simply don't want to be part of your society."
"They want to transform it into something very different and ultimately, at some point, you either resist or you submit," he said. "Submission is going to be pretty ugly, and it's happening in parts of Europe already, and there's more in the offing, I'm afraid. [Garbled] This rising tide of sharia supremacism, it's chilling."
He continued, "The trouble is, it's not simply a problem in its own right, it's a foretaste of what the Ilhan Omars and the Keith Ellisons and the André Carsons, Rashida Tlaibs, and so on, would have in mind for America, too, if they had their way. This is the really vexing problem of our time."
"Again, not all Muslims want to live under sharia," said Gaffney. "They don't want to impose it on the rest of us. But enough of them do and the authorities of the [Islamic] faith certainly do."
As for Judge Jeanine Pirro, whose program on the Fox News Channel has been suspended for a second week, Gaffney said, "Jeanine Pirro, who is a friend of mine and much-admired former public servant and now, extraordinary resource, on her program, Justice w/Judge Jeanine, was suspended last week and may be again this week, and maybe – who knows – indefinitely."
"The faux-Fox [News Channel] is suppre
ssing Jeanine Pirro explicitly – as you know, Alex – because she dared, even in a question, to connect the dots between what Ilhan Omar is doing with anti-Semitism, on the one hand, and the traditions, teachings, and practices of sharia, as we've come to know it," said Gaffney.
On her March 9 program, Jeanine Pirro said, "This is not who your party is" in reference to the Democrat Party. "Your party is not anti-Israel, [Omar] is. Think about this. She's not getting this anti-Israel sentiment doctrine from the Democrat Party. So if it's not rooted in the party, where is she getting it from? Think about it. Omar wears a hijab, which according to the Quran 33:59, tells women to cover so they won't get molested."
"Is her adherence to this Islamic d
octrine indicative of her adherence to sharia law, which in itself is antithetical to the United States Constitution?" said Pirro.
Comments and tweets made by Rep. Omar have been condemned by House Speaker Nancy Pelosi (D-Calif.) as "anti-Semitic" and "deeply offensive."
MULTI-CULTURALISM and the creation of a one-party globalist country to serve the rich in America's open borders.
"Open border advocates, such as Facebook's Mark Zuckerberg, claim illegal aliens are a net benefit to California with little evidence to support such an assertion. As the CIS has documented, the vast majority of illegals are poor, uneducated, and with few skills. How does accepting millions of illegal aliens and then granting them access to dozens of welfare programs benefit California's economy? If illegals were contributing to the economy in any meaningful way, CA, with its 2.6 million illegals, would be booming." STEVE BALDWIN – AMERICAN SPECTATOR
CHRISTIAN SCIENCE MONITOR
What will America stand for in 2050?
The US should think long and hard about the high number of Latino immigrants.
It's not just a short-run issue of immigrants competing with citizens for jobs as unemployment approaches 10 percent or the number of uninsured straining the quality of healthcare. Heavy immigration from Latin America threatens our cohesiveness as a nation.
MEXICO WILL DOUBLE U.S. POPULATION
At the current rate of invasion (mostly through Mexico, but also through Canada) the United States will be completely over run with illegal aliens by the year 2025. I'm not talking about legal immigrants who follow US law to become citizens. In less than 20 years, if we do not stop the invasion, ILLEGAL aliens and their offspring will be the dominant population in the United States.
(POPULATION 9-2018)
FINISHING AMERICA OFF: THE FOREIGN INVASION FOR "CHEAP" LABOR
Open the floodgates of our welfare state to the uneducated, impoverished, and unskilled masses of the world and in a generation or three America, as we know it, will be gone. JOHN BINDER
But many less-skilled migrants play their largest role by simply shifting small slices of wealth from person to person, for example, by competing up rents in their neighborhood or by competing down wages in their workplace. The crudest examples can be seen in agriculture.
Overall, the Washington-imposed economic policy of economic growth via immigration shifts wealth from young people towards older people by
flooding
the market with
cheap white-collar and blue-collar foreign labor
.
"Critics argue that giving amnesty to 12 to 30 million illegal aliens in the U.S. would have an immediate negative impact on America's working and middle class — specifically black Americans and the white working class — who would be in direct competition for blue-collar jobs with the largely low-skilled illegal alien population." JOHN BINDER
The U.S.-born baby is, of course, a U.S. citizen, whose illegal alien parents are eligible to receive, on the baby's behalf, food stamps, nutrition from the Women, Infants, and Children (WIC) program, and numerous tax benefits, including the EITC.
Most importantly, the newborn is deportation insurance for its parents. Illegal aliens facing deportation can argue that to deport one or more parents would create an "extreme hardship" for the new baby. If an immigration officer agrees, we've added a new adult to the nation's population. At age 21 the former birthright citizen baby can formally apply for green cards for parents and siblings, and they, in turn, can start their own immigration chains.
US now has more Spanish speakers than Spain – only Mexico has more
·
US has 41 million native speakers plus 11 million who are bilingual
·
New Mexico, California, Texas and Arizona have highest concentrations
DYING AMERICA: Poverty, Open Borders, Widespread Homelessness, Housing Crisis, Opioids, Corrupt Politicians and Then Suicide!
"In a state like Florida, where immigrants make up about 25.4 percent of the labor force, American workers have their weekly wages reduced by perhaps more than 12.5 percent. In California, where immigrants make up 34 percent of the labor force, American workers' weekly wages are reduced by potentially 17 percent." JOHN BINDER

"In the last decade alone, the U.S.

admitted

ten million legal immigrants, forcing American workers to compete against a growing population of low-wage foreign workers. Meanwhile, if legal immigration continues, there will be

69 million

foreign-born residents living in the U.S. by 2060. This would represent an unprecedented electoral gain for the Left, as Democrats

win

about 90 percent of congressional districts where the foreign-born population exceeds the national average."



Atlantic Op-Ed: The Migration Wave Has Barely Begun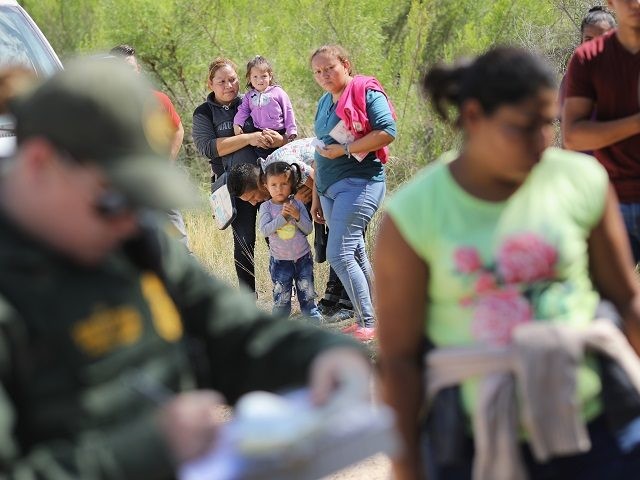 Americans need to reform their immigration laws before hundreds of millions of foreigners decide to take up residence in the United States, says David Frum, an author at the pro-globalist Atlantic magazine.
"If Americans want to shape their own national destiny, rather than have it shaped by others, they have decisions to make now," says Frum, a Canadian-born Never Trump advocate who is also a consistent voice for the immigration reforms which would help young Americans rejuvenate American society.
With immigration pressures bound to increase, it becomes more imperative than ever to restore the high value of national citizenship, not to denigrate or disparage others but because for many of your fellow citizens—perhaps less affluent, educated, and successful than you—the claim "I am a U.S. citizen" is the only claim they have to any resources or protection. Without immigration restrictions, there are no national borders. Without national borders, there are no nation-states. Without nation-states, there are no electorates. Without electorates, there is no democracy. If liberals insist that only fascists will enforce borders, then voters will hire fascists to do the job liberals refuse to do.

Americans are entitled to consider carefully whom they will number among themselves. They would be irresponsible not to consider this carefully—because all of these expensive commitments must be built on a deep agreement that all who live inside the borders of the United States count as "ourselves." The years of slow immigration, 1915 to 1975, were also years in which the United States became a more cohesive nation: the years of the civil-rights revolution, the building of a mass middle class, the construction of a national social-insurance system, the projection of U.S. power in two world wars. As immigration has accelerated, the country seems to have splintered apart.

Many Americans feel that the country is falling short of its promises of equal opportunity and equal respect. Levels of immigration that are too high only enhance the difficulty of living up to those promises. Reducing immigration, and selecting immigrants more carefully, will enable the country to more quickly and successfully absorb the people who come here, and to ensure equality of opportunity to both the newly arrived and the long-settled—to restore to Americans the feeling of belonging to one united nation, responsible for the care and flourishing of all its people.
Frum's article was written before homeland security chief Kirstjen Nielsen said March 6 that 900,000 migrants may cross the southern border this year. That is one migrant for every four Americans who will be born in 2019.
However, Frum's task of persuasion is difficult because there are enormous social and professional pressure on his college-educated readers to go along with the cheap-labor immigration policies which are moving income and wealth from young employees up to older CEOs and investors