EVERY LEGAL IS ONE PAYCHECK AND ONE THOUSAND ILLEGALS AWAY FROM BEING HOMELESS!
ICE Deports Over Quarter of a Million Illegals, 5.5K Gang Members in 2019
Scott Olson/Getty




The Immigration and Customs Enforcement (ICE) agency deported more than a quarter of a million illegal aliens from the United States in Fiscal Year 2019, including roughly 5,500 gang members.

Between September 2018 and October 2019, ICE agents deported about 267,258 illegal aliens from the U.S. — a more than four percent increase compared to 2018 and a nearly 20 percent increase compared to 2017 deportation levels.

This year, about 85,958 of those illegal aliens were deported from the interior of the U.S., while the other more than 181,000 illegal aliens were deported after arriving at the southern border.

The overwhelming majority of illegal aliens deported from the U.S. interior, roughly 65,000, were convicted criminals, while another 13,500 illegal aliens had pending criminal charges against them. There are anywhere between 11 and 22 million illegal aliens living in the interior of the country at any given time, straining ICE's resources.

Additionally, ICE deported 5,497 known or suspected gang members who were living in the U.S. in 2019. Nearly 60 known or suspected terrorists were also deported.

Among those gang members and terrorists deported this year are foreign nationals like 26-year-old Carlos Alfredo Luna-Guebara from El Salvador who was a wanted fugitive in his native country for aggravated homicide, conspiracy to commit homicide, and terrorist organization membership.

Luna-Guebara was a known member of the 18th Street Gang. The illegal alien successfully entered the U.S. through the southern border. Luna-Guebara was only deported after being arrested in Pennsylvania on local charges.

Likewise, ICE deported 45-year-old Houcine Ghoul from Tunisia after it was revealed that he had entered the U.S. on a tourist visa and fraudulently married an American citizen to obtain a green card after overstaying his visa.

Ghoul, who had been living in North Carolina, posted a photo online showing his support for the Islamic State. Ghoul was described online as an "Extremist, terrorist, tough, brain-washed, radical," who loved "explosions, booby-trapping, beheading the enemy" and was a supporter of "establishing the religion with the sword."

Today, about 17.5 percent of the American workforce is made up of foreign-born workers. About 7.8 million of these foreign-born workers are illegal aliens living in the U.S.



U.S. Senators File Bill Targeting Mexican Cartels with Sanctions Similar to Terrorist Designation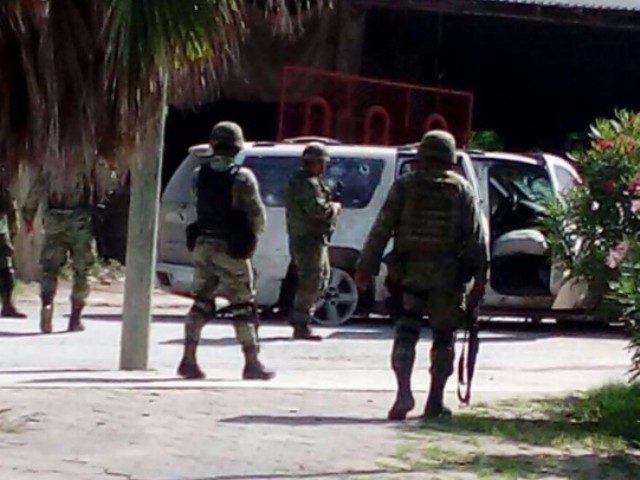 Two U.S. Senators filed a bill that would target Mexican cartels and other transnational criminal organizations through financial, criminal, and immigration sanctions. The sanctions are similar to the ones they would face if they were designated as foreign terrorist organizations (FTOs) by the State Department.
WHILE THE U.S. SQUANDERS HUNDREDS OF BILLIONS AND TROOPS TO DEFEND THE BORDERS OF MUSLIM DICTATORS WHO HATE OUR GUTS, MEXICO IS OVERRUN AMERICAN WITH DRUGS!
GRAPHIC: Gulf Cartel Gunmen Burn Rivals Alive in Mexico near Texas Border
Washington, D.C (December 2, 2019
) – The Center for Immigration Studies presents arguments for and against the Trump administration's actions to designate some Mexican drug trafficking cartels as Foreign Terrorist Organizations (FTO). An FTO designation triggers powerful American authorities to freeze financial assets, prosecute for activities that support terrorism, and bar entry into the country.

CIS fellow Dan Cadman urges the designation of cartels as FTOs, arguing, "Nine dual-citizen U.S./Mexican Mormons were murdered recently in Mexico, U.S. diplomatic personnel have been brazenly attacked and U.S. enforcement agents murdered on the Mexican side when it suits cartel interests. In U.S. border states and major metropolitan areas, many drug-related murders are the direct result of struggles for control between cartels." Cadman continues, "We must up our own game. Official designation brings with it a multiplicity of legal authorities and penalties that can make a difference in how the United States responds, in our own interest, to the struggle for control of Mexico."

CIS fellow Todd Bensman argues that the U.S. hold off designating Mexican Cartels as FTOs as the action could dilute "America's war on
some 70 currently designated Islamic terrorist groups
that aspire, emphatically unlike any of Mexico's cartels, to kill as many Americans as possible on American soil the present war on Jihadists." He continues, "The sometimes shrill calls, with each new gun battle or atrocity, that Mexican cartels imminently threaten U.S. national security don't hold up under scrutiny, at least not without more evidence. If the U.S. government insists on adding a massive layer of new terrorists to existing U.S. counterterrorism systems, plans for how to resource it and allocate the greater burden among agencies, without taking from the war on terror, should be laid out first."

FTO designation is a powerful tool. So should the U.S. designate Mexico's major cartels as foreign terrorist organizations under
Section 219
of the Immigration and Nationality Act (INA)? Section 219 provides that the secretary of state may designate a group as a FTO on finding that it engages in terrorist activity as defined at INA Section 212(a)(3) or terrorism as defined at 22 U.S.C. Section 2656f(d)(2). Does Mexican Cartel conduct meet the threshold definitions, including specifically as a threat to the national security of the United States?

Mexico Will Reject U.S. Designations of Cartels as Terrorists, Says AMLO
Mexico's president announced Monday that he will reject any designation of cartels as terrorist organizations by the U.S. government.
Enough Is Enough': Josh Hawley Calls for Sanctions on Mexican Cartels
Sen. Josh Hawley (R-MO) said Wednesday that "enough is enough" and called on the U.S. government to sanction Mexican officials and cartel members complicit in trafficking meth and killing Americans.
The architect of Mexico's war on cartels was just arrested in Texas and accused of drug trafficking and taking bribes
'Another black eye for Mexico'