"Truthfully, It Is Tough To Ignore Some Of The Gross Immoral Behavior By The
President"
WASHINGTON POST
PRESIDENT of the UNITED STATES DONALD TRUMP: Pathological liar, swindler, con man, huckster, golfing cheat, charity foundation fraudster, tax evader, adulterer, porn whore chaser and servant of the Saudis dictators
THE TRUMP FAMILY FOUNDATION SLUSH FUND…. Will they see jail?
VISUALIZE REVOLUTION!.... We know where they live!
"Underwood is a Democrat and is seeking millions of dollars in penalties. She wants Trump and his eldest children barred from running other charities."
The Most Successful Presidents Keep to Themselves
-- Not Twitter
"The Mueller report makes Trump look vain, ignorant, inept, and astonishingly dishonest."
So writes my Washington Examiner colleague Quin Hillyer
Jared's BFF, Saudi Crown Prince Mohammed bin Salman (MBS), and the crown prince of Abu Dhabi, Muhammad bin Zayed (MBZ), refer to Jared as "the clown prince." Bone-cutter MBS assured those around him that he had Jared "in my pocket."
Following meetings at the White House and also with the Kushners over their 666 Fifth Avenue property, former Qatari Prime Minister Sheikh Hamad bin Jassim reported back to the emir that "the people atop the new administration were heavily motivated by personal financial interest."
"Truthfully, It Is Tough To Ignore Some Of
The Gross Immoral Behavior By The
President"
WASHINGTON POST
ANN COULTER EXPOSES TRUMP'S "WALL" HOAX
In fact, Trump is steadily moving in the precise opposite direction of what he promised.
Illegal immigration is on track to hit the highest levels in more than a decade, and Trump has willfully decided to keep amnesty advocates Jared, Ivanka, Mick Mulvaney, Marc Short, and Mercedes Schlapp in the White House. For all his talk about immigration, did he ever consider hiring people who share his MAGA vision?
Nationwide Roundup: #ImpeachTrump Rallies Pop Up Across the Country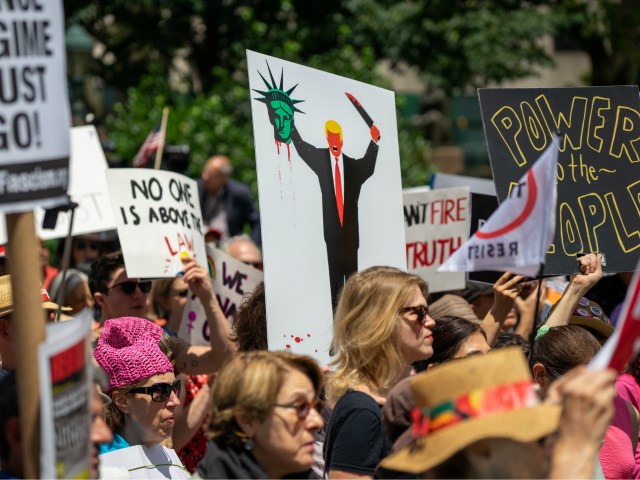 Roughly 130 anti-Trump rallies are taking place for Saturday's nationwide #ImpeachTrump: Act to Defend Democracy event.
"Donald Trump's abuses of our communities and country demand action from Congress, which has the responsibility and authority to hold Trump accountable," the event description
reads
. "The next crucial step is an inquiry into whether to draft articles of impeachment."
The rallies,
promoted
by far-left Hollywood figures like Chelsea Handler, were advertised as "visible, family-friendly, public gatherings" designed to "demonstrate to our representatives that impeachment is the will of the people."
"Together, we will inform our communities about Trump's abuses and the process of impeachment, then make plans to convey our support for impeachment to our elected officials," the event description adds.
MoveOn has been tweeting and retweeting updates from rallies all over the country, which show protesting "dogs," games, and appearances from political figures like former Rep. Elizabeth Holtzman (D-NY), Rep. Al Green (D-TX), and Rep. Rashida Tlaib (D-MI ).
"I sincerely hope that after this Saturday, my colleagues on Capitol Hill will answer the call of the likely millions of Americans that will rally across the country and finally open an impeachment inquiry into the actions of President Trump," Tlaib
told
Newsweek ahead of her appearance.
"It is our duty as members of Congress to pursue the last option we have in this pursuit of justice on behalf of the American people," she added.
Tlaib and Green co-sponsored an impeachment resolution earlier in the year, although it has failed to gain serious traction due to House Speaker Nancy Pelosi's hesitancy. However, that could be changing, with Pelosi recently
telling
CNN's Manu Raju that impeachment is "not off the table."
Buttigieg on Prosecuting Trump: 'Rule of Law Will Catch Up to' Trump Without Oval Office Interfering
During a portion of an interview set to air on Sunday's edition of CNN's "State of the Union," 2020 presidential candidate South Bend Mayor Pete Buttigieg (D) reacted to fellow 2020 candidate Senator Kamala Harris' (D-CA) statement that if she is elected, the DOJ will prosecute President Trump, by stating that prosecutorial decisions should be made by the DOJ, not the president, and "the rule of law will catch up to this president. It doesn't require the Oval Office putting any kind of thumb on the scale."
Buttigieg said, "My Justice Department will be empowered to reach its own conclusions. Two things are true and clear. One, nobody is above the law, and, two, the prosecutorial process should have nothing to do with politics. The less this has to do with the president, the better. Right now, we have a president who seems to think that the president can just dictate what the DOJ is going to do, call for political opponents to be jailed. I believe that the rule of law will catch up to this president. It doesn't require the Oval Office putting any kind of thumb on the scale. I trust the DOJ to reach the right determinations, at least the DOJ that I would appoint and set up, and the less that has to do with directives coming out of the White House, the better."
He added that "prosecution decisions should have nothing to do with politics, and should come from the DOJ itself, not from the Oval."