all globalist for wider open borders and more welfare for wall street!
Poll: Michelle Obama, Joe Biden Top Contenders for 2020 Democrat Nomination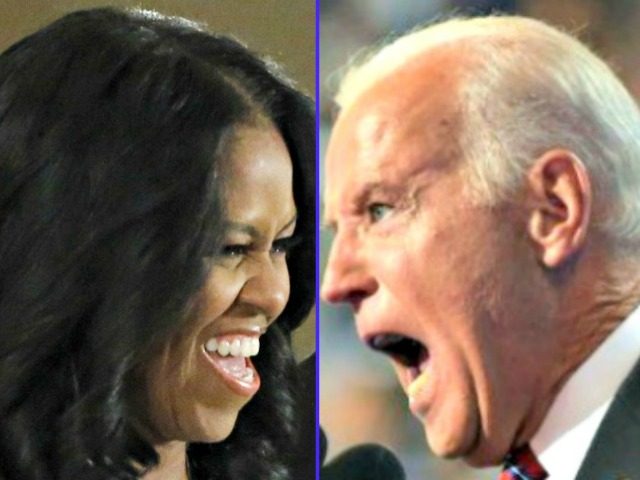 Former first lady and former Vice President Joe Biden tied for the Democrats' favorite 2020 presidential candidate in a poll released on Tuesday.
Twenty-five percent of Democrat voters said that they would either back Obama or Biden for the Democrat nomination, even though neither Democrat has declared their candidacy for president in 2020, according to a Hill-HarrisX poll released on Tuesday.
Several polls had Biden leading the early list of Democrat contenders in the past few weeks. One poll released in February found that Biden would serve as a formidable opponent to President Donald Trump–the survey found that Trump would beat everyone but Biden in a 2020 matchup.
Sen. Kamala Harris (D-CA), who has declared for the 2020 Democrat nomination, ranks in third place at 12 percent of support. Right behind Harris is Sen. Bernie Sanders (I-VT) at 11 percent; Sanders announced his candidacy for president on Tuesday.
"Our campaign is not only about defeating Donald Trump," the democratic socialist wrotein a statement to his supporters on Tuesday. "Our campaign is about transforming our country and creating a government based on the principles of economic, social, racial and environmental justice."
After Sanders, former Rep. Beto O'Rourke (D-TX), billionaire Michael Bloomberg, and Sen. Elizabeth Warren (D-MA) poll in the single-digits.
Sens. Cory Booker (D-NJ), Amy Klobuchar (D-MN), and Sherrod Brown (D-OH) all received less than six percent.
When factoring in independant voters, Biden beats Obama by one percent, with Biden at 23 percent and Obama at 22 percent.
Molly Murphy, a pollster at Democrat consulting firm ALG Research, said Obama's popularity results from the fact that she has not decided to run for president.
"Because she's never been a candidate, she's never been on the ballot, she's avoided a certain degree of scrutiny that candidates face. And so she's all icing for people, it's all good," Murphy said.
The survey also found that 12 percent of Independents and Democrats preferred another Democrat candidate, suggesting some dissatisfaction with the current list of Democrat candidates for president.
Sean Moran is a congressional reporter for Breitbart News. Follow him on Twitter @SeanMoran3
.
Why do all global billionaires want wider open borders, amnesty and no E-VERIFY?
AMERICA: THE ECONOMY IS RIGGED BY COGRESS SO THE RICH BECOME SUPER RICH.
The American middle class gets the tax bills for Wall Street's crimes and bottomeless bailouts!
Wealth concentration increases in US.
*
*
The latest research on wealth inequality by University of California economics professor Gabriel Zucman underscores one of the key social and economic trends since the global financial crisis of 2008. Those at the very top of society, who benefited directly from the orgy of speculation that led to the crash, have seen their wealth accumulate at an even faster rate, while the mass of the population has suffered a major decline.
The past 40 years have seen the consolidation of a plutocratic elite, which has subordinated every aspect of American society to a single goal: amassing ever more colossal amounts of personal wealth. The top one percent have captured all of the increase in national income over the past two decades, and all of the increase in national wealth since the 2008 crash.
"Our entire crony capitalist system, Democrat and Republican alike, has become a kleptocracy approaching par with third-world hell-holes. This is the way a great country is raided by its elite." ---- Karen McQuillan AMERICAN THINKER
THE WALL STREET BOUGHT AND OWNED DEMOCRAT PARTY
SERVING BANKSTERS, BILLIONAIRES and INVADING ILLEGALS
Income
inequality
grows FOUR TIMES FASTER under Obama than Bush.
"By the time of Bill Clinton's election in 1992, the Democratic Party had completely repudiated its association with the reforms of the New Deal and Great Society periods. Clinton gutted welfare programs to provide an ample supply of cheap labor for the rich (WHICH NOW MEANS OPEN BORDERS AND NO E-VERIFY!), including a growing layer of black capitalists, and passed the 1994 Federal Crime Bill, with its notorious "three strikes" provision that has helped create the largest prison population in the world."
INCOME PLUMMETS UNDER OBAMA AND HIS WALL STREET CRONIES
(THERE'S A REASON WHY GEORGE S OROS RUNS OBAMA'S BID FOR A THIRD TERM FOR LIFE).
MICHELLE OBAMA ANNOUNCES SHE WILL RUN FOR THE WHITE HOUSE AND BE BARACK'S THIRD TERM FOR LIFE.
The main objective of "political animals" like Obama and the Clintons is to get elected; it's not to fix a broken America, nor to protect her. There are people who govern and there are people who campaign; Obama and the Clintons are the latter. Just look at the huge Republican electoral gains under Obama and the Clintons. It's amazing that Democrats who still care about their party still support the very people who have brought it down.

"Of course, one of the main reasons the nation is now "divided, resentful and angry" is because race-baiting, Islamist, class warrior Barack Hussein Obama was president for eight long years.

MATTHEW VADUM
Editorial Reviews: Obama Is Making You Poorer—But Who's Getting Rich?
Goldman Sachs, GE, Pfizer, the United Auto Workers—the same "special interests" Barack Obama was supposed to chase from the temple—are profiting handsomely from Obama's Big Government policies that crush taxpayers, small businesses, and consumers. In Obamanomics, investigative reporter Timothy P. Carney digs up the dirt the mainstream media ignores and the White House wishes you wouldn't see. Rather than Hope and Change, Obama is delivering corporate socialism to America, all while claiming he's battling corporate America. It's corporate welfare and regulatory robbery—it's Obamanomics. TIMOTHY P CARNEY
New York Senator Kirsten Gillibrand: Another pro-
bankster, right-wing Democrat enters the 2020 race
Her embrace of Hillary Clinton, the candidate of Wall Street and the CIA, and Obama, who presided over the largest transfer of wealth in history from the bottom to the top, demonstrate clearly her adherence to the right-wing policies of the Democrats that are responsible for the accelerated deepening of economic and social inequality, paving the way for the Trump presidency.

She has also received substantial contributions from major Wall Street firms, including Goldman Sachs and JPMorgan Chase & Company.
During her 2012 reelection campaign, she was the third highest recipient of donations from the securities and investment sector, reportedly taking in more than $1.84 million.
Beto's solution to the wall issue: let the rest of Mexico jump our open borders and vote democrat for more and no wall will be needed!
IS BETOMATIC A CLONE OF BANKSTER-OWNED BARACK OBAMA, THE LA RAZA SUPREMACIST WHO SURRENDERED OUR BORDERS FOR 8 YEARS AS HE AND HOLDER SERVICED THEIR CRONY CRIMINAL BANKSTERS.
*
"Our entire crony capitalist system, Democrat and Republican alike, has become a kleptocracy approaching par with third-world hell-holes. This is the way a great country is raided by its elite." – Karen McQuillan AMERICAN THINKER.com
Further, nearly 60% think that the next generation will be
worse off
than they are. And few have any faith that the economic outlook for the country will improve in the near or distant future.
There are many parallels between "Betomania" and "Obamamania," and O'Rourke has been called the "white Obama."
He is married to the
daughter of a billionaire
, so if nominated, Democrats would have a hard time attacking Republicans for supporting a billionaire president without being accused of hypocrisy.
"Beto also questioned whether the Constitution was still relevant, which makes one wonder how seriously he would take the oath to "preserve, protect and defend the Constitution of the United States" should he be sworn in as president."
WORDS OF A PSYCHOPATH BARACK OBAMA:
"In his 2006 autobiography
The Audacity of Hope
, then-Senator Obama wrote, "I serve as a blank screen on which people of vastly different political stripes project their own views." That is why Obama won the presidency, and should O'Rourke win too, that is why he will have won"
VIVA LA RAZA SUPREMACY LIKE TEXAS' NARCOMEX BORDER COUNTIES THAT VOTED VIVA BETOMATIC?
BETO O'ROURKE HAS BEEN ENDORSED BY MEXICO. HOW IMPORTANT WILL THE ILLEGALS' VOTES BE?
"In 2018, a volunteer for the Beto campaign urged followers to transport undocumented aliens (ILLEGALS) to the polls."
"Many liberals believe that anyone in the United States – citizen or non-citizen – should be able to vote. If they want to make that argument and change the law to make it happen, they are more than welcome to try. Of course, if they run on that issue, they will get slaughtered at the polls. So instead of going to the American people and working to change the law, they try an underhanded dirty trick to achieve the same goal."
APOLO VILLALOBOS
"American elites continue focusing on a global order while ignoring the decline of the United States. A broken America will be unable to meet any geopolitical threats abroad. Any national security strategy that does not begin with securing our own national security at home will be doomed to fail." DANIEL GREENFIELD
Knowing that the wall will become a reality if the President gets the cash brings out the cheap-labor-express, wealthy power brokers like the
Billionaires for Open Borders
: Michael Bloomberg; Rupert Murdoch; other distinguished members of the Forbes 500; and, as Lou Dobbs often
reminds
us, the "globalists, the Chamber of Commerce, the Business Roundtable,
Koch brothers
and Wall Street."
PHONY "POPULIST" BERNIE SANDERS
For all of Bernie Sanders talk about leading "political revolution" against the "billionaire class," Sanders backed Clinton, a shill of Wall Street and the Pentagon, who has nothing but contempt for the tens of millions of workers devastated by the 2008 financial crash and Obama's pro-corporate policies.
BERNIES ONLY TRUE "SOCIALISM" IS FOR ILLEGALS. THE AMERICAN MIDDLE CLASS WILL STILL GET THE TAX BILLS FOR THE LA RAZA MEX WELFARE STATE ON OUR BACKS.
AMERICA'S ROAD TO REVOLUTION
"This dangerous power vacuum has fueled frustration and created an entirely new breed of disenfranchised voters who are fed up with the status quo. These are real people, their anger is palpable, and it's not going away anytime soon."
Alexandria Ocasio-Cortez … enemy of borders, laws and American values
"Ocasio-Cortez ran on an explicit promise to abolish the federal Immigrations and Customs Enforcement (ICE) agency, as well as to nationalize health care."

*
"The DSA is not fighting for socialism, but to strengthen the Democratic Party, one of the two main capitalist parties in the United States, which shares responsibility with the Republican Party for all the crimes committed by American imperialism around the world and against the working class at home."