Graham Calls for an FBI Investigation into Dems 'Despicable Process' Including Feinstein's Office
Sunday on ABC's "This Week," Sen. Lindsey Graham (R-SC) called for an investigation into Democrats behavior during the confirmation process for Supreme Court associate justice nominee Brett Kavanaugh.
Graham also questioned "who in Feinstein's office" referred Christine Blasey Ford to her attorney Debra Katz.
Graham said, "We will investigate who in Dianne Feinstein's office referred Dr. Ford to Mrs. Katz. It's illegal, inappropriate in the Senate. The FBI will be a supplemental background investigation. I'll call for an investigation on who betrayed Dr. Ford's trust. Who in Feinstein's office betrayed her trust, why Dr. Ford didn't know we were willing to come to California? We'll do a wholesale investigation of what I think was a despicable process."
Kavanaugh Character Assassins Must Pay in November
Absent any allegation that Judge Brett Kavanaugh was the serpent who gave Eve the apple in the Garden of Eden, Associate Justice Kavanaugh will soon haunt Democrats, like Justice Clarence Thomas before him, for decades to come, with or without an asterisk next to his name. Yet this is no time to celebrate, for already the mudslingers of the left are poring over President Trump's list of deplorable judicial nominees for things the next nominee can be falsely accused of as the spawn of Satan.
From Dianne Feinstein's withholding of Dr. Ford's conveniently leaked letter to Kamala Harris's clumsily edited Kavanaugh tape, we have seen the shape of things to come for future Trump nominees. Senate Democrats will lie, manipulate, and just plain make things up for the sake of power over principle, and the only way to make sure they do not succeed in the future is to make sure in November that there are fewer Senate Democrats.
The timing of President Trump's October 1 rally for GOP Tennessee Senate candidate Rep. Marsha Blackburn is coincidental but fortuitous, for the seat being vacated by Bob Corker, who has said yes to Kavanaugh, is one that must be held as others are gained to ensure that Kavanaugh's originalist view of the Constitution is restored as the dominant and permanent philosophy of the Supreme Court.
Hopefully, voters, independent voters in particular, will have been sufficiently turned off by McCarthyite Democrats embracing tabloid accusations with no dates, times, places, or corroborating witnesses to defame a judicial superstar with an unblemished record and life to ensure that the GOP keeps and expands its Senate majority. Hopefully, they will realize that next time, it could be their son, father, brother, uncle, or cousin who is targeted for slander and slime. Women should be heard, but they should not automatically be believed. Just ask the Duke lacrosse team.
Last Wednesday, Sen. Tester (D-MT) released a laundry list of anonymously-sourced, unsubstantiated allegations against the current White House Physician and, until last Thursday, President Trump's nominee for Secretary of Veterans Affairs. The Montana Senator accused Jackson of a wide range of misconduct, from overprescribing medications to drunkenly wrecking his government vehicle. Tester also accused Jackson of being frequently drunk on the job, based on a lurid tale (anonymously sourced, of course) about a Secret Service intervention to prevent a severely-inebriated Jackson from disturbing a sleeping President Obama during an international trip in 2015. Jackson, the story goes, was pounding on a hotel room door next to the President's in the early hours of the morning.
Tester, by contrast, appears to have slandered the professional and personal reputation of a man who served in the Navy for twenty-three years, including as the physician in charge of resuscitative medicine at Camp Taqaddum, just outside of Fallujah, in 2006[.] ...

Tester apparently did not bother to check the paperwork before he accused a two-star admiral of driving under the influence and destroying government property, however. Why? Perhaps some "facts" are too useful to check. A search of the government's database of all accident reports unsurprisingly returned no evidence of Tester's accusation.
For Senate Democrats like Tester, some things are too good to check, so they don't bother to check. They must be true. They want them to be true. For senators like Kamala "Yes or No" Harris, Cory "Spartacus" Booker, Mazie "Shut Up" Hirono, and fake war hero Richard "Stolen Valor" Blumenthal, the truth depends on the weaving of the lies they tell.
Hirono, Feinstein, Tester, and others had no trouble taking campaign cash from a political action committee run by Delaware Democratic senator and confessed wife-beater Tom Carper:
U.S. Sen. Mazie Hirono, who told men to "just shut up and step up" in the wake of sexual misconduct allegations against Supreme Court nominee Brett Kavanaugh, might have some explaining to do about her campaign cash.

Data show that Hawaii's Hirono has taken money from a fellow Democrat who has admitted hitting his wife.

U.S. Sen. Tom Carper's First State PAC donated $1,000 to Hirono's political campaign in June, despite the Delaware lawmaker's confession of abuse.

Also receiving donations from Carper's group was U.S. Sen. Dianne Feinstein, D-Calif., ranking member of the Senate Judiciary Committee, which will decide if Kavanaugh is appointed to the nation's highest court. Feinstein has received $5,000 from the PAC so far in 2018.

Other Democrats benefitting from Carper's PAC include U.S. Sens. Jon Tester of Montana, Bill Nelson of Florida and Joe Manchin of West Virginia, who've received $10,000 each from the PAC this year.
Hirono saw the Kavanaugh hearings as a crisis too terrible to waste, taking the opportunity to begin fundraising off the hearings before the first testimony was held:
Sen. Maize [sic] Hirono's campaign apologized Thursday for a fundraising email focused on allegations against Brett Kavanaugh. As Christine Blasey Ford was beginning her testimony, Sen. Hirono sent out the email titled, "Asking for a minute to explain (Kavanaugh)." ...

Hirono has repeatedly made a fool of herself in the past week. Last Tuesday she told American men to "Shut up and step up!" Then she claimed that Senator Grassley's multiple attempts to contact Christine Blasey Ford by phone and email were "b-------." Over the weekend she suggested on television that Kavanaugh's judicial philosophy was an indication that he wasn't trustworthy. Hirono was given a chance to walk that back a bit on MSNBC and instead chose to double-down.
Sen. Blumenthal asked Kavanaugh to explain the judicial concept of "falsus in uno, falsus in omnibus," a phrase that means "false in one thing, false in everything" and allows jurors to discount the entire testimony of someone caught lying on a particular point. This pearl of wisdom came from a man who himself lied that he served in Vietnam, something Sen. Tom Cotton has rightly noted and condemned:
Sen. Tom Cotton (R-Ark.) ripped into Sen. Richard Blumenthal (D-Conn.) on Thursday for lying about his military service and then questioning Supreme Court nominee Brett Kavanaugh's credibility.

"@SenBlumenthal lied for years about serving in Vietnam, which is all you need to know about his courage & honesty," Cotton, who is not on the Senate Judiciary Committee, tweeted during the questioning. "Maybe he should reconsider before questioning Judge Kavanaugh's credibility."

Blumenthal has said he served in Vietnam, when he in fact sought at least five military deferments and eventually landed a spot in the Marine Reserve, where he was essentially guaranteed not to serve in the conflict itself, The New York Times reports.

Blumenthal went after Kavanaugh's credibility in the Senate Judiciary Committee hearings Thursday of Christine Blasey Ford's allegations that Kavanaugh sexually assaulted her in 1982. ...

"The core of why we're here is really, credibility," Blumenthal said Thursday, before drilling into a variety of things Kavanaugh said throughout the hearing Thursday, pressing him on the veracity of the statements.
Blumenthal, et al. have their own trouble with credibility and veracity as they toss aside the presumption of innocence. If any woman has been victimized here, it is Lady Justice, who has been not only blindfolded, but gagged and bound by the proponents of mob rule.
The time may come sooner than we think when Justice Ruth Bader Ginsburg, dubbed by some as "Darth Vader" Ginsburg, will nod off permanently, and President Trump will appoint a replacement. When that happens, a firm Republican Senate majority will be needed to ensure that lies, defamation, and slander will not be the standards used to judge that nominee.
Daniel John Sobieski is a freelance writer whose pieces have appeared in
Investor's Business Daily, Human Events, Reason Magazine, and the Chicago Sun-Times among other pub
lications.
Post-Kavanaugh, Democrats will reap the whirlwind
The hearing yesterday was a shameful exercise in abuse, unspeakable abuse by Democrats, of both Christine Blasey Ford and Brett Kavanaugh. Blasey Ford did show up and testify, her two Democrat activist lawyers, Debra Katz and Michael Bromwich, by her side. She was not credible, but we should all feel sorry for her.
She is fifty-two years old but seemed childlike. She speaks in a child's voice, which rose in pitch at the end of every sentence as though she is unsure about the validity of her own words. She was at times cheerful and giddy, which was off-putting, given the reason she was there: to shatter a fine man's life's work. She has traveled the world but had told the committee she was afraid to fly. So she is not an honest person. But she is clearly damaged, and those lawyers and whoever recruited them should be indicted for cruelty to an unstable person.
Her lawyers and Dianne Feinstein have abused her horribly and used her as their tool to ruin Kavanaugh.
The Democrats on the Judiciary Committee revealed their inner selves yesterday, and it was an ugly, ugly picture. Every one of them attacked, demeaned, and verbally assaulted Judge Kavanaugh. Not one of them was civil or respectful to this man, who has led a life of high achievement, service, grace, and class. Booker, Harris, Durbin, Blumenthal, et al. are thugs. They are bullies in search of power with no regard for the truth or decency. No one should ever again vote for any of them. Every one of them has permanently stained their committee and the confirmation process. They have also forever destroyed their own legacies. Their performances today are what each of them will be remembered for.
Ford's original letter to Feinstein is so badly written that it is hard to believe it was drafted by an educated person. Dr. Ford did not know the word "exculpatory" but has a Ph.D. Ford seemed as though she was in a dissociative state. She was reciting a studied script, blanks and all, as though she had been hypnotized. She had no reasonable explanation for why each of the witnesses she named denies ever being at such a party. She did not address the fact that one of them, her girlfriend, made a statement under oath that she had never met Kavanaugh and remembered no such gathering. The Democrats in the room badgered Kavanaugh relentlessly but ignored the fact that there is still no corroborating evidence, no witnesses, no proof that the incident ever happened. There is only this sad woman's distant, incomplete, and flawed memory. The Democrats don't care. All they care about is keeping that seat vacant.
When asked who paid for her polygraph and who was paying her lawyers, Ford said she did not know. She said she thought there were some GoFundMe pages, but she had no idea how to manage them. She said she did not know that Sen. Grassley had offered to come to California to interview her. Her head must have been in the sand. Most likely, her lawyers wanted the spectacle we saw. They have been certain they could force Kavanaugh to withdraw. They badly misjudged the man they have tried to destroy. Kavanaugh rightly eviscerated them. It was his testimony that was truly heart-wrenching. It is likely that the millions of those who watched cried more than the judge did.
That any of this happened is the historical low point in American politics – and make no mistake: this was all about politics, not Kavanaugh. If there was any doubt before, there is no longer: the American left today is malevolent.
The Democratic Party has demonstrated for all to see just how soulless it has become. The Democrats on the committee disgraced themselves. The two youngsters, Harris and Booker (neither of them will ever be president), are callow, shallow, rude, and power-mad. We have seen what they are made of: pure narcissism.
What we saw today was the judiciary committee Democrats mercilessly abusing Kavanaugh, again, having already abused Blasey Ford into a stupor. Kavanaugh was justifiably enraged and fought hard against his abusers. He did a magnificent job. So did Sen. Graham in defense of Kavanaugh.
Any senator who votes against Kavanaugh now is betraying his own inability to see the truth when it is sitting right in front of him. Any senator who votes against this man now is signaling his approval of wholesale character assassination for sordid political purposes. The Democrats in the Senate might consider that.
A no vote is a vote for more of the horrific circus we saw today. Redeem yourselves, Democrats. Vote to confirm this good man.
Exclusive — Sen. Bill Cassidy: FBI Probe Must Investigate Dems' Collusion to Smear Kavanaugh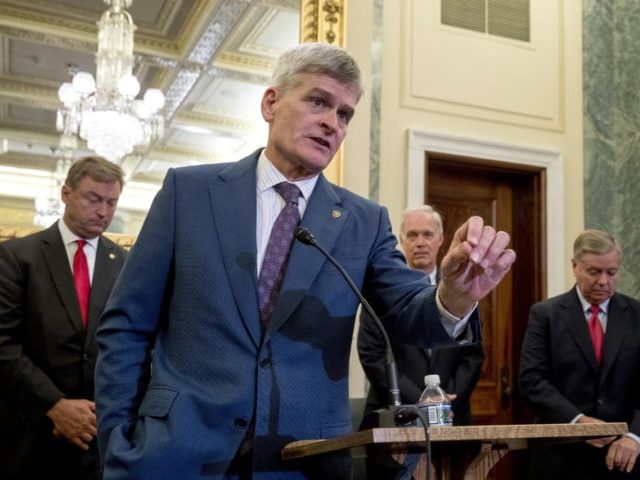 Just like their other tactics throughout this confirmation process, Senate Democrats' demands for an FBI investigation have never been about getting the facts or finding the truth.
If they were, they would have alerted law enforcement months ago, as soon as they learned of the claims. Instead, they waited until the last minute to leak them in order to delay the vote.
That is why any FBI investigation of the allegations against Judge Brett Kavanaugh should include potential coordination between the Democrat operatives and lawyers that assisted in bringing them forth.
What Senate Democrats really want is more time to smear Judge Kavanaugh, regardless of the toll it takes on his wife, his daughters, and our country.
Democrats will not suddenly require evidence to declare Judge Kavanaugh guilty of being the worst kind of criminal. They will not suddenly abandon their assumption that all accusations against Republicans are credible and to be believed.
If the FBI turns up nothing significant, they will say what Joe Biden said in 1991, that the FBI does not reach conclusions. They will say the FBI did not have enough time to conduct a thorough investigation.
What they will not do is admit they were wrong to accuse Judge Kavanaugh of being a gang rapist, or a rapist, or a sexual assaulter, or a drunk, or a perjurer, or a hothead unfit for the bench.
If the delay facilitates new allegations from Michael Avenatti or someone else, it will not matter how ludicrous they are. Democrats will instantly call them credible, demand more delays, more FBI resources, and more hearings. They will attack anyone who disagrees.
Delay, delay, delay. That's all they want, because their goal is to do anything and everything to smear any nominee — anyone — and block Republicans from appointing another justice to the Supreme Court.
We cannot and should not let that happen.
Dr. Bill Cassidy, MD, a Republican, is the senior senator from Louisiana.
Lindsey Graham: Kavanaugh Hearing 'Most Despicable Thing That I Have Seen in Politics'
"If you wanted an FBI investigation, you could've come to us," Sen. Lindsey Graham (R-SC) told Senate Democrats at Thursday's hearing grilling of Supreme Court nominee Brett Kavanaugh.
"This is the most unethical sham since I've been in politics," Sen. Graham said, turning his ire on Democrats' attacks on Kavanaugh, calling the personal assaults on Kavanaugh "The most despicable thing that I have seen in politics."
"What you want to do is to destroy this guy's life, hold this seat open, and hope you'll win in 2020. You've said that, not me," the senator said.
"If you really wanted to know the truth, you sure as hell wouldn't have done what you did to this guy," Sen. Graham told his Democrat colleagues. "This is going to destroy the ability of people to come forward, because of this crap," Graham said.
Where were the HOWLERS when serial rapist Bill Clinton, Bill Cosby and Harvey Weinstein were on the prowl?
Harvey Weinstein has been exposed in the media as the
sexual predator
he is, and Hillary Clinton has been exposed as the craven
money-grubber
she is; money over morality is the mantra she lives by. PATRICIA Mc CARTHY – AMERICAN THINKERcom
"But what the Clintons do is criminal because they do it wholly at the expense of the American people. And they feel thoroughly entitled to do it: gain power, use it to enrich themselves and their friends. They are amoral, immoral, and venal. Hillary has no core beliefs beyond power and money. That should be clear to every person on the planet by now." ---- Patricia McCarthy - AMERICANTHINKER.com

Leaked Julian Assange Message:
Hillary Is A 'Well Connected, Sadistic Sociopath'
As Sen. Lindsey Graham unexpectedly elevated himself to statesman during the last of the Senate hearings on Supreme Court nominee Brett Kavanaugh Thursday, Sen. Dianne Feinstein dropped herself to bottom of the barrel as a political hack. Her performance, from start to finish, was a disgrace. It was so bad, so loathsome, even to the left, that it's hard to think it won't cost her her Senate seat, where she is in a tight race this November.

Here was the exchange on the Senate floor just yesterday, and Fox News has a video here:

"Only at an 11th hour, on the eve of Judge Kavanaugh's confirmation vote, did the ranking member refer the allegations to the FBI. And then the allegations were leaked to the press. That's where Dr. Ford was mistreated. This is a shameful way to treat our witness, who insisted on confidentiality, and Judge Kavanaugh, who has had to address these allegations in the midst of a media circus."

Feinstein responded to Grassley's criticism when she began her opening remarks, saying, "Yes, I did receive a letter from Dr. Ford ... the next day, I called Dr. Ford, we spoke on the phone, she reiterated that she wanted this held confidential. And I held it confidential, up to a point where the witness was willing to come forward."

Here's a rundown of how bad she was:

1. Feinstein got a letter from a constituent alleging sexual harassment by Judge Brett Kavanaugh during his high school years. She sat on it for 60 days, only to bring it up after hearings were concluded, obviously for some political bang, following the news that Kavanaugh would likely be confirmed without incident.

2. Asked about it at the time, Feinstein said she had questions about whether it was 'truthful.' That was her argument and stayed her argument, until Ford became politically useful.

3. Then Feinstein, or someone on her staff obviously leaked the letter to the press, following Feinstein's promises of confidentiality to the writer, effectively outing her, and forcing her to come forward as a named witness whether she liked it or not. That backed the witness, Christine Blasey Ford into a corner, forcing her to come forward with her allegations in testimony under oath, which, given the perjury trap it was for her, were quite vague. Ford herself said she believed she was betrayed and outed by someone on Feinstein's staff.

4. That was obvious enough when Feinstein was instrumental in getting Ford a leftwing lawyer to do the media grandstanding.

5. After that, Feinstein was confronted about her political opportunism by Sen. Ted Cruz, and tried to brush the whole thing off, begging his question about how the letter was leaked by saying reporters were the problem, not leakage. Pressed by another senator, she said she asked their staff and they said no – as if Feinstein, who employed an utterly untrustworthy Chinese spy on that same staff for 20 years – should just take their word for it. Sneaky leakers would never lie, now, would they?

It's bad stuff, political manipulation of the worst sort, and both sides have been right to call her out on it. Her denials are pathetic, failing to address any of the issues at hand, whether of legislative duties, leaks, or admitting blame. She's obviously put political gain ahead of doing her job, and she stands now as an unfit member of the Senate.

Couple it with her employment of that Chinese spy for 20 years and her defense of the Steele dossier, and an ugly Jurassic partisan hack picture emerges.

Even people on the left can see it. I've always been content voting for Feinstein, or at least held my nose and voted for her, given the crazed lefty alternatives we have seen on the California ballots. But this may be the end of it. Feinstein is being challenged by a crazed far leftist of the worst Sacramento-swamp stripe, leaving virtually no good alternatives for voters at midterms. Although many Republicans are flocking to that crazy rival of hers on the ballot, Kevin de León, it looks like write-in time for many normals. This woman has got to go.
BOXER, WHO NEVER GOT ONE BILL THROUGH CONGRESS IN ALL THE YEARS SHE SERVED THE SPECIAL INTERESTS, AMASSED A VAST FORTUNE FROM "campaign contribution" BRIBES SIPHONED OFF AS "CONSULTANT FEES" TO SON LAWYER DOUG BOXER.
Boxer: Kavanaugh 'Transformed' into 'Someone Who You Could Now See Attacking a Woman'
Thursday on MSNBC's "Hardball," former Sen. Barbara Boxer (D-CA) said today during his testimony, Supreme Court associate justice nominee Brett Kavanaugh transformed into "someone who you could now see attacking a woman."

Boxer said, "Let me say, I think it was exhausting for everybody, and especially for women who have had this experience and for women who have had relationships with very angry men. And I think—I've listened to your commentary, I think you're right, all of a sudden we see a man transformed from a choir boy who up until now has said after hours in front of the committee he lived this very perfect life, all of a sudden his anger is triggered and what we saw today is someone who you could now see attacking a woman. It is very frightening."

She added, "I think your guest, who was so good, and said temperament is so important for who you put on the court. He not only showed the personality transformation. What do I think it will happen? We all know it is a few Republicans that hold this decision on their shoulders. I don't know anyone who didn't think that Dr. Ford was credible. And when she said I am 100% sure who this was, I believe her. It's up to them. Do they believe her? And the last point I'll make is if you are undecided, there is only one independent investigation, a FBI background check and frankly anyone who doesn't support that doesn't want to get to the truth and that includes Judge Kavanaugh."

WHY NOT PUNISH WAR PROFITEER FEINSTEIN AND PAY-TO-PLAY CLINTON??????????????????
Nancy Pelosi Fundraises off Brett Kavanaugh Hearing
Chip Somodevilla/Getty Images
House Minority Leader Nancy Pelosi (D-CA) joined the list of Democrats using — or exploiting — Thursday's hearing on sexual misconduct charges by Chrstine Blasey Ford against Judge Brett Kavanaugh to raise money.
In an email sent Thursday, as the hearing was still ongoing, the Democratic Congressional Campaign Committee (DCCC) blasted out a mass e-mail in Pelosi's name (original emphasis):

It's been one of the most taxing days of my life.

I am watching Trump and McConnell ram through Brett Kavanaugh to a lifetime on the Supreme Court.

I am watching every single Republican support them.

And I am vowing to myself today: I will do everything possible to defeat them.

Mark my words: We can — and WILL — punish these despicable Republicans and win a Democratic Congress that'll render them powerless.

I need a massive surge of support before Sunday's final End of Quarter Deadline to show the power of grassroots Democrats. I need 26,841 principled Democrats with me. It's such an important moment, I'm personally quadruple-matching all gifts.

Pelosi is hoping to take over as Speaker of the House — again — if Democrats win the midterm elections in November. The party is hoping to use Ford's accusations to turn female voters out in November.

The House has no role in the selection of judges, to the Supreme Court or at any other level, though Pelosi weighed in Thursday, attacking Republicans for using a female prosecutor to question Ford. Pelosi called prosector Rachel Mitchell a "hired woman."

Also on Thursday, the campaign of Sen. Mazie Hirono (D-HI), who sits on the Senate Judiciary Committee, apologized for fundraising while Ford was testifying.

September 28, 2018
Bill Cosby: Jailed because He Is Black
Formerly nicknamed "America's Dad," Bill Cosby – convicted of ugly sex offenses – will have incarceration as his life's epilogue.

Cosby is the first high-profile figure felled criminally in the era of #MeToo. This movement stretches back to 2006, when JustBe Inc. began the "me too Movement

™

"as a program to support women who have suffered sexual abuse. It took off as a cultural phenomenon with über-liberal actress Alyssa Milano's October 2017 tweet requesting that abuse survivors respond with the "me too" hashtag subsequent to the reporting of film producer Harvey Weinstein's prolific sexual misconduct. Nearly two million #MeToo tweets went out before the end of that month.

The #MeToo train gathered steam as other power brokers were called out for their indiscretions. The media and the political swamp took hits: Matt Lauer, Charlie Rose, Al Franken, Eric Schneiderman. A new epoch of justice had emerged; the days of tacit acceptance of nasty behavior by powerful men came to an abrupt end. Even against those about whom claims of misconduct are questionable, the #MeToo hammer became a powerful bludgeon. Just ask Brett Kavanaugh.

It is really no surprise, then, that in the current climate, Bill Cosby finds himself in jail. This is not to suggest that Cosby is innocent of the charges; his case has been adjudicated twice, with the second trial resulting in a guilty verdict. Of note, however, is that the convicting jurors indicated in their closing statement that they "believed [Cosby's] accuser's account and [were] persuaded of his guilt by the facts, not the momentum of social change captured in the #MeToo movement."

Kudos to the jurors if they were able to put aside the pressure of #MeToo in rendering their decision. But unless this panel was composed of individuals whose technological savvy stopped with the telegraph, it is quite likely that, their protestations notwithstanding, #MeToo influenced (at least tacitly) the jurors' thinking.

Beyond #MeToo, racial identity politics is an inescapable consideration in the Cosby case, yet the New York Times reported:

"Not once were race or the #metoo movement ever discussed, nor did either factor into our decision, as implied in various media outlets," the jurors, whose names have not been released, said in the statement.

Maybe the jury was truly colorblind. But by overtly denying that they were affected by racial factors, methinks the jury doth protest too much. Would Cosby have been prosecuted – would the jury have convicted him – had he remained loyal to leftist racial politics? We can never know for sure, but the jury came from Allegheny County – which CNN called a "blue pocket of the post-industrial United States," having voted 58% for Democrat Conor Lamb in the March 2018 special election. It is not unreasonable to think a majority of the Cosby jurors were politically liberal.

The left repeatedly complains that America administers unequal justice for black men. Cosby's publicist, Andrew Wyatt, decried his client's sentence as the result of "the most racist and sexist trial" in American history. This is somewhat hyperbolic (Emmett Till's family might disagree with Wyatt's pronouncement), but in the age of NFL kneelers, it is unlikely that racial identity politics did not figure in Cosby's case.

What are we to make of a black male celebrity found guilty as charged while a cadre of similarly accused white notables (including the former POTUS, Bill Clinton) – who have been censured, fired, demoted, or ousted from office for the same type of bad behavior – have not faced criminal justice consequences? Current leftist orthodoxy would have us believe that "white privilege" has shielded Weinstein, et al. from prosecution, while Cosby's color led him to a criminal conviction. But the left has largely sat by idly in his case. Why? Because a form of racialism was dropped on the scales of justice against Cosby: that of a black American bucking the trend of liberal orthodoxy on race.

Cosby set himself up for abandonment by the left back in 2004, when he addressed the NAACP at a celebration commemorating the 50th anniversary of the Brown v. Board of Education decision. In his remarks that evening, Cosby is quoted as saying:

In our cities and public schools we have fifty percent drop out. In our own neighborhood, we have men in prison. No longer is a person embarrassed because they're pregnant without a husband. No longer is a boy considered an embarrassment if he tries to run away from being the father of the unmarried child[.] ... In the neighborhood that most of us grew up in, parenting is not going on. In the old days, you couldn't hooky school because every drawn shade was an eye. And before your mother got off the bus and to the house, she knew exactly where you had gone, who had gone into the house, and where you got on whatever you had one and where you got it from. Parents don't know that today. I'm talking about these people who cry when their son is standing there in an orange suit. Where were you when he was two? Where were you when he was twelve? Where were you when he was eighteen, and how come you don't know he had a pistol? And where is his father, and why don't you know where he is? And why doesn't the father show up to talk to this boy?

Cosby's condemnation of the diminishing standards of conduct that he had observed in the black community tarnished his progressive credentials. On CNN with Don Lemon in 2013, Cosby dug his own hole deeper by bemoaning the rampant fatherlessness among black families while calling for more black men to proactively participate in family life and childrearing.

When criminal allegations began to surface in 2014, Cosby's stardom shielded him from immediate public outrage. But dozens of alleged victims came forward, making the feasibility of his guilt palatable in the court of public opinion. He survived a 2017 mistrial just before #MeToo reached its cultural apex, but in April 2018, Cosby was handed a guilty verdict.

The #MeToo movement has taken down several prominent libidinous scalawags, but outside Cosby, none of these liberal elites has been indicted for a sex crime. John Conyers, serving in Congress since 1965, was forced out of his House seat in December 2017 because of sexual harassment allegations, yet he has had no criminal charges filed against him. Why not? Could it be because Conyers, a black Democrat, has never strayed from liberal-progressive politics? None of the white scoundrels exposed by #MeToo has ever abandoned his progressive dogma, either.

Racial tension is characteristic of modern American politics. The left is openly hostile toward any black American in the public eye who encourages blacks to engage in free thinking, hold a positive view of Donald Trump, or express concern about the internal problems of the black community. Cosby had already slid into persona non grata status by being a black man willing to suggest that problems within black America are not exclusively the result of white racism. Had Cosby stayed within the bounds of racial grievance expected of black Americans, perhaps he would be living in uncomfortable ignominy rather than dreading his retirement in an orange jumpsuit.
Dems will use #MeToo to get you, too
In the circus that was the testimony of Christine Blasey Ford, we saw a woman with multiple degrees who is proud to know so very little about so much and who can't remember even recent things. I think that had I taken a polygraph test on the day after my grandmother's funeral, I would remember it. But not "Chrissy" – she is an empty abyss, down which all memories of any importance disappear. She can't remember "when" or "where," but she is 100% sure that it was Kavanaugh who assaulted her.

(Let's stop calling being groped "rape." It may be sexual assault, but it is not rape. To call it so cheapens the suffering of countless woman who throughout history were real victims of rape.)

The glasses were a nice touch, oversized to make her look childish, complementary to the tiny, childlike voice and the studied immaturity. She tried so hard to cry, but the tears just wouldn't come (at least not like Kavanaugh – probably because his were real). It was also genius to have her continually call Supreme Court nominee Judge Kavanaugh "Brett." It dispensed with his many achievements as well as making him seem like a close friend who betrayed her in the most heinous of ways.

Taking up six minutes of the first ten allotted Republican minutes to correct a letter she herself wrote was also brilliant. This Ford was prone to stalling.

Oh, and poor Christine, so afraid to fly, yet forced to traipse the globe on jets.

And now for her supporters and champions: they are the vanguard of the Democratic Party, including a woman who had a Chinese spy working for her for twenty years; a man who lied about serving in Vietnam; a guy who readily admits that at 17, he committed the very same crime they collectively were accusing Kavanaugh of (and who has a make-believe friend named T-Bone); a woman who began her political career by having an affair with Willie Brown; and a woman who, echoing rape apologists of the past, thinks men should "shut up" and take it.

Coincidentally, Blasey Ford's attorney's office once represented fellow accuser Julie Swetnick, of the now discredited gang-rape allegations, in a sexual harassment case she had against a former employer. Small world, isn't it?

These are the people who would sit in judgment of the rest of us.

Democrats are willing to surrender all pretense of morality in order to get what they want – and they do it with smiles on their faces and no concern for how much it costs anyone personally or the nation nationally. It's just that simple. Watch them for any amount of time, and you will feel as dirty as they claim Kavanaugh is, as they believe we are.

In the world they want us to live in, that they themselves refuse to live in, an accusation is supposed to be enough to ruin a man, a family, a reputation, and a career. Truth is unimportant. In fact, truth is an impediment, something to be ignored in service of the greater good, which is their good.

But Kavanaugh, he wouldn't take his destruction in stride like the good deplorable he is. He fought back – and splendidly, with admirable eloquence and compassion. He demanded the presumption of innocence, which in the Democrats' world is afforded only to other Democrats. It was rousing. It was dramatic. It was poignant.

It was also a disaster for the Democrats' dream of railroading an honorable man, guilty of nothing, who merely and nobly wants to serve this nation, and perhaps return it to the course set by the actual words written down in our Constitution, our founding document.

Select Republicans fought back as well. Most notable was Senator Graham, who had his "Have you no shame?" moment. It wasn't exactly Spartacus, but it was something to see and revel in.

The Democrats did themselves no favor by continually asking Kavanaugh to insist on an FBI investigation, apparently unaware that the entire country knows that it would mean another delay. Citizens also know that an investigation easily could have been completed in the time between when Feinstein received the letter and when, after it was leaked to destroy Ford's anonymity, she released it to the committee. Americans are not stupid; they know that Democrats want a delay until after the midterms, when, if they take the Senate, the Kavanaugh nomination can be killed and the seat held open until after the 2020 presidential election.

Ah, the leaking of the letter. Ford said only her attorneys and Feinstein had it. But who leaked it? Feinstein said, "It was not me." She said, "It was not my staff." Then, being the Democrat that she is, she suggested that perhaps Ford leaked it herself.

She threw the poor "rape" victim under the bus – just as any Democrat would do to you or me were any of us to get in his way. Woe to anyone who tries to separate the Democrats from power and the wealth that comes with it.

"Due process is the foundation of the American way of law," Kavanaugh said. It's too bad the Democrats believe that it applies only to them. We had better pay attention, because we could easily be next.

William L. Gensert can be found on Twitter at @williamlgensert.
$ERVANT OF RED CHINA FOR RAW CA$H, $ENATOR FEIN$TEIN'S DRIVER IS A $PY FOR HER CHINE$E PAYMA$TER$!
"All in all, it was an incredible victory for the Chinese government. Feinstein has done more for Red China than other any serving U.S. politician.
"
Trevor Loudon
SENATOR DIANNE FEINSTEIN AND PARASITE HUSBAND RICHARD "BRIBSTERS" BLUM
Blum has long handed out bribes in the form of "campaign contributions" to other corrupt Democrat politicians so they keep their mouths shut about the staggering corruption that has profitably followed Feinstein from day one!
"Our entire crony capitalist system, Democrat and Republican alike, has become a kleptocracy approaching par with third-world hell-holes. This is the way a great country is raided by its elite." ---- Karen McQuillan THEAMERICAN THINKER.com
Hollywood Urges No Vote on Kavanaugh over 'Entrenched Misogyny': 'Government Is an Abuser'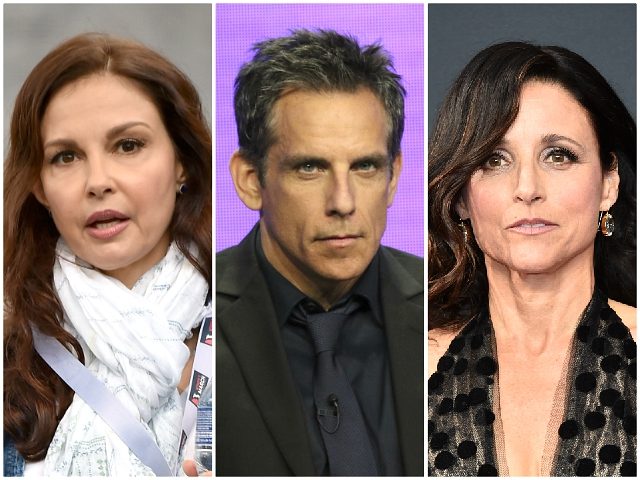 Hollywood celebrities from Amy Schumer to Alec Baldwin expressed outrage Friday as the Senate Judiciary Committee plans to vote on Judge Brett Kavanaugh's Supreme Court nomination.
Both Brett Kavanaugh and his accuser, Christine Blasey Ford, testified in a Senate hearing Friday. Kavanaugh stunned the nation with a passionate defense of himself and his reputation.
Several celebrities sent social messages urging their followers to help stop the Senate Judiciary Committee vote to move Kavanaugh's nomination forward.
"Respect to Doctor Ford for standing up and telling her story. For my family, my daughter and people who value the truth, you are a hero and on the right side of history," actor Ben Stiller tweeted.
Alec Baldwin chimed in, tweeting, "I hear

@

SenBobCorker

is ready 2 vote 4 Kavanaugh.
U can just picture the scenario. Big donors calling campaign finance directors. Implied threats. None of these men/women have an honest, sincere thought to share. They are bought and sold, everyday. The US Senate is a disgrace."
Alyssa Milano tweeted a message to the GOP — "November is coming."
Milano also questioned the honesty of Judge Kavanaugh.
"This is hurtful and wrong. Everything about yesterday was unambiguous, as is the entrenched misogyny of these men," Ashley Judd said.
"Watch and get ready to vote

#

GOP

out come November. With their refusal to have an FBI investigation or even to call the most important witness, Mark Judge, they have tainted this candidate forever. He'll wind up just like

#

ClarenceThomas

who NEVER spoke in public for 30 yrs," Bette Midler tweeted, comparing Kavanaugh to Clarence Thomas.
Many celebrities also urged their followers to call their senators, especially Collins, Corker, Flake, and Murkowski.
Comedian Amy Schumer urged followers to attend "Cancel Kavanaugh" events.
Check out all of the Hollywood activism.