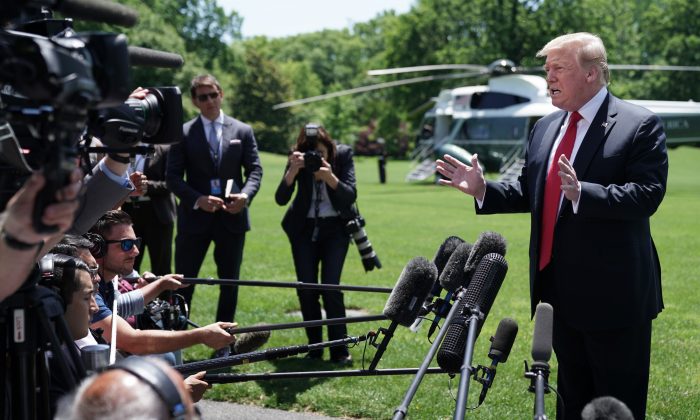 Trump: Mexico Is 'Abuser' of the US; 'America Has Had Enough!'
June 2, 2019
Updated: June 2, 2019
President Donald
Trump
on June 2 described
Mexico
as an "abuser" of the United States and offered an ultimatum: either stop the "invasion" along the southern
border
or U.S. companies will be "brought back" through new tariffs imposed on Mexican goods.
Trump made the comments in a string of early morning posts on Twitter following his announcement on May 30 that he is imposing a 5 percent
tariff
on Mexico, which would increase until Mexico starts taking action on the border crisis. Most of the illegal aliens coming across the border are coming through Mexico from Central America.
In Trump's latest remarks, he outlined how Mexico hasn't been treating the United States fairly, describing a turbulent relationship between the two countries. He ended one of his posts with "America has had enough!"
"People have been saying for years that we should talk to Mexico. The problem is that Mexico is an "abuser" of the United States, taking but never giving. It has been this way for decades," he wrote.
"Either they stop the invasion of our Country by Drug Dealers, Cartels, Human Traffickers… Coyotes and Illegal Immigrants, which they can do very easily, or our many companies and jobs that have been foolishly allowed to move South of the Border, will be brought back into the United States through taxation (Tariffs)."
The new tariffs, Trump
said previously,
would go into effect June 10 and would increase until the "
illegal immigration
problem is remedied." Border Patrol officials had apprehended more than 500,000 illegal aliens on the southern border as of May 10.
The announcement comes after the president declared a national emergency on Feb. 15 to address the humanitarian crisis and to secure funds for border-wall construction.
Mexico's Response
Mexico's President Andres Manuel López Obrador hinted on June 1 that his country could tighten migration controls in a bid to avoid Trump's newly imposed tariffs.
Lopez Obrador said at a news conference that Mexico wants to reach a deal with the United States. A major Mexican delegation, led by Foreign Minister Marcelo Ebrard, will discuss the dispute with U.S. officials in Washington on June 5. Mexico's president said he expected "good results" from the talks, and for a deal to emerge.
"The main thing is to inform about what we're already doing on the migration issue, and if it's necessary to reinforce these measures without violating human rights, we could be prepared to reach that deal," Lopez Obrador said.
His comments follow those of his deputy foreign minister for North America, Jesus Seade, who told Reuters on May 31 that Mexico wanted to sharpen existing measures to curb the flow of Central Americans through that country to reach U.S. soil.
Mexico's economy, which relies heavily on exports to the United States, shrank in the first quarter. Under Trump's plan, U.S. tariffs on Mexican goods could rise to as high as 25 percent this year.
White House trade adviser Peter Navarro
told CNBC
in an interview on May 31 that the president's move was not a "tariff war," but simply a measure to get Mexico "to do what it should be doing."
Lopez Obrador also said Mexico wouldn't attempt a trade war with the United States.
Reuters contributed to this report.
MEXICO'S INVASION by invitation!
"The amnesty activist also said that the "border has been a crooked proposition from the beginning, and it will continue to be twisted to meet political ends," adding that many open-borders activists still insist that "people didn't cross the border, the border crossed them."
"At some point we will have to accept the fact that the border between Mexico and the United States is nothing more than an invention. It was demarcated in 1848, following a war that cost Mexico about half its territory (it's no coincidence that cities like Los Angeles, San Antonio and San Francisco have Spanish names)," Ramos said. "Also, it's been said a thousand times that many people didn't cross the border, the border crossed them. And the cultural and commercial ties between the two sides remain in place to this day. Look at the fellowship exhibited by cities like El Paso, Texas, and Ciudad Juárez, Mexico even if barbed wire and concrete barriers have been erected in some places along the divide." LA RAZA SUPREMACIST JORGE RAMOS
1. What nation occupied the land for 300 years on which Mexicans now live?
2. What nation purchased 525,000 sq. miles of that land from Mexico for $15 million dollars?
3. What nation has a tougher immigration policy than the one who bought the land?
4. What nation built a wall along its Southern border to keep out illegal aliens?
5. What nation has millions of Mexican and Central American immigrants who came here legally and who don't want any illegal immigrants invading their country, stealing their jobs and bringing gangs, crime, drugs, infectious disease and human trafficking along with them?
6. What nation has millions of legal Latino immigrants who are proud to be citizens of a host country that is a sovereign nation with defined borders and with more individual freedoms and economic opportunities than any place on earth?
7. What people would like to tell the race-baiting, Jose Ramos, "Vete a la mierda!"?
1. Spain
2. United States
3. Mexico
4. Mexico
5. United States
6. United States
7. Latino Americans and other Americans who are not liberal Democrats
Poor people have a right to migrate to the United States, and migrants should not be stopped by force, according to a letter from Mexico's president to U.S. President Donald Trump.
President López Obrador's May 30 letter, provided by the Wall Street Journal, claimed a migrant's "right for justice," saying:
President Trump. Social problems are not resolved by taxes or coercive measures. How do you transform the country of fraternity for the world's migrants into a ghetto, a closed space, where migrants are stigmatized, mistreated, persecuted, expelled and the right for justice is canceled to those who tirelessly seek to live free of misery?
The letter also suggested that poor Mexicans have a right to migrate into the United States: "It is worth remembering that, within a short period of time, Mexicans will not need to migrate into the United States and that migration will become optional, not compulsory."
Obrador's letter did not formally reject or accept Trump's demand that Mexico block the huge Central American migration into the United States, nor did it directly denounce Trump's threat to impose rising tariffs on Mexico.
Instead, it repeatedly claimed poor people have a right to move into the United States.
In one section, the letter appropriates the Statue of Liberty as a supposed symbol of legal migration, saying "The Statue of Liberty is not an empty symbol."
In reality, the statue was built to show other nations how America's Constitution and culture help create a thriving democracy. Since then, many progressives have tried to argue the status is a symbolic invitation to migrants.
Since 1965, when the nation's immigration laws were loosened, the U.S. population of Mexican-ancestry citizens and illegal immigrants has exploded to 30 million. That huge population delivers about $30 billion in remittances to Mexico each year.
Obrador also suggested that President Franklin Delano Roosevelt endorsed easy migration:
President Roosevelt was a titan of liberties. He proclaimed the four fundamental rights of humankind before anyone else: the right to freedom of speech, the right to freedom of religion, the right to live free from fear, and the right to live free from misery.
Additionally, Obrador argued that "universal justice" will triumph over national borders, saying:
With all due respect, even though you have the right to express it, the slogan "America First" is a fallacy because until the end of time, even over national borders, universal justice and fraternity will prevail.

Nothing by force, everything by reason and Law!
In the United States, many establishment figures also assert that Americans' homeland is a nation of and for immigrants, not a homeland for 280 million America-born citizens and their children. In 2018, former GOP Gov. Nikki Haley told an Indian audience, "The one thing about America and what I have always loved is America is a country of immigrants. It's the fabric of America to have multiple cultures. Multiple populations. Multiple heritages that do come into America that make it what it is."
The second-ranking Democrat in the Senate, Sen. Dick Durbin declared in February 2018 that "rejecting the notion that we are a nation of immigrants [is] to deny our birthright as a nation … to really defy who we are, what we are and what we will be." Also, he declared, "We have a diverse nation, and that is our strength as far as I'm concerned."
Progressives also insist that Americans must not favor their people, children, ideas, and traditions. In November 2014, for example, former President Barack Obama told cheering supporters:
Sometimes we get attached to our particular tribe, our particular race, our particular religion, and then we start treating other folks differently. And that, sometimes, has been a bottleneck to how we think about immigration. If you look at the history of immigration in this country, each successive wave, there have been periods where the folks who were already here suddenly say, 'Well, I don't want those folks' — even though the only people who have the right to say that are some Native Americans.
In contrast, Trump has repeatedly argued that America is for Americans. In his May 30 letter announcing the new tariff threat, he said:
As everyone knows, the United States of America has been invaded by hundreds of thousands of people coming through Mexico and entering our country illegally. This sustained influx of illegal aliens has profound consequences on every aspect of our national life—overwhelming our schools, overcrowding our hospitals, draining our welfare system, and causing untold amounts of crime. Gang members, smugglers, human traffickers, and illegal drugs and narcotics of all kinds are pouring across the Southern Border and directly into our communities. Thousands of innocent lives are taken every year as a result of this lawless chaos. It must end NOW!

The current state of affairs is profoundly unfair to the American taxpayer, who bears the extraordinary financial cost imposed by large-scale illegal migration. Even worse is the terrible and preventable loss of human life. Some of the most deadly and vicious gangs on the planet operate just across our border and terrorize innocent communities.

For years, Mexico has not treated us fairly—but we are now asserting our rights as a sovereign Nation.

The United States is a great country that can no longer be exploited due to its foolish and irresponsible immigration laws. For the sake of our people, and for the sake of our future, these horrendous laws must be changed now.

As President of the United States, my highest duty is the defense of the country and its citizens. A nation without borders is not a nation at all. I will not stand by and allow our sovereignty to be eroded, our laws to be trampled, or our borders to be disrespected anymore

.
Immigration Numbers
Each year, approximately four million young Americans join the workforce after graduating from high school or university.
But the federal government then imports about 1.1 million legal immigrants and refreshes a resident population of roughly 1.5 million white-collar visa workers — including about one million H-1B workers — and approximately 500,000 blue-collar visa workers.
The government also prints out more than one million work permits for foreigners, tolerates about eight million illegal workers, and does not punish companies for employing the hundreds of thousands of illegal migrants who sneak across the border or overstay their legal visas each year.
This policy of inflating the labor supply stimulates economic growth for investors because it ensures that employers do not have to compete for American workers by offering higher wages and better working conditions.
This policy of deflating wages by flooding the market with cheap, foreign, white-collar graduates and blue-collar labor also shifts enormous wealth from young employees towards older investors, even as it also widens wealth gaps, reduces high-tech investment, increases state and local tax burdens, and hurts children's schools and college educations.
The economic policy also pushes Americans away from high-tech careers and sidelines millions of marginalized Americans, including many who are now struggling with fentanyl addictions. The labor policy furthermore moves business investment and wealth from the Heartland to the coastal cities, explodes rents and housing costs, shrivels real estate values in the Midwest, and rewards investors for creating low-tech, labor-intensive workplaces.
U.S. Seeks to Block Migration Wave with Mexican 'Safe Third Country' Deal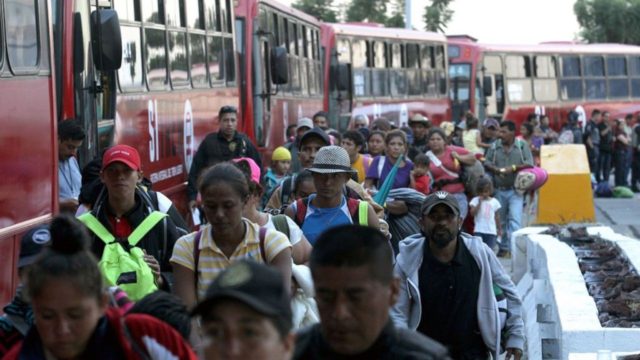 U.S. officials are pressuring Mexico to sign a "safe third country" deal that would help U.S. border officers quickly deport migrants, either back into Mexico or all the way back to their home countries.
"We want to work with Mexico to align on asylum," Kevin McAleenan, the acting secretary of the Department of Homeland Security, told reporters Thursday evening. "We need to be able to protect people in the first safe country they arrive in — really, all through the hemisphere, but certainly with our partner to the south."
The terms of the deal would determine how U.S. border agencies could handle migrants who travel through Mexico to get to the U.S. border, said Andrew Arthur, a former immigration judge who now works with the Center for Immigration Studies. The goal would be a deal in which Mexico agrees to offer asylum to migrants from the South, and also to allow migrants to return to Mexico once they are rejected by U.S. agencies.
Depending on the deal, the rejected Central American asylum seekers might be flown home without returning to Mexico, Arthur said. Once a deal is signed, most migrants would be deterred from making the trip because they would expect rejection at the border, he said.
The safe third country deal is needed, say, advocates, because the wave of Central American economic migrants have exploited U.S. asylum rules to overwhelm the border defenses — and often to help them get work permits while they wait a few years for a judge to hear their asylum pleas.
The establishment media largely ignored the safe third country issue on Friday.
In his Friday press conference, Mexican President Andres Obrador tried to downplay the danger of President Donald Trump's threat to impose tariffs on Mexico's exports if Mexico does not block the central American migration. Reuters reported:
"I want to insist that we will not fall into any provocation; we are going to act prudently," said the president. "With respect to U.S. authorities, and President Donald Trump, we think that all these conflicts in the bilateral relationship must be confronted and resolved with dialogue."

He said that Mexico would enforce its immigration laws but would not take actions that violate human rights. He noted that people were flowing out of Central America "not by choice, but necessity" because of violence and a lack of jobs.
Obrador's comments came after his deputies released a letter to Trump in which Obrador argued that poor migrants have a right to enter the United States.
On Friday, McAleenan also said he wants Mexico to tighten security on its southern border and to take stronger action against the drug-and-labor-trafficking cartels:
Mexico must take significant action to secure their southern border, stop the unlawful flow of migrants across their territory, and attack the criminal groups preying on vulnerable migrants and profiting from these smuggling enterprises.

[On] operational security on their southern border with Guatemala.

They have increased somewhat they interdictions of migrants entering Mexico from Guatemala, but it's less than one fifth of what we're seeing at the border on average.

They need to step up their security efforts at their southern border.

And they have natural chokepoints leading away from the border of Chiapas and Guatemala, into Mexico and on the way to the U.S.



Two, we need to target an attack to transnational criminal organizations.

This is an organized smuggling effort.

The logistical effort to move 100,000 people through a country every four weeks is immense.

This is noticeable.

It involves commercial bus lines that are controlled by criminal organizations.

We need Mexico to crack down on these operations in their territory.

But McAleenan cited the safe third country goal twice:
We also have the opportunity to partner with Mexico to align our asylum efforts to ensure that asylum seekers are processed and protected in the first safe space they reach and not allowed to continue on to other countries' borders.

We need to take concerted action.
Currently, there is no safe third country agreement, and the U.S. offers a loophole through the border fence for migrants who simultaneously bring a child and claim asylum. The loophole has drawn 100,000 migrants a month in April and in May. Congress's support for the existing loopholes also has created a thriving business whereby migrants temporarily trade their children to adult migrants in exchange for discounts from the cartel-linked coyotes.
Pro-migration advocates are trying to block any safe third country deal with Mexico. For example, Jennifer Quiqley at Human Rights First argued Friday that Mexico is not a safe haven for migrants:
U.S. officials are already sending some asylum-seeking migrants — approximately 6,000 — back to Mexico under the "Remain in Mexico" program prior to their immigration hearing in the United States. The program has survived one round of lawsuits, even as pro-migration groups highlighted cases of routine crime against the migrants who are remaining in Mexico.
Multiple business groups are opposing Trump's tariff strategy, in part, because investors gain from the continued inflow of Central American workers, consumers, and renters.
For example, Todd Schulte, the director of FWD.us, highlighted Trump's push for a safe third country agreement:
FWD.us was formed by West Coast investors, including Mark Zuckerberg, to help preserve the investors' continued inflow of lower-wage H-1B visa workers, and of immigrant workers and customers.
International asylum law usually directs asylum seekers to ask for asylum in the first safe country which they enter. In theory, this rule allows the United States to reject Central American migrants who pass through Mexico without seeking asylum.
But U.S. law requires a formal "safe third country" deal before a migrant can be sent back to the "first safe country."
For example, a Guatemalan migrant should seek asylum in Mexico under the "first safe country" rule, but once he reaches the United States, a "safe third country" deal would allow the United States to dismiss his asylum request and send him back to Mexico or offer a return to Guatemala.
The United States has a "safe third country" deal with Canada. The deal allows U.S. border officers to reject asylum pleas from migrants who transit Canada to reach the U.S. border. That deal has prompted little protest from pro-migration progressives.
The same deal allows Canadian officials to reject migrants who apply for asylum at Canadian border posts. However, a loophole in the U.S.-Canadian deal requires Canadian officials to consider asylum claims from migrants who cross the border illegally from the United States.