Call Congress to oppose Dream Act Amnesty HR 6 now and share this warning by email and on (FACEBOOK HERE) .. (TWITTER HERE) ..(GAB HERE) .. (ALIPAC HERE)

Warning all ALIPAC Activists!

A group of immigration Amnesty bills have just been passed by the House Judiciary Committee to the cheers of illegal immigrants and their supporters in the audience.

Read Report at--
Cheers Erupt As House Judiciary Committee Approves 'Path to Citizenship' Amnesty Bills
https://www.alipac.us/f9/cheers-erup...-bills-372624/

These bills contain the Democrats' Amnesty priorities that Senator Graham alluded to when he rolled out his enforcement-only legislation last week. We believe these Amnesty bills like HR 6 are what Graham, Kushner, and Trump plan to negotiate into their immigration compromise bills.

The sellout lawmakers in DC are under a new time constraint because our out of control zombie government must feed again in September of this year or collapse.

The Amnesty-containing secretive budget bill signed by Trump on Feb. 15, 2019, (HJ Res 31) only funds the government through this September when the debt ceiling must be raised again, or the government will collapse leaving tens of millions of Americans dependent upon government funds for their food, clothing, lodging, healthcare, and education penniless.

The globalists and socialists who are behind this invasion and are planning the new North American Union superstate being built over the top of us today must have legislative Amnesty, and gun confiscation laws passed before the old system is allowed to finally break down. They plan to govern us all in a new totalitarian surveillance state with increased powers to silence dissent and seize and control people, property, and wages.

Therefore, the Kushner Graham Amnesty deal with Democrats has a new timer where they want it done before September.

Please pick up your phones and keyboards and begin contacting as many members of the US House as possible (starting with the Republicans) to say:



"Oppose Amnesty bills like Pelosi's HR 6, which will only encourage more illegal aliens to enter America while delivering permanent power to Democrats through a process of lawlessness and invasion that deprives all legal Americans of a voice! Stop this Amnesty push now or face the consequences in the 2020 elections!"



Contact List For US House
https://www.house.gov/representatives
Sen. Ron Johnson: If We Continue at This Pace, We'll Have 800,000 Illegal Border Crossings in 1 Year
(CNSNews.com) – Sen. Ron Johnson (R-Wis.) told CBS's "Face the Nation" on Sunday that if the illegal border crossings continue at this pace, there will be 800,000 illegals crossing the border in one year.

"Senator, I know you just came back from the border where you were yesterday in that area where we saw that migrant death just this week due to an outbreak of the flu. I know dozens have been quarantined as a result. Are you concerned that there will be more deaths like this because of overcrowding?" CBS's Margaret Brennan asked.


Johnson, who serves as chair of the Senate Homeland Security Committee, said the Border Patrol believed that the flu outbreak at the McAllen, Texas, detention center might have been the H1N1 virus.

"Well, first, let me say that the men and women of our Border Patrol and other volunteers from the federal government are doing a heroic effort trying to deal with this humanitarian crisis. Yeah, we're all concerned. They had an outbreak of flu. They believed it might have been H1N1, highly dangerous, but the processing centers are back open, but they are grossly overcrowded because of the unbelievable situation on the border, the out of control nature of it," he said.

"Just the last three weeks, on average about 23,000 women, children, and men are coming over across the border illegally as family units or as unaccompanied children – 22,000 to 23,000 a week. We're almost eight months into this fiscal year, and we're up to about 400,000 in total," the senator said.

"And if it continues at this pace, in one year, we'll have about 800,000 unaccompanied children and people crossing the border illegally as a family unit – 800,000. So this is overwhelming our system, and we have to stop it. We have to change our laws to stop rewarding, incentivizing people across our border illegally," Johnson said.

"Senator, I hear your concern here and the assistant secretary raised it last week on this program, and, yet, Congress went home for recess without allocating any money to this border crisis, and, in fact, Republicans had agreed to strip it out of the disaster relief bill. How is that possible?" Brennan asked.

"Well, first of all, I've been advocating to make sure that the Department of Homeland Security and HHS get the $4.5 billion emergency spending request. They need that money. They need it desperately," Johnson said.

The senator said hopefully the funding will be quickly appropriated when Congress is back in session after the Memorial Day holiday.

"But again, we are allowing this to happen. It is our broken laws that are sustaining this wicked business model. These human traffickers, they're probably pocketing $3-4 billion dollars per year," he said. "We have to change our laws."

Brennan asked whether it was a mistake for President Donald Trump to say he won't work with Democrats until they stop the investigations.

"Well, my guess is he's just stating reality. It's going to be pretty hard to pass legislation when that's all the House is really doing. I warned voters ahead of the 2018 election that if you put Democrats in charge of the House, all you're going to be talking about is investigations, talk of impeachment, and it won't be about governing and creating greater prosperity for Americans, and that's kind of what we're seeing play out here," Johnson said.

"It's very unfortunate--particularly, when you take a look at things like an emergency spending bill that we need for some of these disasters, that we need for you know, getting the situation at the border under control. When you talk about the fact we have to fix our horribly broken immigration system so we can stop or reduce this flow," he said.

"You know, I heard Beto O'Rourke saying, all we have to do is assign a case officer to every one of these families. Well, that'd be about 400,000 case officers or people that could handle 400,000 families, this year alone. We don't have that kind of personnel. So the goal of our policy should be to reduce that flow, and in the House they're just talking about impeachment investigations. It's very unfortunate," the senator said.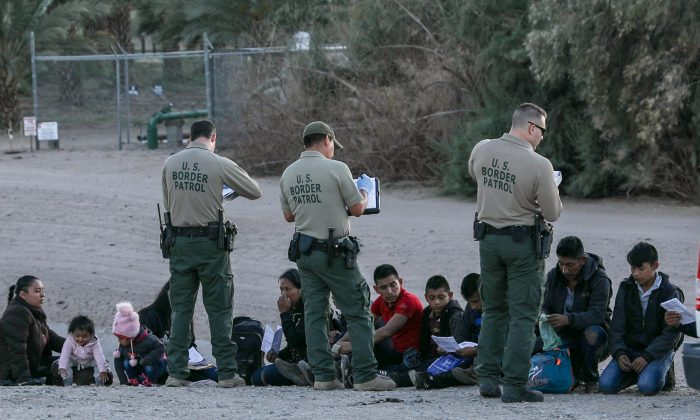 Mexican Cops Seize 460 Pounds of Meth, 60 Pounds of Heroin in Tijuana
Two separate raids in the border city of Tijuana by federal and state investigative netted 460 pounds of methamphetamine and more than 60 pounds of heroin. The raids also resulted in the seizure of six vehicles and one arrest.
The first raid occurred in colonia Cerro Colorado on Wednesday morning when ministerial federal police executed a search warrant at a warehouse. The raid followed an investigation developing intelligence that the location was being used to conduct illegal drug activity.

Upon agents gaining entry, police discovered 406 packages containing a white substance later determined to be methamphetamine. The drugs weighed approximately 442.6 pounds (200.7 kilograms). Police also seized 28 packages containing heroin with a total weight of 27.9 pounds. Police discovered the packages in multiple locations within the building, according to a press release from the Federal Attorney General's Office (Fiscalía General de República -FGR). Agents did not discover anyone within the building. Investigators turned the evidence over to personnel from the federal attorney general's office pending further follow-up investigation as reported by local media.

The second raid occurred Thursday when state preventive police were conducting surveillance at the corner of José Vasconcelos in colonia Alemán. Police observed a 2017 white Nissan Vera without license plates and dark tinted windows parked in the opposite direction from the normal flow of traffic. Officers observed a lone male next to the vehicle holding a large clear plastic bag. Upon noticing that he was being watched by the police officers, the suspect threw the bag into the trunk of the car and immediately drove away. Officers followed behind the individual and completed a traffic stop of a male later identified as Jorge Orlando "N", 21. Officers conducted a search of the interior of the vehicle and found a black suitcase containing 19 clear plastic baggies containing a white colored granular substance. The substance was later determined to be approximately 19.8 pounds of methamphetamine. Police placed Jorge Orlando under arrest and the drugs turned over to investigative personnel from the state attorney general's office.

The ongoing cartel violence in Tijuana has been attributed to a bitter turf war tied to the street-level distribution of affordable but potent methamphetamine by street-level gangs being supplied by Mexican drug cartels. The methamphetamine is being manufactured in large meth labs throughout Mexico. The drugs are supplied to street level dealers for sale purposes for the Tijuana street market and to traffickers to be smuggled in large shipments across our southern border for the U.S. drug market. This type of activity is also being blamed for the spike for drug-related cartel violence in the border city of Ciudad Juarez which sits next to El Paso Texas. The city of Tijuana has experienced over 800 homicides this year and registered a record-breaking 2518 murders in 2018.

Robert Arce is a retired Phoenix Police detective with extensive experience working Mexican organized crime and street gangs. Arce has worked in the Balkans, Iraq, Haiti, and recently completed a three-year assignment in Monterrey, Mexico, working out of the Consulate for the United States Department of State, International Narcotics and Law Enforcement Program, where he was the Regional Program Manager for Northeast Mexico (Coahuila, Tamaulipas, Nuevo Leon, Durango, San Luis Potosi, Zacatecas.)



GRAPHIC: Mexican Government Claims 10 Cartel Men Died in Firefight — Photos Show More
MORELIA, Michoacán – A fierce shootout between rival cartels killed at least 22 in the coastal state of Michoacán, however, officials are claiming only 10 died. The casualties come at a time when officials are trying to claim the region is safe.
The shootout took place on Wednesday afternoon near Uruapan where gunmen from La Familia Michoacana/Viagras clashed with rivals from Cartel Jalisco Nueva Generacion (CJNG). Law enforcement and military personnel did not take part in the gun battle, but arrived later to collect bodies and document the crime scene. Initial information points to an ambush by CJNG with Los Viagras taking the brunt of the casualties.

An official statement from the Michoacán government claims only 10 gunmen died and three others were injured, however unofficial accounts point to a much higher toll. Law enforcement sources revealed to Breitbart News that the true figures place the count at 22 dead and six injured.

The government's claim of only 10 fatalities is apparently in conflict with photographic evidence captured at the scene. One image shows 14 bodies inside the frame–four more than the official version of events.
Judge Blocks Border Wall Funding
May 27, 2019
Updated: May 27, 2019
A San Francisco judge who has given heavily to Democrats issued an order on May 24 that temporarily prevents President Donald Trump from using military funds to pay for construction of a wall on the nation's porous border with Mexico.
But 37 injunctions have been issued against the Trump administration since the president was inaugurated, Barr said.
The case, along with other legal challenges to the president's efforts to secure the border, is likely to end up in the Supreme Court eventually.
U.S. District Judge Haywood S. Gilliam Jr., appointed by then-President Barack Obama in December 2014, blocked the Trump administration "from taking any action to construct a border barrier" with reallocated U.S. Department of Defense monies in parts of Arizona and Texas known as Yuma Sector Project 1 and El Paso Sector Project 1.
"Because the Court has found that Plaintiffs are likely to show that Defendants' actions exceeded their statutory authority, and that irreparable harm will result from those actions, a preliminary injunction must issue pending a resolution of the merits of the case," he wrote.
Gilliam also made a claim that legal experts say is highly questionable, falsely accusing Trump of violating the separation of powers doctrine and infringing on Congress's power of the purse.
"The position that when Congress declines the Executive's request to appropriate funds, the Executive nonetheless may simply find a way to spend those funds 'without Congress' does not square with fundamental separation of powers principles dating back to the earliest days of our Republic," he wrote.
It's true that Congress refused to give the president all the funding he requested to construct a border barrier. As Congress denied those appropriations, on Feb. 15, Trump invoked his congressionally approved powers under the National Emergencies Act of 1976, a statute that gave presidents the power to declare emergencies within limited parameters.
Writing in The Hill newspaper a few months ago about Trump's use of the law, left-leaning constitutional law professor Jonathan Turley stated, "Congress expressly gave presidents the authority to declare such emergencies and act unilaterally."
The law had been used repeatedly by every president since Gerald Ford with little or no controversy until the current president invoked it. Lawmakers have tried and failed to overturn Trump's use of the law to secure border wall construction funding.
Trump called upon the statute in mid-February as Congress gave final approval to a $333 billion omnibus spending bill. The legislation provides $1.375 billion for 55 miles of border barriers in Texas, well below the $5.7 billion Trump sought for a border wall and the $25 billion he originally said was needed.
The emergency declaration moved around $6.7 billion in funding that was previously appropriated for other projects, largely for military construction. In his fiscal 2020 budgetary blueprint submitted on March 11 to Congress, the president sought an additional $8.6 billion to build the border wall.
According to federal campaign finance records, Gilliam gave $6,900 to the presidential campaign of the man who appointed him, broken down into $4,600 to Obama for America and $2,300 to the Obama Victory Fund. The Northern California judge also gave a separate $13,500 to Obama for America and Obama Victory Fund 2012, as well as $4,500 to the Democratic National Committee.
During his confirmation hearings, Gilliam said judges should be impartial. "I believe that the most important attribute of a judge is the commitment to faithfully and impartially apply the law in every case, without regard to the type of matter or the identity of the parties."
Sierra Club attorney Gloria Smith rejoiced after winning in court.