$ERVANT OF RED CHINA FOR RAW CA$H, $ENATOR FEIN$TEIN'S DRIVER IS A $PY FOR HER CHINE$E PAYMA$TER$!




OPIOID MURDERS BY BIG PHARMA


"While drug distributors have paid a total of $400 million in fines over the past 10 years, their combined revenue during this same period was over $5 trillion."

"Opioids have ravaged families and devastated communities across the country. Encouraging their open use undermines the rule of law and will do nothing to quell their continued abuse, let alone the problems underlying mass addiction."
"Most of the illicit fentanyl is manufactured in China and most illicit opioids enter the United States through Mexico or via the postal service."
China's Illicit Opioids a 'Form of Undeclared War'
Expert says China is using drug trade to destroy America
August 19, 2018
Last Updated: August 20, 2018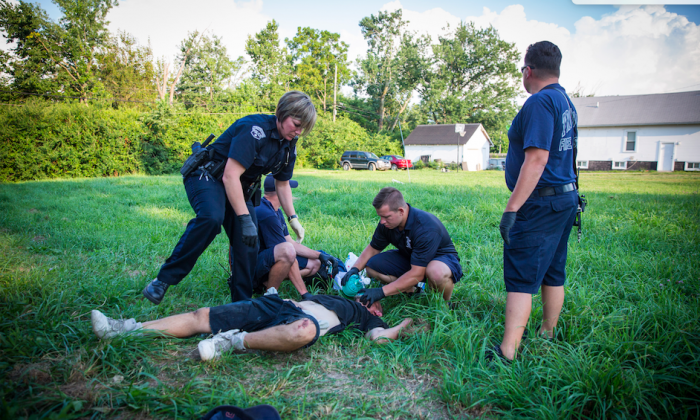 WASHINGTON—The illicit opioids being manufactured in China and shipped to the United States are "almost a form of warfare," President Donald Trump said at a cabinet meeting on Aug. 16.
"In China, you have some pretty big companies sending that garbage and killing our people," Trump said.
More than
71,500 Americans
died of a drug overdose in 2017, according to provisional
data
released Aug. 15 by the Centers for Disease Control and Prevention. At least 68 percent of those deaths can be attributed to opioids.
Trump asked Attorney General Jeff Sessions to "take a look at the fentanyl that's coming out of China and Mexico" and "do whatever you can do legally to stop it."
Most illicit synthetic opioids are manufactured in China (and increasingly Mexico), and enter the United States via Mexico or the postal system.
Fentanyl, the most common synthetic opioid, was originally developed as a painkiller and anesthetic. It is 50 to 100 times more potent than heroin—two milligrams of fentanyl is a lethal dose for a non-opioid user.
It is often mixed in with heroin or pressed into fake painkiller pills made to look like real prescription drugs, making them more deadly.
Carfentanil is less common but much more lethal; it is used as an elephant tranquilizer and is 10,000 times more powerful than morphine, according to the Drug Enforcement Administration (DEA). Even a few specks of airborne powder can be fatal.
Between 2013 and 2014, there was a 79 percent increase in deaths related to synthetic opioids, according to the 2016 DEA heroin report. Since then, the trend has continued to climb.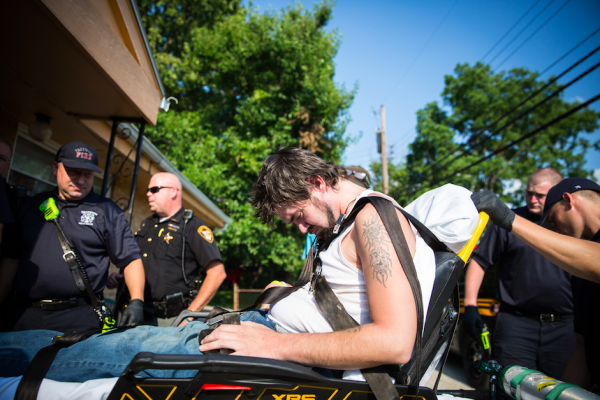 Trevor Loudon, an expert on communism and Epoch Times columnist, said it's an "absolute fact" that the fentanyl is coming from China.
"And you can't tell me that in a police state like China—where they know everybody and what everybody is doing—you cannot tell me the Chinese government is not aware of it. You cannot tell me the Chinese government is not controlling it and funding it," he said in a May 10 interview.
"So that is a form of undeclared war against the Western countries."
The book "Red Cocaine" by Joseph Douglass Jr. shows how the Chinese regime began pushing the heroin and opium trade back in the 1950s, Loudon said.
"They were behind much of the heroin and world drug trade and they were cooperating with the cartels in Latin America," he said.
"If you want to target Western countries and destroy them, and soften them up, and get enough money for your revolution, you would be crazy not to be involved in the drug trade."
Factories in China
Last year, the Department of Justice (DOJ) announced its first indictments against two Chinese manufacturers of fentanyl and other opiate substances.
"[They] have been using the internet to sell fentanyl and fentanyl analogues to drug traffickers and individual customers in the United States," said Deputy Attorney General Rod Rosenstein in a statement on Oct. 17, 2017.
Over at least six years, suspect Xiaobing Yan is alleged to have operated websites advertising and selling acetyl fentanyl and other deadly fentanyl analogues directly to U.S. customers in multiple cities across the country, according to the DOJ. The case was brought by a federal court in Mississippi.
"Yan operated at least two chemical plants in China that were capable of producing ton quantities of fentanyl and fentanyl analogues," Rosenstein said. "Yan monitored legislation and law-enforcement activities in the United States and China, modifying the chemical structure of the fentanyl analogues he produced to evade prosecution in the United States."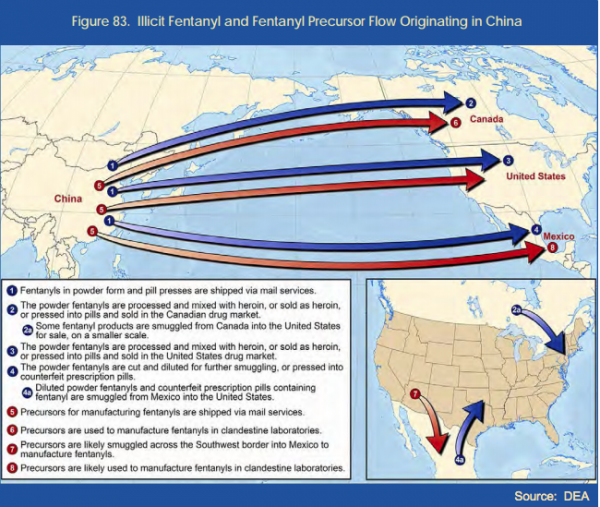 In a case brought in federal court in North Dakota, investigators traced the imported drugs back to Jian Zhang in China, who is alleged to have manufactured fentanyl in at least four labs in China and sold it to customers in the United States, using the darkweb and the crypto-currency bitcoin.
"Zhang's organization would send orders of fentanyl and other illicit drugs, and pill presses, stamps, and dies used to shape fentanyl into pills, to customers in the United States through the mail or international parcel delivery services," Rosenstein said. "Zhang sent many thousands of these packages since January 2013."
Postal System
The U.S. Postal Service handled more than 275 million inbound international packages in 2016, according to an investigative report conducted by the Senate's Permanent Subcommittee on Investigations and published in January.
That volume is three times larger than the combined volume (approximately 65.7 million) handled by the three largest express services—FedEx, UPS, and DHL.
Over a three-month period, the subcommittee communicated with six online sellers, posing as a first-time fentanyl purchaser.
"All of the online sellers actively sought to induce a purchase of fentanyl or other illicit opioid," the report said. "They all preferred to ship any purchases to the United States through the international arm of the Postal Service."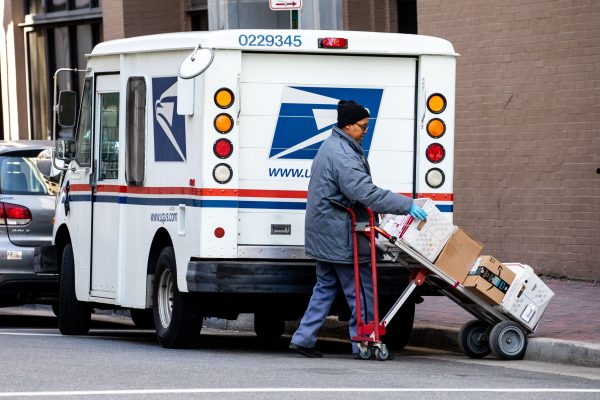 According to a July 2016 DEA report, "Customers can purchase fentanyl products from Chinese laboratories online" and "powdered fentanyls and pill presses" are shipped via mail services.
"Traffickers can typically purchase a kilogram of fentanyl powder for a few thousand dollars from a Chinese supplier, transform it into hundreds of thousands of pills, and sell the counterfeit pills for millions of dollars in profit," the report said.
The subcommittee found that the online sellers preferred to be paid through cryptocurrencies such as bitcoin, which offers more anonymity, but accepted other payment options, such as Western Union, PayPal, credit cards, and prepaid gift cards. The subcommittee didn't finalize an actual order during its investigation.
U.S. Customs and Border Protection (CBP) is responsible for identifying suspicious packages sent through the international mail stream—primarily at mail centers located at five major airports, in New York City, Chicago, Los Angeles, San Francisco, and Miami.
For many years, CBP didn't list China as a "country of interest," due to the high volume of packages China shipped to the United States. This meant packages from China were not sent from the USPS to CBP for inspection.
In November 2015, the postal service launched a pilot program that used more advanced electronic data to track packages and divert them to CBP upon request. CBP specifically targeted small packages under 4.4 pounds coming from China through JFK airport in New York City.
"To avoid heightened targeting by CBP of packages from China, online sellers stated that they would divert packages through other countries first before the package ultimately arrived in the United States," the report stated.
"This practice is known as transshipment. The online sellers asserted transshipping through these countries reduced the risk of a package containing illicit opioids from being identified and seized by customs officials."
On average, for the 2017 calendar year, 64 percent of packages sent to the United States (318,890,000 packages) had no advanced electronic data about "who sent the package, where the package was going, or what was in the package," according to the report.
The subcommittee said, based on its investigation, "that the federal government's policies and procedures are inadequate to prevent the use of the international mail system to ship illegal synthetic opioids into the United States."
Across the Southwest Border
Most illicit opioids coming across the southwest border are hidden in vehicles entering the United States through ports of entry.
So far in fiscal 2018, CBP agents at ports of entry have seized 1,304 pounds of fentanyl (as of June 30)—enough to make almost 4 million counterfeit pills containing 1.5 milligrams of fentanyl per pill. A further 336 pounds of fentanyl have been seized between ports of entry by Border Patrol.
In fiscal 2016, 440 pounds of fentanyl were seized at ports of entry, while in fiscal 2017, that spiked to 1,196 pounds, matching the trend in overdose deaths attributed to the substance.
So far this fiscal year, CBP has also seized 4,100 pounds of heroin, 42,800 pounds of cocaine, and 59,800 pounds of methamphetamine at ports of entry (as of June 30).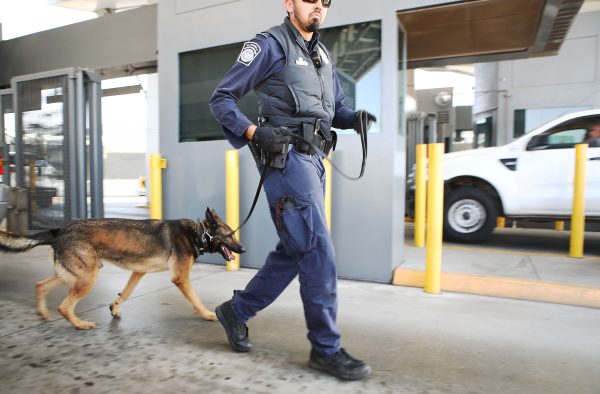 "The Chinese make huge money off this," Loudon said. "It creates crime and chaos in target countries. It destroys the moral fabric of the target countries. It creates huge opportunities to corrupt public officials and businessmen.
"Something that's killing thousands of Americans a year, don't you think that's war? Don't you think that should be sanctioned and stopped?"
Loudon said past administrations have been too soft on China, afraid to offend its leaders.
"We don't want to upset the Chinese government in any way. So they've been willing to tolerate Americans dying," he said. "They need to close those borders and prosecute the offenders and trace it right back to China."
He said the United States extradites drug traffickers from Latin America, Europe, and Africa.
"Well, let's see them start to extradite Chinese Communist Party officials also involved in the drug trade, because I'm sure the CIA knows exactly who they are."
For Help
If you or someone you know needs help for an opioid addiction, call the national helpline:
1-800-662-HELP (4357)
"Most of the illicit fentanyl is manufactured in China and most illicit opioids enter the United States through Mexico or via the postal service."
New CDC estimates: A record 72,000 US drug overdose deaths in 2017
By Kate Randall
17 August 2018
Drug overdose deaths in the US topped 72,000 in 2017, according to new provisional estimates released by the Centers for Disease Control and Prevention (CDC). This staggering figure translates into about 200 drug overdose deaths every day, or about one every eight minutes.
The new CDC estimates are 6,000 deaths more than 2016 estimates, a rise of 9.5 percent. This has been primarily driven by a continued rise of deaths involving synthetic opioids, a category of drugs that includes fentanyl. Nearly 30,000 deaths involved these drugs in 2017, an increase of more than 9,000 (nearly 50 percent) over the previous year, according to preliminary data.
This catastrophic toll of opioid deaths casts a grim light on the state of America in the 21st century. At its root lies a society characterized by vast social inequality, corporate greed and government indifference. While the opioid crisis spares no segment of society, the most profoundly affected are workers and the poor, along with the communities where they live.
Deaths involving the stimulant cocaine also rose significantly, placing them on par with heroin and the category of natural opiates including painkillers such as oxycodone and hydrocodone. The CDC estimates suggest that deaths involving the latter two drugs appear to have flattened out.
The highest mortality rates in 2017 were distributed similarly to previous years, with parts of Appalachia and New England showing the largest figures. West Virginia again saw the highest death rates, with 58.7 overdose deaths per 100,000 residents, followed by the District of Columbia (50.4), Pennsylvania (44.2), Ohio (44.0) and Maryland (37.9). Nebraska had the lowest rate, 8.2 deaths per 100,000, one-seventh the West Virginia rate.
Two states with relatively high rates of overdose deaths, Vermont and Massachusetts, saw some decreases. The CDC credits this decrease to a leveling off of synthetic opioid availability and a modest increase in these states of funding for programs to fight addiction and provide treatment and rehabilitation.
Driving the increase in overdose deaths is fentanyl, a synthetic opioid that is roughly 50 times more potent that heroin. It is marketed under more than a dozen brand names in the US. Nebraska became the first state to use fentanyl in a state-sanctioned killing, using it Tuesday to execute Carey Dean Moore.
Fentanyl is also made illegally relatively easily and mixed with black market supplies of heroin, cocaine, methamphetamines and anti-anxiety medicines known as benzodiazepines. Individuals who have become addicted to prescription opioids often turn to illegally manufactured fentanyl, or related drugs that can be far more potent and dangerous, when prescription opioids are not available. Users cannot know the potency of such drugs or drug mixtures and are more likely to overdose.
The CDC reports that the Drug Enforcement Administration's (DEA) National Forensic Laboratory Information System (NFLIS), which identifies drugs from submissions tested for analysis, estimated that submissions testing positive have included two extremely potent drugs related to fentanyl, carfentanil and 3-methylfentanyl, which are 100 and 4 times more potent than fentanyl, respectively.
Purdue Pharma has drawn widespread criticism for its aggressive marketing and sale of the opioid OxyContin, which has a high potential for abuse, particularly for those with a history of addiction. The company also produces pain medications such as hydromorphone, oxycodone, fentanyl, codeine and hydrocodone.
Regions with high levels of unemployment and poverty have been the target of drug distributors, shipping vast quantities of opioid painkillers to these areas. For example, McKesson Corporation shipped 151 million doses of oxycodone and hydrocodone between 2007 and 2012 to West Virginia, the state with the highest rate of overdose mortality.
Workers, both employed and unemployed, have found themselves in the grip of the opioid crisis. In an interview with Vox.com, Beth Macy, author of the new book Dopesick: Dealers, Doctors, and the Drug Company that Addicted America, describes the high levels of addiction in Machias, Maine, an early center of the opioid crisis. People in this logging and fishing community were already on painkillers from injuries due to these jobs and then became addicted to opioids—both prescription and illegal—and continue to overdose at high rates.
A study by the Massachusetts Department of Public Health examined 4,302 opioid deaths from 2011 to 2015 among workers in all occupations in the state. It found that construction workers were six times more likely to die from opioid overdoses than the average worker, and that one in three construction-worker deaths were the result of overdoses.
There are fewer workers in farming, fishing and forestry in Massachusetts, but the report found these jobs also had an opioid mortality rate five times the average. The study found a link between higher rates of opioid abuse in occupations where back injuries are more common and paid sick leave is less so. In other words, workers become addicted to drugs—and face potential overdose—when they are forced to choose between working through pain or suffering a loss of wages.
Conservative estimates place the number of Americans with opioid abuse disorder at 2.6 million, but the real total is undoubtedly higher. To the 72,000 who succumbed to drug overdose in 2017 must be added those directly impacted by the crisis—family members, friends, coworkers, medical responders, social workers, treatment center workers, and many others.
Drug overdoses are part of a greater social crisis that is claiming the lives of increasing numbers. In December 2017, the CDC released reports revealing that life expectancy of the American working class is declining due to an increase in both drug overdoses and suicides. "Deaths of despair"—overdoses, suicides, alcohol-related deaths—are causing a dramatic increase in the mortality rate among those under the age of 44.
The decline in life expectancy, a fundamental measure of social progress, is an indication of both American capitalism's decline and the sharp intensification of social inequality. While the richest five percent of the population owns 67 percent of the wealth, the poorest 60 percent owns just 1 percent.
Of the 72,000 Americans who died in drug overdoses in 2017, workers and the poor were the most affected. By contrast, the wealthiest Americans have access to the best medical care and technology available, and as a result live on average 20 years longer than the poorest members of US society.
The rise in drug overdoses is the product of a bipartisan assault of the social gains of the working class. Over the past 40 years, both the Democrats and Republicans have engaged in a conscious strategy to claw back the gains won by the working class in the first half of the 20th century. The response of both the Obama and Trump administrations to this crisis has amounted to a combination of indifference and distain for the lives lost.
The Obama administration slashed the number of DEA cases brought against drug distributors by 69.5 percent between 2011 and 2014. The Trump administration last year declared the opioid epidemic a "public health emergency," but then allocated no new funding to the states to address it. Yet hundreds of billions are budgeted to fund the myriad wars prosecuted by the US military and for the persecution of immigrants by Immigration and Customs Enforcement.
A health emergency on the scale of the drug epidemic requires an emergency, socialist response. Billions of dollars must be allocated to fund rehabilitation centers, utilizing the latest scientific treatments methods. The wealth of the drug manufacturers must be expropriated and their facilities placed under the control of the working class, as part of a socialized health care system that provides free health care for all.
Justice Department Plans More Cuts to Opioid Manufacturing
August 16, 2018 Last Updated: August 17, 2018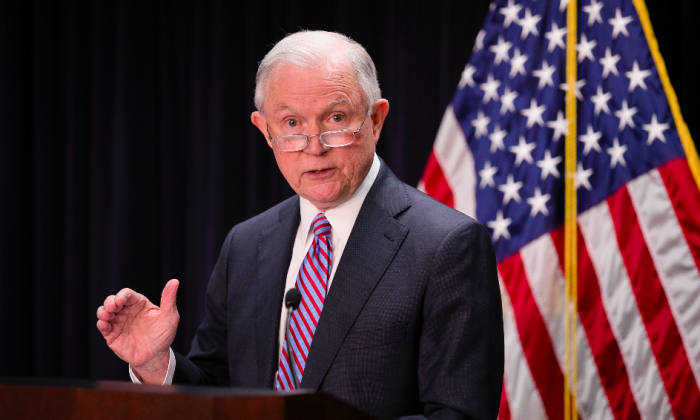 WASHINGTON—The Justice Department, through the Drug Enforcement Administration, plans to reduce 2019 opioid manufacturing quotas for the six most frequently misused opioids by an average of 10 percent from 2018 levels.
The six targeted opioids are fentanyl, hydrocodone, hydromorphone, morphine, oxycodone, and oxymorphone.
The opioid manufacturing quota was heavily reduced in 2017, with four of the six target opioids reduced by 40 percent or more. The other two were each reduced by 27 percent.
The Justice Department's 2019 plan lines up with President Donald Trump's "Safe Prescribing Plan" that seeks to "cut nationwide opioid prescription fills by one-third within three years."
Attorney General Jeff Sessions said in a statement on Aug. 16 that the opioid cuts will "make it harder to divert these drugs for abuse."
In 2017, more than
71,500 Americans died
from drug overdoses, according to provisional numbers released by the Centers for Disease Control and Prevention on Aug. 15.
The majority of opioid addicts start their addiction through prescription pills—their own or those belonging to a friend or family member. Once hooked and the prescriptions run out, the addict turns to street pills or the cheaper options of heroin and fentanyl.
Most of the illicit fentanyl is manufactured in China and most illicit opioids enter the United States through Mexico or via the postal service.
During a cabinet meeting on Aug. 16, Trump asked Sessions to look into the opioids coming in from China and Mexico.
"In China, you have some pretty big companies sending that garbage and killing our people. It's almost a form of warfare," Trump said.
Sessions said the department is currently returning indictments against distributors from China.
"We've identified certain companies that are moving drugs from China, fentanyl in particular," he said.
Sessions also agreed to look into bringing federal lawsuits against drug companies that supply opioids, rather than just joining state lawsuits.
Opioid Crisis Overwhelms Foster System
More children are entering foster care, with more trauma issues and less chance of being reunited with family
May 9, 2018 Last Updated: May 13, 2018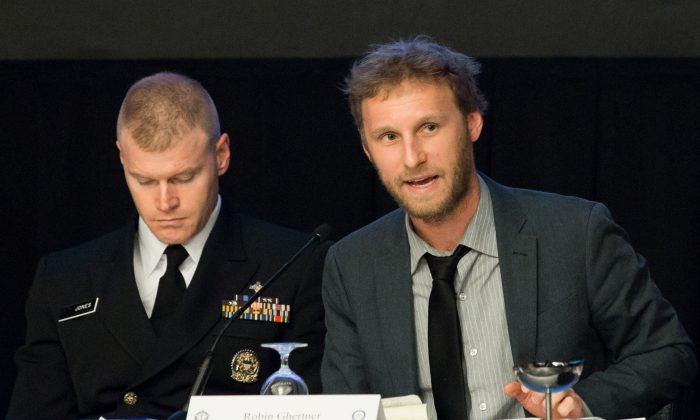 WASHINGTON—Right now, 8.7 million children in the United States have parents with a substance use disorder.
Child welfare systems are overloaded, staff burnout is extreme, and foster homes are becoming more scarce, even as the need rises.
"We know that in a community, a 10 percent increase in fatal overdoses is associated with between 4 and 5 percent increase in foster care entries," said Robin Ghertner, director of data and technical analysis with the Department of Health and Human Services, at an opioid roundtable in Washington on May 3.
"And research has shown consistently that opioids is a big part of that," he said. "So this is a really, really nasty problem."
Ghertner said more than 270,000 children entered the foster system in 2016, and one out of every three cases in which children were removed from home was due to parental substance use.
"It's actually much higher than that. That's just what's reported through the data systems that we get at the federal level," he said. In the more dramatic cases, Ghertner said, caseworkers are forced to have children stay in their offices or a hotel while they search for a foster home for them.
And, once in the system, the child's chances of being reunited with his or her parents are worsening.
"There's an intense amount of pessimism in the child welfare system," Ghertner said. He said judges and caseworkers used to be optimistic that "a good portion" of the children that are removed from home are going to go back to their families.
"It's not that way anymore in a lot of communities," he said. "There are communities in New England and Appalachia where it's few and far between that a child will go back to the parent. So it's very depressing circumstances."
What we're trying to do right now is a much more humane approach to dealing with families who are struggling with a disease.
Since fiscal year 2013, the number of children whose parents' rights were terminated has increased—from 58,700 in 2013 to 65,300 in fiscal 2016, according to data from Health and Human Services.
Alongside the increase in foster numbers, there has been a big jump in the number of extended family members taking in children.
Around 2.6 million grandparents are raising children, according to 2015 census statistics.
Treatment
Ghertner said a dearth of family-friendly treatment options exacerbates the problem.
Medication-assisted treatment is the accepted treatment protocol for opioid addiction, but most addicts have a host of other issues going on at the same time.
The most commonly used version of medication-assisted treatment is suboxone, which is a combination of buprenorphine (an opioid) and naloxone (which blocks the effects of opioids).
Suboxone has been used for opioid addiction since 2002, and methadone, the other main medication-assisted treatment, has been around for decades.
Vivitrol, a relatively new drug, is an injection of naltrexone that blocks opioid receptors in the brain for one month at a time.
Gerthner said a lot more than medication-assisted treatment is needed, "particularly for people that are dealing with co-occurring problems."
"And those can be co-occurring psychological/mental problems, they could also be housing, they could be employment—there are many, many things that go into this," he said.
"And unfortunately … rural communities are particularly struck by the opioid crisis [and] typically do not have a lot of these services."
A Successful Model
Dr. William Bell, president and CEO of Casey Family Programs, said the use of drug treatment courts is a huge step toward keeping families together.
"The courts began to work in a conversation with parents to say, 'We know that you want your child back. We want you to have your child back. But we also know that you need to overcome this disease that you have. We will work with you to increase your capacity to see your child as long as you're working to achieve the sobriety that we know is necessary and you want to have,'" he said at a February Senate hearing.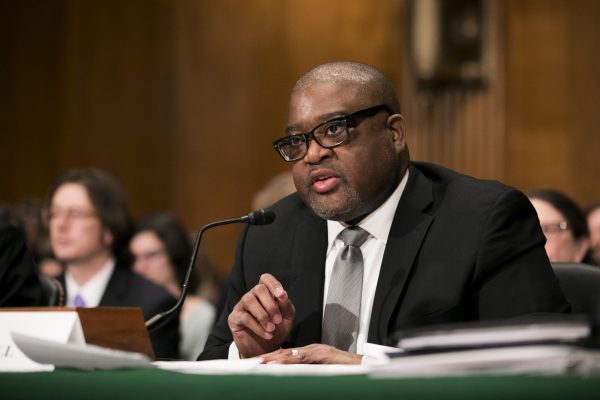 Casey Family Programs helped launch a pilot program in Ohio last year called START (Sobriety, Treatment, and Reducing Trauma). It aims to keep children at home or return them home as quickly as possible.
"Research has shown that when parents are able to get into treatment programs with their children in a timely manner, two-thirds of them complete the program compared with only one-fifth of parents who complete the program when their children are not allowed to stay in the treatment facility with them," said Bell.
Ohio Attorney General Mike DeWine, who helped launch START, said children with a parent or parents addicted to drugs tend to stay in foster care longer, and they enter foster care having experienced significant trauma.
"While mom and dad are high, these kids may go days without food or supervision. They may have witnessed a parent inject drugs, overdose, or even die," he said in a statement. "By creating this program, we hope to help these 14 counties give the silent victims of the opioid epidemic—the children—the best care possible, while also helping their parents recover from their addiction."
Referrals to the START program begin anytime, with the earliest being after an expecting mother tests positive for a substance in either the second or third trimester, said Bell. A positive drug test also triggers an immediate referral to child welfare. "At any stage, it has become a prima facie challenge of abuse and neglect to have a positively exposed child in utero," Bell said.
The START team steps in and goes to the family home to conduct an assessment. The team includes a peer mentor, who is someone in addiction recovery or who has lived in the child welfare system.
The family can then choose to participate in the START program, which will assist with treatment, recovery, transportation, and peer support.
Ohio START is modeled on a similar program in Kentucky that resulted in about half as many children returning to foster care due to parental addiction, according to DeWine. Parents involved in the Kentucky program were also found to have twice the sobriety rate.
Bell relates the current situation to his experience of being in New York City during the middle of the crack epidemic.
"I like to do the comparison between what happened when crack was the issue and what we're trying to do right now in the opioid crisis," he said. "What we're trying to do right now is a much more humane approach to dealing with families who are struggling with a disease.
"Under the crack epidemic, that woman would have been referred to child welfare, we would have done an investigation, and in all likelihood, we would have removed that child and placed that child in foster care.
"She would have been in the court system, maybe represented by a quality attorney, maybe not. Her child would have been languishing in foster care, and she would have had a long list of things that she had to complete in order to get her child back—including housing, including parenting skills, including overcoming substance abuse."
PRINCETON REPORT:
American middle-class is addicted, poor, jobless and suicidal…. Thank the corrupt government for surrendering our borders to 40 million looting Mexicans and then handing the bills to middle America?