Calls to Abolish ICE Omit that Majority of Immigrants Agency Arrests are Convicted Criminals
As a growing number of Democrats and their allies call for abolishing Immigration and Customs Enforcement (ICE), it's important to remember that the overwhelming majority of illegal immigrants arrested by the agency have criminal convictions.
In 2017 immigrants with criminal convictions accounted for 74% of all arrests made by ICE, according to government data used by the nonpartisan Pew Research Center in a
study
published earlier this year. Sixteen percent of those arrested by ICE had pending criminal charges and only 11 % had no known criminal convictions or charges, the Pew analysis found.
Nearly 60,000 illegal aliens deported by ICE last year were convicted of driving under the influence of alcohol and another 57,438 for possessing or selling dangerous drugs such as opioids. More than 52,000 ICE arrestees were convicted of immigration offenses, including false claim to American citizenship and tens of thousands had pending criminal charges for assault, driving under the influence and a variety of other crimes. Some had pending charges for more violent crimes like sexual assault, kidnapping and homicide.
Los Angeles, an illegal alien sanctuary city, topped the list with nearly nine out of 10 ICE arrests consisting of immigrants with criminal convictions. Newark, New Jersey had the lowest number with 60% criminal arrests but every region had one thing in common: "In all ICE areas, considerable majorities of arrests were for those with prior convictions," the Pew study says.
The figures make the calls to abolish ICE, the 20,000-employee Homeland Security agency, preposterous. The growing movement includes elected officials—some presidential contenders—at the federal, state and local level as well as those running for office. Among them are senators Elizabeth Warren (Massachusetts), Kamala Harris (California) and Kirsten Gillibrand (New York). Warren and Harris are reportedly making White House runs in 2020.
Other federal lawmakers calling for the dismantling of ICE include Wisconsin Congressman Mark Pocan and Massachusetts Congressman Mike Capuano. In a
piece
published by a mainstream media outlet, a law professor running for New York Attorney General writes that ICE is a "tool of cruelty and lawlessness and dehumanization." The agency was born in xenophobia and fear, the lawyer asserts, and it is doing exactly what it was designed to do: "Terrorize immigrant communities, bring a police state inside our borders and treat people as less than human."
Not surprisingly, the mainstream media appears to support the abolish ICE movement and has demonstrated it with biased reporting as well as the promotion of radical leftist ideas such as those published by the New York Attorney General candidate.
A mainstream national newspaper writes that the nation doesn't need ICE and refers to it as an "
agency that harms Latino and immigrant communities
." A northern California
newspaper
blames the Trump administration's "hardline immigration policies" for transforming the idea of abolishing ICE from a pipe dream for liberal activists to a legitimate political issue. The article refers to abolish ICE as a movement that has seen a "remarkable rise from fringe issue to Democratic rallying cry." A multitude of media outlets around the country have followed suit, shamelessly displaying their pom poms for the insane abolish ICE movement.
The reality is that ICE needs to be strengthened because the agency is overwhelmed, officers can't keep up with monstrous workloads and repeatedly lose track of hardcore criminals inside the United States.
As a result hundreds of thousands of illegal aliens with criminal records are getting released by local authorities in the U.S., according to a federal
audit
released last year by the Department of Homeland Security (DHS) Inspector General. A surge in illegal immigrants under the Obama administration pushed matters into crisis mode with deportation officers so overworked that they often lose track of dangerous illegal aliens with serious criminal histories, the probe found.
This includes individuals who represent critical national security threats. One ICE agent cited in the report said this: "You might work 18 hours a day, but you still won't get caught up." Inspectors visited four key field offices and determined that the management deficiencies and unresolved obstacles make it difficult for the feds to deport aliens expeditiously. "ICE is almost certainly not deporting all the aliens who could be deported and will likely not be able to keep up with growing numbers of deportable aliens," the DHS watchdog found.
Calls to Abolish ICE Filled With 'Dangerous Hatred,' Says Expert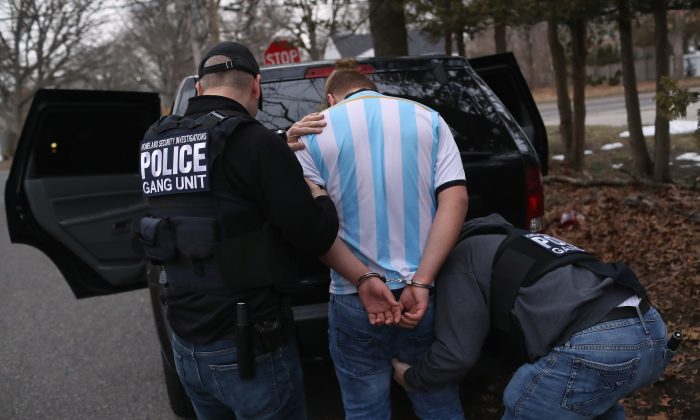 WASHINGTON—Democratic politicians and advocacy groups calling for the abolition of Immigration and Customs Enforcement (ICE) are saying the agency is a "racist deportation force" and a "terrorist organization."
Heather Mac Donald, a fellow at the Manhattan Institute and author of "The War on Cops," says these groups are "fomenting hatred, and it's dangerous hatred."
"They are playing a race card … the most powerful poison they've got, to try to delegitimize a lawful activity," Mac Donald said. "ICE agents are not racist. ICE is not racist. It's enforcing color-blind laws."
ICE is the Department of Homeland Security's immigration enforcement arm that operates in the interior of the United States as well as overseas. The agency employs more than 20,000 officers to carry out deportations of illegal and criminal aliens, as well as investigations into drug, gang, and cross-border crime.
On an average day in fiscal year 2016, ICE agents arrested seven child predators, seized 4,000 pounds of narcotics, arrested 13 transnational gang members, and refused 24 visas due to terrorist connections, according to the agency.
President Donald Trump has been a staunch supporter of ICE and law enforcement since taking office.
On June 30, as calls to abolish ICE swirled, the president took to Twitter to express support for the agency.
"To the great and brave men and women of ICE, do not worry or lose your spirit," Trump wrote. "You are doing a fantastic job of keeping us safe by eradicating the worst criminal elements. So brave! The radical left Dems want you out. Next it will be all police. Zero chance, It will never happen!"
In an executive order issued days after his inauguration, Trump asked for an additional 10,000 ICE officers to be hired.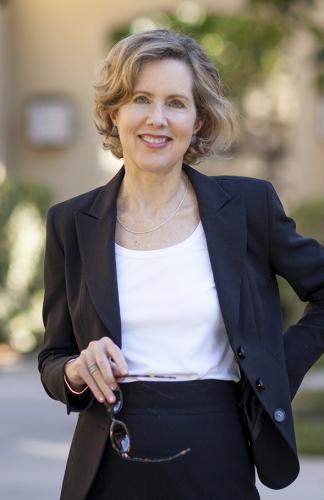 'Simply Ludicrous' Analogies
The outcry over ICE gained steam in June after the administration called for all adult illegal border crossers to be prosecuted, in line with the law. Consequently, around 2,000 children were temporarily separated from their parents while the parent awaited prosecution.
Mac Donald said the media is partly to blame for the resulting hype and hysteria.
"It's hardly neutral. I mean the constant coverage and hysteria over the border, Trump's travel ban, and the zero tolerance policy—the analogy [they're using] is to Nazism, to the Japanese internment analogies, which is simply ludicrous," she said.
Holocaust survivor David Tuck told "American Voices" that he is "sickened" when he hears the comparison of children's shelters in the United States to concentration camps.
"Please, this is not a concentration camp—they're free. … I would think it's a country club," Tuck said in a video posted on Facebook. "You can't compare. Anytime I hear it, it's sickening."
Politicians in New York have been progressively more outspoken about ICE.
Actress Cynthia Nixon, the Democratic primary challenger to Gov. Andrew Cuomo, called ICE a "terrorist organization" that should be abolished, during a speech at a church in New York on June 21. Cuomo himself issued a cease-and-desist letter to ICE on April 25.
Then-Acting ICE Director Tom Homan responded to Cuomo by saying ICE arrested nearly 5,000 criminal aliens from the streets of New York last year.
"So rather than a cease-and-desist letter, a letter of thank you would be appreciated," Homan said at an event on June 5.
Alexandria Ocasio-Cortez, a socialist who beat incumbent Rep. Joseph Crowley (D-N.Y.) in the Democratic primary on June 26, included "abolish ICE" as part of her platform.
New York Mayor Bill de Blasio has since joined the "abolish ICE" chorus and Sen. Kirsten Gillibrand (D-N.Y.) called for the same on Twitter.
"I believe we need to protect families who need help, and ICE isn't doing that. It has become a deportation force," Gillibrand wrote on June 28. "We need to separate immigration issues from criminal justice. We need to abolish ICE, start over and build something that actually works."
Gillibrand, along with several other Democrat senators, joined hundreds of women who staged a sit-in protest at a Senate building in Washington on June 28. Almost 600 women were arrested and charged with unlawfully protesting.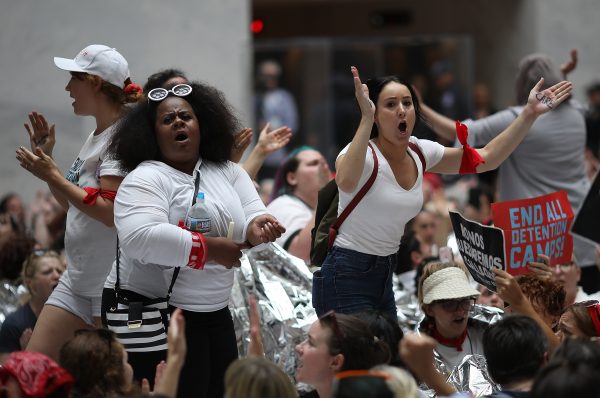 Anti-ICE encampments started springing up near ICE field offices in several cities in late June, and individuals connected to the far-left Antifa group have collected and released the personal information of ICE agents online.
"That's just absolutely irresponsible, shocking," said Mac Donald. "Again, they are playing with fire, and it's part of both the anti law enforcement hysteria that has taken over the country for the last four years and then just shows the depth of resolution on the open-borders left to impose their will by force and illegitimate means."
The advocacy group United We Dream sent an e-newsletter out on June 30, calling ICE and Customs and Border Protection (CBP) "a dangerous and racist cancer on the liberties of all people."
"They exist for the purpose of enforcing the racist doctrine of mass deportation. Members of Congress must immediately stop voting to give billions of dollars to the deportation force," the group said.
Mac Donald said more politicians need to disavow this type of "poisonous rhetoric."
"You are playing with fire every time you use this sort of incendiary language against law enforcement," she said.
"If you can't deport someone in the country illegally—if that lawful response is taken off the table—then there is simply no more national sovereignty, and the citizens of the country have lost any say over who comes into the country, and immigration policy is set then by people living outside the country."
She said the "abolish ICE" rhetoric is the natural extension of a longstanding crusade against deportation as a response to illegal entry and illegal presence.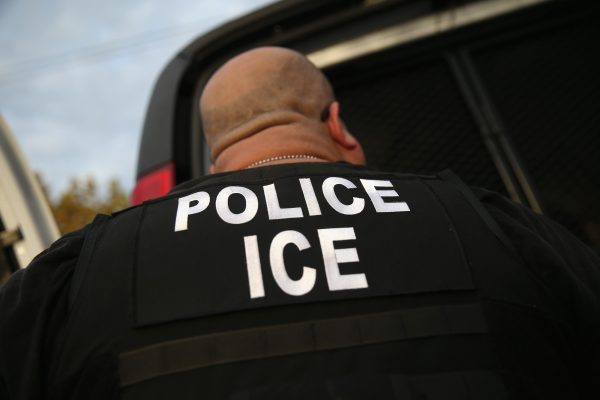 The Sanctuary Movement
The sanctuary city movement, which originated in Los Angeles in 1979, is the beginning of a larger push for open borders, said Mac Donald.
Sanctuary policies shield illegal immigrants from deportation, especially those who are convicted criminals, often by not allowing local law enforcement to communicate and cooperate with ICE.
By this logic, Mac Donald said, proponents of sanctuary cities are clearly saying it's illegitimate to deport any illegal alien who has not gone on to commit another crime, beyond entering the country illegally.
From the beginning of the Trump administration until the end of the 2017 fiscal year, administrative arrests increased 42 percent compared to the same period the previous year—from 77,806 to 110,568, according to Department of Homeland Security statistics.
Ninety-two percent of those arrests were aliens who had a criminal conviction or a pending criminal charge, were an ICE fugitive, or had illegally re-entered the United States after deportation (which is a felony).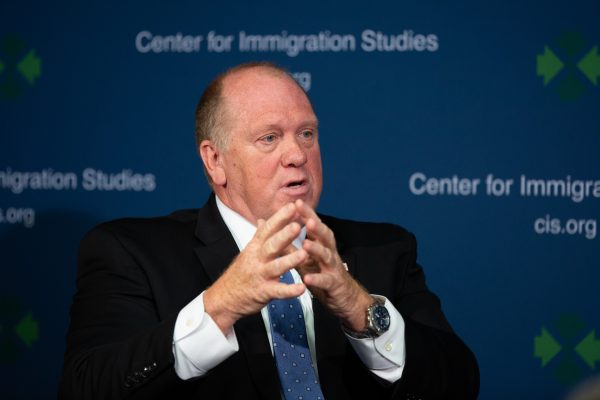 Homan has repeatedly hit back at sanctuary cities for releasing criminal aliens back into communities rather than handing them to ICE.
"When you release a criminal alien from a jail, that criminal alien is going to return to his community and victimize the very community in which he lives—which are immigrant communities," Homan said on June 5.
"This whole thing about sanctuaries protecting immigrant communities
—
it's false, it's inaccurate, it's just putting politics over public safety. That's all it is."
Nationwide Manhunt for Three Illegal Aliens Accused of Kidnapping, Raping Teen Sisters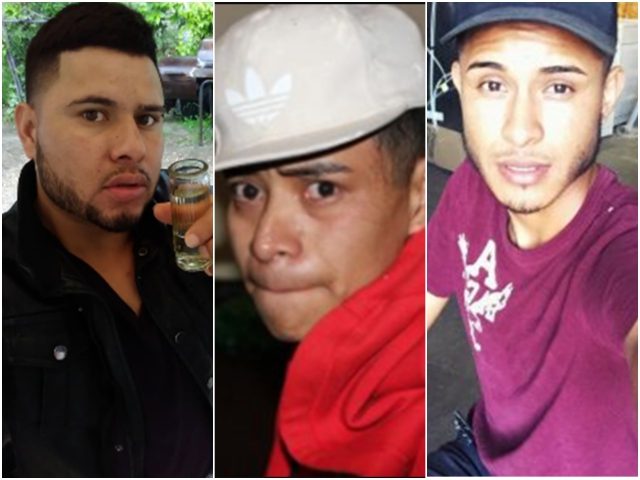 A nationwide manhunt is underway for three illegal aliens who are accused of kidnapping and raping two underage, teenage sisters in Bowling Green, Ohio.
According to WISTV10, four illegal aliens are alleged to have kidnapped and raped a 13-year-old girl and her 14-year-old sister at a Days Inn near Wooster Street in Bowling Green.
The teen sisters allegedly escaped the four illegal aliens after being held against their will and sexually assaulted, and were quickly taken to the hospital by their mother and stepfather.
Already in custody is 24-year-old illegal alien Simon Juan Thomas from Guatemala. Thomas was arrested and charged by Bowling Green Police with raping minors and is currently imprisoned on a $50,000 bond.
Meanwhile, the other three illegal aliens remain on the run with Bowling Green Police officials saying they believe the men have fled the region.
The three illegal aliens wanted are:
David Ramos Contreras
Arnulfo Ramos
Juan Adiel
Police say 27-year-old Contreras is from Mexico, while Adiel had been using a fake ID that claimed he was a legal resident of Fellsmere, Florida. All four illegal aliens were using fake IDs, according to police.
Police are asking the public to focus on the photos of each illegal alien, rather than their names, as they are unclear whether these names are real or fake.
Two of the illegal aliens allegedly worked as drywallers while the other worked at Greenline Foods in Bowling Green.
Police are advising anyone with information on the whereabouts of the men are to contact the Bowling Green Police Division at 419-352-1131, Wood County CrimeStoppers at 1-800-54-CRIME, or a local law enforcement agency.
Anyone with information on the whereabouts of the men is allowed to stay anonymous and are eligible for an up to $1,000 reward should the information provided lead to the arrest and conviction of any of the suspects.
OPEN BORDERS: The Democrat Party's Weapon of Mass Destruction on the American Worker
"Los Angeles saw all crime rise in 2015: violent crime up 19.9 percent, homicides up 10.2 percent, shooting victims up 12.6 percent, rapes up 8.6 percent, robberies up 12.3 percent, and aggravated assault up 27.5 percent,"Landry said."
HOW "CHEAP" IS ALL THAT INVADING "CHEAP" LABOR?


Natalio Vitervo-Vasquez was deported twice but returned to provide "cheap" labor. He can't read or write and raped his 10-year-old daughter.


"Prosecutors say the girl, who was 11-years-old at the time, went to a medical center where it was determined she was pregnant. Officials say she would have conceived the child at ten years of age."
MEXICAN MOLESTATION


MEX GIVES 7-YEAR-OLD CHILD HERPES AFTER REPEATEDLY RAPING HER
"The molestation was reported after the child was taken to a hospital for an outbreak of g enital h erpes early this month. When asked how she might have contracted the disease, the child claimed that Morales had molested her "a lot of times."
"The legal age of sexual consent in Mexico is 12 years old. Sex with children at this age and younger is socially acceptable in Mexico. For example: A Mexican Lopez-Mendez pleaded guilty to sexual assault on a 10-year-old-girl in West Virginia." FROSTY WOOLDRIGE
AMERICA vs MEXICO: CLASHING CULTURES
By Frosty Wooldridge
Mexicans cheat, distribute drugs, lie, forge documents, steal and kill as if it's a normal way of life. For them, it is. Mexico's civilization stands diametrically opposed to America's culture.
The legal age of sexual consent in Mexico is 12 years old. Sex with children at this age and younger is socially acceptable in Mexico. For example: A Mexican Lopez-Mendez pleaded guilty to sexual assault on a 10-year-old girl in West Virginia.
THE GRUESOME MS-13 GANGS FROM

LOS ANGELES: THEIR MURDER, RAPE,

AND CRIME TIDAL WAVE IN AMERICA'S

OPEN BORDERS


The illegal stabbed her to death with a screwdriver and then ran her over with her car.
THE ILLEGALS' AND THEIR CRIME TIDAL WAVE!
Heather Mac Donald of the Manhattan Institute has testified before a Congressional committee that in 2004, 95% of all outstanding warrants for murder in Los Angeles were for illegal aliens; in 2000, 23% of all Los Angeles County jail inmates were illegal aliens and that in 1995, 60% of Los Angeles's largest street gang, the 18th Street gang, were illegal aliens.
ILLEGAL RAPES 9 YEAR-OLD STEPDAUGHTER
8 Alleged Gang Members Arrested For Kidnap And Rape For 2 Teen Girls
Border Patrol Arrests Gang Members, Child Molesters in South Texas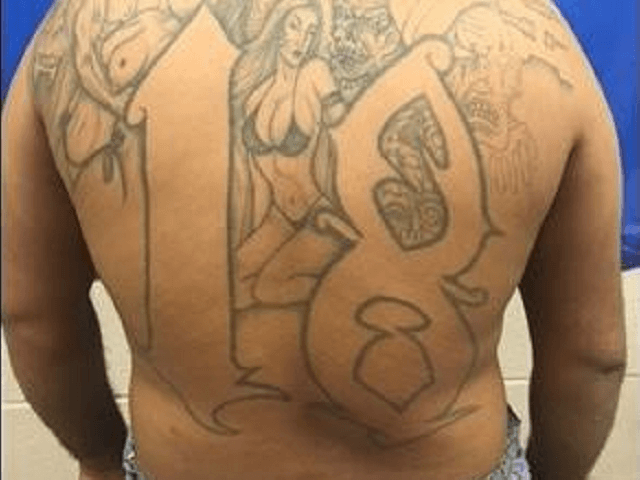 Border Patrol agents in the Rio Grande Valley Sector stopped five illegal immigrants from successfully making their way back into the U.S. The agents arrested two 18th Street gang members, two child molesters, and a man previously charged with felony sexual contact.
In a series of separate incidents, Border Patrol agents kept numerous criminal aliens from successfully re-entering the U.S. after previous removals, according to U.S. Customs and Border Protection officials.

Agents arrested two 18th Street gang members in separate incidents in South Texas. In the first, Rio Grande City Station agents arrested a Honduran man near Roma. Elsewhere, Kingsville Station agents arrested a Salvadoran man about 80 miles inland, near Sarita. In both cases, biometric background investigations revealed the two men were members of the violent 18th Street gang.
In Donna, Texas, Weslaco Station agents apprehended a Mexican national after he illegally crossed the border. When agents investigated the man's records, they discovered a 2007 conviction in Hidalgo County, Texas, for indecency with a child. He received a three-year prison sentence for his crime.
Further up the highway, agents at the Falfurrias Station came across a Guatemalan national illegally present in the U.S. The agents conducted a background check which revealed a 2004 conviction in Redwood City, California, for sex with a minor. The California court sentenced the criminal alien to 45 days in jail and three years of probation.
Agents assigned to the Rio Grande City Station arrested a Salvadoran man after he illegally crossed the border. The agents transferred the Salvadoran national to the station for processing where they learned the man had been arrested by the Saint Paul Police Department in Minnesota for felony sexual contact in the third degree. A court convicted the foreign national to three years in prison and placed him on probation for 15 years.
Agents processed all of the criminal aliens and turned them over to Homeland Security Investigation who will hold them for prosecution on immigration violations. Illegal re-entry after removal is a felony punishable by a prison sentence of up to 20 years. Their previous orders of removal will also be reinstated, officials said.
Bob Price serves as associate editor and senior political news contributor for Breitbart Texas. He is a founding member of the Breitbart Texas team. Follow him on Twitter
@BobPriceBBTX
,
GAB
, and
Facebook
.
WHAT ABOUT THE CHILDREN OF LEGALS LEFT ORPHANED DUE TO A MEX MURDER???
Instead Francis Hernandez, an illegal alien driving 81 miles an hour, slammed into a pickup truck, killing the two women inside, and smashing it through the glass wall of the Baskin Robbins.
Francis Hernandez had been arrested 16 times in 5 years without ever being turned over to immigration authorities. That failure to enforce immigration law separated a little boy from his family forever. DANIEL GREENFIELD – FRONTPAGE