YOU CAN'T SEPARATE THE DEMOCRAT PARTY FROM THEIR BANKSTERS AND WALL STREET!
"About 30 Democratic members of Congress spent the weekend at a winter retreat in Puerto Rico with more than 100 lobbyists and corporate executives, undeterred as the ongoing partial shutdown—now in its 23rd day—broke records for being the longest in U.S. history."
Dozens of Democrats Flock to Puerto Rico for 'Hamilton' Broadway Show Amid Shutdown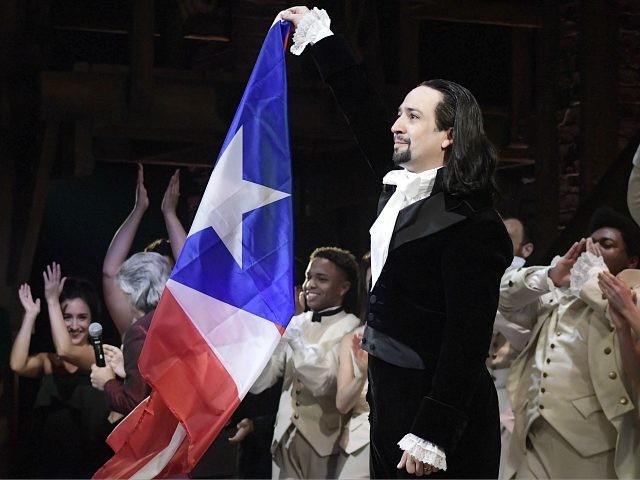 Dozens of Congressional Democrats flocked to Puerto Rico on Friday to watch the opening weekend of Hamilton amid the ongoing government shutdown, in a trip that organizers hope will allow them to lobby for additional federal funding to the impoverished island.
According to Luis Miranda, a Democratic consultant and the father of
Hamilton
creator Lin-Manuel Miranda, the trip will provide an opportunity for members of Congress, including Speaker of the House Nancy Pelosi, to see the need for further investment to Puerto Rico, with the island recovering from the
impact
of the 2017 hurricane that devastated large swathes of its infrastructure.
"They'll get to experience firsthand the needs of the island, so that they go back and sort of fight (President) Trump and the Republicans," he
said
in an interview with CBS News.
Breitbart TV
Documents published by The Wall Street Journal's Andrew Scurria show hotel rooms at the island's Concha hotel will cost a hefty $289 a night, while tickets to the show range from $200 to $350.
However, funds raised from the show will go toward the Miranda family's Flamboyan Arts Fund, which
claims
to be an "initiative dedicated to preserving, amplifying, and sustaining the arts in Puerto Rico by supporting all facets of the arts community including music, theater, visual arts, dance, literature, and youth arts education."
"Most of those dollars go to fund the arts through the Flamboyan Arts Fund. So we have around 2,000 tickets that we are selling for $5,000 and the bulk of that — 4,700 bucks — goes as a philanthropic gift," Luis Miranda explained. "Nobody is making a penny here. All the investors, everyone has agreed that everything stays in the island — in the arts funds."
Lin-Manuel Miranda's production of
Hamilton
has long been used as a tool for promoting progressive causes. In the run-up to the 2016 presidential election, the director even
welcomed
then-Democratic presidential nominee Hillary Clinton to his show, introducing her as the "the forty-fifth president of the United States" and imploring people not to vote for Donald Trump.
Meanwhile, shortly after Trump's victory, the
Hamilton
cast even ended their performance by
lecturing
Vice President-elect Mike Pence, declaring that "diverse America" felt "alarmed and anxious" about the incoming Trump administration.
HEAR THAT SUCKING SOUND? IT'S MEXICO SUCKING THE BLOOD OUT OF AMERICA BY THE HUNDREDS OF BILLIONS YEARLY!
"Fox's Tucker Carlson noted Thursday that Obrador has previously proposed ranting AMNESTY TO MEXICAN DRUG CARTELS. "America is now Mexico's social safety net, and that's a very good deal for the Mexican ruling class," Carlson added."
"The man likely to be the next president of Mexico just called for mass migration to the US" RICK MORAN
"And soon, very soon — after the victory of our movement — we will defend all the migrants in the American continent and all the migrants in the world," Obrador said, adding that immigrants "must leave their towns and find a life in the United States." RICK MORAN
FACTS ON THE "REAL LATINO AMERICA" OF MEXICAN OCCUPIED LOS ANGELES:
(FIGURES ARE HIGHLY DATED
This is another "fact" spun from the 2004 op-ed by Heather Mac Donald, whose article refers to a single Los Angeles gang and the conjecture of an unnamed federal prosecutor.)
1. "40% of all workers in L.A. County are working for cash and not paying taxes. . . . This is because they are predominantly illegal immigrants working without a green card."
2. "95% of warrants for murder in Los Angeles are for illegal aliens . . . "
3. "75% of people on the most wanted list in Los Angeles are illegal aliens."
4. "Over 2/3 of all births in Los Angeles County are to illegal alien Mexicans on Medi-Cal, whose births were paid for by taxpayers."
5. "Nearly 35% of all inmates in California detention centers are Mexican nationals here illegally."
6. Over 300,000 illegal aliens in Los Angeles County are living in garages.
7. "The FBI reports half of all gang members in Los Angeles are most likely illegal aliens from south of the border."
8. "Nearly 60% of all occupants of HUD properties are illegal."
9. 21 radio stations in L. A. are Spanish speaking.
10. In L. A. County 5.1 million people speak English, 3.9 million speak Spanish.
"In his state of the union address to the Mexican nation, Calderon established his imperialistic imperatives: "I have said that Mexico does not stop at its border, that wherever there is a Mexican, there is Mexico. And, for this reason, the government action on behalf of our countrymen is guided by principles, for the defense and protection of their rights."
"We have got to eliminate the gringo, and what I mean by that is if the worst comes to the worst, we have got to kill him." --- La Raza early founders, Professor Jose Angel Gutierrez.
"
In his first state of the union speech since becoming president of Mexico, Felipe Calderon criticized the U.S. government and its efforts to shut down illegal immigration. During the speech Calderon proclaimed that "Mexico does not end at its borders" and that "where there is a Mexican, there is a Mexico." Tune in for a full report on Calderon's vigorous fight to protect Mexican interests in the United States—even when they're built on illegal immigration. CNN LOU DOBBS
MEXICO'S SUPREMACY IN AMERICA
NEW YORK (CNN) -- Mexican President Felipe Calderon Sunday demanded the United States surrender its sovereignty, abandon the rule of law and accede to Mexico's inherent supremacy.
Lou Dobbs says Mexican President Felipe Calderon is showing "blatant hypocrisy" on immigration.
In his state of the union address to the Mexican nation, Calderon established his imperialistic imperatives: "I have said that Mexico does not stop at its border, that wherever there is a Mexican, there is Mexico. And, for this reason, the government action on behalf of our countrymen is guided by principles, for the defense and protection of their rights."
Calderon protested the U.S. government's increased raids on illegal employers of illegal alien employees and work site enforcement. In what is little more than a faint nod to the Bush administration's responsibility to enforce U.S. immigration law, the Department of Homeland Security had planned to send out notices to employers from the Social Security Administration informing them of non-matching records between an employee's name and Social Security number. These employers would then be forced to resolve any discrepancy within 90 days or be required to dismiss the employee or face up to $10,000 in fines for knowingly hiring illegal immigrants.
But then, ethnocentric advocacy groups and some labor unions, trying to bolster their membership, sued to stop the crackdown on hiring illegal alien workers. A federal judge in California last week issued a temporary restraining order blocking the plan, giving a victory to the AFL-CIO, the American Civil Liberties Union and the National Immigration Law Center, all of which brought the suit alleging DHS exceeded its authority in making the rule.
That U.S. District Court judge ruled as if she were an employee of the Mexican government, rather than the U.S. government. Homeland Security was simply enforcing existing immigration laws. Are we not a nation that follows the rule of law? If not, we're no country at all.
Calderon must have been delighted by the judge's decision. Calderon, like his predecessors, Carlos Salinas and Vicente Fox, has failed miserably to establish policies that would create jobs for the Mexican people and to eliminate shameful, unchecked corruption and incompetence in the Mexican government.
Mexican Police Halt Human Smugglers' Attempts to Cut Border Fence in California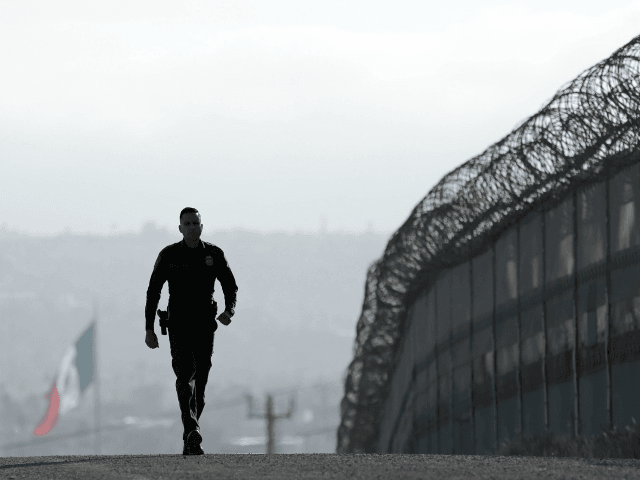 Two human smuggling attempts were thwarted by Border Patrol and Mexican police after they observed groups of migrants attempting to cross into the United States from Baja California by cutting holes in a border fence.
Border Patrol Agents observed groups of migrants attempting to cut through fenced barriers separating Calexico and Tecate, California, earlier this week, according to local
reporting
.
The first incident occurred on January 9 when Border Patrol Agents assigned to the Calexico area notified Mexican authorities about four individuals believed to be human smugglers attempting to cut an opening in the border fence at Avenida Cristóbal Colón and Calle Bravo. After the arrival of the Mexicali municipal police, the four jumped into a Toyota Scion and fled back toward inland Mexico.
Breitbart TV
The municipal police were eventually able to stop the vehicle and arrested José Luis "N" aka "El Mirinda," 24; Juan Eduardo "N," 25; Angel "N," 42; and Daniel Enrique "N," 25, a resident of Calexico, California.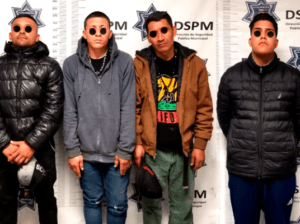 Two were observed allegedly trying to climb the fence before police arrived and later threw rocks at Border Patrol agents. During a search of the vehicle, police found three cutting tools, rope, and pieces of razor wire that had been cut away from the fence.
The state attorney general's office declined to file criminal charges even though they were reportedly observed trying to damage the fence and resisted capture.
In the second illegal border crossing attempt, a total of 14 migrants were arrested by Tecate, Baja California, police after Border Patrol Agents alerted Mexican authorities at 11 pm Wednesday, according to a local report. Police responded to the area and arrested the 14 as they were reportedly cutting a hole in the dividing fence.
The 14 migrants were transferred to a holding camp in the El Descanso neighborhood. Breitbart law enforcement sources indicate that many who arrived with the Central American migrant caravan are growing impatient to file asylum claims in the United States and are resorting to illegal border crossing attempts.
Robert Arce is a retired Phoenix Police detective with extensive experience working Mexican organized crime and street gangs. Arce has worked in the Balkans, Iraq, Haiti, and recently completed a three-year assignment in Monterrey, Mexico, working out of the Consulate for the United States Department of State, International Narcotics and Law Enforcement Program, where he was the Regional Program Manager for Northeast Mexico (Coahuila, Tamaulipas, Nuevo Leon, Durango, San Luis Potosi, Zacatecas.) You can follow him on Twitter. He can be reached at robertrarce@gmail.com
Central Americans Riot in Mexican Immigration Detention Center
A group of Central American migrants being held in a Mexican immigration detention center in Mexicali began rioting Wednesday afternoon, requiring the deployment of police and troops.
A group of 23 migrants pending deportation, primarily back to Honduras, began a riot on Wednesday by burning a mattress and causing damage to bathrooms, according to local
reporting
. Responding municipal fire personnel were unable to enter the facility because they were met with resistance by the migrants who began throwing objects and liquids while shouting they were members of "Los Maras." The label is commonly used to identify the violent transnational criminal gang, the MS-13.
Due to the violent behavior, state cops and elements of the Mexican Army were deployed. The center was eventually brought under control when riot police forcefully entered with stun grenades, according to confidential law enforcement sources.
BORDER AGENT RESCUES DROWNING MIGRANT INVADERS…. Mexico ships them back over the border to register Democrat and collect their anchor baby welfare!
"The newly elected president, Andrés López-Obrador, was gleeful during the election when he told his compadres they should all move to America, illegally. His encouragement along with his pro-poverty policies will set the stage for another tsunami of illegal immigration." COLIN FLAHERTY
"They will destroy America from within.

The leftist billionaires who orchestrate these plans are wealthy. Those tasked with representing us in Congress will never be exposed to the cost of the invasion. They have nothing but contempt for us who must endure the consequences of our communities being intruded upon by gangs, drug dealers and human traffickers.

These people have no intention of becoming Americans; like the Democrats who welcome them, they have contempt for us." PATRICIA McCARTHY
VICENTE FOX OF NARCOMEX SAYS "MUCK AMERICA!!! YOU BELONG TO US!
BUT DOES FOX BELONG TO THE LA RAZA HEROIN CARTELS?
"Also, Rubin did not mention the moral responsibility of the child's father who brought her through the desert in an apparent effort to use the catch-and-release

Flores

loophole to get past border guards. The loophole was created by Judge Dolly Gee who has ordered border officials to release migrants after 20 days if they bring a child with them."
WHAT DOES MEXICO DO WITH THEIR ILLEGALS???
THEY DEPORT THEM ON THE SPOT!!!
"Fox's Tucker Carlson noted Thursday that Obrador has previously proposed ranting AMNESTY TO MEXICAN DRUG CARTELS. "America is now Mexico's social safety net, and that's a very good deal for the Mexican ruling class," Carlson added."
Two former Mexican presidents publicly denied taking bribes from the Sinaloa Cartel. The statements came after the legal defense for Joaquín "El Chapo" Guzmán Loera made contrary claims this week.
Should We Invade Mexico?
One new Mexican president. Dozens of new reasons to build the wall.
"After six years of the corrupt and brutal rule of the PRI (Institutional Revolutionary Party) administration of President Enrique Peña Nieto, Mexico is mired in pandemic violence, unprecedented social inequality and staggering levels of unemployment as well as deepening poverty for the majority of the population."
The elections in Mexico and the political tasks of the working class
30 June 2018
How to Humanely Reduce Unlawful Immigration and Shut Down Open-Borders Democrats
Mexico: Lopez-Obrador's bizarre statement
The man likely to be the next president of Mexico just called for mass migration to the US
Adios, Sanctuary La Raza Welfare State of California


A fifth-generation Californian laments his state's ongoing economic collapse.

By Steve Baldwin

American Spectator, October 19, 2017

What's clear is that the producers are leaving the state and the takers are coming in. Many of the takers are illegal aliens, now estimated to number over 2.6 million.
The Federation for American Immigration Reform estimates that California spends $22 billion on government services for illegal aliens, including welfare, education, Medicaid, and criminal justice system costs.
MEXICO'S BIGGEST EXPORT TO AMERICA… POVERTY, CRIMINALS, ANCHOR BABY BREEDERS FOR WELFARE and HEROIN
CHRISTIAN SCIENCE MONITOR
"Mexico prefers to export its poor, not uplift them."
Mexico's Immigration Law: Let's Try It Here at Home