AS MEXICO EXPORTS THEIR POOR, CRIMINAL AND ANCHOR BABY BREEDERS ALONG WITH HEROIN, WHAT DO THEY DO WITH THEIR ILLEGALS???
"The newly elected president, Andrés López-Obrador, was gleeful during the election when he told his compadres they should all move to America, illegally. His encouragement along with his pro-poverty policies will set the stage for another tsunami of illegal immigration." COLIN FLAHERTY
THEY DEPORT THEM ON THE SPOT!!!
Mexico has a single, streamlined law that ensures that foreign visitors and immigrants are:
1.) in the country legally;
2.)
have the means to sustain themselves economically;
3.)
not destined to be burdens on society;
4.)
of economic and social benefit to society;
5.)
of good character and have no criminal records; and
6.)
contributors to the general well-being of the nation.
The law also ensures that:
7.)
immigration authorities have a record of each foreign visitor;
8.)
foreign visitors do not violate their visa status;
9.)
foreign visitors are banned from interfering in the country's internal politics;
10.)
foreign visitors who enter under false pretenses are imprisoned or deported;
11.)
foreign visitors violating the terms of their entry are imprisoned or deported;
12.)
those who aid in illegal immigration will be sent to prison.
Border Patrol Agent Risks Life to Save Drowning Migrant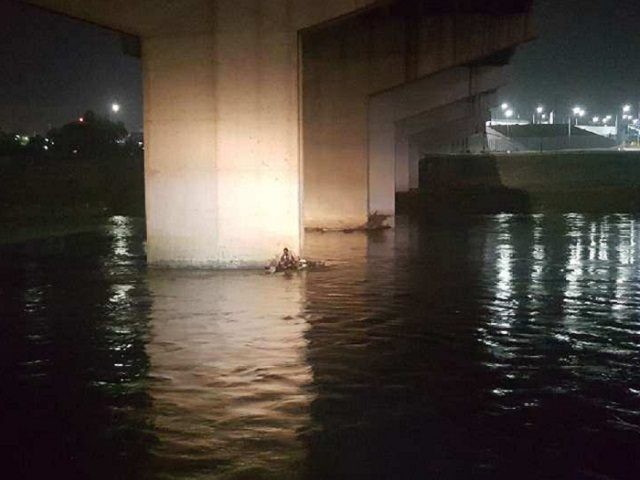 A Rio Grande Valley Sector Border Patrol agent risked his life to rescue a drowning migrant.
Rio Grande Valley Sector Border Patrol Search, Trauma, and Rescue (BORSTAR) agents patrolling near Los Ebanos, Texas, responded to a report of migrants moving north from the Rio Grande River that separates Mexico and Texas. As the agents approached, they attempted to flee back to the river to escape capture, according to Rio Grande Valley Sector Border Patrol officials.
The BORSTAR agents approached the river and noticed one of the migrants who appeared to be afraid to jump into the swiftly moving river. The migrant eventually jumped into the river and attempted to swim to a raft.
Breitbart TV
Agents observed the migrant having a difficult time staying afloat. He eventually went underwater for an extended period, officials reported. One of the BORSTAR agents quickly jumped into the river and successfully recovered the migrant and pulled him back to safety.
BORSTAR agents, who are medically trained for emergency trauma, assessed the migrant and determined him to be in good health.
The agents transported the migrant to the station for processing on immigration violations.
The number of migrants rescued by Border Patrol agents rose significantly during the most recent fiscal year which ended on September 30. During that period, agents rescued more than 4,300 illegal immigrants who put themselves in life-endangering situations, Breitbart News reported. On average, agents rescued about 12 migrants per day. In the first two months of FY 2019, that number jumped 74 percent, Border Patrol officials told reporters during a conference call on December 14.
Breitbart News reports extensively on the rescue of migrants by the Border Patrol. Frequently, agents put their own lives at risk when migrants place themselves in dangerous situations. In a recent example, a McAllen Station agent came under attack from migrants throwing large rocks as he attempted to rescue a pregnant woman who had crossed the border.
Bob Price
serves as associate editor and senior political news contributor for the Breitbart Border team. He is an original member of the Breitbart Texas team. Follow him on Twitter
@BobPriceBBTX
and
Facebook
.
vicente fox of narcomex says "muck america!!! yOU BELONG TO US!
bUT DOES FOX BELONG TO THE LA RAZA HEROIN CARTELS?
"Also, Rubin did not mention the moral responsibility of the child's father who brought her through the desert in an apparent effort to use the catch-and-release
Flores
loophole to get past border guards. The loophole was created by Judge Dolly Gee who has ordered border officials to release migrants after 20 days if they bring a child with them."
THE CONSPIRACY TO SABOTAGE HOMELAND SECURITY
The Democrat Party's secret agenda for wider open borders, more welfare for invading illegals, more jobs and free anything they illegally vote for…. All to destroy the two-party system and build the GLOBALISTS' DEMOCRAT PARTY FOR WIDER OPEN BORDERS TO KEEP WAGES DEPRESSED.
Demonstrably and irrefutably the Democrat Party became the party whose principle objective is to thoroughly transform the nature of the American electorate by means of open borders and the mass, unchecked importation of illiterate third world peasants who will vote in overwhelming numbers for Democrats and their La Raza welfare state. FRONTPAGE MAG
THE NARCOMEX INVASION OF AMERICA…. By invitation of the Democrat Party
HOW MANY HUNDREDS OF BILLIONS WILL WE LET MEXICO SUCK OUT OF OUR OPEN BORDERS?
There are many reasons why, for the first time, the government of Mexico would agree to work cooperatively with the United States over an extremely serious immigration-related issue. It is likely, of course that President Trump was not just posturing when he said he would cut off aid to Mexico and other countries who permit the United States to be invaded by illegal aliens.
Under Guzman's leadership, the Sinaloa Cartel became the largest drug trafficking organization in the world with influence in every major U.S. city.
The allegations against Pena Nieto are not new. In 2016, Breitbart News reported on an investigation by Mexican journalists which revealed how Juarez Cartel operators funneled money into the 2012 presidential campaign. The investigation was carried out by Mexican award-winning journalist Carmen Aristegui and her team….The subsequent scandal became known as "Monexgate" for the cash cards that were given out during Peña Nieto's campaign. The allegations against Pena Nieto went largely unreported by U.S. news outlets.
MEXICO DECLARES WAR ON THE UNITED STATES
"The radicals seek nothing less than secession from the United States whether to form their own sovereign state or to reunify with Mexico. Those who desire reunification with Mexico are irredentists who seek to reclaim Mexico's "lost" territories in the American Southwest." Maria Hsia Chang Professor of Political Science, University of Nevada Reno
"Mexican president candidate Andrés Manuel López Obrador called for mass immigration to the United States, declaring it a "human right". We will defend all the (Mexican) invaders in the American," Obrador said, adding that immigrants "must leave their towns and find a life, job, welfare, and free medical in the United States."
"Fox's Tucker Carlson noted Thursday that Obrador has previously proposed ranting AMNESTY TO MEXICAN DRUG CARTELS. "America is now Mexico's social safety net, and that's a very good deal for the Mexican ruling class," Carlson added."
Should We Invade Mexico?
One new Mexican president. Dozens of new reasons to build the wall.
"After six years of the corrupt and brutal rule of the PRI (Institutional Revolutionary Party) administration of President Enrique Peña Nieto, Mexico is mired in pandemic violence, unprecedented social inequality and staggering levels of unemployment as well as deepening poverty for the majority of the population."
The elections in Mexico and the political tasks of the working class
30 June 2018