Watch–Ken Cuccinelli: ICE Ready to Deport Approximately 1M Illegal Aliens with Final Deportation Orders
Acting United States Citizenship and Immigration Services (USCIS) Director Ken Cuccinelli says the Immigration and Customs Enforcement (ICE) agency is ready to deport about a million illegal aliens who remain in the country despite having final orders for deportation.
During an interview with CBS News on Sunday, Cuccinelli said despite a delay of mass deportations by President Trump two weeks ago, ICE agents are ready to detain and deport the roughly one million illegal aliens who have been ordered deported from the country.
[ICE agents are] ready to just perform their mission which is to go and find and detain and then deport the approximately one million people who have final removal orders

. They've been all the way through the due process and have final removal orders.

Who among those will be targeted for this particular effort or not is really just information kept within ICE

. [Emphasis added]
Cuccinelli said mass deportations by ICE of illegal aliens with final deportation orders "should be going on on a rolling basis" and blamed "the politics of Washington" for interfering with ICE operations.
"I'm just pointing out that the pool of those with final removal orders is enormous," Cuccinelli said. "It's important to note, here we are talking about ICE doing its job as if it's special. And really this should be going on on a rolling basis for ICE and they've been interfered with, effectively, and held up by the politics of Washington to a certain extent…"
Trump, last month, delayed a plan by ICE to mass deport about 2,000 illegal aliens who had final deportation orders after details of the operation were leaked to the media. Former ICE Director Thomas Homan accused Acting Department of Homeland Security (DHS) Secretary Kevin McAleenan of leaking the plans of the ICE raid in order to halt the operation.
Though Trump gave Congress two weeks to devise a plan to close loopholes in the country's asylum system — loopholes that have invited millions of border crossers to the U.S. over the last decade — no such plan has been crafted that would pass the House and Senate.
The latest Harvard/Harris Poll finds that a majority of Americans support Trump's plan to mass deport illegal aliens following inaction from Congress. This includes support from more than 8-in-10 Republican voters and more than 5-in-10 swing voters.
As Breitbart News has chronicled, there are about 1.7 million illegal aliens from Central America and Mexico, alone, living in the U.S. despite already being ordered deported or having pending deportation orders. The latest federal data concludes that there are more than 925,000 illegal aliens, in total, with final deportation orders who have continued living freely in the U.S. About 20 percent of these illegal aliens have at least one criminal conviction and almost all are not in federal custody. Roughly 60 percent
of these illegal aliens come from Mexico, El Salvador, Honduras, and Guatemala.
John Binder is a reporter for Breitbart News. Follow him on Twitter at @JxhnBinder.
Poll: Majority of Americans Want Mass Deportations of Illegal Aliens Following Congressional Inaction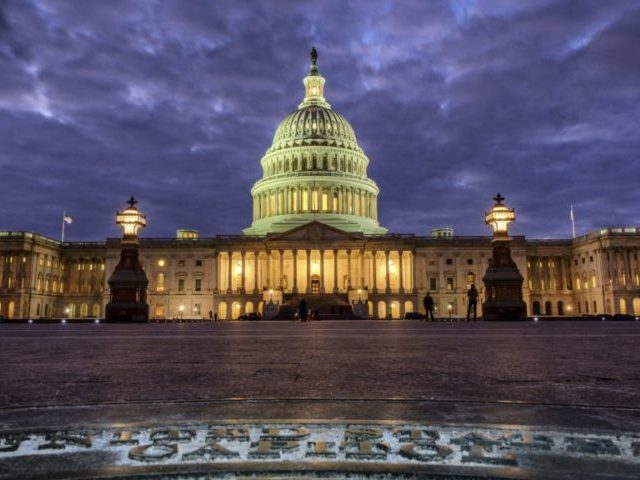 A majority of Americans want mass deportations of illegal aliens if Congress fails to reach a deal this week that closes loopholes in the country's asylum system that allow mass flows of foreign nationals to pour through the U.S.-Mexico border.
The latest Harvard/Harris poll finds that 51 percent of American voters say they support mass deportations of the 11 million to 22 million illegal aliens living in the U.S. should Congress fail to reach a deal that closes loopholes in the asylum system.
More than 8-in-10 Republican voters, as well as more than 5-in-10 swing voters, said President Trump should carry out mass deportations of illegal aliens following Congressional inaction. Nearly 9-in-10 Trump supporters said the same.
Working and middle class Americans, those earning $75,000 a year or less, support mass deportations of illegal aliens if Congress fails to act by a majority of 53 percent. A majority of Americans 35 to 49-years-old also support mass deportations following inaction from Congress.
Democrats and voters who supported failed presidential candidate Hillary Clinton are the least likely of any demographic group to support mass deportations of illegal aliens.
The poll comes as Trump delayed a nationwide plan to mass deport thousands of illegal aliens who have final orders for removal. Former acting Immigration and Customs Enforcement (ICE) Director Thomas Homan accused acting Department of Homeland Security (DHS) Secretary Kevin McAleenan of leaking the plans to mass deport illegal aliens in order to halt the operation.
Trump, at the time, said he would give Congress two weeks to strike a deal to close loopholes in the asylum system. The two-week mark comes this week and Congress has yet to announce a plan that would pass both the Democrat-controlled House and the Republican-controlled Senate.
Today, there are approximately 11 million to 22 million illegal aliens living across the U.S. The majority are concentrated in California, New York, Texas, and Florida. As Breitbart News has reported, the illegal alien population over the last decade has increased by 60,000 in Massachusetts, by 45,000 in Maryland, and by 5,000 in each North Dakota and South Dakota.
John Binder is a reporter for Breitbart News. Follow him on Twitter at @JxhnBinder.
Report: Cops Arrest 80 at Mexican-Run Cockfight in Virginia
Cops arrested numerous suspected illegal aliens and drug-traffickers at an illegal cockfight in Patrick County, Virginia, according to a report in the
Martinsville Bulletin
.
Pew Research: Vast Majority of Illegals, 4-in-9 Legal Immigrants, Not English Proficient
The vast majority of illegal aliens and a sizeable portion of legal immigrants living in the United States are not proficient in the English language, a survey finds.
Coulter: U.S. Isn't Becoming Europe. We're Becoming Rome
Can we have a quick reality check and acknowledge that what is happening to America is a million times worse than what's happening in Europe and is of much greater consequence?
MULTI-CULTURALISM and the creation of a one-party globalist country to serve the rich in America's open borders.
"Open border advocates, such as Facebook's Mark Zuckerberg, claim illegal aliens are a net benefit to California with little evidence to support such an assertion. As the CIS has documented, the vast majority of illegals are poor, uneducated, and with few skills. How does accepting millions of illegal aliens and then granting them access to dozens of welfare programs benefit California's economy? If illegals were contributing to the economy in any meaningful way, CA, with its 2.6 million illegals, would be booming." STEVE BALDWIN – AMERICAN SPECTATOR
(POPULATION 9-2018)
FINISHING AMERICA OFF: THE FOREIGN INVASION FOR "CHEAP" LABOR
Open the floodgates of our welfare state to the uneducated, impoverished, and unskilled masses of the world and in a generation or three America, as we know it, will be gone. JOHN BINDER
But many less-skilled migrants play their largest role by simply shifting small slices of wealth from person to person, for example, by competing up rents in their neighborhood or by competing down wages in their workplace. The crudest examples can be seen in agriculture.
Overall, the Washington-imposed economic policy of economic growth via immigration shifts wealth from young people towards older people by
flooding
the market with
cheap white-collar and blue-collar foreign labor
.
"Critics argue that giving amnesty to 12 to 30 million illegal aliens in the U.S. would have an immediate negative impact on America's working and middle class — specifically black Americans and the white working class — who would be in direct competition for blue-collar jobs with the largely low-skilled illegal alien population." JOHN BINDER
US now has more Spanish speakers than Spain – only Mexico has more
Atlantic Op-Ed: The Migration Wave Has Barely Begun
Americans need to reform their immigration laws before hundreds of millions of foreigners decide to take up residence in the United States, says David Frum, an author at the pro-globalist
Atlantic
magazine.
Immigration to America Is Not What It Used to Be
Immigrants today are not coming from nations of equal or greater economic achievement. In the past, immigrants from Europe, for the most part, were emigrating from nations that were as advanced as the United States was, if not more so. Today the overwhelming majority of immigrants are coming from developing nations.

Immigrants in the past came primarily from European nations which had cultural values—educational, religious, and political—that were, if not nearly identical to American cultural values, at shared a similar trajectory towards achieving those values. Immigrants today come from nations that, relatively speaking, have far fewer cultural similarities to America than past waves of immigrants.

Immigrants today, for the most part, are coming from nations that are rapidly increasing in population and, in aggregate, dwarf the United States in population. Related to this is the fact that in the past, the people already in America were themselves rapidly increasing in population, but this is no longer the case, except among populations of recently arrived immigrants.

Immigrants today arrive via 10-hour hops on an airliner. In the past, waves of immigrants spent 10 months traversing land and sea in a journey of staggering expense and significant dangers. While this isn't universally true, particularly for the overland migrants that cross America's southern border, the general point stands: coming to America today does not require the commitment it required in the past.

Similarly, in the past, immigrants pretty much renounced their countries of origin. They made a one-way trip and they adopted the language and values of America. Today, retaining cultural unity with one's country of origin is a few clicks on the internet, a cheap telephone call, an affordable airfare. Technology has greatly eroded the forces that used to impel immigrants to become Americans.

Immigrants in the past arrived in an America that had a voracious need for unskilled workers. Today the American economy is relentlessly automating jobs that used to require unskilled labor, and the American population already has a surplus of unskilled workers.

Immigrants today are arriving in a welfare state, where they are assured of food, shelter, and medical care that are, in general, orders of magnitude better than anything available to them in their native countries. This creates a completely different incentive to today's immigrants. In past centuries, immigrants came to America to find freedom and to work. Today they are offered a smorgasbord of taxpayer-funded social services.

Immigrant students today—especially in the coastal urban centers where most of them settle—enter a public education system that teaches them with a reverse-racist, anti-capitalist bias. They are taught in our public schools not to assimilate, but to "celebrate diversity"; not to earn opportunities through hard work, but through fighting discrimination. They are taught, often in their native language, that they have arrived in a nation dominated by racist and sexist white males, who exploit the world to amass evil profits.