Trump Waves in Seasonal Foreign Workers as Pandemic Peaks
The State Department will not be interviewing most applicants for seasonal guestworker visas under a new policy announced in late March. Aside from the absurdity of bringing in any foreign guestworkers at all at the height of a global pandemic that just threw millions of Americans out of work, this move has re-opened a security and fraud vulnerability in the temporary worker visa program that career homeland security officials have fought for years to close.
On March 26, the State Department announced that the applications of new and returning farm and non-farm seasonal workers would be immediately expedited by waiving requirements for most visa applicants to be interviewed. The entry of these workers apparently has slowed to a trickle in the wake of travel restrictions imposed (wisely) on March 20 due to the coronavirus pandemic. Previously, only returning workers asking to renew their visas were allowed to bypass the interview. Under the new policy, even first-time applicants will be able to get a visa without speaking to a consular officer. "We anticipate the vast majority of otherwise qualified H-2 applicants will now be adjudicated without an interview," stated a USDA memorandum.
Clearly the Department of Agriculture is pleased to deliver the cheap labor that U.S. growers have become accustomed to (rather than adopting farm modernization trends used successfully in the rest of the developed world). The department even has its own watchdog/lobbyist detailed to the White House to look out for the interests of farm employers concerning immigration policy.
The State Department says it considers the seasonal guestworker program to be "mission critical". Its announcement stated: "The H-2 program is essential to the economy and food security of the United States and is a national security priority." In other words, to quote the disgraced State Department supervisor of the pre-9/11 consulates in Saudi Arabia, "People gotta have their visas!"
This position is in direct conflict with the law and Trump's own policy moves. 8 USC 1202(h) provides that, with just a few exceptions, every temporary visa applicant aged 14 to 79 must be interviewed. One of the first visa policy changes made by Trump was to reverse an Obama policy that had called for many more interview waivers, which helped bring about a significant increase in the number of temporary visa issuances.
Interviews are critical to preserving the integrity of our temporary visa programs — especially the guestworker programs. Much as a doctor can best treat a patient by seeing them in person, a consular officer usually needs to see an applicant to determine visa eligibility and to assess the credibility of the applicant. Officers are trained to question applicants and to screen for fraud.
As the Obama administration Homeland Security and State departments pointed out in a regulatory action re-establishing interview for certain H-2 applicants from Caribbean countries, in the case of guestworkers, the interview is an important opportunity to educate the applicants on their rights and responsibilities as a temporary worker. For instance, the law prohibits the payment of fees by workers as a condition of employment or recruitment, and some workers are not aware of that. Further, consular officers can (and should) explain the penalties for overstaying a visa.
The 2016 proposed policy change said that a strict interview requirement "will help to better ensure that such [seasonal guest] workers are protected from certain employment and recruitment-based abuses, including, but not limited to, the imposition of fees prohibited under 8 CFR 214.2(h)(5)(xi). In addition, the visa requirement will help ensure that agricultural workers have been informed, and are aware of, their rights and responsibilities before departing from their home countries to engage in H-2A agricultural work. (See 8 U.S.C. 1375b.)
Fraud and abuse in both agricultural and non-agricultural H-2 guestworker programs are widespread, as the Government Accountability Office (GAO) has pointed out in numerous reports (see here and here).
These are not small visa programs, and their use has grown over time. The number of visa issuances to H-2 guestworkers has more than doubled in the last decade, from 103,324 in 2010 to 280,183 in 2018.
The Center recently held a panel discussion on recent Trump administration initiatives to address discrimination against U.S. workers in favor of foreign guestworkers. Important as these initiatives are, it would be even better to catch these problems before the employment of guestworkers begins. This will be much harder to do without the interview requirement.
Now is exactly the wrong time to make it easier for employers to bypass U.S. workers by bringing in workers from abroad.
Topics:
H-2A Nonimmigrant Visa Program
,
H-2B Nonimmigrant Visa Progam
THE DEMOCRAT PARTY FOR WALL STREET WILL DO ANYTHING TO TURN THIS COUNTRY INTO A THIRD WORLD DUMPSTER LIKE MEXIFORNIA!
The lawyers' request comes after a group of GOP Senators quietly blocked a Democratic effort to restart work permits for the million-plus visa workers and the work permit workers who hold jobs in the United States. The giveaway was inserted into the Democrat' coronavirus rescue bill, but it was stopped when the GOP Senators warned their colleagues "to not open the immigration can of worms in the coronavirus bill," said one Hill source.
Lawyers Sue to Keep Millions of Foreign Workers in U.S.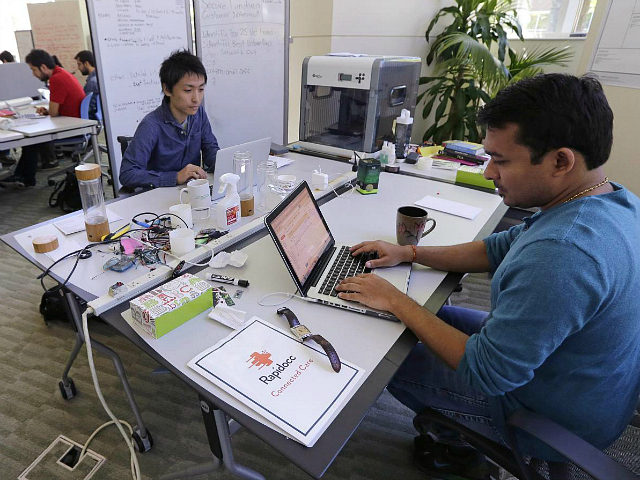 Corporate immigration lawyers are asking a federal judge to take control of the immigration system from President Donald Trump and then suspend routine visa deadlines for at least two million foreign workers until after the coronavirus epidemic has passed.
"I wake up sweating thinking when we will have to leave the country," said Priya, fearing that her company, like many others in the USA, may get rid of H-1B workers.

"There are many who are working without pay. It will not be too long before layoff begins," she said. She has a year-old daughter and her husband holds H-1B visa as well.
Corp. lawyers hid H-1B program in complexity – but never foresaw a virus would shutter myriad offices.
So now NASSCOM wants Trump's deputies to help them keep 100Ks of #H1B on the right side of DoL's fake-it-or-leave 'LCA' rules.
All before Nov. 2020. https://t.co/qe1RLSScuh
For example, under 8 C.F.R. § 214.1(c)(1), a petitioner seeking the services of an E–1, E–2, E–3, H–1B, H–1B1, H–2A, H–2B, H–3, L–1, O–1, O–2, P–1, P–2, P–3, Q–1, R–1, or TN nonimmigrant beyond the period previously granted, must apply for an extension of stay on the form designated by USCIS, with the fee prescribed in 8 C.F.R. § 103.7(b)(1), with the initial evidence specified in § 214.2, and in accordance with the form instructions, which sets out that the extension or change of status must be filed before the foreign national's authorized stay expires.
Declare that the COVID-19 pandemic constitutes an extraordinary circumstance beyond the control of Plaintiff's members representing applicants or petitioners for immigration benefits; C. Order USCIS to toll any and all deadlines for initial applications, responses to any and all Requests for Evidence or other responses due on or after March 1, 2020, requests for extension of status, maintenance of status, and reprieve from any expiration of status or employment authorization; D. Order USCIS to "maintain the status quo" for purposes of eligibility for protection from removal, work authorization, and immigration benefits from the date the President declared that a national emergency began on March 1, 2020, until 90 days after the emergency officially ends.
The H-1B program is neither high-skilled nor immigration: these are temporary foreign workers, imported from abroad, for the explicit purpose of substituting for American workers at lower pay. I remain totally committed to eliminating rampant, widespread H-1B abuse and ending outrageous practices such as those that occurred at Disney in Florida when Americans were forced to train their foreign replacements. I will end forever the use of the H-1B as a cheap labor program, and institute an absolute requirement to hire American workers for every visa and immigration program. No exceptions.
H-1B giveaway news: Corps. want to import 275,000 college-grads for October jobs.
85K visas will be awarded by lottery, not need or skill.
American graduates will vote in Nov. amid coronavirus crash.

Trump's "Hire American" plan seems inoperative.

@H1Bhttps://t.co/jO2vgbZ5HK
Mark Zuckerberg's Silicon Valley investors are uniting with the Koch network's consumer and industrial investors to demand a huge DACA amnesty
*
A handful of Republican and Democrat lawmakers are continuing to tout a plan that gives amnesty to nearly a million illegal aliens in exchange for some amount of funding for President Trump's proposed border wall along the U.S.-Mexico border.
MULTI-CULTURALISM and the creation of a one-party globalist country to serve the rich in America's open borders.
"Open border advocates, such as Facebook's Mark Zuckerberg, claim illegal aliens are a net benefit to California with little evidence to support such an assertion. As the CIS has documented, the vast majority of illegals are poor, uneducated, and with few skills. How does accepting millions of illegal aliens and then granting them access to dozens of welfare programs benefit California's economy? If illegals were contributing to the economy in any meaningful way, CA, with its 2.6 million illegals, would be booming." STEVE BALDWIN – AMERICAN SPECTATOR
Josh Hawley: GOP Must Defend Middle Class Americans Against 'Concentrated Corporate Power,' Tech Billionaires
JOHN BINDER
The Republican Party must defend America's working and middle class against "concentrated corporate power" and the monopolization of entire sectors of the United States' economy, Sen. Josh Hawley (R-MO) says.
Tucker Carlson Exposes D.C. 'Conservatives' for Doing Big Tech's Bidding
The Rise of Wall Street Thievery
Report: Big Tech Will Expand Further into Finance in 2020
Rep. Mo Brooks (R-AL) says the "Masters of the Universe" want more legal immigration to the United States to further diminish the incomes of American working and middle-class families.
Report: India's H-1B Companies Ask Labor Department to Let Foreign Workers Stay amid Crash
"Everyone that has been involved in the H1-B program … has skirted the rules to stay in the United States," said one lobbyist. "These companies do not want to have to fire these [H-1B] workers and send them back home — they want to hold them here" so they can grab jobs in the recovery, he said.
Labor Department officials declined to provide any information about the NASSCOM lobbying and declined to say if the agency would help businesses change the paperwork that allows fired H-1Bs to stay in the United States. The Indian report did not say if the NASSCOM lobbyists met with Labor Secretary Eugene Scalia.
If the administration moves forward in relaxing regulations governing the H-1B program amid spiking unemployment, "get ready for the pitchforks," said Kevin Lynn, founder of the U.S. Tech Workers group that opposes the H-1B program. "When people have nothing left to lose, they will lose it — and they will direct it at the elites." He continued:
On March 27, a friend of mine was fired after giving an hour of "knowledge transfer" to her [H-1B] replacement who came from overseas. Now she's unemployed at a time when ten million other Americans have filed for unemployment. She doesn't get to participate in the American Dream. Instead of being a member of the middle class, she's a member of the financially impoverished class. And in America, to be without a job means you're out of the pecking order, you're on the low run, and in American today, that could be years, if not decades. The pitchforks are coming out because people are nine meals away from revolution.
NASSCOM's request to change the H-1B process creates extra problems for politicians.
Roughly 100,000 new H-1B workers arrive each year. These contract workers have to go home after six years unless their U.S. employer nominates them for a green card.
But managers and human resources (HR) staff also like to import blocs of H-1Bs because they are too complacent to bother recruiting and managing independent and innovative American professionals, said other U.S. managers and tech workers. NASSCOM's H-1Bs workers are an easy temptation for the MBAs who prefer to spend more weekend time on their boats, he said.
There are at least four sides to the huge H-1B program, which is used by U.S. CEOs to keep about 900,000 foreign graduates in the jobs needed by the sons and daughters of America's class of college graduates.
All of these companies get their H-1B workers by first declaring they are needed at particular work sites. The declarations were made in the Labor Condition Application (LCA) documents that are rubber-stamped by the Labor Department under laws that forbid anything more than cursory checks.
For example, if an American company signs a contract for an Indian company to supply four workers for a three-year project, the Indian company will submit an LCA to the Labor Department declaring that 104 H-1Bs are needed at the American company, he said.
The next year, the company uses the inflated LCA to ask the Department of Homeland Security (DHS) for 100 extra H-1Bs. A few months later, it gets about 40 H-1Bs from DHS. Those 40 H-1Bs are kept in India until the Indian company wins other software management contracts, he said. "They build up their inventory [of H-1Bs], and once the [H-1B] person is in the country, they can move them around the country. They have a mobile workforce that lives in apartments to undercut American companies that have to have an employee from one site to another. "
This predatory strategy has wrecked the labor market for American software professionals, just as China's hidden subsidies help Chinese manufacturing companies to push American factory workers out of jobs, he said.
The Indian companies are so contemptuous of the LCA process that they hire Indian workers for $4 an hour to fill masses of fake LCA documents, he added.
But the LCA process is the political foundation of the H-1B program — because it allows the companies and the media to pretend that the government agrees that no Americans are available to take the H-1B jobs.
Despite its importance, the LCA process is very inflexible. "Our H-1B system simply does not contemplate this [mass shutdown] scenario that is happening right now," immigration lawyer Charles Kuck told Breitbart News.
The LCAs do not give employers the needed flexibility to flip their H-1Bs between working at Fortune 500 offices to their home offices. This means the NASSCOM companies may end up violating their LCAs when their Fortune 500 clients down their offices detailed in the LCAs because of the coronavirus.
"In order to 'work from home' a new H-1B would have to be filed with a new employer," Kuck said. "There is no way around this. AND, if their 'home' is not in the same MSA as their H-1B, they would also need a new LCA, and thus a new filing of an amended H-1B if the employee remains with the employer."
"If an employee works from a home which is within commuting distance of the workplace, then there is no need to file an amendment," sais a post by Cyrus Mehta, a very pro-migration immigration lawyer. But, he added, "if an employee works from a home which is NOT within commuting distance from the workplace, the employer should obtain a new LCA for that location and file an H-1B amendment," Mehta said.
The phrase "a new LCA for that location and file an H-1B amendment" means that the NASSCOM companies to file new applications at both the Department of Labor and the Department of Homeland Security.
The Labor Department has suggested it will relax the process.
A March 20 statement by the Labor Department says employers can move their workers home, providing they post a notice in the original workplace within 30 days:
Employers with an approved LCA may also move H-1B workers to unintended worksite locations outside of the area(s) of intended employment on the LCA using the short-term placement provisions. As required for all short-term placements, the employer's placement must meet the requirements of 20 CFR 655.735.
The Labor Department and DHS declined to answer questions from Breitbart News. But a department official provided this answer:
The NASSCOM companies face a second big and expensive LCA-related problem — they are not allowed to stop paying their H-1B workers unless those workers have been formally laid-off.
But the NASSCOM companies do not want to lay off their H-1B workers because the law clearly says that laid-off workers must leave the United States in 60 days. If their workers are recognized as laid off, they exit the country and cannot be slotted back into their jobs as the economy recovers. But if those workers are not laid-off, the companies have to continue paying them as the rates stated in the LCA.
"The H-1B are REQUIRED, by law, to be paid there full wages, as listed on the LCA," Kuck said, adding:
Any reduction in wages, in fact, makes the employer liable for the wage in a wage claim by the H-1B worker with the DOL. For an employer to reduce the wages of an H-1B (convert them to part-time), they have to file a new LCA, AND file an amendment with the USCIS, THEN they can reduce the wages go part-time (this can go very low, although how low, e.g. 2 hours, is unclear).
"Employers are required to pay H-1B workers the wage offered on the LCA, and that includes having to pay them for any nonproductive periods," said Marketa Lindt, partner at Sidley Austin LLP's labor, employment and immigration practice in Chicago. "Obviously we're in a different environment, but the regulations are the regulations," said Lindt, who also serves as president of the American Immigration Lawyers Association.
The NASSCOM companies can change their workers' hour and pay by changing their LCAs, said Mehta. "Converting the employment from full time to part-time employment would be considered a material change as the employer must obtain a new LCA."
Kuck says DHS can quickly solve the problem:
I think this [coronavirus shutdown] is more of a "we didn't consider that scenario" kind of thing, rather than anything intentional. The fix is easy. Allow employers to Furlough H-1B workers WITHOUT accruing liability for their wages. Treat them the same as US workers. USCIS COULD issue an emergency reg on that tomorrow.
The third problem for the NASSCOM workforce is that fired H-1Bs must leave the country in 60 days, according to a January 2017 regulation.
The Covid-19 situation is getting worse with massive lay-offs expected. The economic conditions may have a significant impact on H1B Workers.
Under regulations, H1B workers have a 60-Day grace period of unemployment time during each authorized validity period to stay in the USA legally. They must find new work within 60 days; otherwise, they have to leave the country. Most H1B workers are from India and can not travel home with children who are U.S Citizens as many nations announced an entry ban, including India.
H1B workers cater to the economy at large, mainly supporting the I.T Industry with high tax contributions.
DHS declined to answer questions about the grace period.
But few or no U.S. companies or NASSCOM companies have announced that they are firing H-1B workers.
Instead, a review of online discussion boards shows many Indians who say they and their friends have been fired individually or in groups as large as 500, that they are being forced to take vacations, or that their 40-hour weeks are being cut to 32-hour weeks. In the Midwest, one major NASSCOM company has summarily fired the H-1Bs provided by its many Indian subcontractors, leaving those workers with no pay for their last three months of work, two sources told Breitbart News.
NASSCOM companies are trying to hide the mass layoffs, said another close observer of the H-1B economy. By hiding the layoffs, they can keep them in the United States to get new contracts and jobs when the recovery arrives, he said. "That's what they want to do," he told Breitbart News.
Breitbart News has spoken to many Americans who have been sidelined by the H-1B program.
"Fiona" lives in Florida, and she earned two college degrees in the early 2000s after she left the real estate industry following the 2007 collapse. Since then, she has worked a series of contract jobs, most recently at a seven-month stint at an insurance company run by an imported workforce of H-1B workers from India. She said her job ended when she was forced out by Indian managers, in part, because of her excellent performance reviews embarrassed her Indian office peers.
She is in her 50s, has been unemployed for several months, and fears the Indian-dominated recruiting business will blackball her if she speaks on the record.
She told Breitbart News, "I'm not eligible for unemployment. So I have lived off my savings, and I'm living with my son. I'm still applying for jobs, but they're very few and far between. I can't relocate again because when they cut my contract job, I had to cut my lease off early, so now, my credit is bad. My lease history is bad. I can't go and take the risks that I did before. I was getting ready to go and look for a minimum wage job until this coronavirus came here, you know. Come next month, you know what? I can't pay my bills because I've gone for like eight months on my savings."
She added, "To be honest with you, I have given up on American companies. I have given up on being able to be hired by America because I'm American, and Americans don't matter. And I'm sorry I'm going to get a little bit emotional here … Americans don't matter. I hear politicians, you know, saying, 'Okay, you know what? We're going to open our borders, and you can have free health …' I don't have health insurance. You know, Americans don't matter. All that matters is foreign workers. All that matters is if the foreign individuals … I mean, it's like we don't matter. America doesn't matter."
The H-1B program is neither high-skilled nor immigration: these are temporary foreign workers, imported from abroad, for the explicit purpose of substituting for American workers at lower pay. I remain totally committed to eliminating rampant, widespread H-1B abuse and ending outrageous practices such as those that occurred at Disney in Florida when Americans were forced to train their foreign replacements. I will end forever the use of the H-1B as a cheap labor program, and institute an absolute requirement to hire American workers for every visa and immigration program. No exceptions.
Trump has not fulfilled that campaign promise, said Lynn, adding, "We'll know President Trump is doing his job when someone here on H-1B trains an American on his job after his visa has expired."
Please
let us know
if you're having issues with commenting.